Last month, I saw this headline on an internet post: Strike Three. Baseball is Dead. The headline was hyperbole, but the author offered a laundry list of reasons he thought baseball was dying. And he is not the only sportswriter lamenting the current state of baseball.
Many of the problems are well publicized. Splintered TV coverage. Games too long (averaging over three hours). Games too boring (dominated by homers, walks and strikeouts, reducing the action in the game). Too many pitching changes (a series of relievers whose names are new to us). The NFL and NBA are better at selling their product. And on and on.
On top of this, labor negotiations put the game on life-support twice in the last three seasons.  
In 2020, after Covid shut down spring training, the owners and players bargained long and hard on how to squeeze in a partial season. At times, it looked like the season might be lost – not because of Covid, but because of the details (mostly the protocols and money). As one pundit posted…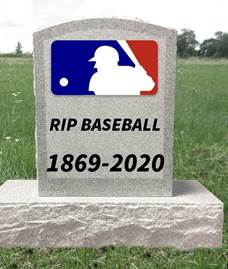 The parties finally agreed on a 60-game season for 2020, but the tough bargaining was just a precursor for the big battle – the need for a new Collective Bargaining Agreement after the 2021 season. There were no serious negotiations during the season, and the owners locked out the players on December 2, 2021.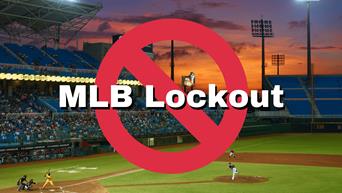 The initial lack of serious negotiations led many sportswriters to warn that MLB was turning off fans from a game that was already failing in many ways. Negotiations were a form of fiddling while Rome was burning. Maybe the headstone above was just premature and should have read "1869-2022." Commissioner Rob Manfred announced that at least part of baseball was dead. With negotiations at an impasse, he cancelled six games from the 162-game schedule.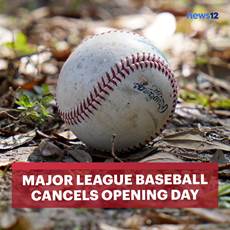 As it turned out, Opening Day was not dead, just delayed. The parties reached an agreement, and a full 162-game schedule will be played in 2022.
So the patient has survived. Again. Just like it has done after premature obituaries for over a century.
Baseball – A Mortality History: In a New York Times article in April, sportswriter Tyler Kepner wrote about the flaws (and resiliency) of baseball.
"Baseball has flaws. It always has and always will…Alarmists have concluded that this lack of action has doomed the poor old game. But if you study baseball history, you find that people always conjure reasons to criticize the sport. Every generation considers itself faster-paced than the last, so baseball, which makes you wait for the action, is an easy target…People just like to complain about baseball. It's a pastime of its own."
Kepner's specific example is Damon Runyon who in 1922 wrote, "It is certainly one of the slowest of sports. An actual play is fast enough. The preliminaries leading up to that play drag. It takes an average of two hours to play a game." Runyon must have adapted. He covered the sport so well that he was among the first writers to by honored by the Baseball Hall of Fame.
Runyon has had lots of company. In 2019, Sports Illustrated writer Emma Baccellieri reported on her Google search of "is baseball dying." After reading about 100 articles, she found common themes (financial, cultural, aesthetic), sometimes backed by statistics. Each doomsday prediction faded, only to be replayed years later by a new curmudgeon. Bryan Curtis of Grantland made a similar archive search in 2014 and reported the same conclusion. Below are samples of what the two authors found:
1868 (First known baseball death notice) – "Somehow or other, they don't play ball nowadays as they used to some eight or ten years ago. I don't mean to say that don't play it as well…But I mean they don't play with the same kind of feelings or for the same objects they used to…It appears to me that ball matches have come to be controlled by different parties for different purposes."
1892 (Article on bicycling being the true sport of the age) – Headline: "The Decline of Baseball."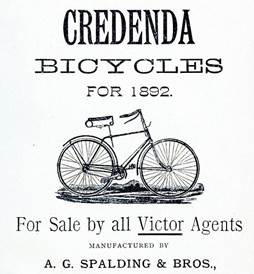 1893 (In defense of baseball) – "It was predicted that the interest in baseball was dying out, and there were many Gibbons who wrote its 'decline and fall'."
1905 – "That interest in baseball is dying is manifested by the dropping off of the crowds that go to the games. Is it that the season is too long? Or is it the beginning of the end of the national game…there is none to blame but the owners of the parks and teams."
1905 (A welcome denial of death by Kansas Weekly Capital) – "Every once in a while some pessimist, the cockles of whose heart do not warm to a three base hit, sits up and takes notice long enough to remark that baseball is dying out…As a matter of fact, the game is faster today than ever before. The players are more skilled, the game has reached a higher point of perfection, the players are of a better order of intelligence and take better care of themselves than they did in the old days."
1917 (Baseball losing ground to trap shooting) – "The modern young man takes up a sport that he can actually do…no longer is he to be a bench warmer."
1922 (Headline on Babe Ruth's $75,000 salary) – "Enormous Salaries May Mean Death of Base Ball Business."
 1939  – "Today, few boys hike six miles to school. Motor cars, elevators and telephones have softened many of our embryo Ty Cobbs…Baseball is dying in our high schools. It is losing ground in our colleges to high-pressure football."
The year 1955 was a banner year for baseball. Mickey Mantle and Willie Mays led their leagues in homers. The Brooklyn Dodgers won their first World Series, and Jackie Robinson stole home in Game 1 with Yogi Berra behind the plate (the iconic photo by Meyer Liebowitz of the New York Times).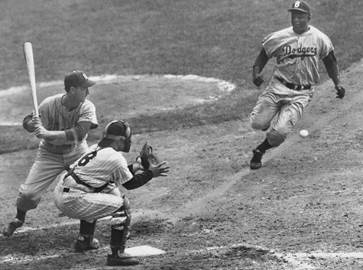 But some were not impressed.
 1955  – "We predict that within 25 years there'll be no organized baseball except the major leagues, if even they're in existence then."
 1955 (A death warning from Kansas in the Fort Scott Tribune) – "In a few years the only place you will be able to find a first baseman's mitt will be in the baseball museum in Cooperstown, N.Y., and the deeds of Mickey Mantle and Stan Musial will be recounted the ways we now speak of buffalo hunters."
 1955 – "If baseball is dying out, as many claim, it may be because the game has slowed down to a snail's pace in recent years. Right or wrong, moderns are restless, fidgety and always in a hurry, extremely impatient with delay. And the average baseball game of today is characterized by delay, from start to finish."
 In 1955, there were 16 teams, and the average attendance was 13,446 fans per game. In 2019, the "dying" sport had 30 teams, and the average attendance was 28,203.
I could go on, but I think the history is clear. The reports of baseball's death are greatly exaggerated. 
MLB Action: Yes, baseball has issues, but MLB is working on it. As detailed in the last issue of Hot Stove, revised rules are being tested in the minors to enliven the pace and action in the games. The new Collective Bargaining Agreement should minimize labor issues for the next five years. Here is some good advice from stats guru Bill James: 

But What About the NFL and NBA?: Baseball is often unfavorably compared to the NFL and NBA, especially with respect to showcasing superstars. But it's apples and oranges. Showcasing means TV coverage. Baseball has found it profitable to emphasize regional TV for its 30 teams. The NFL and NBA cater more to a national audience. So Mike Trout does not get the same TV exposure as Tom Brady and LeBron James. Check out this graph from a 2019 NY Times article comparing what percentage of counties aired at least a quarter of games played by these athletes. The results: Brady (100%), Trout (1%) and James (98%).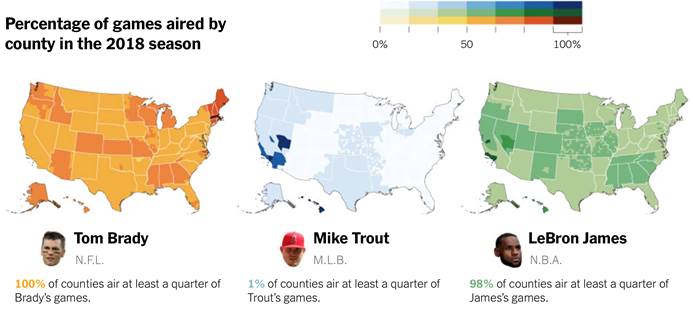 MLB has been increasing national programming, but the regional approach will still dominate the coverage. Each team has 162 games to be aired, and a local fan base becomes accustomed to the rhythm of almost daily games. There have been some hiccups in recent times because of streaming, cable-cutting, etc., but that will sort itself out. In any event, the numbers are still good. In almost half of the MLB markets, the games are the most popular prime-time broadcast. In 2019, MLB ranked first on cable in every market except Miami.
MLB attendance has modestly declined in recent years. But MLB still drew 68.5 million fans in 2019, the last full season not affected by Covid. Another 50 million attended minor league games. The NBA draws about 22 million and the NFL 18 million. Again, apples and oranges because of the number of games, but still strong evidence that baseball is not dying.
The news so far this year has been reasonably good considering the lockout and tardy start of the season. USA Today analyzed the attendance for the first 12 home games for each of the 30 teams compared to the first 12 of 2019. Attendance on average was down only 1.3%. The Royals were up 19%.
[Note: I have not included the NHL and whatever the soccer league is called. I don't follow them. My loss, I know.]
Nostalgia – Baseball's Ace-In-The-Hole: There is one area where baseball has no rival. Over a century of nostalgia. Babe Ruth and Mickey Mantle are known to a large percentage of sports fans even though they played decades ago. If the recall is for NBA and NFL superstars of early eras, that percentage drops significantly. Jackie Robinson broke the color line in baseball. Who did it in the NFL? NBA? Maris chasing Ruth's 60 homers. Willie Mays makes "the catch." The Hall of Fame in Cooperstown. And so much more. Baseball is part of our DNA.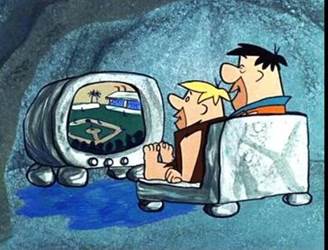 Baseball's connection of nostalgia to the current day is most evident in the statistics. We still look at the raw numbers – homers, strikeouts, etc. even though decades or a century apart. The  popular overall stat of WAR has adjustments so players from different eras can be compared to each other. The NFL and NBA of course have their records and stats, but not as intertwined in history as baseball.
Good current example – Babe Ruth and Shohei Ohtani (who in turn are compared to Bullet Rogan of the Negro Leagues – see Hot Stove #167).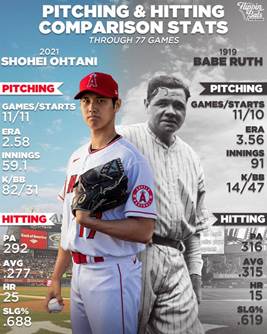 This phenomena was on exhibit in an Angels game earlier this month. Here are some facts that sportswriters shared via tweets during the game:
May 5, 1915 – Babe Ruth hit his first home run.
May 5, 1918 – Ruth started his first game at a position other than pitcher, officially becoming a two-way player.
May 6, 2022 – Shohei Ohtani was both the starting pitcher and DH for the Angels at Fenway Park. This made him the first starting pitcher at Fenway since Babe Ruth (in 1919) to hit in the top four spots in the lineup (Ruth hit fourth, Ohtani third). Ohtani also became the second starting pitcher to get a hit at Fenway since the DH came to the American League in 1973. The other was Roger Clemens in 1996.
This May 6 game also drew attention to a nostalgic part of Fenway. As the park has been updated over the years, one tradition has been retained – the line score at the base of the Green Monster in left field is still operated manually. The uniform numbers of the two pitchers and the scores for each inning are inserted by an operator behind the scoreboard. The stats for the batter, balls, strikes and outs are electronic.
This photo captures the game with Shohei Ohtani at the plate in the top of the 8th. The number 17 under the "P" reflects his uniform number as the pitcher for the Angels. Boston has not scored against him for the first seven innings. The Angels scored two in the 7th, and so far have one in the 8th. Ohtani is at bat for the Angels (his #17 in lights below "AT BAT"), and he has just hit a liner that the left fielder is chasing. As you will see in this video, the ball crashes off the scoreboard so hard that Ohtani's #17 below the "P" falls out of its slot. Babe Ruth never did that.
Baseball is not dead.
 Angels Trivia: The Angels made news again this past week when their rookie Reid Detmers threw a no-hitter against Tampa Bay. He had previously thrown only 45 innings in the major leagues. The no-hitter was finished after my bedtime, so I read about it the next day. And to show the reach of baseball, the no-hitter led off the political newsletter I read each morning. The author is Robert Hubbell, a retired lawyer who started his newsletter about five years ago and recruited his wife to be his "Managing Editor." Sound familiar? Here is Hubbell's game report:
"Today's newsletter will be short and to the point. My Managing Editor and I stole away mid-week to attend an Angels baseball game, where Shohei Ohtani received his M.V.P. award for the 2021 season. After receiving two Ohtani bobbleheads, we watched rookie Reid Detmers pitch a no-hit game. Because of the no-hitter, we stayed until the last pitch. We arrived home at the same hour that I usually hit 'send' on the newsletter. Please excuse the rough format tonight. I will be back to usual form tomorrow."
Below, Detmers (#48) celebrates his no-hitter.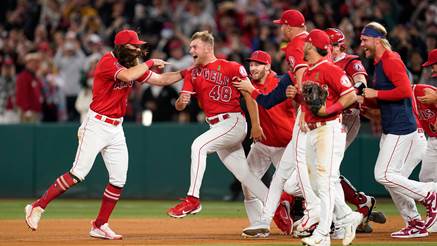 Though the big news in the game was the no-hitter, Angels slugger Anthony Rendon added some history of his own. With the Angels ahead 8-0 in the 8th, the Rays did not want to waste another reliever, so they brought in outfielder Brett Phillips to pitch. Phillips gave up two runs on a homer by Mike Trout. Then Shohei Ohtani came to the plate. Phillips, in his third game as a pitcher, quipped to the press after the game, "A very highly anticipated matchup, the American Shohei vs. the Japanese Shohei." The Japanese Shohei drilled a double off the right field wall.
This brought Anthony Rendon to the plate. Rendon had been to the plate 4,528 times in his 10-year career. Hit 154 homers. Always from the right side. On a lark with a 10-0 lead, Rendon decided to face Phillips from the left side. He hit a home run (photo below and video here). That's fun. Babe Ruth never did that (all of his 714 home runs were from the same lefty side).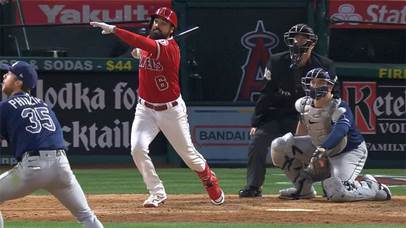 And in late-breaking news…Last night on ESPN's Sunday Night Baseball, the Cardinals were ahead of the Giants 15-2 in the 9th inning. They brought in a surprise relief pitcher – future Hall of Famer Albert Pujols (click here). In the first pitching role of his 22-year career, Pujols gave up four runs on two homers for a final score of 15-6. Although his ERA is 36.00, he added a fun new piece of baseball trivia: Players in MLB history who have hit 600 home runs and pitched. Babe Ruth and Albert Pujols.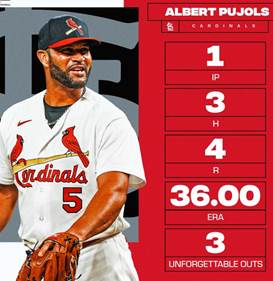 I repeat myself. Baseball is not dead.
TV/Movie Notes: Tomorrow night (May 17), PBS will air the ceremony awarding Lionel Richie the Library of Congress Gershwin Prize. We watched the one honoring Garth Brooks last year, and it's a cool ceremony with visiting musicians and a performance by the award winner. Set your DVR for 8:00. Trailer here.
This coming Friday and Saturday (May 20 and 21), HBO premiers its two-part documentary on comedian George Carlin. Trailer here (don't play too loud at the office). Carlin has a classic bit on the differences between baseball and football (video here).
Currently at the theaters is The Duke, a movie we saw last year at the Telluride Film Festival and really liked. Lots of laughs. Here is the review from last year's Hot Stove Telluride report: Based on the true story of the heist of Goya's "The Duke of Wellington" from the National Gallery in London in 1961. Kempton Bunton (Jim Broadbent) is a failed screenwriter who likes to challenge authority on behalf of the elderly and lower class. He gets his Robin Hood moment when he acquires the "Duke." He is arrested, and his courtroom scenes are a riot. His long-suffering wife is played by Helen Mirren. Two Thumbs Up! Trailer here.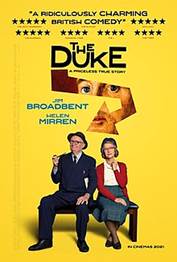 Lonnie's Jukebox – Sheryl Crow Edition: Last week, the documentary Sheryl began running on Showtime. Rita and I thought it was excellent. Trailer here. There is also a companion double-CD album of 35 tracks (also on Spotify).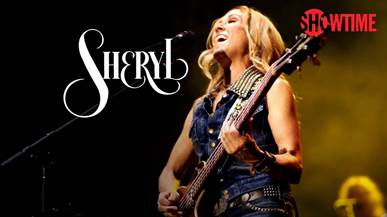 Sheryl Crow is a proud native of Kennett, Missouri (in the Bootheel) and got her college music degree at Mizzou. Rita and I have only seen her in one live performance – many years ago as the headliner at a Planned Parenthood fundraiser. But we have a second degree of separation connection. Sheryl and four of her classmates from high school have remained in touch to this day. The four friends went to Los Angeles for the Grammy Awards in 1995 when Sheryl won her first three Grammys. One of those friends is Debbie Welsh, wife of my partner Russ Welsh. Small world.
Sheryl used her college training first as a teacher, earning some money on the side by singing ad jingles. She transitioned into performing full time after earning $40,000 for a McDonald's commercial – more than she had made in two years of teaching. Her first break was being chosen as one of the backup singers for Michael Jackson's "Bad" tour that ran from 1987 to 1989. The setlist often included her in this duet with Jackson:
"I Just Can't Stop Loving You" performed by Michael Jackson and Sheryl Crow at Wembley Stadium (1988).
Her first album, Tuesday Night Music Club, was released in 1993. Sales boomed after two of the singles became Top 10 hits in 1994 ("All I Wanna Do" and "Strong Enough"). The album sold 7 million copies in the 1990s and netted Crow three Grammy awards: Record of the Year, Best New Artist and Best Female Vocal Performance.
Tuesday Night Music Club was the first of nine Top 10 albums. She has nine Grammys. She's has had 19 singles on the Billboard 100 chart and nine in the Top 20. Not enough room in Lonnie's Jukebox for all of them. Let's start with these:
"If It Makes You Happy" …then why the hell are you so sad.
"Every Day Is a Winding Road" – Prince covered this Crow song in one of his albums. When Crow was playing Lilith Fair in Toronto in 1999, Prince joined her on stage for a duet version of the song (video here).
Crow writes most of her own songs, but some of my favorites are her interpretations covering other artists. For example:
"You're No Good" performed at the Rock and Roll Hall of Fame in 2014 for the induction of Linda Ronstadt. Cheryl also was the featured artist for a 2019 concert following the Tribeca Film Festival premier of the Ronstadt documentary The Sound of My Voice. One of her songs was a cover of Linda's "When Will I Be Loved" which in turn is a cover of the Everly Brothers classic. Video here.
"First Cut is the Deepest" was released by Cat Stevens in 1967, and Rod Stewart took it to #21 in 1977. Sheryl's cover went to #14 in 2004.
In Sheryl's documentary, she talks about performing at the Bonnaroo Festival in Tennessee in 2018. She was then 56 years old and was not sure of how the young crowd would react to songs released before they were born. The video tells the story.
"All I Wanna Do"…is have some fun. Her line to the crowd: "This is older than most of y'all."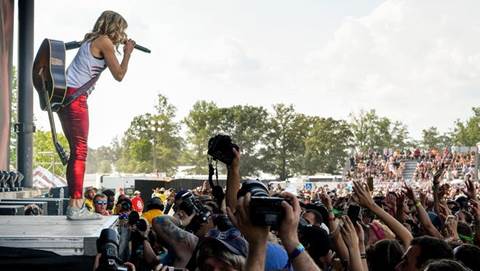 The crowd at Bonnaroo had some fun. So have we for many years. Thank you Sheryl.
From my Loose Park walk last week. A new season of goslings.