During the Home Run Derby and the All-Star Game last week, the main buzz was about Shohei Ohtani. Sho-Time! He is the first MLB player to be selected as both a pitcher and batter for the All-Star game. Below, Salvy Perez and Shohei Ohtani, the AL starting battery in the All-Star game.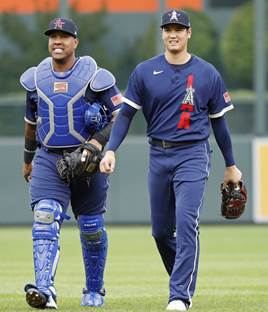 Before Shohei Ohtani, there were only two major leaguers who pitched in at least ten games and hit at least 15 home runs in the same season:
1919 – Babe Ruth
1922 – Bullet Rogan
Then, a century later, Ohtani matched the feat. Twice. So far.
2018 – Shohei Ohtani
2021 – Shohei Ohtani
Ruth and Rogan are members of another exclusive club. They are the only major leaguers who have accumulated a career WAR of at least 20 as both a hitter and pitcher.
I'm guessing some of you are asking the question. Who is Bullet Rogan? Well, thanks to Shohei Ohtani, more people are finding out. Although Ohtani has mostly been compared to Babe Ruth, a good number of sportswriters are noting that a better comparison is Bullet Rogan. And that's a story based in Kansas City. I'll get to that, but first a brief comparison of Ruth and Ohtani.
Babe Ruth v. Shohei Ohtani: Babe Ruth was a very good pitcher for the Boston Red Sox from 1914 to 1919. He was traded to the New York Yankees in 1920, and his hitting for the Bronx Bombers revolutionized baseball. The only years the Babe could be considered a two-way player were 1918 and 1919. He was still pitching for the Red Sox, but started to play other positons so he could get to the plate more often. In 1918, he hit 11 homers, and in 1919, he hit 29. He made only a few cameo pitching appearances after joining the Yankees.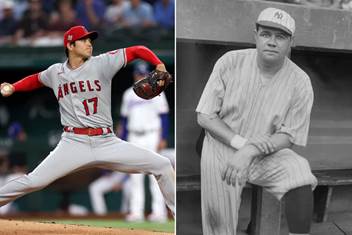 What distinguishes Ohtani from Ruth is that Ohtani is planning a career of what Ruth did for only two years. That's why we need to talk about Bullet Rogan.
Bullet Rogan – The Early Years: Charles Wilber Rogan was born in Oklahoma in 1893. His father had been born into slavery in Tennessee just before the Civil War ended. In 1908, the family moved to Kansas City, Kansas, where Rogan attended Sumner High School. As a teenager, he played for top regional semipro teams before joining the Army in 1911. He likely lied about his age to get in the Army and so some bios show him as born in 1889. From 1911 to 1914, he was stationed in the Philippines. He reenlisted and was assigned to the 25th Infantry in Hawaii, specifically to play for the talented (and segregated) baseball team, the "Wreckers."
In 1917, while on extended furlough in Kansas City, Rogan joined the barnstorming multi-racial All Nations team owned by J.L. Wilkinson. The story, possibly apocryphal, is that Wilkinson got a tip from Casey Stengel that Rogan would be a good prospect. Stengel and Rogan likely crossed paths while playing the semipro circuit in the Kansas City region. Rogan played shortstop and left field and pitched for All Nations. He also played in the California winter league in 1917 before returning to his Army duties in Hawaii. The 25th Infantry relocated to Arizona in 1918.
Below, a Wreckers tribute card from the Sporting News Conlon Collection. It is not known when "Bullet" was first attached to Rogan. One theory is that it was a service nickname (he was part of a machine gun unit). He was also called "Bullet Joe," possibly after Yankee pitcher "Bullet Joe" Bush who went 26-7 for the Yankees in 1922. Or maybe it was just a way to describe his blazing fastball.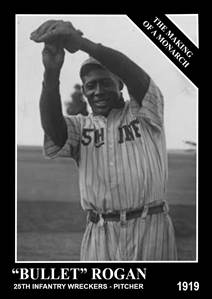 In November of 1919, Casey Stengel's Kansas City All-Stars, a barnstorming team, traveled to Arizona to play a five-game series against the Wreckers. Casey was impressed with the Wreckers and said they "were as good as any major-leaguers." Casey told his biographer Robert Creamer that upon his return to Kansas City, he told J.L. Wilkinson about the Black stars, taking credit for some of them joining the new team that Wilkinson was forming. Casey may have talked to Wilkinson, but the star talent of the Wreckers was no secret to the owners of teams about to meet in Kansas City to form a new league.
 Bullet Rogan – The Monarchs: In February of 1920, the Negro National League was formed at the Paseo YMCA in Kansas City. The Kansas City franchise was awarded to J.L. Wilkinson who called his new team the "Monarchs." Many of the players on the Monarchs roster in the inaugural 1920 season came from Wilkinson's All Nations team. He also recruited five players from the Wreckers of the 25th Infantry. One of them was 27-year-old Bullet Rogan who joined the team upon his discharge from the Army in July.
Over the next ten years, Rogan was the ace of the pitching staff and a major contributor as a hitter in the middle of the lineup. He was instrumental in the Monarchs becoming one of the premier teams in the Negro Leagues. From 1920 to 1929, the team won four pennants and the 1924 Negro Leagues World Series. He was also a player-manager for several years. In the 1921 team photo below, Rogan is at the far left of the middle row.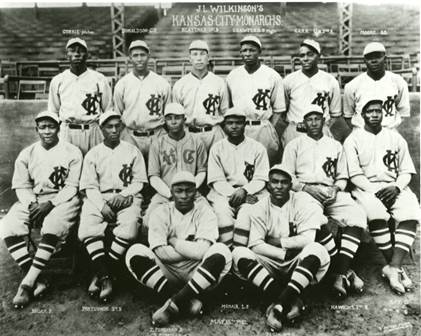 Kansas City writer and researcher Phil Dixon has authored a comprehensive history of the Monarchs' early years, giving featured attention to Bullet Rogan. I must share one anecdote from the book. On July 4, 1921, Bullet Rogan hurled a 10-1 victory over the Chicago American Giants before 11,000 fans in Chicago. Why am I picking this game? My mother was born that day in Sugar Creek, a few miles from where Rogan played his home games at Association Park in Kansas City.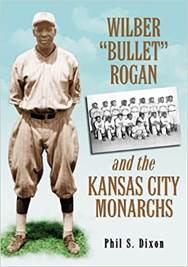 Rogan's first nine years with the Monarchs are likely the longest stretch of combined pitching and hitting excellence in the major leagues. I'll get to the stats, and the comparison to Ohtani, but first some observations about Rogan.
Bob Kendrick, President of the Negro Leagues Baseball Museum: "Rogan was the quintessential two-way player. He had perennial 20-game winning capabilities. And when he wasn't pitching, he hit cleanup and played the outfield and led the Negro Leagues in stolen bases when he was 38 years old."
Satchel Paige: "[Rogan] was the onliest pitcher I ever saw, I ever heard of in my life, was pitching and hitting in the clean-up place. He was a chunky little guy, but he could throw hard."
 John Thorn, Official Historian of MLB: Tweeted "Is Ohtani the best two-way player since Ruth? No. See Bullet Rogan."
Buck O'Neil: "[Rogan] was a big, smooth, strong man…and he could do it all. He would pitch a game one day, play in centerfield the next, and he would hit cleanup. I do believe there has never been a better fielding pitcher."
 When Buck joined the Monarchs in 1938, Rogan was playing his final year with the team. Buck considered Rogan one of his mentors, "Wilber taught me a lot about hitting…handling pitches on the inside…proper footwork…my hitting improved a lot. Within two years, I was up around .345." Below, after their playing days, Buck O'Neil (left) and Bullet Rogan (right). The third person is Ted Rasberry, the last owner of the Monarchs.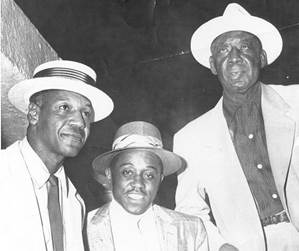 After the Monarchs, Rogan was as an umpire in the Negro Leagues and then worked for many years in the postal service in Kansas City. He died in 1967 at age 73.
The Statistics: Baseball nerds love to compare stats, even across very different eras and a century apart. But there is no pure comparison. The distance to the mound and between the bases may remain the same, but the game changes. Babe Ruth is a good example. His timing was perfect. He got his good pitching stats from 1914 to 1919, the final years of the dead ball era. When the live ball came in 1920, Ruth was in his first year with the Yankees and hit 54 home runs (a big jump over the prior record, his 29 in 1919). The times they are always a-changin'.
To compare Shohei Ohtani to prior two-way players has the added difficulty of a small sample size. Ruth is the rare example in the American and National Leagues, and he only did it for two years. But in the Negro Leagues, it was common for pitchers to play full time, moving to other positions on non-pitching days. For financial reasons, the rosters were limited in size. Bob Kendrick: "You have to understand that Negro League rosters were not as large as major league rosters. So that versatility became vitally important…Really, with the exception of Satchel, most of the pitchers in the Negro Leagues were going to play multiple positions."
In a stroke of good timing for this exercise, Major League Baseball confirmed in 2020 that the Negro Leagues played "major league" baseball and that their statistics would become part of the MLB records. Many of those stats are available because dedicated researchers have worked for many years to compile a Negro Leagues database on the "Seamheads" website (as detailed in Hot Stove #150).

The Seamheads work is now also published in Baseball Reference, and this link takes you to Bullet Rogan's entry on that website. Rogan's entries are extensive because he excelled in pitching (career ERA of 2.65) and hitting (career average of .338, OPS of .934). His career WAR for pitching is shown as 37.8 and hitting is 23.7 – a total WAR of 61.5.
Those stats are impressive, but they do not tell the whole story. Another key stat gives a clue. The number of games played each year. In Rogan's main seasons, his game totals ranged from 48 to 83  games. In the American and National Leagues, the teams were playing 154. Negro League seasons had fewer official games for various reasons. Some are simply not recorded – the mainstream press mostly ignored the Negro Leagues and the Black press did not always have the resources to cover all the games. To gain needed income, the players also played many non-league games by barnstorming in the U.S. and playing in the Caribbean and Mexico. Black players regularly played more than 154 games, but not all are considered "major league."
So how to compare Rogan and Ohtani? Baseball Reference has tools to extrapolate for 162 team games a season (the current MLB schedule). Using those tools is above my pay grade, but stathead Neil Paine of FiveThirtyEight (538) has done that work for me. In a recent article, Paine posted this chart showing the batting and pitching WAR of Rogan, adjusting his stats for seasons of 162 team games. The results are staggering.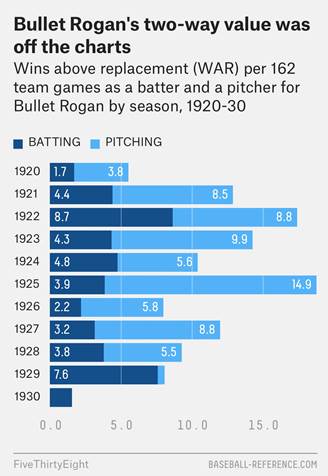 Paine also projected what Ohtani will do this year if he continues at the same breathtaking pace. It would put Ohtani in very select company. His season would be only the sixth in MLB history where a player has a 4.0 season WAR as both a pitcher and batter (as adjusted for 162 team games). Rogan has four of them.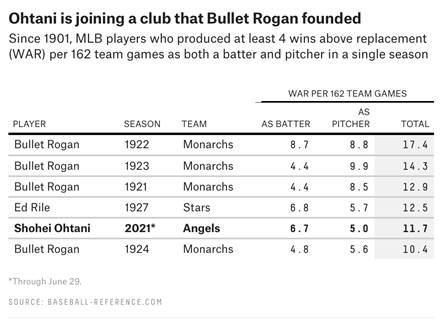 The other person in the list, Ed Rile, was another fine two-way player in the Negro Leagues, playing for the Detroit Stars in 1927.
Bullet Rogan had Hall of Fame numbers, and the voters in Cooperstown agreed. He was inducted posthumously in 1998.
As stated earlier, it's hard to compare stats and players from different eras. But I love that fans this year are watching history being made by a player from Japan and comparing him to a Black player from a century ago. Only in baseball.
 Two-Way Players on the Field of Legends:  There are several other Negro League players who excelled at both pitching and hitting. Two are stationed on the Field of Legends at the Negro Leagues Baseball Museum.
In the photo below, the batter facing Satchel Paige is Martin Dihigo. He was called "El Maestro" (the master), and he played every position on the field. He was well known for his pitching, fielding and batting in the Negro Leagues and in many countries in Latin America. He is in the Cuban, Mexican, Venezuelan, Dominican Republic and United States Halls of Fame.
Leon Day is the right fielder on the Field of Legends. But he also often took the mound. His Hall of Fame bio starts with a quote from Monte Irvin: "People don't know what a great pitcher Leon Day was. He was as good or better than Bob Gibson. He was a better fielder, a better hitter, could run like a deer. When he pitched against Satchel, Satchel didn't have an edge. You thought Don Newcombe could pitch. You should have seen Day! One of the most complete athletes I've ever seen."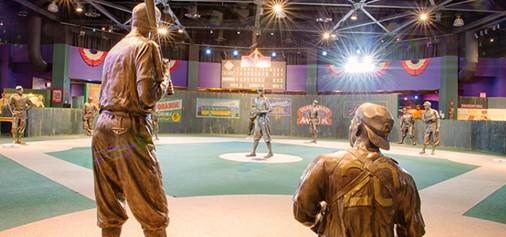 Although not yet in the Hall of Fame, Ted "Double Duty" Radcliffe also deserves a mention. His nickname was coined by Damon Runyon after Radcliffe caught a shutout by teammate Satchel Paige in the opener of a doubleheader, and then took the mound and threw a shutout in the second game. Runyon wrote that Radcliffe "was worth the price of two admissions." Radcliffe proudly adopted "Double Duty" and was known by that for the rest of his 103 years.
 1927 Trivia: While Ed Rile was compiling his dual 4.0 WAR numbers in 1927, Babe Ruth hit 60 homers, a record that stood until Roger Maris hit 61 in 1961. After Ruth finished that 1927 season, he and Lou Gehrig formed teams to play each other in a barnstorming tour across the country (Bustin' Babes v. Larrupin' Lous). The Kansas City stop on October 15 was a benefit for Children's Mercy Hospital, and Lou and Babe presented a refrigerator to the hospital (below).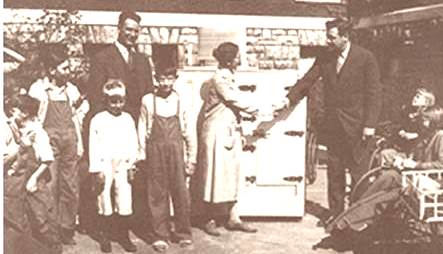 [Home Run Record Trivia: The Hot Stove record book still recognizes Roger Maris as the player hitting the most home runs in a season (61). Same for the career record, Hank Aaron's 755. The steroid guys who beat those records were great hitters, but their numbers are tainted. Shohei Ohtani is on a pace to hit about 60 homers this year. If he gets to 61 (or more), Hot Stove will need to update its record book.]
Joe Posnanski Book-Signing in KC: Joe will be in Kansas City on September 29 for a book-signing event hosted by Rainy Day Books. Click here for details.
The book is The Baseball 100, a countdown of the top 100 players in baseball history. Joe has also covered this topic in a series of 100 essays published over several months for The Athletic. As for this new presentation, Joe says this: "Some of you have asked how this book differs from the series that began on JoeBlogs and then ran in full at The Athletic. I think it's quite different, but that will be up to the reader. What I can tell you is that there is a new introduction, a special forward by George Will, a special statistical overview and that each of the 100 essays was slightly, moderately or significantly reworked. It will also be a beautiful book. It will also weigh 83 pounds."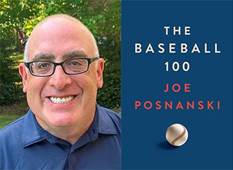 Spoiler alert. Bullet Rogan is in Joe's top 100.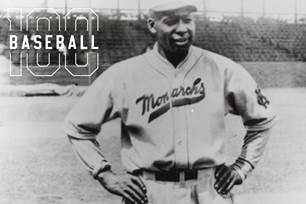 The Royals – 2015 Nostalgia: Remember the Royals of 2015? When Alcides Escobar was the MVP of the ALCS. And Eric Hosmer's mad dash to home opened the door for the World Series win.
Fast forward to July of 2021. Rita and I were watching a game on the MLB channel. Escobar, now of the Washington Nationals, was hit by a pitch and went to first base. Eric Hosmer, now of the San Diego Padres, was there to greet him. I of course took a screenshot.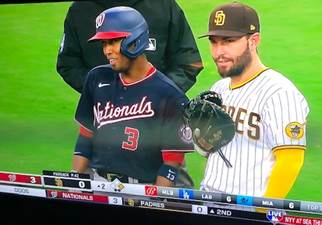 Hamilton: As regular readers of Hot Stove well know, I'll use almost any excuse to inject Hamilton into a post. Center-fielder Billy Hamilton, now of the White Sox, recently made a spectacular catch and prompted a pundit to post this image of Billy as Alexander Hamilton. It was quite a catch (video here).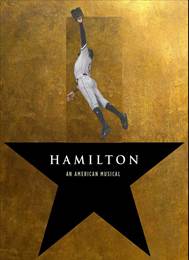 Ted Lasso is Back: Bullet Rogan is not the only Kansas Citian in the news. Jason Sudeikis is back for his second season as the title character in Ted Lasso. The new season starts on Apple TV+ on July 23 (trailer here).
Rita and I loved the first season, and we are not alone. The show got 20 Emmy nominations.
Another reason to watch? Jason includes Kansas City references in his show. As many of you know, he and his fellow Big Slick celebrities, in the spirit of Babe Ruth and Lou Gehrig in 1927, have raised millions for KC's Children's Mercy Hospital.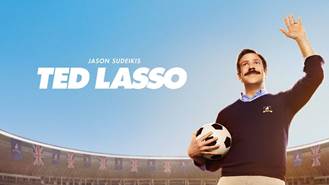 Anniversary Photo Shoot: Every 10th anniversary, Rita and I have a photo taken to mark the event. Below is the one for our 40th, which we celebrated last month. We are holding the photo from the 30th anniversary. Also in that photo are best man Rich Ellison (RIP) and maid of honor Anne Devaney, and Rich and I are holding the 20th anniversary photo. The picture-in-a-picture continues back through our 10th anniversary and wedding day photo.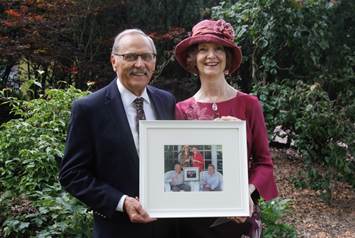 The four anniversary photos were taken by former KC Star photographer Talis Bergmanis – the husband of Anne Devaney. This year, Talis and Anne also supplied the location, their beautifully landscaped yard. Below, Talis taking a shot of Anne and Rita.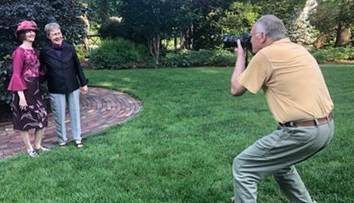 Lonnie's Jukebox – Tina Turner Edition: Tina Turner is on a roll in 2021. Rita and I recently watched (and recommend) the HBO documentary Tina (trailer here). The stage musical based on her life will make its post-Covid reopening on Broadway in October (trailer here). And she is a member of the 2021 class of inductees to the Rock & Roll Hall of Fame (as a solo act; previously inducted in 1991 as a member of "Ike and Tina Turner").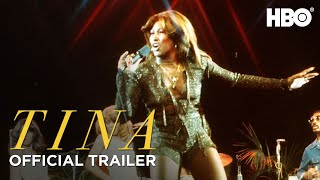 The first 20 years of Tina's professional life were with her mentor, husband and stage partner Ike Turner. They made some great music. According to Tina, not a great marriage.
One of Tina's most famous songs was not a big hit when it was first recorded in 1966. Ike had produced most of their recordings, but famed record producer Phil Spector was recruited to produce Tina singing "River Deep – Mountain High." The song peaked at a disappointing #88 on the Billboard Hot 100 chart. Spector thought he had designed a superb record and was reportedly so disillusioned that he took a hiatus from the music industry. In time, the record he produced became a rock 'n' roll classic.
"River Deep – Mountain High" – Original 1966 promo video.
"River Deep – Mountain High" – A collection of live performances. My oh my. This is why she became one of the top concert draws in the business.
In 1969, Creedence Clearwater Revival released "Proud Mary." The song was written by CCR's John Fogerty and it went to #2 on the charts. Two years later, Ike and Tina Turner released their version and it went to #4. Viva la difference.
"Proud Mary" by CCR.
"Proud Mary" by Ike and Tina.
In 1978, Tina split from Ike and began her triumphant solo career. Her signature song as a solo artist…
"What's Love Got To Do With It" – A #1 hit in 1984. This was also the name of the 1993 biopic starring Angela Bassett at Tina.
Final encore..…"The Best". Yes she is.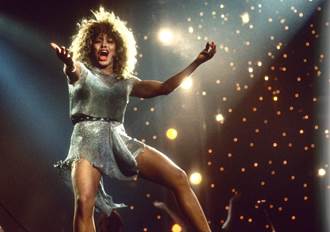 Thank you Tina.