First, an apology to those who thought they were off this list for the winter. The Hot Stove League posts are meant to go only to those who made a reply to the last post.
But I continue to get some replies and so don't want to convert yet to a newly prepared list. So, pardon my laziness, but feel free to hit that delete key.
For those who meant to reply to receive these posts and have not yet done so, now is the time.
For those on the borderline, take a look below and especially check out the cartoon at the end of the post. If you identify with Lucy, you may not want to opt in.
As for the lousy weather in KC, Rita and I head to Puerto Vallarta next week for some relaxation with the Brewers. I have my Roger Angell books and the new Sam Phillips biography. We hope for similar trips in January and February and then spring training in March.
Thanks for listening.
Lonnie
Royals Hot Stove League: There is not much going on yet (at least for public consumption) and probably won't be until the big free agents start signing. After that, the domino effect will start as teams try to round out their lineups. Open mouth award so far: Johnny Cuetto has turned down $120 million for six years with the Diamondbacks. As for the Royals:
For the addicts, daily info is available on several websites, including Royals Review/SB Nation, and Royals/MLB. You probably saw the news on the premier of the Royals World Series movie – you can see the movie on Fox Sports 1 on December 27.
Ian and Grandpa Rate the All-Time Outfield: As you may recall from earlier posts, my 10-year old grandson Ian and I split on the best all-time right fielder. Ian is Aaron and grandpa is Ruth. There is no right or wrong on this – two great players from different eras.  I lean to Ruth because he changed the game with his explosive hitting. When he hit 54 homers in 1920, he had more homers than any whole team except the Phillies. When he hit 60 in 1927, it was more than any of the other American League teams. Aaron passed Ruth in home runs (41 more) and RBIs (84 more), but it took him 3,965 more at-bats to do that. This is a tribute to Aaron's consistency, and he was also a better fielder and base runner than Ruth. And let's not forget that Aaron chased Ruth's record while being inundated with racist hate mail and death threats for daring to break a white man's record. He has said this just made him focus more on his hitting. Maybe Ruth and Aaron should be a tie.
At our family Thanksgiving, Ian and I took a break from turkey and consulted his copy of "Sports Illustrated Baseball's Greatest" to ponder the other outfield positions.
In center, it was pretty easy for us to agree on Willie Mays ("The Say Hey Kid"). This was not due to a lack of other strong candidates (Cobb, Speaker, Mantle, DiMaggio). But the five-tool Willie gets our vote, and President Obama used that very term when he gave Willie the Presidential Medal of Freedom last week (click here). President Obama also spoke of the important role played by Willie in the advancement of civil rights. Willie, Jackie Robinson, Hank Aaron and others from the Negro Leagues were helping crack open the door of the Civil Rights Movement. I was well aware of this in my young teenage years as baseball and the music of Fats Domino, Chuck Berry and Little Richard  held much of my attention. One year after Willie made "The Catch" in the 1954 World Series, Rosa Parks declined to give up her seat on the bus (60 years ago tomorrow). I never tire of seeing The Catch.
In left field, I so want to say "Stan the Man" Musial. A Cardinal playing across the state from me. A shared Eastern European ancestry – his father was from the province of Galicia on the eastern side of the Carpathian mountains, as were my maternal grandparents. They were all part of the big Eastern European migration in the early 1900's.  "Stash" is family, but he is up against a guy named Ted Williams. The "Splendid Splinter" of the Red Sox is the last player to hit .400 (.406 in 1941). Ted's power numbers of 521 home runs and 1839 RBIs are most amazing when you consider he lost almost five full seasons as a pilot in WW2 and Korea. Stan was revered by fans and writers. Ted, often not. Runner-up candidates:  Carl Yastrzemski and Ricky Henderson. Conclusion: Musial is ever so close, but Ian and I agree on Ted for left field. My St. Louis law partner Joe Porter will be disappointed in me  – Joe is a zealous Cards fan and has a picture on his desk of his dad with Musial.
For the trivia nerds: In 1941, Ted was hitting .3995 with a double-header remaining to end the season. Since this rounded to .400, his manager Joe Cronin suggested he not play the games to assure a .400 season. Ted declined and went 6 for 8 to raise his average to .406.  He also led the league in homers and was 5 RBIs short of the Triple Crown, but that was still not good enough to be 1941 MVP. Joe DiMaggio grabbed that award with a record that also still stands, the 56-game hitting streak. During those 56 games, Ted outhit Joe .412 to .406. On a personal level, I missed all of Joe's streak. It ran from May 15 to July 16. I was born on August 9. A month after that, Musial played in his first major league game (I don't remember that either, but Wikipedia does). Ted actually hit .400 in two other seasons.  He played 6 games in 1952 before heading to Korea. He was 4 for 10, an even .400. He returned from Korea in August of 1953 and hit .407 in 110 plate appearances, not enough to qualify for the batting title. In his final major league at bat in 1960, he homered as famously chronicled by John Updike (click here). If you want to dig even deeper on Ted, Pat McInerney recommended this essay to me.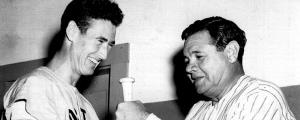 Ted and Babe (1939)
George Brett and .400: From 1942 to 2015, no batter has reached .400 for a season. During those 74 seasons, the highest full-season average was by our own George Brett who hit .390 in 1980. I had to look up the date, but I remember the August 17 game when George thrilled a Sunday afternoon home crowd by going 4 for 4 and reaching an average of .402. I was not there, but I had given our law firm's tickets to my good friend and client Wayne Tenenbaum. He still thanks me for this. You may remember the visual of George standing on 2nd base with his arms raised after a bases-loaded double for his 4th hit of the day. George hit .470 from May 30 to August 30 and still had an average of .3995 on September 19. But it was not to be, and the final was .390 as George led the Royals into their first World Series (lost to the Phillies 4-2). Tony Gwynn hit .394 in 1994, but the players strike left his Padres 45 games short of a full season. My personal favorite Brett memory is probably his last game at the K on September 29, 1993, when George circled the field after the game and kissed home plate – Rita and I were there with one of George's biggest fans, my mom Katie. For a wonderful ride through George's quest for .400, see this article by Joe Posnanski.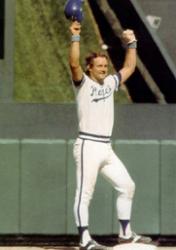 Autographed Baseballs:  My personal introduction to autographed baseballs started with my Aunt Katie. She was my dad's sister and had the same first name as my mom. My dad avoided confusion by calling mom Kitty. Aunt Katie was a waitress for many years at the old Majestic Steakhouse on 31st and later the Italian Gardens downtown. In the 1950's, the Majestic was a popular stop for baseball players, both local and those coming in to play the Blues and later the A's. In the summer of 1955 during the A's first season in KC, she was aware that I was a big fan and so kept a baseball behind the bar to get autographs as players came in. She had 15 names on the ball by the time she gave it to her 14-year old nephew. Those of a certain age will recognize some of KC's first major leaguers: Zernial, Finigan, Shantz (Bill, not Bobby), Portacarrero, Boyer (Cloyd), Ditmar, Valo, Kellner, Joe Astroth (signed twice) and others. I still have the ball and used it as part of my eulogy for Aunt Katie.
A couple of weeks ago, Rita and I visited Aunt Katie's son Tom and his wife Marcy in St. Petersburg, Florida. We talked about how happy the two Katies would have been to see the Royals this year. They were both rabid fans and often talked on the phone about the games and also while they played the slot machines at the riverboats. Tom suggested that Rita and I go to the local history museum to see the special wing dedicated to Dennis Schrader's personal collection of autographed baseballs. We did and it was well worth the stop. About 5,000 baseballs are on display, and my favorite was one signed in 1939. The Hall of Fame was started in 1936, but the museum in Cooperstown was not completed until 1939. In the induction ceremony in 1939, all 11 of the then living members of the Hall were there and signed this ball (Cy Young, Ruth, Cobb, etc.). The top novelty ball is probably the one signed by Joe DiMaggio and Marilyn Monroe. The collection includes almost all Hall of Fame players, a team ball for the 1927 Yankees, the Gas House Gang, 175 from the Negro Leagues, and a rare "Shoeless Joe Jackson" who was kicked out of baseball in 1919 as part of the Chicago Black Sox scandal. Fittingly, the rooms holding this collection are called "Little Cooperstown."

Several of the displays at Little Cooperstown have videos that can be called up to provide details on the collection. One video features Geddy Lee, lead singer of the Canadian rock group Rush and a major collector of baseball memorabilia. I already knew about Lee's collection through a mutual friend, Wayne Tenenbaum, and Wayne had told me that Lee had obtained at auction a collection of over 400 baseballs autographed by Negro League players. Lee bought them for the specific purpose of donating them to the Negro Leagues Baseball Museum in Kansas City. The next time you go to the NLBM, don't miss the Geddy Lee collection. The Canadian Lee is a diehard Blue Jays fan and surely not as happy as us Royals fans with the ALCS results (both in 1985 and 2015). But he has been very good to Kansas City.
Lonnie Shelton: Not a typo. As most of you know, I have always been phonetically challenged on my last name (pronounced as an "e" rather than the "a") – an Americanized moniker adopted by my paternal grandfather after he immigrated from Lithuania in 1907. According to Aunt Katie's baptismal certificate,  the name was originally Szaltanes, but I have been unable to find a similar name in the Ellis Island archives (illegal immigrants?).  I am always reminded of this history when I see a reference to Lonnie Shelton, former star basketball player for the Knicks and Sonics. A line I use on this: the Lonnie who spells his last name as it sounds is a lot taller, a whole lot richer and does not share my Eastern European ancestry. The New York Times recently had an article on Lonnie's rookie shot-blocking record for the Knicks being challenged by current rookie, Kristaps Porzingis , a product of Latvia, Baltic neighbor of my Lithuania. He has not Americanized his name.
Thanksgiving:  When I started putting together the parts to this post, I did not realize so much family lore would come out. Just lucky I guess. And there is one more item I need to share.
Ian's father Jason hosted our Thanksgiving family gathering.  As Rita and I were leaving, Ian quietly handed me a note to take with me. Rita read it to me on the drive home. Sprinkled among the thank-you comments were some gems that nicely captured our journey through 3&2 baseball camp and his baseball passion as discussed in these posts. "When you played catch with me it was awesome…I'm happy that we bond over baseball and the stories that I'm in I think are the best."
Yes, I plan to keep writing about Ian and playing catch with him.
Lonnie