I had not planned to again hit your inbox before Rita and I headed to Puerto Vallarta, but the all-time outfield sparked some reader comments that I wanted to pass along.
Willie Mays/Charles Schulz:  No, the late Charles Schulz did not provide a direct reader comment, but he often speaks to me from the Peanuts archives. In my last post, Willie Mays was a prime topic in a Peanuts strip. A follow-up on that theme:

Stan Musial/Talis Bergmanis: Talis is married to Anne Devaney, Rita's good friend since childhood. Talis is a retired photographer from the KC Star and keeps his hand in there with some of the best letters to the editor. He grew up in St. Louis and sent this warm nostalgia piece about Stan Musial and old Busch Stadium (nee Sportsman's Park):
Hi Lonnie…I reluctantly agree with Williams over Stash. Back in the late 50s and early 60s my good Latvian friend Karlis and I would go to as many doubleheaders as we could at the Cards' old Busch Stadium. (Frugal kids raised by frugal immigrant parents, we never went to just a single game.) As soon as the gates opened, we raced the bigger kids and other serious fans up the ramps to our favorite general admission seats out toward the right field corner of the second deck. We could usually score the first row and hung over the railing for the next 6-7 hours. From that vantage point, I watched the man from Donora, PA deposit a number of home runs onto the roof of the Pavilion below to our right, triggering a Redbird logo on the lower corner of the left field scoreboard to swing and hit a ball that then soared across the scoreboard. As the ball finished its flight, the big neon Busch eagle at the top of the scoreboard would flap its wings. Quite a sight in those low technology days. The Pavilion was essentially the right outfield seats that were covered by a flat roof, as opposed to the left field bleachers which provided no protection from sun or rain. Right field was a short 310, so in addition to the green concrete wall of 8-10 feet, they'd put up a 20-30 foot high wire fence from the top of the wall to the roof of the Pavilion. The fence stopped somewhere in right-center field. It was our version of the Green Monster. I recall Stan smashing a couple of line-drives off that fence so hard that he was kept to a single. Quite a guy, but, yes, Williams has the edge.
Babe Ruth/Mike Maloney: Mike was my law partner at Popham back in the days when I thought I was going to be a trial lawyer. I failed, but Mike moved from successful trial lawyer to Clay County circuit judge, now retired. He has been on my baseball distribution list, but let me know that he was not really into baseball enough to continue in the Hot Stove League. More of a NASCAR and Disney World guy. But his exit was not seamless as he left me with a piece of baseball trivia – a bone to this dog. It dates back to the days of Babe Ruth as a pitcher for the Red Sox, before he became the Yankee slugger. The setup from Mike: "My grandmother and great aunt followed baseball religiously. Their brother, William "Bill" Moore, was a catcher for the Red Sox when Babe Ruth was still with them. In those years, marginal players, and Uncle Bill was one, didn't make a lot of money. The family had to take up a collection to get him to spring training."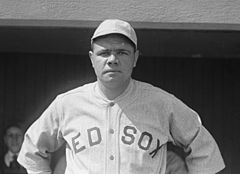 The Babe with the Red Sox, 1914-1919
Mike's trivia: "Uncle Bill still holds the major league record: most errors; by a catcher; one inning; 4. Look it up."
So of course I did. Per Baseball Reference, Kansas  City's Bill "Willie" Moore appeared in 49 games for the Red Sox, 5 in 1926 and 44 in 1927. But the Babe had been traded by the Red Sox to the Yankees after the 1919 season, starting the so-called "Curse of the Bambino" that kept the Red Sox from winning a World Series until 2004. So, Willie did not catch Ruth, but Willie would have been on the opposing team in many games during 1927 while Ruth was on his way to the then-record 60 homers. And Willie did indeed have four errors on September 26, 1927, but it took the whole game, not just one inning. This is still the record for a game and has happened to a catcher three times in the American League, Willie's being the most recent. Presented with this evidence, Judge Maloney countered that "Most of my stories do not enjoy such a high percentage of confirmation" and joked "As to playing with the Babe, I had no more credible sources than his two sisters, one of which was my grandmother. I am put out with them and may not decorate their graves next May."
Trivia begets more trivia. On the very Saturday that Mike and I were trading emails on this, I was on the treadmill reading from a Roger Angell book. He was going through some of his favorite memories and darned if I did not run into a 4-error story. All in one inning. But that's not the best part of the story. I'll let Roger tell it:
"In September 1986, during an unmomentous Giants-Braves game out at Candlestick Park, Bob Brenly, playing third base to the San Franciscos, made an error on a routine ground ball in the top of the fourth inning. Four batters later, he kicked away another chance and then, scrambling after the ball, threw wildly past home in an attempt to nail a runner there; two errors on the same play. A few moments after that, he managed another boot, thus becoming only the fourth player since the turn of the century to rack up four errors in one inning. In the bottom of the fifth, Brenly hit a solo home run. In the seventh, he rapped out a bases-loaded single, driving in two runs and tying the game at 6-6. The score stayed that way until the bottom of the ninth, when our man came up to bat again, ran the count to 3-2, and then sailed a massive home run deep into the left-field stands. Brenly's accountbook for the day came to three hits in five at-bats, two home runs, four errors, four Atlanta runs allowed, and four Giant runs driven in, including the game winner. A neater summary was delivered by his manager, Roger Craig, who said, 'This man deserves the Comeback Player of the Year Award for this game alone.' I wasn't at Candlestick that day, but I don't care; I have this one by heart."
Roberto Clemente/Tim Sear:  My partner Tim Sear responded to the post about all-time right fielders with glowing comments about Roberto Clemente. The lifetime Pittsburgh Pirate got his 3,000th hit as the 1972 season ended. Three months later, he died in a plane crash while on a charity mission taking relief supplies to earthquake victims in Nicaragua. His baseball career is legend:
Lonnie—when you think about the greatest Right Fielder of All Time—keep in mind that for almost the entire decade of the 1960's—the Golden Age of Baseball—the NL outfield was Mays, Aaron and Clemente.
Aaron played right field for the Braves—but not in the All Star Games—that spot was reserved for the greatest defensive right fielder of All Time—Roberto Clemente.
For All Star Games—Aaron moved to left field.
The game of baseball has never seen an outfield arm like Clemente's.
Roger Angell said of Clemente—"He played a kind of baseball that none of us had ever seen before…As if it were a form of punishment for everyone else on the field."
Tom Seaver said of Clemente—"His weakness was so close to his strength that you didn't dare try  to pitch there.  If you did, you ended up backing up third base."
I remember Clemente being interviewed after he cut up his knee running into the chain link outfield fence in Candlestick Park in a meaningless game.  Clemente was asked why he went after the ball like that in a game that meant nothing.
Clemente responded:  "Because I wanted to catch the ball."
George Brett/Mary Beth Blake: Mary Beth is one of my law partners and sent me this nice story about George:
Lonnie – My George Brett story goes back to when he lived at Lake Quivira where the kids kept stealing his mail box which, according to the local grapevine, was the cause of his moving off the lake.  But the cool story that relates to "ball signing" was the kindness he showed to the gas station owner's mom.  Emmet told George that his mom, who lived in a nursing home in Wellsville, never missed listening to a game and was George's biggest fan.  George filled his car up and was back at the station shortly.  He instructed Emmet to get in so the 2 of them could drive to  Wellsville to see Emmet's mom.  When they arrived at the home, George presented her with an autographed ball with her name on it and stuck around to talk with her! 
World Series Movie:  Narrated by movie star and native son Paul Rudd, the DVD might be a good stocking stuffer. As a reminder, the film will be on Fox Sports 1 on December 27. In the meantime, Bill Carr sent me this good video of 2015 highlights (13 minutes).
World Series Commercials – Epilogue:  I liked these two photo-shopped images from the internet. The first comes from Taco Bell's ad that promised to let customers "steal" a breakfast of AM Crunchwraps if there was a stolen base in Game 1 of the World Series. Lorenzo Cain won the hearts of fast-food eaters everywhere by stealing 2nd base in the 6th inning. The participating Taco Bells were mobbed and in some cases ran out of food. See the Taco Bell/Union Station crowd below. I'm not going to explain the second image.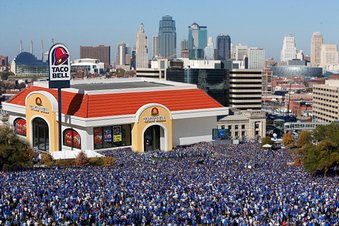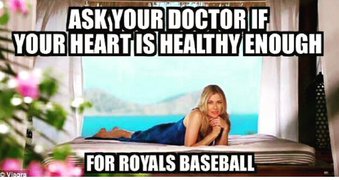 Kendrys Morales:  Congrats to Kendrys Morales who this week won the Edgar Martinez award for best DH in the American League. The name of the award was changed in 2004 to honor Seattle's Edgar Martinez who was named best DH five times. David Ortiz has since won it seven times – maybe he should petition for an award name change. Prior Royals winners were Hal McCrae (1976, 1980 and 1982) and Billy Butler (2012). Trick question: who will win the award in the National League?
Royals Hot Stove: I was surprised by Johnny Cueto turning down $120 million for 6 years, but now it makes perfect sense after David Price got $217 million for 7 years from the Red Sox. The Royals have traded for Tony Cruz who will battle with Drew Butera to see who gets to catch the few games Salvy does not. Tim Collins has signed after missing 2015 for Tommy John surgery, trading places with Greg Holland who will miss 2016 with the same malady. There are whispers of Chris Young signing with the Royals again. Every team wants Zobrist.
Chiefs: The Chiefs (4-0) joined the Royals (1-0) in being undefeated in November. Yes, World Series Game 5 was on November 1.
Go Royals! Go Chiefs!
Lonnie