Roger Angell died last Friday. He was 101 years old.

The internet erupted with accolades from the world of sports. Anyone who has read Roger Angell will know why.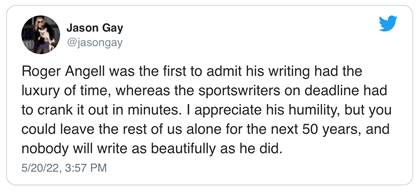 For some other good writing, I recommend these fine obituaries on Angell: Dwight Garner in the New York Times, David Remnick in the New Yorker, Jason Gay in the Wall Street Journal and Joe Posnanski in Joe Blogs.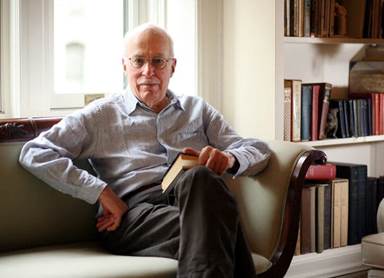 Like many baseball fans, I have read a lot of Roger Angell over the years. But my interest in his writing rose to a new level in 2015. The Royals were in the World Series against his hometown New York Mets. I was writing missives to my friends via email. The 95-year-old Angell was posting masterpieces in the New Yorker. I loved how he captured the essence of those Royals and the thrill of the games. I took to quoting him in my emails. Some samples:
[Angell, after Game 1 of the World Series] "…a painstakingly built 3-1 Metsian lead; a retaliatory two-run Royals sixth, which finished Harvey; another Mets run after an error by first baseman Eric Hosmer; and an astounding, one-out ninth-inning tying home run by Alex Gordon, against the near-impregnable Mets closer Jeurys Familia, who hadn't blown a save since July 30. Three changes of lead, three retying comebacks? A lovely game, a sparkler, with plenty of fielding gems to light it up. My scorecard showed five circled plays, the best one being Mike Moustakas' spinning grab and throw on a shot by the Mets' Wilmer Flores, which saved another run.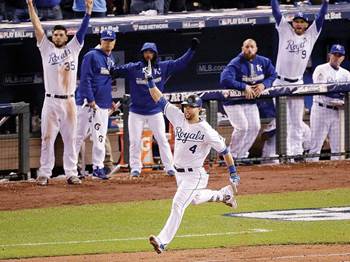 A lovely thing that now drooped and yawned its way through four more scoreless innings while Eastern Daylight Time moms and dads went to bed or didn't, and their school-night kids fell asleep beside their under-the-cover smartphones, and pitchers came and went and grew elderly. The last two verticals were the Royals' thirty-six-year-old Chris Young and the Mets' forty-two-year-old Bartolo Colon, with Colon the loser at last – or rather the Royals the winners – after a throwing error by David Wright, a single to right field, an intentional walk, and a cleansing, game-winning sac fly by Hosmer."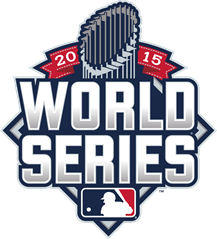 [After the Series, Angell]…wished he had no stake in the Series for his home town team because he "fell in love with these Royals in their near-thing debut in the World Series last fall…there's a collective élan to them, a bearded joy in their work, that you want to be part of."
 Perfect.
 Hot Stove is Born – With Help From an Angell: I was encouraged by the response to my emails, so I decided to keep writing over the baseball winter (a/k/a the "Hot Stove Season"). The idea was to post once or twice a month with an emphasis on trivia and nostalgia. How to best prepare for this? I bought five books of Roger Angell essays and immersed myself in them. As announced in my inaugural Hot Stove post on November 30, 2015, "Rita and I head to Puerto Vallarta next week for some relaxation with the Brewers. I have my Roger Angell books and the new Sam Phillips biography."
 Angell's baseball essays started in 1962. He had worked at the New Yorker for several years as an editor and writer when he received an assignment to cover spring training. He had no prior baseball writing experience, but his observational and writing skills matched beautifully with the pace and rhythms of baseball. The essays kept coming and were collected in books every few years. These are the ones on my shelf:                                                      
The Summer Game (essays from 1962-1972)
Five Seasons (1972-1976)
Late Innings (1977-1981)
Season Ticket (1983-1987)
Game Time (a mix from 1962 to 2002)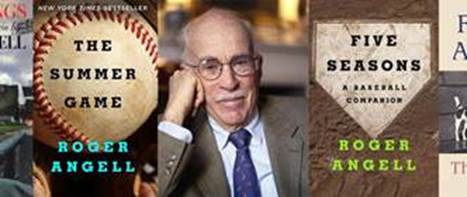 The words of Roger Angell have become part of Hot Stove. When I ran a search of the archives, I found his name in over 30 Hot Stove posts. Let's take a walk through some of them.
From The Summer Game: As the World Series approaches each year, I often look back to the Series of 25, 50, 75 and/or 100 years ago. The sweet spot on the research for 50 years ago is The Summer Game.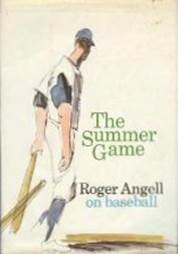 The season of 1968 was headlined by the dominance of pitching. The cumulative batting average for the season was .236. Angell explained why:
 "All the technical and strategic innovations of recent years have helped the defenses of baseball; none have favored the batter. Bigger ballparks with bigger outfields, the infielders' enormous crab-claw gloves, more night games, the mastery of the relatively new slider pitch, the persistence of the relatively illegal spitter, and the instantaneous managerial finger-wag to the bullpen at the first hint of an enemy rally have all tipped the balance of the delicately balanced game…The 1968 season has been named the Year of the Pitcher, which is only a kinder way of saying the Year of the Infield Pop-Up. The final records only confirm what so many fans, homeward bound after still another shutout, had already discovered for themselves; almost no one, it seemed , could hit the damn ball anymore."
After Bob Gibson and other pitchers were so successful in 1968, MLB reduced the strike zone and lowered the mound]…Roger Angell, "Bob Gibson, we may conclude, was the man most responsible for the next major change in the dimensions of the sport."
The pitching matchups were the key to the 1968 World Series, and I borrowed heavily from Angell's game-by-game coverage. Some samples:
Bob Gibson…settled into his astonishing, flailing delivery, which he finishes with a running lunge toward the first base line…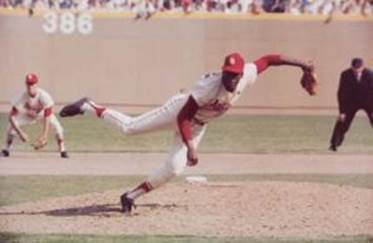 …McLain , who stands hunchily on the mound, like an Irish middleweight in his ring corner, was mostly high and wild…Afterward, in the clubhouse, the Tigers sounded like survivors of the Mount Pelee disaster…Mickey Lolich, is a swaybacked, thick-waisted left-hander…Lou Brock does not always steal second. He led off the game with a homer, tripled and scored in the fourth…then doubled and stole third…From then on, it was a game to treasure – the kind of baseball in which each pitch, each catch, each call becomes an omen…Denny McLain, suddenly restored to action by a mixed shot of cortisone and Novocaine…Lolich pitched the first two innings like a man defusing a live bomb, working slowly and unhappily, and studying the problem at length before each new move."
Angell's writing on the 1971 World Series produced some real gems, one of which I used in my annual Martin Luther King message in 2017 (titled "Martin, Jackie and Roberto" – as in Clemente).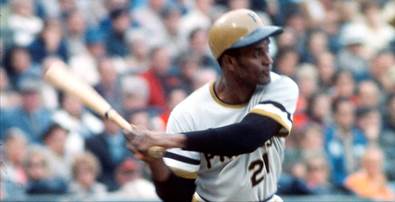 Clemente had felt underappreciated, especially outside of Pittsburgh, and the Series provided a grand national stage for him to display his skills. It did not hurt that the TV audience was huge – Game 4 was the first night game in World Series history and is still in the top 10 viewed games. Angell captured the moment in the New Yorker:
[The 1971 World Series was] "a shared experience, already permanently fixed in memory, of Roberto Clemente playing a kind of baseball that none of us had seen before – throwing and running and hitting at something close to the absolute perfection, playing to win but also playing the game as if it were a form of punishment for everyone else on the field. He is a frightening batter…a pitch…in his power zone is in imminent danger of departure…A proud and bitter man with his haughty, striking profile, Clemente is convinced that he is the finest ballplayer in the world. He believes that for various reasons – his frequent injuries, the fact that he is black, the fact that he is Puerto Rican and speaks English with an accent- he has been deliberately damaged by the press and kept from the kind of recognition and adulation that we have given to the Aarons and Mayses  and Mantles of our time."
From Five Seasons: Angell again wrote about that 1971 Series in a 1975 essay that appears in Five Seasons.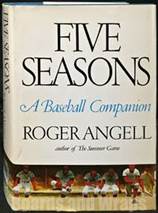 The essay is about Steve Blass who had just retired from baseball, and it begins with a look back at the iconic photo showing Blass and catcher Manny Sanguillen celebrating the Pirates 1971 World Series victory.
"The photograph shows a perfectly arrested moment of joy…the catcher is running toward the camera at full speed, with his upraised arms spread wide. His body is tilting toward the center of the picture, his mask is held in his right hand, his big glove is still on his left hand, and his mouth is open in a gigantic shout of pleasure…the pitcher is just past the apex of an astonishing leap… two of the outreaching hands have overlapped so that the pitcher's bare right palm and fingers are silhouetted against the catcher's glove…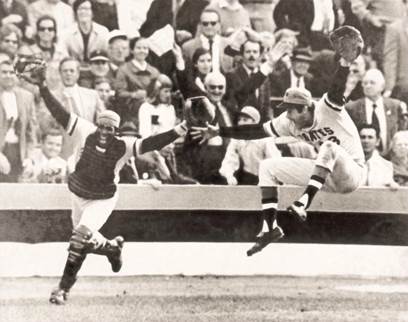 …There is a further marvel – a touch of pure fortune – in the background, where a spectator in dark glasses…is lifting his arms in triumph…and it binds and recapitulates the lines of force and the movements of the theme of the composition as serene and well-ordered as a Giotto. The subject of course, is classical – the celebration of the last out of the seventh game of the World Series."
Leave it to Roger Angell to connect the classic photo to a Renaissance painter.
 From Late Innings: I unearthed a gold nugget in this book.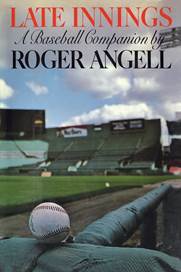 Bill Lochman was my classmate at Van Horn high school. Bill's father was Walt Lochman who was the radio sportscaster for the Kansas City Blues in the 1930s and 1940s. Below, from 1939, Walt Lochman interviewing Joe DiMaggio of the Yankees and his brother Vince DiMaggio of the Kansas City Blues. The Yankees were in KC to play their farm team.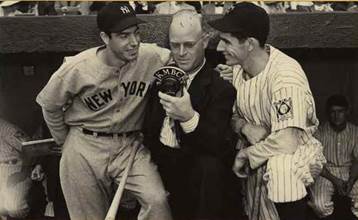 In an essay in Late Innings, Angell tells of being in Kansas City to cover the 1980 World Series between the Royals and Phillies. He picked up background information from some locals:
"Much of this midlands cultural history was given to me during a memorable supper of ribs and baseball (and frosty pitchers of draft beer) in the side room of Arthur Bryant's Restaurant, a Tour d' Argent of barbecue, just after Game Four. My friendly companions were Jim and Dana, both faculty members of the University of Kansas; a free-lance writer named Bill; and Jim's seventeen-year old son, Mike. All these humanists had watched and thought about Kansas City ball throughout their lives, and as they talked and laughed and argued their voices seemed to flow and part and intermingle into a single river, a murmurous Missouri of baseball memories."
 Angell over several pages recounts the back of forth of this with names and events familiar to Kansas City fans: Blues, A's, Otis, Hurdle, Mayberry, McRae, Rojas, Busby, Whitey, Yankee connections, Charlie Finley, Monarchs, Zernial, Buddy Blattner, and…this:
"Do you remember Walt Lochman during the Blues' road games over the radio—those re-creations, with the funny fake game sounds and the telegraph ticker going in the background?"
 I was so pleased to see this nugget – obscure to many readers, but not to the gang from Van Horn. Angell's dinner mates Jim and Dana must have been of my parents' generation since they had heard Walt Lochman on the radio. The "Bill" at Bryant's was not of that generation – Angell later reveals that it was Bill James, a Royals fan from Lawrence, Kansas, "a lanky, bearded, thirty-two-year old baseball scholar who writes the invaluable Baseball Abstract…notable for its dazzling use of statistics…and Jamesean elucidations." James had self-published his first abstract just three years earlier. James is still going strong today as a senior statesman in the world of sabermetrics, a name he coined. I bought another copy of Late Innings to give to Bill Lochman so he could see how his dad was part of a conversation that included two icons of baseball journalism.
From Season Ticket: This book opens with "La Vida," an essay that became well known because of a prescient statement by Earl Weaver that was documented by Roger Angell.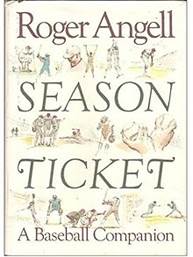 In 1982, Angell and some other sportswriters visited with Orioles' manager Earl Weaver. He told them that the coaches had been working with rookie Cal Ripken who was making the difficult transition from third base to shortstop…Angell quotes Weaver as then saying "Wherever he plays, you can write him in for the next fifteen years, because that's how good he is." Angell put this in print when he wrote about Weaver in "La Vida" in 1987.
As it turned out, Weaver's statement became literally true as Ripken was indeed written into the lineup for every game for what became a streak of almost 17 years, ending in late 1998.
David Cone and Roger Angell: When I prepared a three-part Hot Stove series on baseball labor relations, one of my sources was Roger Angell's 2001 biography of Kansas City native David Cone, A Pitcher's Story. Two of Angell's sources had been a pair of brothers from Kansas City, Steve and Don Fehr.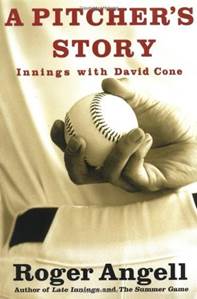 Cone was very active on behalf of the union during the 1994-1995 strike. After the strike was called, Cone became "This Statesman" – the title to Chapter 16 in Angell's book. Angell said Steve Fehr, Cone's agent, was a "source of balanced judgment and essential detail."…Don Fehr said "You have to have people like David Cone in this work. Players are strongly individualistic but also look for leaders…That was David." Cone was sure of his cause, telling Angell "The main issue in the strike was clear. This was a major effort by the owners to break the union. Some of them had been waiting years for the chance."
The strike ended after the owners received an unfavorable ruling before District Judge Sonia Sotomayor. In 2009, when Sotomayor was nominated for the Supreme Court, David Cone was among the supporters who testified at her Senate confirmation hearing.
This Old Man: Angell did not exclusively write about baseball. One of his best essays was about his experience with aging. "This Old Man" was published in 2014 when he was 93 and is required reading for those of us noticing that not all body parts move the same as before. Click here. It is a classic, and although not a baseball piece, the essay is not void of baseball references. From the opening paragraph:
"Check me out. The top two knuckles of my left hand look as if I'd been worked over by the KGB. No, it's more as if I'd been a catcher for the Hall of Fame pitcher Candy Cummings, the inventor of the curveball, who retired from the game in 1877. To put this another way, if I pointed that hand at you like a pistol and fired at your nose, the bullet would nail you in the left knee. Arthritis." 
 "This Old Man" also lends its name to Angell's 2015 book of New Yorker essays. In a nice surprise, a copy of the book showed up on my desk soon after publication. Knowing my admiration for Angell, Hot Stove reader Stanley Bushman (an ageless 93 himself) made this old man's day with his gift.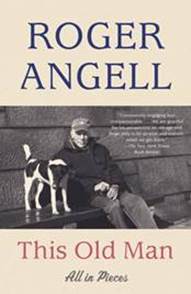 Two Old Men – Joe Reres and Roger Angell: Joe Reres was born in 1919. Roger Angell in 1920.
Joe was married to our friend Barbara, and Rita and I often visited the couple at their home in a Virginia suburb of Washington DC. Joe was well read on art, politics, history, etc. and had an extensive library. He was also a life-long subscriber to the New Yorker. But he had no books about sports, nor did he read Roger Angell baseball essays in his New Yorker magazines. Just not Joe's cup of tea.
But that would change soon after Joe turned 94. When the essay "This Old Man" was published in February of 2014, I sent it to Joe. He loved the writing and was hooked. It gave me great pleasure to introduce Joe to a "new" author (who was 93). When the piece became the title article for the collection of essays published in 2015, Joe got the audio version and listened to all of the articles, many of which are about baseball. At long last, Joe was sort of a baseball fan.
Joe died at the age of 96 on July 4, 2016. In September of that year, Roger Angell turned 96 and wrote a piece about getting ready to cast his ballot for President for the 19th time. His first was in 1944 with a mail-in ballot from the Pacific Ocean where he was stationed with the Army Air Force. Just like Joe Reres had been. He voted for a fourth term for FDR. Just like Joe had done. Angell said his vote for FDR was thrilling, but not as significant as his vote would be in 2016, which he said was the most important in his lifetime. He made a compelling case for Hillary Clinton and the reasons he found Donald Trump to be a "dangerous alternative." Just like Joe would have said.
Below, Lonnie and Joe.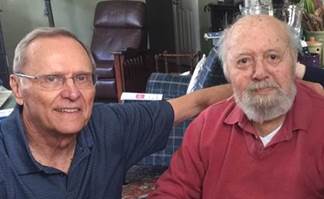 I'm sure this will not be the last time I quote Roger Angell in a Hot Stove. He's readily available on the Roger Angell shelf in my library.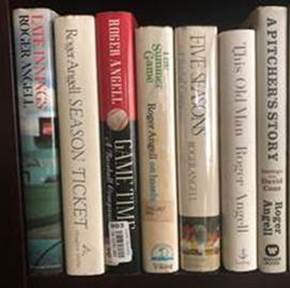 Thank you Roger. RIP.