Last month, Art Rupe died at the age of 104. This past weekend in the (Damn) Yankees series, the Royals unveiled their new Nike City Connect uniforms. How these two facts are connected will be revealed in Lonnie's Jukebox.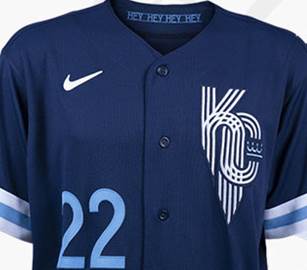 But first, some New Rules (as Bill Maher would say).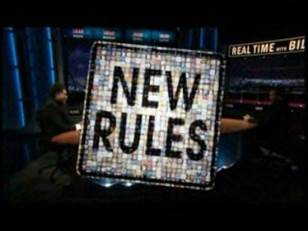 New Rule – Rita Replacing Lonnie In the Kitchen: Rita's recovery from hip surgery continues to move smoothly. No more walker, and only occasional use of her cane. Still some occasional pain and not yet ready to join me in Loose Park walks, but definitely on the mend. In the kitchen, the Instant Pot and air-fryer are again being used. Not by me – that would have been a bridge too far.
So my kitchen chores are phasing out. But I learned a lot. For example, scissors are the primary utensil in the kitchen – packaging is tough. Two microwaves are better than one. When you shop, you look at expiration dates. Who knew? I also learned that Rita has some efficiencies and talent that were not so evident when my only role was to show up at the table. I will continue to follow the one rule that has long applied to me – bussing the table after meals. Otherwise, the "My" in this motto gratefully means Rita…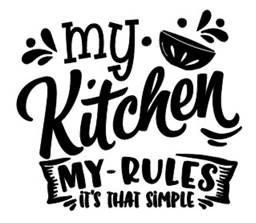 One last anecdote about my kitchen presence. The recent talk about this in Hot Stove prompted David Welte to remind me of a story from 1978. I was single at the time and living in an apartment. I bought a small house in the Westwood neighborhood and moved in. I was then at the Popham firm, and my partner Ed O'Reilly dropped by to see the house. Ed detected a gas odor and tracked it down to the stove. He closed the valve leading to the stove to keep me from blowing up. Two years later, I sold the house, disclosing to the buyer that the stove might not work. It had never been repaired. I checked in with Ed on this story from 44 years ago, and he told me that his wife says he has the nose of a canary in a mine shaft. Lucky for me.
New Rule (1973 and 2022) – Designated Hitter: The designated hitter rule was adopted by the American League in 1973, making this 2022 season the 50th year for the DH in the AL. Thanks to the recent Collective Bargaining Agreement, 2022 marks the first year for the DH to be universally applied in the National League. The DH in the NL has previously been used only for interleague play in AL parks and for Covid year 2020.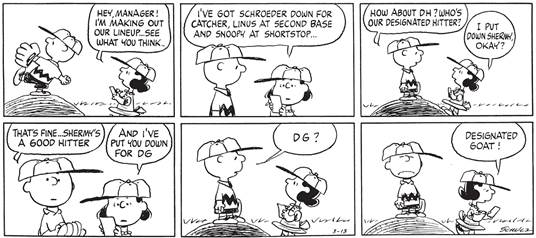 Who was the first DH back in 1973? Pete Levi fed me the answer to that question last week by sending an article from the Times of Israel with the headline "Catch up with 'Designated Hebrew' Ron Blomberg, baseball's first designated hitter."
Here's the story that goes with that headline. On April 6, 1973, the Yankees opened the season in Boston. In the top of the first, the Yankees loaded the bases, bringing to the plate Ron Blomberg. Instead of playing one of his normal positions (1B and RF), Blomberg was the DH that day, the first in MLB history. Boston pitcher Luis Tiant walked Blomberg to force in a run, also making Blomberg the first DH to get an RBI.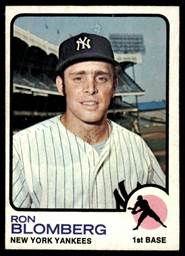 Blomberg has described himself as "real big" on his Jewish faith and he has a theory of why so many Jews love baseball – "If you look at the Bible, and the first verse, what does the first verse say? 'In the beginning.' I always call it 'in the big inning'."
The large Jewish population in New York was one of the main reasons Blomberg loved playing for the Yankees. "I was related to every Jewish kid in New York. I think I went to everybody's bar mitzvah and bat mitzvah. I think I went to most of the weddings in New York. I was their Uncle Ron. I was their cousin Ron. I was a role model for a lot of kids. And you know, that made me feel unbelievable. I did a lot of stuff for the shuls and the temples. I loved it."
 After Blomberg's career ended, he was attending a Yankees Old-Timers Day and ran into sportswriter Dick Schaap. When Schaap saw him, he exclaimed "First DH!". Bromberg jokingly said what do you mean, "Designated Hebrew"? Schaap told Blomberg he should make that the title for a biography. And in 2012, Blomberg did just that.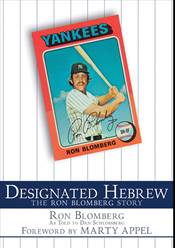 I can't leave this subject without quoting Walter Sobchak (John Goodman) on Jewish tradition in The Big Lebowski…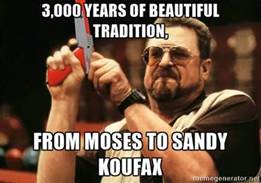 1973 Yankees Trivia – Part 1: In that first DH game, two of the pitchers in the Yankee bullpen were Fritz Peterson and Mike Kekich. Before the start of the 1973 season, the two pitchers were involved in one of the most famous trades in MLB history. They swapped wives. Very publicly. The trade went well for Peterson – he married Mrs. Kekich. The other couple soon split up. Baseball.
1973 Yankees Trivia – Part 2: In the Yankee lineup that day were brothers Matty and Felipe Alou who combined for five hits. Their brother Jesus Alou was also in the majors in that 1973 season. Ten years earlier, all three brothers played for the Giants and sometimes were the three outfielders in the games. From left, Jesus, Matty and Felipe.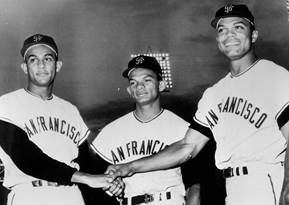 This reminds me of a joke that Home Run Derby commissioner Joel Poole saw as a series of graffiti posts on a men's room stall:
First Writer: Jesus is the answer.
Second Writer: Okay, but what is the question?
Third Writer: Who was Manny and Felipe's younger brother?
 New Rule – Pitch Clock: After an audition in the lower minors in 2021, a pitch clock will be used at all minor league levels in 2022. Pitchers will be required to deliver within 14 seconds (18 seconds with runners on base). Failure to timely pitch will result in a ball being called by the umpire. The batter must be in the box and attentive to the pitcher with 9 seconds left on the clock. Failure by a batter to be in place will result in a strike.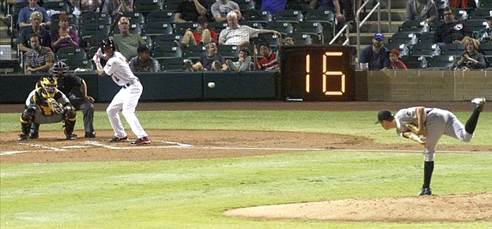 This experiment will be closely watched because MLB is looking for ways to speed up the game. Early returns indicate that from 20 to 25 minutes could be saved per game. There will no doubt be pros and cons, and below are quotes for each side of the argument.
Con on the Pitch Clock: Baseball — it's an escape from clocks. Baseball is a vacation from clocks. In baseball, there is none of that time anxiety, none of the feeling that every second matters, none of that clock-watching. There's a certain tranquility, a certain calm in the rhythms of baseball. I don't want some stupid clock ticking behind a pitcher, people in the stands counting down, pitchers throwing at the last possible second. Baseball is at its best when you can melt into the game. Sure it's a cliché, but when just right, baseball does feel timeless. Who brings a timepiece to a timeless game?
This editorial cartoonist agrees: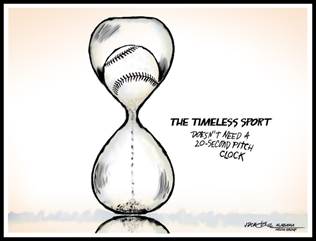 Pro on the Pitch Clock: It turned out that the digital clock — which rolled somewhat unnoticed behind the batter — was absolutely fantastic. It did not distract from the game the way I had thought it might. Instead, it kept the game flowing. It kept the action rolling. After years of watching baseball players stretch out the game the way George stretched out James Spader's sweater on Seinfeld, this was mind-blowing. The pitcher pitched. The hitter swung. The fielder caught. The pitcher pitched again. The game propelled itself. Yes, there was still the nice, relaxed pace of baseball that I worried might be lost, but within that easy pace was a steady drumbeat of action. It was, I must admit, glorious.
The first quote above ("Con") was written by Joe Posnanski about seven years ago. A few months later, Joe went to a Toledo Mud Hens minor league game with a pitch clock, changed his mind, and wrote the "Pro" paragraph. Joe explained his change of heart in a recent blog post (click here). With the zeal of the converted, Joe hopes that MLB adopts the pitch clock.
One batter who is not keen on the clock is Royals prospect Nick Pratto who is playing at AAA Omaha. Nick has twice been called out on strikes for not being ready at the plate (video here). There will be a lot of anecdotes like this during the season, so stay tuned to see how MLB reacts to this minor league experiment.
Joe Posnanski – Unpaid Advertisement: As most Hot Stove readers likely know, the above quotes are not the first I have used from Joe Posnanski. The man is quotable. And my favorite sportswriter. So I'm passing along an offer he is making for 90-day free trials for those interested in trying his blog. You have to provide your email and credit card, but there will be no charge if you cancel within the 90 days. If interested, click here.

Potential New Rules: There are other rule changes being tried at various minor league levels this year. They include larger bases, robot umpires for balls/strikes, and restrictions on shifts. Baseball is notorious for being slow to change, but I'm thinking some of these minor league experiments will be adopted by MLB.
New Rule – Miggy Rules: Last week, Detroit's Miguel "Miggy" Cabrera got his 3,000th hit (video here).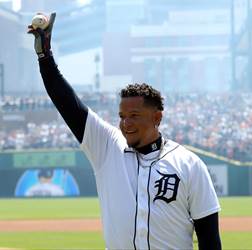 The baseball world rejoiced.

 Miggy is the 33rd player to reach 3,000 hits. If current statistical trends continue, he could well be the last. The modern game has seen increases in the number of home runs, strikeouts and walks, leaving less opportunities for overall hits. The current players with 2,000 or more hits (and their age) as of April 25: Robinson Cano – 2,631 (39), Yadier Molina – 2,116 (39) and Joey Votto – 2,035 (38). Jose Altuve – 1,783 (32) and Freddie Freeman – 1723 (32) could make a run if they can keep the pace for several more years. And there are lots of young stars to keep an eye on.
When you add another factor – 500 home runs – the bar gets very high. Only seven players have had 3,000 hits and 500 home runs. It will also be a long time before another player hits 500 home runs. Other than Cabrera and Albert Pujols, no current players have more than 350 homers except Nelson Cruz (451 at age 41) and Giancarlo Stanton (351 at age 32). 
 Among these seven, three are in the Hall of Fame (Aaron, Mays and Murray). Two will be first ballot Hall of Famers when eligible (Cabrera and Pujols). Two are under the steroids cloud (Palmeiro and Rodriguez).
Royals fans have an opportunity to see two of these superstars in action this summer. Pujols and the Cardinals are at Kauffman Stadium tomorrow night and Wednesday. Cabrera and the Tigers will be at the K on July 11-13 and September 9-11.
3,000 Hits Trivia: George Brett had 3,154 hits and 317 home runs. What happened after his 3,000th hit is quite memorable. Click here.
 Wild New Rules – Savannah Bananas: This weekend (Friday and Saturday), the Kansas City Monarchs will host the Savannah Bananas at Legends Field in Kansas City, Kansas. Savannah plays in the Coastal Plain League, a wood-bat collegiate summer baseball league. The Bananas play good ball and have won the title two times, but the big story is that they sell out all of their games. Owner Jesse Cole has proven to be a modern-day Bill Veeck in drawing fans to the park. He can explain it better than I can, so please take a look as this ESPN video (7 minutes).
The national buzz about the team prompted the Bananas to take the show on the road for exhibition games, dubbed the Banana Ball World Tour. All stops on the tour, including KC, sold out quickly. The tour uses special "Banana Ball Rules" (below), which again, are best explained by Jesse Cole (click here; 3 minutes). As advertised by the Monarchs, it will be "our turf, their rules."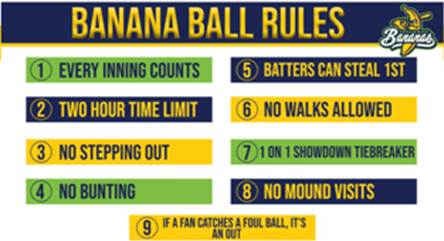 New Rule – Kentucky Derby: The 148th running of the Kentucky Derby will be held this coming Saturday. The "New Rule" for this year is that trainer Bob Baffert is barred from participating. Baffert's horses have won the Kentucky Derby six times, and it looked like that number would increase to seven when Medina Spirit won in 2021. But the horse was later disqualified after a drug test, and Baffert has been banned from racing at Churchill Downs for two years.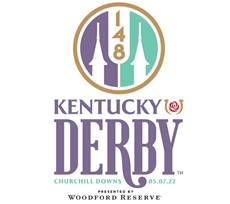 As the race draws closer, I'll check in with official Hot Stove handicappers Jim Fitzpatrick (native of Louisville) and Charlie Riggs (college fraternity brother). Not that I'll be doing any legal sports betting here in Missouri. If I were basing my bet on the name of the horse, I'd pick Rattle N Roll. He is one of the 29 horses currently listed on the official Kentucky Derby site, but at the lower end, so may not make the final 20-horse field. My reason is that the name is clearly a derivative of the golden oldie hit "Shake, Rattle and Roll" by Joe Turner (and covered by Bill Haley and the Comets). Just the segue I need to go to…
 Lonnie's Jukebox – Hey-Hey-Hey-Hey Edition (From Art Rupe to the Royals): Last month, Art Rupe's obituary was in the New York Times. He died at age 104. I took notice because Rupe was integral to the beginning of my passion for early rock 'n' roll music.
 As rock 'n' roll was breaking out in the mid-1950s, artists often could not attract the attention of major record labels. So independent labels filled the gap, and nine of the ten inaugural members of the Rock and Roll Hall of Fame started on independent labels. I took note of those labels as I bought 45-rpm records during high school (Van Horn, 1955-1959). Chuck Berry was on Chess. Fats Domino on Imperial. Jerry Lee Lewis and Elvis Presley on Sun. Little Richard on Specialty. Everly Brothers on Cadence.
 Many of the entrepreneurs who owned the indies were Jewish, with Eastern European roots. Specialty was owned by Art Rupe whose Jewish parents were from Galicia, a province that at one time included parts of western Poland and eastern Ukraine. The major cities: Krakow and Lviv. Small world. My maternal grandparents came from a village near Lviv. Sadly, this area has been in the news with the ongoing Russian war on Ukraine.
Rupe founded Specialty in 1946 with the intent to occupy a certain niche ("specialty") in the record business. He wanted to record Black artists, ranging from gospel to "race music" (soon be categorized by Billboard as rhythm and blues).
On the gospel side, he signed the popular Soul Stirrers, and Sam Cooke joined the group in 1950. Rupe recognized Sam's talent and let him do some recording sessions as a solo artist singing secular songs. Rupe did not think Sam's songs sounded like hits, so Sam left for another independent label (Keen) where he recorded them. One of the songs was "You Send Me," which went to #1 in 1957 and ignited Sam's soul-singing career. Years later, speaking about his loss of Cooke, Rupe sarcastically noted, "A wonderful stroke of genius on my part."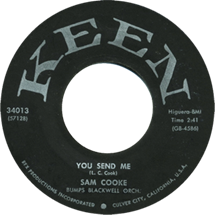 On the R&B side, Rupe traveled to New Orleans in 1952 because he was attracted to the music of Fats Domino. Rupe wanted to audition similar artists for his label and hit paydirt with Lloyd Price. He signed Price and recorded him in New Orleans (with Fats Domino on the piano). One of the songs was "Lawdy Miss Clawdy" which went to #1 on the R&B charts.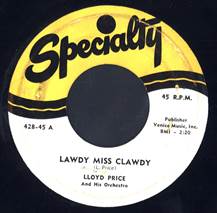 Price was drafted into the U.S. Army, and when he returned from Korea, Art Rupe and Specialty had moved on with two other blues "shouters," Larry Williams (Price's former chauffeur) and Little Richard. As with Sam Cooke, Rupe might have had some regrets on letting Price get away. Price soon hit it big with "Stagger Lee" and "Personality."
But Rupe had found the artist who would put Specialty on the map. Little Richard blasted out with "Tutti Frutti" and a string of hits that were a major part of establishing rock 'n' roll as the new pop genre. Below, Little Richard and Art Rupe.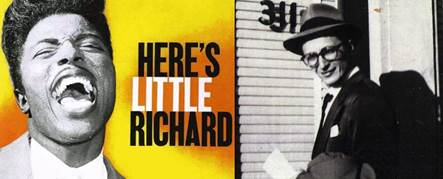 Hot Stove served up a tribute to Little Richard when he died in 2020 (click here), and I ran a photo of my collection of his Specialty records.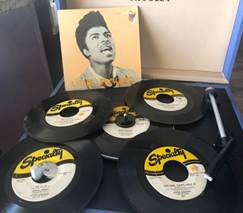 Larry Williams also had some recording success. His two biggest hits had titles that made you think of Little Richard's "Long Tall Sally." They were "Short Fat Fannie" and "Bony Moronie" (she's as skinny as a stick of macaroni).
Juke Box Break – Click on the song titles to listen:
"Lawdy Miss Clawdy" by Lloyd Price (1952).
"Tutti Frutti" by Little Richard (1955).
"You Send Me" by Sam Cooke (1957). First heard by Art Rupe at Specialty, but recorded by Keen.
"Bony Moronie" by Larry Williams (1957). My 45-rpm collection includes this record.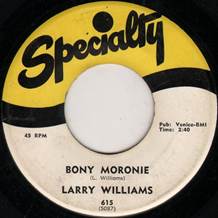 From Art Rupe to the Kansas City Royals. This story starts on November 29, 1955. Art Rupe supervised a session of Little Richard singing "Kansas City," a Leiber and Stoller song originally recorded by Little Willie Littlefield in 1952. Little Richard personalized his version by adding some additional lyrics with "Hey-Hey-Hey-Hey" refrains. The recording was not released at that time.
In 1958, Little Richard converted his "Hey-Hey-Hey-Hey" improvisations to a separate song, and it was released as the B-side of his hit "Good Golly Miss Molly."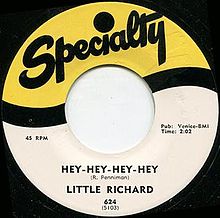 In 1959, after Wilbert Harrison took his version of "Kansas City" to #1, Art Rupe released the 1955 session recording of Little Richard's "Kansas City" with the "Hey-Hey-Hey-Hey" refrains. The label describes the recording as "A MEDLEY" and lists the songwriters as Leiber-Stoller (for "Kansas City") and R. Penniman (for "Hey-Hey-Hey-Hey"). R. Penniman is Little Richard.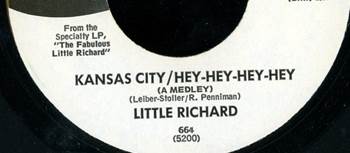 Little Richard started using the medley of the two songs in his live performances, including in Europe where he was seen by a hot new band, the Beatles. The Beatles liked his version and adopted it for their own live set in 1962. The medley was phased out by the Beatles as they filled in their sets with the stream of new hits they were recording. On the Beatles first American tour in 1964, the medley was not on their setlist, but they made an exception in Kansas City when A's owner Charlie Finley brought the band to Municipal Stadium. As recounted in the Beatles Bible blog, the medley was so "rapturously received by the crowd," that the Beatles recorded it a month later.
Back to the Juke Box…
"Kansas City" by Wilbert Harrison (1959). Played at Kauffman Stadium after Royals losses.
"Kansas City/Hey-Hey-Hey-Hey" by Little Richard (1959).
"Kanas City/Hey-Hey-Hey-Hey" by the Beatles (1964). Played at Kauffman Stadium after Royals wins.
This post started with the jersey for the new City Connect uniforms for the Royals. If you missed it, take a look at the phrase inside the collar. Here's a closeup:
Thank you Art Rupe, Little Richard, the Beatles and the rapturous crowd at Municipal Stadium in 1964 (which included Hot Stove managing editor Rita).
Go Royals!!!
 Hey-Hey-Hey-Hey