As we wait patiently for pitchers and catchers to report…
#42 – Jackie and Mo: This is a big milestone month for two players who wore #42. Tomorrow is the 100th anniversary of the birth of Jackie Robinson. And last week, superstar reliever Mariano "Mo" Rivera was elected to the Hall of Fame, becoming the first player to ever receive a unanimous vote of the sportswriters.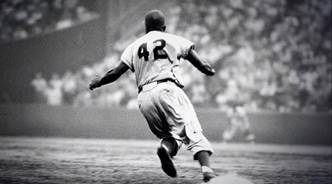 On April 15, 1997, the 50th anniversary of Jackie breaking the color line, Commissioner Bud Selig announced that Jackie's #42 would be retired from all of baseball. Any players then having #42 could continue until they retired – the last one to do so was Mariano Rivera who retired in 2013. Rivera on wearing #42: "Hopefully what Jackie did for baseball will be remembered by every generation in the future. He was a great man. That's why I wore his number. I did it thinking, 'I have a lot to live up to.' I hope I did." I think the unanimous HOF vote said Mo did exactly that.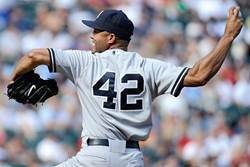 In what has become an annual tradition, all players now wear #42 in MLB games played on April 15.
Spring Training: Royals pitchers and catchers report to Surprise, Arizona, just 14 days from now. Wednesday, February 13. The rest of the roster reports on February 18.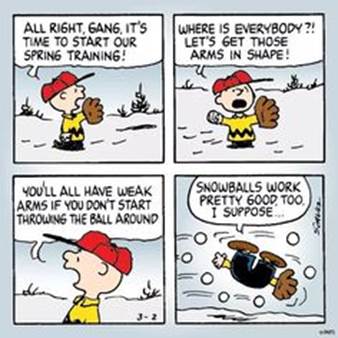 Before looking ahead to the new season, let's take a look at some Royals highlights from 2018 (yes, there were some).
2018 – Whit Merrifield In Select Company: I read that Whit is only the seventh player to lead a league in both hits and stolen bases. I did some digging and think that this has occurred five times in the last 100 years:  George Sisler (1922), Snuffy Stirnweiss (1944), Ricky Henderson (1981), Ichiro Suzuki (2001) and Whit Merrifield (2018). Going back more years gets the other two players: Ty Cobb (5 times from 1907 to 1917) and Honus Wagner (1908).
Of these seven players, four are in the Hall of Fame and Suzuki will be a first ballot guy when he is eligible. Whit hit the majors too late (age 27) to develop a HOF career, but he and Snuffy are certainly in good company.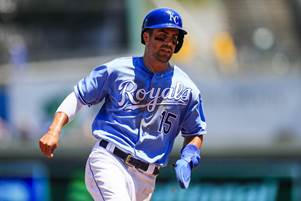 In the photo above, Merrifield is wearing the mitt that protects his hand when sliding head first. You can have your own mitt by being among the first 10,000 fans to enter the K on June 8 for "Whit Oven Mitt" night.
2018 – Moose at Camden Yards: When Rita and I did our East Coast stadium tour in 2016, we stopped in Baltimore at Camden Yards. One of the features is Eutaw Street which is located just beyond the right field stands. When any player hits a homer that lands on Eutaw Street, the Orioles install a plaque where the ball hits. As of 2016, only one Royals player, Alex Gordon, had done this. His blast went 425 feet, as memorialized on his plaque: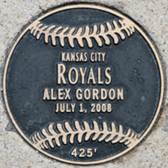 In 2017, Mike Moustakas broke the all-time Royals record for homers, hitting 38 to top Steve Balboni's 36 in 1985. We thought that was the end of Moose's heroics in a Royals uniform, but the poor free agent market led to his signing for another year. And that turned out to be a good thing for Royals history at Camden Yards. On May 8, 2018, Moose faced Orioles pitcher Dylan Bundy and hit a home run that landed on Eutaw Street, some 399 feet from home plate. It was the 95th homer to land on Eutaw Street since Camden Yards opened in 1992.
Below, a photo posted by KC broadcaster Rex Hudler who tweeted "Moose was loose at Camden yards tonight, becoming the 2nd Royal to hit a HR on Eutaw St.! It was marked and will have a plaque placed there in the off season."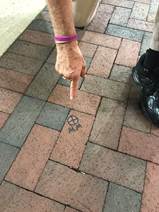 On July 27, 2018, the Royals traded Moose to the Milwaukee Brewers. As of this writing, he remains an unsigned free agent for 2019.
2018 – Gore's First MLB Hit: Terrance Gore was in the Royals organization from 2011 to 2017. He mostly played in the minors, but he was called up to the majors for short stints from 2014 to 2017. He primarily came into games as a pinch runner, but he also had 14 plate appearances as a Royal. He never got a hit.
Gore became a free agent in 2018 and signed with the Cubs. On September 8, he got his first (and to date, only) hit in the majors, but he can brag that it was off all-star Max Scherzer. [Useless Trivia: Gore has one more hit than Mariano Rivera had in his entire 19-year career.]
After the 2018 season Gore again became a free agent and signed with the Royals. Gore had this to say about his return to KC: "Every time they get me in a game they expect me to steal at least one base, but…my objective's gonna be to steal two bases depending on the score of the game. If I'm feeling good, feeling a little sexy about it, then I will steal two bases."
2018 – A Few Other Things: Short takes on other highlights and lowlights of 2018…
1. How 2018 started. The Royals broke the MLB record for most relief pitchers used on Opening Day. Nine. Tied the record for giving up most home runs on Opening Day. Six.
2. The Royals were the first team to tally 14 errorless games in a row. They won four of them.
3.  Attendance dropped 25% from 2017. Let's hope speed and defense can draw fans back to the K.
4. The Royals did not break the team loss record. They went 58-104, two games short of their worst season (2005, 56-106).
5. But remember this: 6 of the last 9 teams to lose 100 games made the playoffs in three years, and 8 of 11 made it within four years.
6. My personal "favorite Royal" designation transitioned from Lorenzo Cain to Adalberto Mondesi. Potential superstar! Below, Cain and Mondesi being interviewed at the 2015 World Series.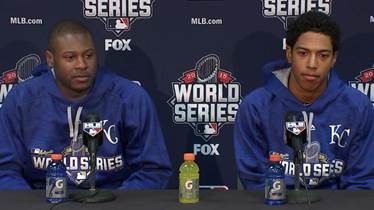 7. How 2018 ended. Since 2000, no team improved its run differential more in the second half than the 2018 Royals.
Keeping 5, 6 and 7 in mind, let's move on to 2019.
2019 – There's a Reason People Pay Big Bucks to See Hamilton: Got your tickets to see Hamilton in KC yet? See why you should here. [My thanks to the tweeter who first paired this headline and video.]
Yes, former Reds player Billy Hamilton will be roaming center field for the Royals this year. Billy is a proficient base stealer who swiped over 50 bases in four of the last five years. Speaking of base stealers, here are the top five in MLB history:
Rickey Henderson – 1,406
Lou Brock – 938
Billy Hamilton – 914
Ty Cobb – 897
Tim Raines – 808
No, that is not the same Billy Hamilton. In 1888 and 1889, Slidin' Billy Hamilton played for the Kansas City Cowboys of the American Association. The stats of that early version of the American Association (1882 to 1891) are considered to be major league stats. So Billy's two years with the Cowboys and the following 12 with the Phillies and Braves are counted as a 14-year major league career. And it was a good one. His career batting average was .344, eighth all-time. His on-base average is fourth all-time (behind Ted Williams, Babe Ruth and John McGraw). He is in the Hall of Fame.
Billy stole a lot of bases, but his career number is misleading. Before 1898, stolen bases were credited any time a runner advanced an extra base on a hit or out. That's a big difference and is why Ty Cobb was long considered the top base stealer until passed up by Lou Brock in 1977.
Below, Slidin' Billy Hamilton on his 1889 Kansas City Cowboys baseball card distributed by cigarette maker Goodwin & Company with its Old Judge brand.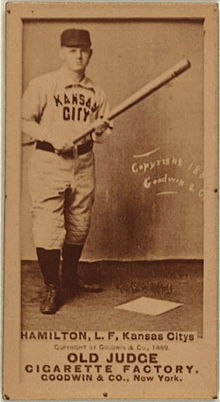 The Royals Billy Hamilton has a long way to go to catch his 19th century counterpart – his current career total is 277 stolen bases. Below, his 2018 Cincinnati card.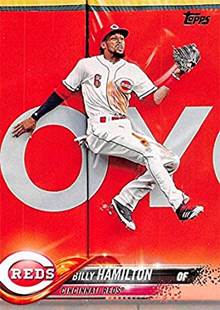 2019 – ZiPS Projections: Nerd alert! If your eyes glaze over when the discussion turns to WAR and other advanced baseball stats, you may want to skip this section and go directly to Patrick Mahomes.
To be honest, I also don't try to digest the complex tables showing the individual player performance projections. I look at the pictures. Specifically the graphic charts summarizing the work of FanGraphs contributor Dan Szymborski.
Dan uses his sZymborski Projection System (ZiPS) to predict each player's stats and also establish a consolidated zWAR number for each player. This is not to be confused with the more familiar types of WAR that are converted to team win/loss projections. As he says, "I will advise anyone against – and might karate chop anyone guilty of – merely adding up zWAR totals on a depth chart to produce projected team zWAR."
So at the risk of receiving a karate chop, I am adding up the zWARs on the charts to get my own rough idea of how the rebuilding Royals compare to a couple of likely playoff teams.
In the first chart below, when you add up the zWAR numbers for all pitcher and position players, the Kansas City Royals have a total zWAR of 23.4. To give some perspective, the number for the Royals last year was 18.0. So maybe a little improved.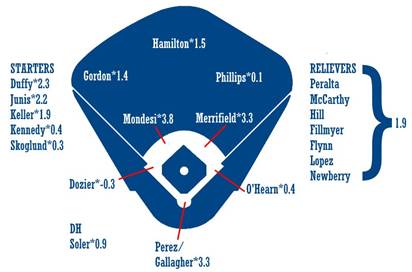 Now let's compare the Royals to their division rival, John Sherman's Cleveland Indians. Total chart zWAR: 48.5.
Note that every starting pitcher for the Tribe has a higher zWAR than every Royals starter.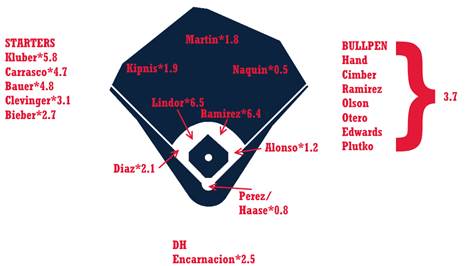 One more example, the 2018 World Series winning Boston Red Sox. Total chart zWAR: 49.2.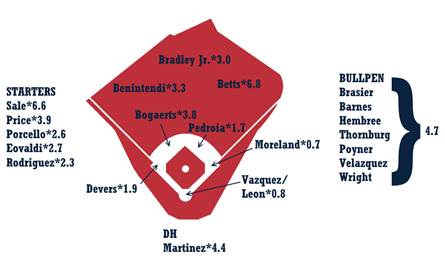 To summarize: Royals, 23.4; Indians, 48.5; Red Sox, 49.2. Be patient Royals fans.
This might be a good time to move to football talk.
Patrick Mahomes and Seinfeld: I assume most Hot Stove readers saw the two very good overtime football games on January 20. Good, but terribly flawed. In the Rams/Saints game, it was the no-call on the obvious pass interference. In the Chiefs/Patriots game, it was the stupid overtime rules. A zillion words have been written about both flaws, and I've seen the pass interference replay too many times to count, so I'll move on to the Seinfeld moment.
After the game, the Patriots' Tom Brady talked to reporters about Patrick Mahomes: "He's a hell of a….I mean, what a great young player. So impressed with his poise, his leadership. He is spectacular." As is the case with most Seinfeld aficionados, my ears are attuned to that last word. It also caught the attention of Peter King of NBC Sports: "With apologies to Teri Hatcher in the famous 'Seinfeld' episode, Mahomes is real, and he's spectacular."
For the uninitiated, here's the story. You may know actress Teri Hatcher as Lois Lane or as one of the "Desperate Housewives." Mother nature has been kind to her. In a guest appearance on Seinfeld, she is dating Jerry who asks his friend Elaine to investigate if mother nature has been enhanced. Hatcher is offended when she discovers what Jerry is doing. As she stalks off, she answers Jerry's question with one of the most remembered lines from TV history (short version; long version).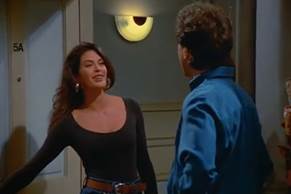 Hatcher has said that she is afraid her tombstone will read "She Was a Great Mom, and They're Real and They're Spectacular."
The Oscars are Coming! The Oscars are Coming!: The nominations are out and two of the films Rita and I saw at Telluride lead with 10 nominations each (Roma and The Favourite). This means there is a chance that our Telluride streak of seeing the Oscar winning film will reach eight years. Notwithstanding my Telluride bias, I would prefer to see Green Book or BlacKkKlansman win. When I filed my Telluride Hot Stove report last September, I threw out some ideas for best picture nominations and luckily hit all eight that made it. This was even before the movie about Dick Cheney went from its working title of Backseat to the nominated Vice. But I also picked Telluride's First Man and The Front Runner to do well, and they both bombed at the box office.
On the acting side, it looks like Glenn Close will be hard to beat on best actress. I'm rooting for Rami Malek or Christian Bale on best actor. For supporting, Regina King (as much as I want to see the wonderful Amy Adams get an Oscar someday) and a repeat by Mahershala Ali who previously won the supporting Oscar for Moonlight.
Let the counting begin. See you at the Oscars on February 24.
Lonnie's Jukebox – Star Utility Players: I am borrowing this Jukebox idea from Jim Fitzpatrick (a/k/a JimmyC). I met Jim back in the 1970's when I was active in politics and he covered local government for the Kansas City Star. Jim retired from the Star several years ago but could not stop reporting. He established "JimmyCsays," a blog covering an eclectic blend of subjects: crime, the good and bad of our downsized local paper, music oldies, his travels (including annual coverage of the Kentucky Derby held in his native Louisville), KC politics, etc. The pieces range from informative to nostalgic to occasional screeds when his wife Patty and I tell him he's talking like a "get off my lawn" old man. But since he does not get paid, he can say anything he wants. And does. You can subscribe here.

In a post last week, Jim followed up on a recent New York Times obituary on Reggie Young, a session guitar player out of Nashville and Memphis. We have all heard Reggie play but mostly don't know it. Just listen to the opening riffs of "Son of a Preacher Man" and "Suspicious Minds." That's Reggie Young on the guitar. For more, see Jim's full post.
Jim's piece struck a chord with me (pun intended). I saw a documentary a few years ago titled The Wrecking Crew about a loose collection of Los Angeles musicians who were on call for studio work. Their names are not well known, but their role in the music industry in the 1960's and 1970's was huge. They played on literally thousands of records, including several hundred Top 40 hits. They were the de facto house band for Phil Spector's Wall of Sound and also backed up the likes of Sonny and Cher, the Mamas & the Papas, Nancy and Frank Sinatra, the Monkees, and the Beach Boys on "Pet Sounds."
They were also in demand for movies and television. A good example is the Crew's Tommy Tedesco who most Hot Stove readers know, not by name but by his memorable opening guitar riffs on the themes for M*A*S*H and Bonanza.
The world of backup instrumentalists has a corollary in singers. Earlier this month, another NYT obit covered Clydie King, one of the Raelettes who sang with Ray Charles. She later toured with Bob Dylan and for many years was a first-call backup singer (such as the Rolling Stones' "Tumbling Dice" and Linda Ronstadt's "You're No Good"). One of Clydie's fellow Raelettes was Merry Clayton who is best known for her duet with Mick Jagger on the recording of the Rolling Stones' "Gimme Shelter." I learned a lot about Merry from another fine documentary film, the aptly titled Twenty Feet from Stardom. The film also features Lisa Fischer who did the backup for "Gimme Shelter" on tour (check out this video starting at about the 4 minute mark – amazing). Mick and Lisa shown below.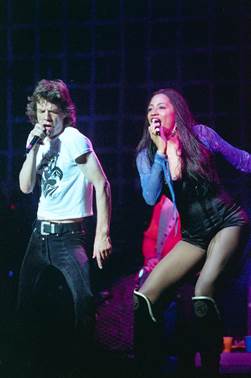 A quick way to get an appreciation for the work of studio musicians and backup singers is to check out the trailers for these movies (each about two minutes): The Wrecking Crew, Twenty Feet from Stardom, Standing in the Shadows of Motown, and Muscle Shoals.
Just like bringing in Terrance Gore to steal a base (or two), a good piece of music has several very talented utility players.