Warning! This is a non-baseball post. If movies are not your thing, feel free to tap your delete key. Otherwise, please stay tuned for a report on what Rita calls the "Sport of Extreme Sitting."
For the eighth year in a row, we attended the Telluride Film Festival. We saw 14 movies over Labor Day Weekend. Good times in the mountains. I'll report this day-by-day.
Tuesday/Wednesday: We arrive early to acclimate to the altitude – 9,545' in Mountain Village where we stay and see most of our movies at the 500-seat Chuck Jones Theatre. We rented a 2-BR condo and were joined by Marsha Murphy who flew in from Naples, Florida. Marsha and her late husband Bob Morantz introduced us to Telluride in 2011.
A 13-minute gondola ride (Rita below) connects us to the old town of Telluride where there are eight other movie venues ranging from 65 to 650 seats.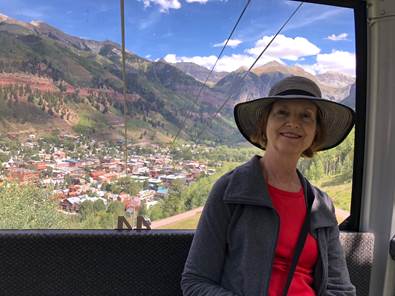 Thursday: This is the "reveal" day. Although there are always rumors about what will be showing, we have no assurance of the selections until the programs come out on Thursday morning. We feel safe in relying on the curating by the festival leaders. After all, they have screened the Oscar winner every year we have gone: The Artist, Argo, 12 Years a Slave, Birdman, Spotlight, Moonlight and Shape of Water.
On Thursday night, we dined with some of the other Telluride regulars from Kansas City. In the photo below, starting with me and going clockwise: Rita, Jan Hodgson, Jo Ellen Smith, Kristi Wyatt, Kay Wallick (now of Wyoming), Marsha Murphy (now of Naples), Susan Stanton and Sally Stanton. All of our fellow diners started going to Telluride before Rita and me, but Susan gets the trophy – she has attended 24 straight years.

Friday: We had our annual Friday lunch at Rustico with Fran and Myron Kaminsky of Savannah, Georgia. We were joined by Myron's sister Toby and our long-time mutual friend Molly Ellison of Kansas City.
The first screening for most of the venues starts at about 5:00 in the evening. There was a special afternoon showing of a 4-hour documentary, Watergate – Or, How We Learned to Stop an Out-of-Control President. We elected to skip this and will catch it on the History Channel (November 2-4). We heard reports that the film is good, and although there is no mention of today's political situation, some parallels are obvious, including the title of the film.
Rita and I started with "Great Expectations," an annual Telluride tradition of short films by new filmmakers. Based on prior years, we had low expectations which were borne out. So I'll move on to our first feature film.
Trial By Fire: The movie is adapted from a New Yorker article by David Grann. Jack O'Connell plays Cameron Todd Willingham, a man convicted of murdering his three children in an arson fire. Laura Dern plays Elizabeth Gilbert, a school teacher and writer who agrees to be a pen pal as part of an anti-death penalty program. Director Ed Zwick, Dern, O'Connell, Grann and Gilbert were all on hand to introduce the film to us.
Gilbert starts visiting Willingham and comes to believe that he had ineffective counsel and might be innocent. With the help of an Innocence Project lawyer, she works for several years in a suspenseful race to see if enough exonerating evidence can be found before an execution date. I'll stop there. We liked the movie, but its producers are still looking for a distributor.
Saturday: Our Saturday morning started with a tribute to Alfonso Cuaron who won the 2013 Oscar for best director for Gravity. After a screening of clips from his movies, Cuaron was interviewed by Krista Smith of Vanity Fair. The key item I remember from the interview: Four of the last five Oscars for best director have gone to Mexican filmmakers. The others are Alejandro Inarritu (Birdman and The Revenant) and Guillermo del Toro (Shape of Water). "Build that wall! Build that wall!"
The tribute ended with a showing of Cuaron's current film…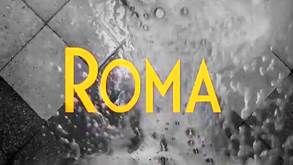 Roma: This is a semi-autobiographical take on Cuaron's childhood in an upper-middle class neighborhood of Mexico City called Roma. The narrative of the film centers on a live-in maid/nanny who has escaped the poverty of her indigenous village. The film ranges from the family dynamic to Mexican politics to class differences. It is in black and white with English subtitles.
The reviews from critics have been glowing, some touting it as a front runner for best picture. I liked the film, but think it makes more sense as a candidate for best foreign language film. The distributor is Netflix, and the rave reviews have Netflix considering a longer theatrical run. My advice: see it on the big screen – the cinematography is excellent.
We took a break for lunch downtown at the Telluride Bistro, joining another contingent from Kansas City – Madeleine McDonough, Cyd Slayton, Elaine Eppright and Melanie Eppright.
Saturday also brought some rain to our line: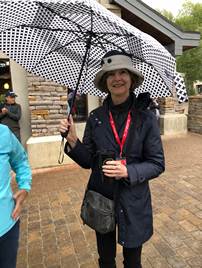 Cold War: This is another black and white film with subtitles. It is a Polish film directed by Pawel Pawlikowski who won a foreign language film Oscar in 2015 for Ida. There is a good chance that Cold War will get him a second Oscar in this category.
The film is a love story of a musician and a singer who meet in a folk dance group and spend the next 15 years together and apart as they move from Poland to Berlin to Paris. The film is full of intrigue of the 1950's Cold War in Europe. The lovers are fatally mismatched, but keep reconnecting, often to their detriment. Pawlikowski did a Q&A at our screening and said that the turbulent relationship of the characters was inspired by his parents, a physician and a ballerina, who broke up more than once and also moved to different countries.
How could I not like a movie that features a drunken dance in a Paris café to "Rock Around the Clock"?
Destroyer: If you did not have the heads-up that Nicole Kidman is in this movie, you might not recognize her. Her disheveled looks and drunken posture match an attitude dating back some years to an undercover operation gone bad. A new case comes along that resurrects the old memories and sets her on a rampage to settle some scores (not always in believable ways). Her total immersion into a different person may put her in the mix for a best actress nomination.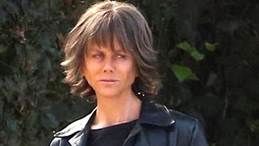 She looked much better on stage at our screening: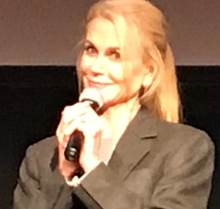 Photo Credits: The above photo and the next three were taken by Jan Hodgson – she has a knack for getting a seat close to the stage. Thank you Jan.
Can You Forgive Me: Melissa McCarthy, known for her comedy roles, has successfully moved to drama. The film is based on the memoir of Lee Israel, a once-successful celebrity biographer who fell on hard times. With creditors at her door, McCarthy's Israel sells some of her memorabilia (signed letters from dead celebrities). She likes the money and decides to use her writing skills to compose and type new letters from such notables as Noel Coward and Dorothy Parker. She ages the paper and forges the signatures to complete the process. She also meets a boozy old con man (played by Richard Grant) who becomes her partner in crime. I'm guessing the movie, the director and the two primary actors will be in Oscar discussions.
Director Marielle Heller, McCarthy and Grant were at our screening to introduce the movie. Grant, a good foot taller than McCarthy, was hilarious in his tongue-in-cheek description of her.
Sunday: Sunday started with a tribute to Emma Stone. I like Emma Stone. She has a strong Telluride history: Birdman, La La Land and Battle of the Sexes. Clips from these and other movies were shown and then Stone was interviewed by reporter John Horn.

Emma was delightful. As is her new movie…
The Favourite: In 18th-century England, Queen Anne (Olivia Colman) is a ditzy monarch dominated by her consort Lady Marlborough (Rachel Weisz). Abigail (Emma Stone) enters the picture as a rival to Lady Marlborough. Hilarity ensues. I like Rita's description: This is the film you get when you mix The Crown with Monty Python.
There is good buzz for a best picture nomination. The hard part will be for the producer to decide which of the three actresses to promote as the "lead" for the Oscar race. The other two would then be in the mix for their "supporting" roles. Guaranteed nomination for best costumes.
Girl: Another movie with subtitles – this one from Belgium. Victor Polsner plays a teenager who is transitioning genders while training as a ballerina in the midst of hormone treatment in anticipation of a future operation. The teenager has strong support from family and others, but it is a heartbreaking process. Polsner is excellent.
First Man: I first heard of Damien Chazelle when he wrote and directed the 2014 film Whiplash. That film was nominated for five Academy Awards and won three. In 2016, he wrote and directed La La Land which had 14 Academy Award nominations that led to six Oscars (temporarily seven until it turned out Moonlight had won best picture). It looks like his multiple-nomination streak will continue with First Man.
And get this  – Damien Chazelle is just 33 years old. Below, at our screening.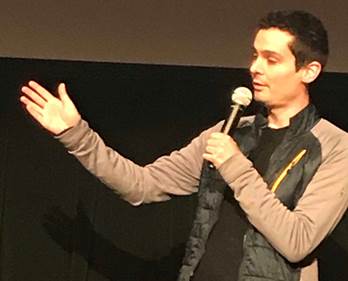 Ryan Gosling plays Neil Armstrong, the first man to walk on the Moon. The film advances through the highlights of the race to catch up and pass the Russians in space, but the emphasis is on Armstrong's personal saga. This encompasses some initial setbacks as an aviator and a family tragedy for him and his wife (played by Claire Foy a/k/a Queen Elizabeth in The Crown). But he perseveres in his quiet way and is chosen to lead the Moon landing. I liked the movie and am sure it will end up with many Oscar nominations.
As you may have read, some people who have not seen the movie do not like it. They have heard that there is no reenactment of the planting the flag on the Moon (there is simply a long shot of the planted flag). Laura Ingram: the movie "trashes patriotism." Senator Marco Rubio: "This is total lunacy." Interesting word choice. Bill Kristol: "a foolish and pernicious falsification of history." President Trump has said he won't see the movie.
Oh my. Wait till they find out Ryan Gosling is Canadian. The movie in fact celebrates the national space effort. Patriotism is ingrained throughout the movie. But that's not the focus. Hint: see the movie title. The subject is Neil Armstrong. His time on the Moon in the movie is personalized with a poignant moment relating back to the family tragedy that began the movie. Damien Chazelle says there was no intended political message, but instead "My goal with this movie was to share with the audiences the unseen, unknown aspects of America's mission to the Moon – particularly Neil Armstrong's personal saga and what he may have been thinking and feeling during those famous few hours." I think Chazelle succeeded.
The White Crow: This was our second show of the day featuring a ballet dancer. It was also another good film with subtitles – this time in Russian (produced in U.K.). It was Rita's favorite of the festival.
The movie tells the story of Russian ballet dancer Rudolf Nureyev – from his childhood to his ballet stardom to his 1961 defection in Paris. He is a "white crow" because he is extraordinary, not like others, an outsider. The film is directed by Ralph Fiennes who also appears (and speaks Russian) in the movie as Nureyev's ballet teacher Alexander Pushkin.
Nureyev was the precursor of Mikhail Baryshnikov who was also trained by Alexander Pushkin and performed with the same ballet company out of St. Petersburg. Baryshnikov defected in Canada in 1974.
Oleg Ivneko plays Nureyev and was at our screening for a Q&A session. He answered questions in Russian through an interpreter. He was cast because he was a skilled dancer – it was his debut as an actor. He said that he was Ukrainian, not Russian, so had to modify his Russian for the movie to remove his accent.
Monday: Ten movies down, four to go.
White Boy Rick: Based on a true story. Matthew McConaughey plays Richard Wershe Sr., a barely surviving freelance gun-dealer in 1980's Detroit (the vintage cop and "hero" cars are provided by TJ from KC). Wershe is a single father of a drug-junkie daughter and a 14-year-old budding criminal son, Rick Wershe Jr. (well played by newcomer Richie Merritt). They have some dreams of moving out of poverty, but their survival options persistently lead to crime.
Rick Jr. starts out as a small-time drug runner who is coerced into being an informant for the police and the FBI. Building on what he learns from them, Rick Jr. moves to drug dealing in cooperation with black gangs (hence, "White Boy" Rick). He is no angel, but poverty and an imperfect justice system also play a role in this part of American society.
Here is Matthew McConaughey introducing our screening: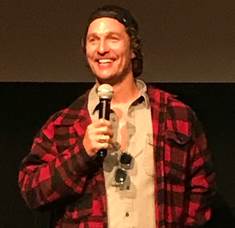 The Old Man & the Gun: The old man is Robert Redford who has indicated this will be his last movie as an actor. He plays the real-life polite bank robber Forrest Tucker who was also adept at escaping jail (17 times!). His partners in crime are played by Danny Glover and Tom Waits. His love interest is Sissy Spacek and the cop is Casey Affleck. It's kind of cute, but no Sundance Kid.
The film is based on a New Yorker story written by David Grann, the same guy who wrote the article that led to Trial by Fire. Grann is also well known to the book club world for Killers of the Flower Moon and The Lost City of Z. This writer is both prolific and good.
The Front Runner: The title refers to Gary Hart who was a major player in George McGovern's campaign in 1972 and then won a Senate seat in Colorado in 1974. From 1976 to 1980, I worked as a volunteer advance man for Vice President Walter Mondale, and one of my stops was Denver in November of 1979. I was assisted by Jackson County Legislator Doug Young, and we worked with Hart's staff to put together a couple of fund raisers with the Vice President as the draw. Good money was raised and the two Democrats were all smiles. Hart went on to win a close race for a second term in 1980, putting him in a position to run in the Democratic primaries for President in 1984…against Mondale.
Hart's "New Ideas" campaign  in 1984 propelled him into a close race with Mondale. Many thought Hart's plans were superficial, and Mondale found a way to capture that thought. When Hart touted his new ideas in a debate, Mondale countered with "Where's the beef?" – the then-popular slogan in Wendy's ads. Hart responded in later debates by holding up large reams of "new idea" papers, saying "Here's the beef." It didn't work and Mondale won the nomination.
The "Where's the beef?" debate moment is in one of the early scenes in The Front Runner. The focus then shifts to Hart's next attempt to be President – the 1988 campaign. The film is based on political journalist Matt Bai's 2014 book All the Truth Is Out: The Week Politics Went Tabloid. That week was in 1987 when Hart went from presidential front runner to dropping out of the race. Director Jason Reitman (Juno, Up in the Air) thought the book would make a good movie, and so joined with Bai and political strategist Jay Carson to write the screenplay.
I'm a sucker for movies about newspaper investigations and political boiler rooms. So I liked this telling of the fall of Gary Hart (Hugh Jackman) whose long-suffering wife Lee is played by Vera Farmiga. At the time, there was some question if newspapers should "stoop" to writing about candidate infidelity. How quaint that seems today.
The great actor J. K. Simmons portrays Hart's campaign manager Bill Dixon who directs a flurry of 24-7 activity from the campaign headquarters to rallies to the campaign plane. The movie cuts to the press rooms of the Miami Herald and the Washington Post as they try to determine if the public should hear the story of Donna Rice and the aptly-named boat Monkey Business. The big cast helps capture the whirlwind of activity, but you might do a double take when you see Alfred Molina as Post executive editor Ben Bradlee (famously played by Jason Robards  in All the Presidents Men).
FYI, Gary and Lee Hart are still married (60 years as of 2018).
In a clever marketing ploy, the release date has been moved up to mid-term Election Day, November 6, 2018.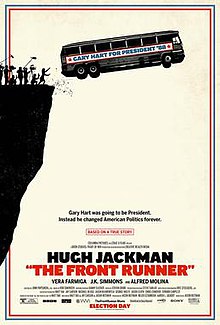 Boy Erased: This movie is based on the memoir of Garrard Conley, a gay teenager with very religious parents (Nicole Kidman and auto dealer/preacher Russell Crowe). As a dutiful son, Garrard agrees to submit to a Christian-based conversion therapy program. It does not go well. Garrard is played by Lucas Hedges, continuing his line of superb performances (Manchester by the Sea, Lady Bird and Three Billboards). That's a quite a filmography for a 21-year-old. Good movie that may net some Oscar nominations.
Can't See Everything: There were 38 feature films at the festival plus another 15 or so vintage and smaller films. Some that we did not see that had good buzz: Reversing Roe, Shoplifters and Werner Herzog's Meeting Gorbachev. But the most popular that we missed was Free Solo, the story of mountaineer Alex Honnold  who was born with limited activity in the amygdala, the brain's emotional center. He activates his life by rock climbing, including the legendary El Capitan at Yosemite. To climb "free solo" means without ropes or other life-protecting gear. Yes, that's hard, but the other stars are the members of the film crew who got the angles and close-ups of the climb. One reviewer compared Honnold to Fred Astaire or Gene Kelly doing an intricate dance move on a stage tilted on its side.
Best Picture Nomination: I don't know if we saw the eventual Oscar winner at Telluride for the eighth straight year. The most likely to draw interest from Academy voters are First Man, Roma, The Favourite and The Front Runner (Dark horse candidates  – Can You Forgive Me? and Boy Erased)
As for pre-Telluride movies: Black Panther and BlacKkKlansman.
And so many yet to see. If Beale Street Could Talk (Barry Jenkins' follow-up to Moonlight). A Star is Born (Bradley Cooper/Lady Gaga). Mary Queen of Scots (played by one of my favorites, Saiorse Ronan) Bohemian Rhapsody (biopic of rock group Queen). On the Basis of Sex (the legal work of the young Ruth Bader Ginsburg – not to be confused with the recent excellent documentary RBG). Backseat (Bio comedy-drama about VP Dick Cheney – Christian Bale portrays Cheney, and he is paired with his American Hustle co-star, the wonderful Amy Adams as Lynn Cheney). Green Book (An Italian-American driver/guard and an African-American classical pianist tour the 1960's Deep South and use services and hotels listed in the "Negro Motorist Green Book" –  a sort of AAA for black travelers in the Jim Crow era).
Plus some I forgot or don't know about.
True Stories: What is the best way to get an Oscar? Rita pointed out to me that almost every film we saw at Telluride was based on or inspired by a true story. This observation also applies to 13 of the 15 movies listed above as potential best picture nominees. Maybe the movies are now real while life is fake news.
Trailers/Release Dates: If you want to see a trailer and get the opening date for any of the movies, just Google imdb and the movie title.
See you at the movies.