The full squads have now arrived at the spring training camps. Let's set the mood with an excerpt from a Dan Quisenberry poem ("Spring Training Dream"):
rituals of spring training
running of sprints
a gaggle of grown men laughing at sore muscles
omnipresence of coaches, general managers, fans, scouts
spring's annual judges of talent
the light warm sweat of a good workout
cleansing the pores of Christmas chocolate second helpings
and winter's layer
of hibernated fat
the electric burn of stretching muscles
doing imitations of fitness gurus
and the litany of hard-belly exercises

Quiz would get some pushback from Snoopy about that winter's layer of hibernated fat: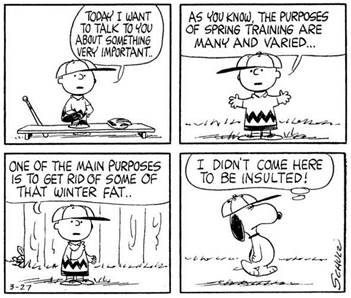 Switching to prose, this from Hot Stove reader Eric Sildon: "Lonnie, I share your excitement that winter's bitter bite always seems a little more tempered beginning the precise day that the boys of summer first come out to play. Just their stretching and doing arm windmills generate heat to warm us all up. Only wish they all would still dress like Clint Hurdle in that 1976 Sports Illustrated cover picture with windbreaker under his jersey."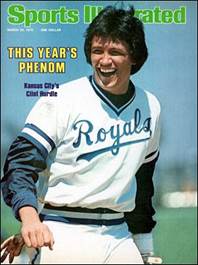 Eric may get his wish to see the Royals in windbreakers this week. The temperature at the start of today's morning workout in Surprise was 36 degrees (not a typo). Going down to 31 degrees tonight.
PECOTA Projections: Skipping to the end of the season, below are the current projections from Baseball Prospectus under its PECOTA system ("Player Empirical Comparison and Optimization Test Algorithm"). The system notoriously underestimated the Royals in the seasons leading up to their winning the 2015 World Series (the projection in 2015 was 72 wins; the Royals won 95). But in 2018, PECOTA went the other way and came out too high, predicting the Royals would win 66. They won 58. But as shown below, PECOTA projects that the Royals will jump from 58 to 72 wins. Maybe.
American League – 2019: Looks like Groundhog Day in the AL. Houston and Cleveland are expected to again easily win their divisions. The Red Sox and Yankees will fight over the East title, and the loser will get the first wild card slot. The other 11 teams will fight for the second wild card. I'm a little surprised that the Yankees are favored by six over World Champion Boston. That would be a 14-game swing from last year when Boston won by eight games.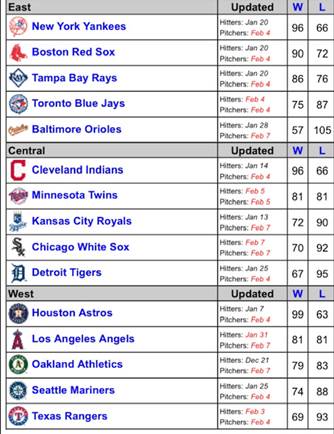 National League – 2019: In 2018, the Braves won the East by 8 games over the Nationals, but the 2019 projections show the top four separated by only five games. In the Central, the Brewers edged out the Cubs by one game in 2018. The 2019 projections have all five Central teams within an 8-game differential. The Dodgers are expected to win the West for the seventh year in a row. They almost missed last year, edging out the Rockies by one game.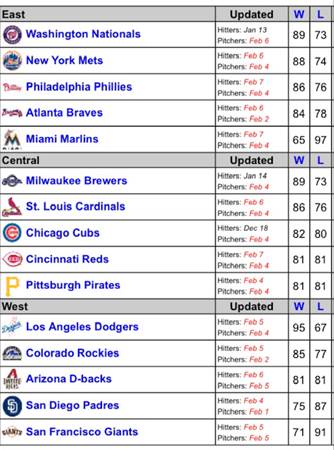 Frank Robinson (1935-2019): On February 7, Frank Robinson died. He was 83. Robinson began his MLB career with the Reds in 1956 and was Rookie of the Year. He is the only player to be named MVP in both leagues: 1961 with the Reds, 1966 with the Orioles. In 1975, the Cleveland Indians tapped Robinson as baseball's first black manager. In 1982, he and Hank Aaron entered Cooperstown together as first ballot Hall of Famers.
For some personal remembrances, I suggest these columns by some of my favorite sportswriters: Joe Posnanski, George Vecsey and Tom Boswell (thanks on the Boswell link to Kerry Slagle, a member of the John Kurtz Fan Club).
Frank Robinson and Bull Durham: Just before the Royals swept the Orioles in the 2014 ALCS, I wrote a piece about Frank Robinson. I got some help from Susan Sarandon who played Annie Savoy in my favorite baseball movie, Bull Durham. As the movie opens, Annie delivers her classic monologue setting the stage for the film. The narrative is below, but I recommend this video for full appreciation (2:00).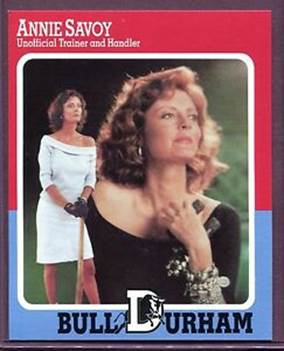 I believe in the Church of Baseball. I've tried all the major religions, and most of the minor ones. I've worshipped Buddha, Allah, Brahma, Vishnu, Siva, trees, mushrooms, and Isadora Duncan. I know things. For instance, there are 108 beads in a Catholic rosary and there are 108 stitches in a baseball. When I heard that, I gave Jesus a chance. But it just didn't work out between us. The Lord laid too much guilt on me. I prefer metaphysics to theology. You see, there's no guilt in baseball, and it's never boring… which makes it like sex. There's never been a ballplayer slept with me who didn't have the best year of his career. Making love is like hitting a baseball: you just gotta relax and concentrate. Besides, I'd never sleep with a player hitting under .250… not unless he had a lot of RBIs and was a great glove man up the middle. You see, there's a certain amount of life wisdom I give these boys. I can expand their minds. Sometimes when I've got a ballplayer alone, I'll just read Emily Dickinson or Walt Whitman to him, and the guys are so sweet, they always stay and listen. 'Course, a guy'll listen to anything if he thinks it's foreplay. I make them feel confident, and they make me feel safe, and pretty. 'Course, what I give them lasts a lifetime; what they give me lasts 142 games. Sometimes it seems like a bad trade. But bad trades are part of baseball – now who can forget Frank Robinson for Milt Pappas, for God's sake? It's a long season and you gotta trust it. I've tried 'em all, I really have, and the only church that truly feeds the soul, day in, day out, is the Church of Baseball.
So did you catch the part about Frank Robinson? Or did you get lost in the foreplay?
Here's the story. In the winter of 1965, the Cincinnati Reds traded Frank Robinson to the Baltimore Orioles for pitcher Milt Pappas (plus two throw-ins). As Annie said, it was a bad trade. For Cincinnati. Robinson had played 10 very good seasons for the Reds (.303 BA, 324 HR), but Reds' general manager Bill DeWitt felt Robinson was "an old 30" – past his prime. The very next year, Robinson was MVP of the American League and led the Orioles to a World Series victory. Robinson and the Orioles won another World Series in 1970 by beating…guess who…the Cincinnati Reds. In his six years with the Orioles, "old" Frank batted .300 and hit 179 home runs.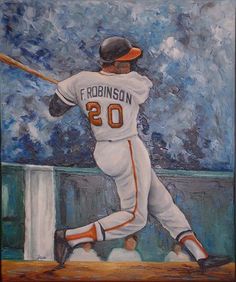 Frank Robinson and Frank White: Take another look at Robinson in his Orioles uniform in the photo above. He is "F. Robinson" because the Orioles also had a "B. Robinson" – Hall of Fame third baseman Brooks Robinson. Frank wore #20 for the Reds and Orioles, and both teams have retired the number. That number has also been retired by the Royals and is displayed at Kauffman Stadium on the façade of the Royals Hall of Fame (along with George Brett's #5 and Dick Howser's #10). That #20 is for a different Frank – 8-time Gold Glover Frank White. But there is a Robinson connection.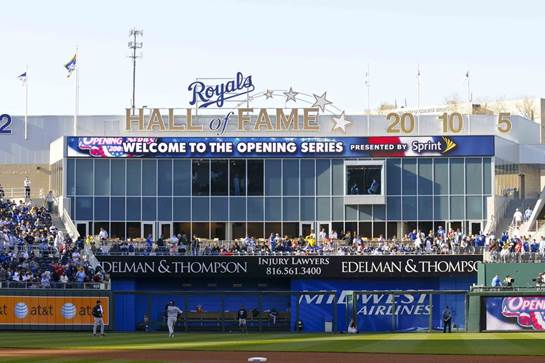 After Robinson died, Frank White sent out this tweet: "This is a sad day for me. We lost my idol and the reason I wore the number 20. Frank Robinson. What a great player and person. A real trailblazer. RIP Frank and my thoughts and prayers to your family."
Here's to you Mr. Robinson.
Super Punt Bowl: Some final thoughts before Super Bowl LIII fades away.
In 2016 (MMXVI), Tom Brady was suspended for the first four games for deflating footballs. The Patriots went on to win Super Bowl LI and Brady was MVP.
In 2018 (MMXVIII), Julian Edelman was suspended for the first four games for using performance enhancing drugs. The Patriots went on to win Super Bowl LIII and Edelman was MVP.
When a baseball player returns to the roster after a PED suspension, he is ineligible to play in the postseason. Not so for the NFL.
If I had an MVP vote this year, I would have given a joint award to the two punters. I'll use Arabic numbers rather than Roman numerals to explain. Ryan Allen of the Patriots had five punts for 215 yards with three inside the 10. Johnny Hekker of the Rams had nine punts for 417 yards with five inside the 20. His longest was 65 yards. This kept both offenses in poor field position for much of the game and was a major factor in the low final score of 13-3. The betting line for the over/under was 55.5.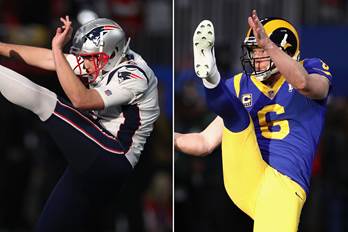 This superb punting gives me an opportunity to quote a favorite passage from Billy Lynn's Long Halftime Walk. In Ben Fountain's 2012 novel, Billy Lynn and his infantry squad are on leave from Iraq and being honored during halftime of a Dallas Cowboys game. The book is beautifully written (skip the movie), and in this passage, Billy is watching the punter in his pre-game warm-up:
"Billy's attention is soon drawn to the Cowboys punter, a slope-shouldered, moon-faced, paunchy fellow with hardly any hair, the kind of guy you'd normally find behind your supermarket meat counter, except this guy can kick a football to oblivion and back. Foom, the soggy thump of each kick resounds in Billy's gut as the ball rockets off on a steep trajectory, up, up, onward and upward still, your eye falters at the spot where the ball should level off and yet it climbs higher still as if some unseen booster charge has fired and straight for the bottomless dome it goes. Billy tries to mark the absolute highest point, that instant of neutral buoyancy where the ball hangs or dangles, actually pauses for a moment as if measuring the fall that even now begins as the nose rolls over with a languid elegance, and there's an aspect of surrender, of grateful relinquishment as it yields to the gravitational fate."
Bo and Deion: ESPN has released a new episode of its excellent "30 for 30" series. "Deion's Double Play" features Deion Sanders, the most famous player to compete in both the NFL and MLB – except for maybe Bo Jackson. This leads me to two stories about Bo and Deion, one from each sport.
The two faced each other on the gridiron as college players in 1985. Bo was a star running back at Auburn. Deion was in the defensive backfield for Florida State. In this 2010 interview (1:16), Deion describes a play where Bo heads left from the line of scrimmage and races downfield. The speedy Sanders gets an angle on Bo, but a potent stiff arm brushes Sanders aside and Bo scores a touchdown. The interview includes clips of the play.
The baseball story is from a game at Yankee Stadium on July 17, 1990. Bo Jackson started in center for the Royals and hit home runs in his first three at-bats. In the bottom of the 6th, Bo was somewhat responsible for a 4th home run in the game, but it was for helping Deion Sanders of the Yankees. Sanders hit a line drive to center and Bo dived for the ball, but it got by his outstretched glove and rolled to the fence. Neon Deion never stopped running and was safe at home in a bizarre pileup at the plate. Sanders was credited with an inside-the-park-homer. Don't miss this video (2:35) of the missed catch and the series of plays (and replays) at the plate. Bo was hurt from his dive and left the game, missing his chance to become the first Royal to get four homers in a game (still has not happened). Royals won 9-7.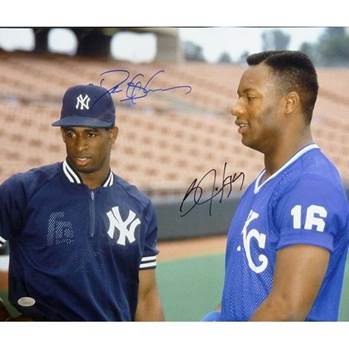 Bo and Deion are also connected by the reversal of their MLB drafts. In 1982, the Yankees drafted Bo Jackson, but he elected to go to college. In 1985, the Royals drafted Deion Sanders, but he elected to go to college. In 1986, Bo was drafted and signed by the Royals. In 1988, Deion was drafted and signed by the Yankees.
At the Movies: A couple of suggestions for good movies now showing in KC. They Shall Not Grow Old is a documentary with masterfully restored archival footage of WWI. Be sure to stay after the credits for filmmaker Peter Jackson's fascinating story of how they did it. Cold War is a Polish film that Rita and I saw in Telluride. It is not a surprise to us that it is nominated for best foreign language film.
Lonnie's Jukebox – Super Bowl Halftime Shows: When Tom Brady was MVP in Super Bowl LI, Lady Gaga sang at halftime. This year, it was Maroon 5. I have been to only one Super Bowl (VII in Los Angeles), but it was an important one. It was in January of 1973 when Miami beat Washington to complete the only unbeaten season in NFL history (17-0). The halftime show (which I do not remember, but Wikipedia does): the University of Michigan Marching Band, Woody Herman on the clarinet and Andy Williams singing "People."
Lonnie's Jukebox – Linda Ronstadt: Rita and I are regular viewers of "CBS Sunday Morning," and earlier this month the show aired an interview with Linda Ronstadt. Linda retired her singing voice in 2011 because of Parkinson's disease. She was one of my favorite artists in the 1970's.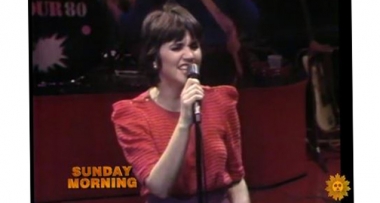 Linda had a 1967 hit as a member the Stone Poneys ("Different Drum"). As she entered the 1970's as a solo act, she kept recording and hit the road to try and get to the next level. She worked with different musicians until she had a backup band that matched her vocals. She and the band then moved on to separate careers that led each to the Rock and Roll Hall of Fame. Her backup band became the Eagles.
She had some huge hits in the 1970's, including her #1 record "You're No Good." Linda was an infrequent songwriter and so many of her records are covers of other artists. But not copies – she makes them her own. Her hit covers include "Ooh Baby Baby" (original in 1965 by Smokey Robinson and the Miracles), "Heat Wave" (1963, Martha and the Vandellas), "It's So Easy" (1958, Buddy Holly) and "Hurt So Bad" (1965, Little Anthony and the Imperials).
Below are four more with links to YouTube videos of the originals and covers. Enjoy.
"That'll Be The Day" – Buddy Holly and the Crickets (1957) ; Linda Ronstadt (1976).
"When Will I Be Loved" – Everly Brothers (1960); Linda Ronstadt (1975).
"The Tracks of My Tears" – Smokey Robinson and the Miracles (1965); Linda Ronstadt (1975)
"Blue Bayou" – Roy Orbison (1963); Linda Ronstadt (1977).
Ronstadt's career expanded over the decades as she successfully moved through many genres: pop, rock, folk, country, Great American Songbook, jazz, Latin, etc. But for my personal soundtrack, it will always be her gifts from the seventies.
Thank you Linda.