For the seventh straight year, Rita and I spent Labor Day Weekend in Colorado at the Telluride Film Festival. Rita likes to call it our sport of extreme sitting. We were joined this year by long-time friend Marsha Murphy who now lives in Naples, Florida. As the festival ended and Hurricane Irma approached Florida, Marsha wisely changed her plane ticket and is now visiting friends in Kansas City.
My comments on the films are below, but first I want to share a moment that I saw on the small screen – my favorite baseball video this season.
The Fan Experience: I was watching an ESPN Sunday night game last month, and the Red Sox trailed the Yankees by a run in the top of the ninth. Fireballer Aroldis Chapman came in to get the save for the Yankees. Rookie phenom Rafael Devers was at the plate and facing Chapman for the first time in his career. Davis is left handed, and Chapman had not given up a homer to a left hander since 2011. Devers hit a homer to tie the game, and the Red Sox went on to won in the 10th. But the video that went viral after the game was not of Devers' home run, but of a selfie taken by a Yankee fan in the stands. Watch the change of emotions from the thrill of the 103-mph fastball to the agony of the 105-mph home run. [also watch the woman behind him; 43 seconds] https://www.youtube.com/watch?v=9D24cL1_d80.
Telluride Film Festival: Bob Morantz and Marsha Murphy introduced us to Telluride and mentored us at our first festival in 2011. The mountain setting is gorgeous, and the mix of thin air and good movies is intoxicating. One of the best parts is standing in line and talking with like-minded strangers about the movies we are seeing.
The old town of Telluride sits in a valley at 8,750' altitude. There are gondolas that go up the mountain (10,450') and then down into Mountain Village (9,545'). The gondola ride is only 13 minutes. We stay in Mountain Village and see most of our movies there, but also head downtown on a gondola for restaurants and celebrity panels.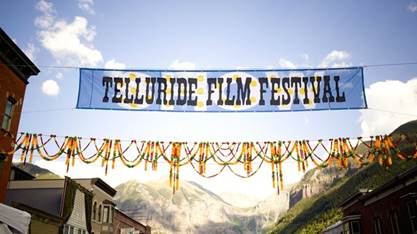 The festival lasts from Friday afternoon to Monday night, and the movies are not announced in advance. As Forrest Gump would say, it's like a box of chocolates. There are about 40 films that screen and move around to the 10 theatres. Through wise curating, the festival picks a lot of winners. We usually like 9 or 10 of the 12 or so movies we see. As a lucky bonus, Telluride has screened the Oscar winner every year we have gone: The Artist, Argo, 12 Years a Slave, Birdman, Spotlight and…      
Telluride – Last Year: We left Telluride last year with the thought that three of the movies would be in the mix for the Oscar: Moonlight, Manchester by the Sea, and La La Land. As it turned out, they became the front runners, and La La Land even had the award for a moment when poor Faye Dunaway was given the wrong envelope for the announcement. When the correct envelope made its way to the stage, Moonlight got the nod. Below is Moonlight director Barry Jenkins in a Trumanesque photo: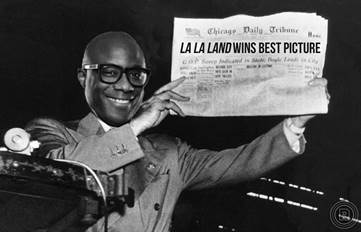 Telluride – This Year: Moonlight was a popular Oscar choice in the land of Telluride. Director Barry Jenkins has been a volunteer at Telluride since 2002, starting at preparing popcorn and other assorted tasks. He worked his way through film school and up the chain at Telluride and now helps curate short films for the festival. He returned this year as a conquering hero, and we were in the audience on Friday night for his first appearance at the 2017 festival – just like we had been in 2016 when he presented his world premier screening of Moonlight. He beamed at the ovation he received and was pleased to introduce a film by his friend Greta Gerwig (see Lady Bird below). Our personal highlight was Rita getting to tell Jenkins how much she appreciated being in that 2016 premier audience: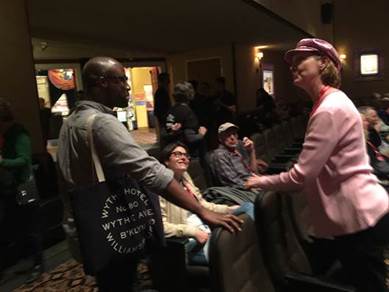 The Oscar Race: We believe that Telluride this year had three films that will be in the discussion for best picture: Darkest Hour, Shape of Water and Battle of the Sexes. We also believe Lady Bird and Film Stars Don't Die in Hollywood have performances that merit acting nomination consideration. I should admit here that the "intoxication" of seeing a film in Telluride creates a bias that does not always measure up as the nominations come out. Also, there are other big movies on the horizon that may eclipse what we have seen. More on that in the Non-Telluride section below.
Darkest Hour: Opening November 22. Director Joe Wright was on hand to introduce his movie. Gary Oldman was also there and had lost much of the weight he had gained for his role as Winston Churchill. The movie covers the rise of Churchill to prime minister and his leadership in the escape of British troops from Dunkirk in 1940. Yes, I have seen the movie Dunkirk, and got a little lost on who was doing what. So any talk about Dunkirk for best picture will not come from me, but Darkest Hour will likely be at or near the top of my list.
Oldman, terrific as the talented but flawed Churchill, will be hard to beat for the best actor Oscar. There are also fine performances from Kristin Scott Thomas (his wife Clementine) and Lily James (his beleaguered secretary). The last Oscar for a film of this ilk was The King's Speech in 2010 – it also screened in Telluride. But if the Academy is looking for the next Birdman, then the Oscar goes to…
Shape of Water: Opening December 8. The star of this movie is Sally Hawkins who was in a Telluride film last year – Maudie, which Rita and I both liked. Shape of Water is directed by Guillermo del Toro and will get Hawkins much more notice and maybe a nomination. Hawkins plays a mute cleaning woman in a top-secret government lab where a man-like sea creature is brought in for observation. An interspecies love story evolves and things get out of control when the federal agent in charge (nastily played by Michael Shannon) decides to kill the creature. Hawkins is aided in her cause by a coworker (Octavia Spencer) and a neighbor (Richard Jenkins). Director del Toro uses cold war satire and creative imagery of water to great effect. Very entertaining.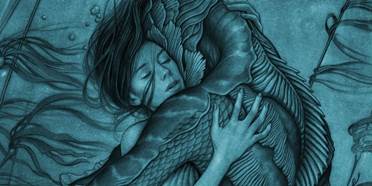 Battle of the Sexes: Opening September 22. Emma Stone does it again. In her two prior trips to Telluride, Stone was in Birdman and La La Land, each of which led to an Oscar nomination. She won for La La Land (and her duplicate envelope stayed on for the Faye Dunaway miscue on best picture). For Stone's new film, she put on 15 pounds, lifted weights to build up her biceps and added the trademark glasses and hair to transform into tennis star Billie Jean King. I think she will get another nomination.
The film is centered on the 1973 exhibition match pitting King against the self-proclaimed male chauvinist pig Bobby Riggs (superbly played by Steve Carell). King had led a revolt for better pay for women tennis players, leading to the Virginia Slims Circuit. The tennis establishment downplayed women's tennis, and former champ Riggs jumped in to say he could beat any woman. King's position had not been that women could beat men on the court, but that they deserved better pay because the fans filled the seats for them too. But after Margaret Court lost an exhibition to Riggs, King thought it would help the cause if she played and beat Riggs.
The King-Riggs match was a circus-like event that drew a big crowd to the Astrodome plus some 90,000,000 in the national TV audience. The actual play-by-play of Howard Cosell helps capture the historic nature of the match. Spoiler alert – King beats Riggs (surely you knew that). While the match provided welcome notoriety to women's tennis, the movie does not downplay the parallel story line of King's hidden sexual identity. The mores of the 70's not only had a strong dose of misogyny, but gay athletes were almost always closeted. The movie has other strong performances, including roles played by Sarah Silverman and Alan Cumming.
Wonder Women Panel: The festival included a number of high profile women as producers, directors and actors. Four were part of a "Wonder Women" panel that spoke to an overflow crowd in the downtown park. Left to right: actress Natalie Portman, Billie Jean King, actress/director Angelina Jolie and famous chef Alice Waters (plus moderator Peter Sellars). Portman was there as producer of her film Eating Animals; Jolie as director of a Cambodian memoir, First They Killed My Father; and Waters to promote her book about being a counterculture chef. We missed Jolie's film so we could attend the panel – we heard generally good reviews, but with a wish that some repetitious parts had been better edited.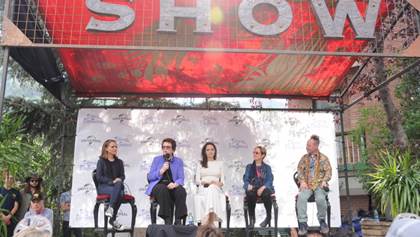 Rita and I were most impressed with Billie Jean King who told her story of first picking up a racket at age 11, playing at the public courts in Long Beach (as the Williams sisters would later do in Compton) and making a decision at an early age to become number one. She has gone on the become an icon in the fight for equality – for everyone. She is a leader on LGBT issues. When Wimbledon was slow in the equal pay movement, Venus Williams fought the battle (finally winning in 2007), saying "I intend to keep doing everything I can until Billie Jean's original dream of equality is made real."
Some modern day proof of King's trailblazing work was shown this past weekend at the U.S. Open. On Saturday, two African-American women played for the title in the Arthur Ashe Stadium in the USTA Billy Jean King National Tennis Center. Winner Sloane Stephens gave a gracious post-match speech while accepting her $3.7 million check…the same amount won by Rafael Nadal in the men's final on Sunday. Game. Set. Match.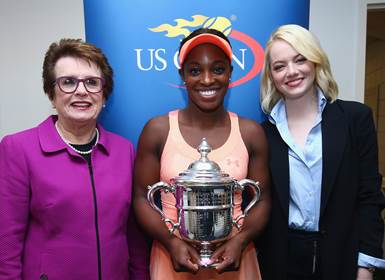 Above, Sloane Stephens celebrates her victory last Saturday with Billie Jean King and Emma Stone.
Lady Bird: Opening November 10. I was primed to like this film because it stars Saoirse Ronan who was so good as the Irish lass in Brooklyn (2015). I was not disappointed. The film was written and directed by actress Greta Gerwig who was on hand to introduce the film, along with Laurie Metcalf and Tracy Letts who play the parents of Ronan's character. That would be Lady Bird, a senior going through the "rites of passage in the perpetual Purgatory that is high school." Two thumbs up.
[Saoirse Ronan Trivia: In addition to her Oscar nomination in Brooklyn, Ronan was nominated at age 12 for her role in Atonement – directed by Joe Wright (see Darkest Hour above). She also is a major voice in the animated Loving Vincent (see below).]
Film Stars Don't Die in Liverpool: Opening December 17. Gloria Grahame won an Oscar in 1952, but was a fading film and stage actor when she had an affair in the late 70's with a young Liverpool actor, Peter Turner. They continued as friends after breaking up, and Gloria called on Turner in 1981 to take her in while she fought cancer. He and his parents did so. Turner wrote about his relationship with Gloria, and this film is based on his 1987 book. Annette Benning plays Gloria and Jamie Bell plays Turner. At our screening, there was a Q&A with book author Peter Turner, actor Jamie Bell and director Paul McGuigan. Both Benning and Bell will be in the mix for actor nominations.
[Jamie Bell Trivia: The actor is now 31, but you may remember him at age 13 when he played the lead role in Billy Elliott. He married Kate Mara in July and brought her along to Telluride. Mara will be playing Mary Jo Kopechne in the upcoming movie Chappaquiddick. She is part of one of the most famous scenes on television: Kevin Spacy threw her in front of the subway train in House of Cards.]
Tribute to Christian Bale: Telluride usually has two or three tributes, and this year they were for actor Christian Bale and cinematographer Ed Lachman. We missed Lachman's tribute which was paired with his latest movie Wonderstruck (mixed reviews from our conversations in line).
At Bale's tribute, we first saw about 30 minutes of clips from his movies, and he was then interviewed by critic Leonard Maltin. The big surprise there was hearing Bale talk with his native Welsh accent. His new movie Hostiles was then screened. He plays a soldier dealing with Native Americans in 1892. The format is a road trip to return a jailed and ill former chief to his homeland. Along the way, they endure interference of many kinds and a lot of people get shot. Bale is good in his role, and the movie looks good, but I could have used at least one less massacre.
Seeing the clips of Bale's prior movies reminded me of how much I liked The Fighter and American Hustle, each of which included the wonderful Amy Adams.
Loving Vincent: This film will hopefully get a nomination for best animated film. Co-directors Dorota Kobiela and Hugh Welchman led a team of 125 artists to create 65,000 paintings to use for frames in an animated film about an investigation into the suicide of Vincent Van Gogh. All of the artwork is based on the paintings of Van Gogh, and the characters in the story are some of his familiar subjects: Postmaster Roulin (voiced by Chris O'Dowd), Doctor Gachet, the doctor's daughter Marguerite (voiced by Saoirse Ronan), Pere Tanguy, etc. Unique and good.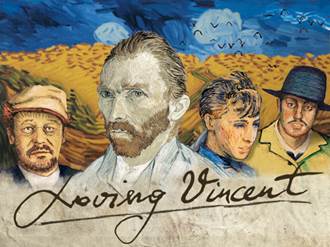 Short Takes: We saw a series of shorts from young filmmakers (curated by Barry Jenkins). A couple were interesting. We saw four other movies, and I will give only brief comments:
The Rider: Good film about a Lakota cowboy recovering from a serious rodeo riding injury. The lead actor actually experienced such an injury, and he and his family are in the film – all amateur actors, but it works well. The setting is the true-life poverty world of a reservation in South Dakota. The director Chloe Zhao and the amateur actors were there to present the film and it made for a very touching scene on stage.
Downsizing: Alexander Payne's new film started with promise on the concept of solving overpopulation by people volunteering to becoming smaller (and richer because they need less food, energy, etc.). Matt Damon stars. There were several inventive ideas, and actress Hong Chau will get some nomination talk for her scene stealing moments. But the promise was not kept for us.
First Reformed: Ethan Hawke (who we like) is a priest at a "tourist" church (historic value) that is primarily funded by a sister megachurch. Not our cup of tea.
The Other Side of Hope: The only foreign film (Finnish) we saw, and we were looking forward to the movie because we had met the lead actor in a gondola ride (not an unusual occurrence in low-key Telluride). We had a nice 13-minute conversation about his movie. He is Sherwan Haji, a young Syrian who now lives in Finland. The movie is about a Syrian refugee having a hard time getting documents to stay in Finland. We really liked the gondola ride.
Three foreign films we did not see (but heard some good buzz) were A Fantastic Woman (from Chile; Marsha Murphy told us it was good), Loveless, a look at Putin-era Russian life, and Faces Places, a road trip through French villages to post giant photos of locals on buildings and infrastructure. We also did not see Wormwood, a new Errol Morris miniseries that was shown in binge format at the festival (four plus hours), much like it will be watched when it airs on Netflix in December.
The Vietnam War: Ken Burns is a long-time sponsor at Telluride, and he screened one of the ten episodes of his new 18-hour Vietnam series that starts on PBS on September 17. Also in Telluride was Francis Ford Coppola who was screening a director's cut of The Cotton Club. Coppola's producers for the 1984 film had made him cut 20 minutes of scenes that he had filmed to reflect the Harlem side of the story. The producers focused on the mob story. Coppola's goal was to restore his original vision of the film, and we heard good reports on the result.
Burn's co-producer Lynn Novick appeared with him on a panel event held in the downtown park. Coppola was there to add flavor from his Vietnam film Apocalypse Now (Rita and I saw Coppola at the 35th anniversary screening of that movie at Telluride in 2014). Novick and Burns have put in 10 years and spent $30,000,000 to complete their series. They spoke of working with archival footage which often had no sound and needed extraordinary expertise to accurately add such things as the correct gunfire.
The story is told through interviews of those on the ground rather than politicians, historians and celebrities. The interviews are from both Vietnam and at home and from veterans and those in the anti-war movement. It promises to be an important addition to the history of the times. Coppola was effusive in his praise of the series. Below, Rita in the crowd (hard to tell, but starting from the left on stage, it's Novick, Burns and Coppola).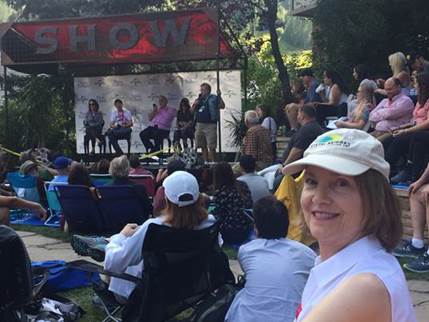 Lonnie's Jukebox: I often post a selection from my 45-rpm records for the 1950's, but Ken Burns gets the credit this time. In his panel appearance at Telluride, Burns said that artists, producers, labels, estates, etc. agreed to special (low cost) royalties so he could include the music of the 60's in his Vietnam series. He promised they would only be used in context – the songs would have been the ones heard by the troops on armed forces radio or playing in the cars of protestors heading to peace marches. The audio CD will be released on September 15, and the 38 cuts range from Wilson Picket to Simon and Garfunkel to the Beatles, Stones, Redding and Dylan. And this from Booker T. and the M.G.s: https://www.youtube.com/watch?v=VuQeEkWfo4g.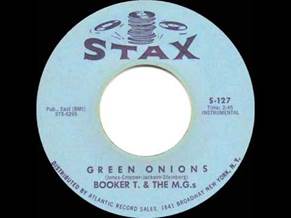 This of course reminds me of the 1988 film Good Morning Vietnam and its excellent soundtrack. I still play that album with Robin Williams as the manic DJ. [Lonnie and Rita Trivia: We were in Bangkok at the Oriental Hotel in 1987. We rode the elevator with Robin Williams who was working on Good Morning Vietnam. He was making bird sounds for his female companion. We smiled, but did not talk to him.]
Non-Telluride Entertainment: Most Oscar films are released late in the year, but a couple we liked that came out earlier this year were Get Out and The Big Sick. Hopefully, they get some recognition.
Some other upcoming releases look like they will be in the Oscar mix. If the Academy is looking for another Spotlight (the Boston Globe's investigation of priest abuse), it could well be Steven Spielberg's The Post with Tom Hanks and Meryl Streep (as Ben Bradlee and Kay Graham publishing the Pentagon Papers in The Washington Post). The Washington Post will also be featured in a new Watergate movie with Liam Neeson playing Mark Felt (Deep Throat). As a reminder, All the Presidents Men came out in 1977 with Redford and Hoffman as Woodward and Bernstein getting their intel from a Mark Felt hidden in the darkness and voiced by Hal Holbrook (FYI – Rocky won the Oscar that year).
Also on deck: Two of my favorite actresses, Jennifer Lawrence and Michelle Pfeiffer, are in mother! (the small "m" is not a typo). Chadwick Boseman, previously seen as Jackie Robinson and James Brown, will play a young Thurgood  in Marshall. In Stronger, Jake Gyllenhall plays a double amputee injured in the Boston Marathon bombing. Aaron Sorkin is making his directorial debut with Molly's Game – the game is poker and Molly is Jessica Chastain. Woody Allen will release Wonder Wheel.  I like the title of The Current War – as in the AC/DC battle between Thomas Edison and George Westinghouse. Three Billboards Outside Ebbing, Missouri (don't know much yet, but intrigued by the name). And no doubt many more that we will want to see.
As for the small screen, there is the "pretty, pretty good news" that Larry David's Curb Your Enthusiasm returns to HBO on October 1 after a 5-year hiatus. I start laughing as soon as I hear the theme music: https://www.youtube.com/watch?v=Ag1o3koTLWM&feature=youtu.be. I'll sure miss David's portrayal of Bernie Sanders on Saturday Night Live.
And of course the World Series. If the Royals do not advance that far, I'm rooting for the Cleveland Indians to win their first Series since 1948. Last year, the Cubs broke the longest existing streak (had not won since 1908), and now Cleveland has the longest Series drought.
See you at the playoffs and the movies.