Hot Stove #51 – Moses Lithograph and Van Horn High School – 50 Hot Stoves
Though little remarked in the press, Lonnie's Hot Stove reached #50 in the last post. This all started in the afterglow of the 2015 World Series with the inaugural post going out on November 30, 2015. I can't believe Hot Stove is now at #51. Of course I also can't believe I turned 76 this month. Time flies when you're having a good time. A list of the first 50 is at the end of this post.
So it's time for a break. Rita and I leave tomorrow for our seventh straight year at the Telluride Film Festival. After we return you will get some movie reviews, plus the final decision on the best catcher of all time (Bench, Berra, Gibson…).
For now, some personal nostalgia about two baseball teams from 1955.
Kansas City A's – 1955: In an earlier post on Hot Stove, I told the story of my cutting school with Jay DeSimone to attend opening day of the first major league season in Kansas City. We got in line early in the morning and scored our $1.25 general admission tickets. Former President Harry Truman threw out the first pitch and the A's beat the Tigers 6-2.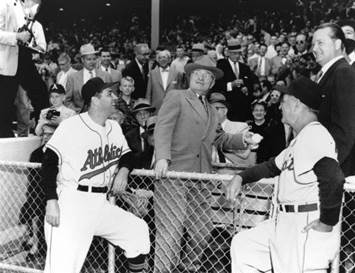 Jay and I were 8th graders as Northeast Junior, and we went to a lot of games together that summer. We then lost touch because I changed schools to attend the newly-built Van Horn located three blocks from my home in Independence. In 2009, some 50 plus years since I had seen Jay, we reconnected and he had a great idea. Let's go to a ball game. This has now been an annual treat for several years, and our next will be the Royals/White Sox game on September 13.
Jay and I had another baseball connection in 1955. We played for rival teams in the same 3&2 little league. He played for Don Bosco. He was a good ballplayer and later went to college on a baseball scholarship. I played for Moses Lithograph, but as for my skills…
Moses Lithograph – 1955: This turned out to be my last year in 3&2 ball. Good-field/No-hit only takes you so far, especially when the curve balls actually start curving. I was also not fleet of foot. The Moses team photo: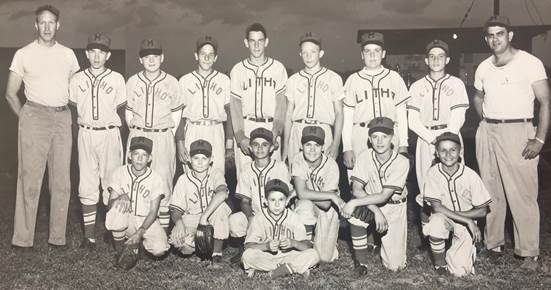 The tall guy in the center of the back row is the late Jim Whipple. He was my mentor in boy scouts and little league baseball. Unlike me, he was a terrific athlete, including being named all-state in basketball in 1959. Two Hot Stove readers are on either side of Jim – Lynn Carlisle (your left) and Tom Foley. Another Hot Stove reader is at the right end of the standing players  – Phil Clemens. The kid kneeling in front of Phil is me. The five of us were turning 14 in 1955 and all graduated from Van Horn in 1959.
According to my copy of the 1955 3&2 annual, our team finished 13-3, in second place behind Pyramid Life. Jay's Don Bosco team went 7-8, as did Intercity Kiwanis. The Kiwanis team fielded two other Hot Stove readers, Brian Firkins and Jim Graham. While working on this post, I sent them an email to remind them that Moses beat Kiwanis 23-1 and 23-2. We split with Don Bosco.
Moses Lithograph Reunion – 2017: My Moses teammate Phil Clemens and his wife Janet (another Van Horn '59 grad) moved to Colorado long ago. Their baseball loyalty switched to the Rockies when Colorado got its expansion team in 1993. Their son Dan contacted me a couple of weeks ago with an idea for a surprise gift for Phil's 76th birthday – a trip to Kansas City to see the Rockies play the Royals. I was on Dan's radar because Phil had turned Dan into a Hot Stove reader. I readily agreed to join Dan's conspiracy.
Dan has followed in Phil's footsteps as a good ballplayer, and he has also been a long-time coach. I had not previously met Dan, but knew a fair amount about him through reading his book, A Perfect Season: A Coach's Journey to Learning, Competing, and Having Fun in Youth Baseball.
Phil has never stopped playing baseball (he can hit a curve). He and Dan play annually in the big national father/son tournament in Phoenix. This recently became a three generational story with the addition of Dan's son Alan in the lineup, highlighted by a 3-touch play in the tournament. Grandson Alan was on the mound and delivered the pitch. The batter hit a hard shot that Dan fielded at short and threw to Grandpa Phil at first base for the third out of the inning. High fives all around when they got to the dugout.
Dan's birthday idea worked like a charm. He and Phil came into town last Wednesday and I took them on a tour of the Negro Leagues Baseball Museum. The two of them went to the Wednesday night game that the Royals won on Hosmer's walk-off homer. Rita and I joined them for the Thursday afternoon game in seats right behind the Rockies' dugout (tickets courtesy of David Block). Phil and Dan not only had great seats – their Rockies won (Boo!). Below, the four of us and then Phil with Sluggerrr during the 7th inning stretch.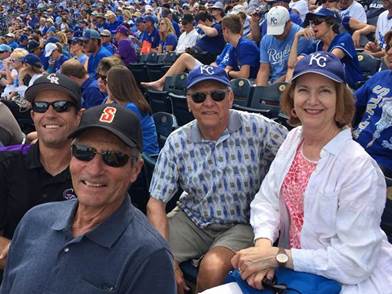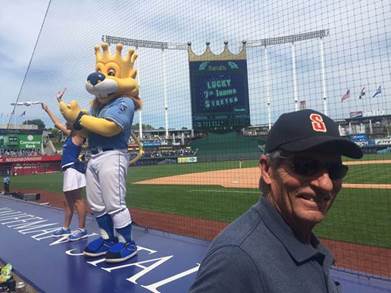 Rita pointed out an item on the scoreboard that applied to Phil and me. It may be hard to see in the photo, but just above the line score, there is a concession stand message to those "OVER 75". Below that, it says us old folks have "BEER OPTIONS." Get it?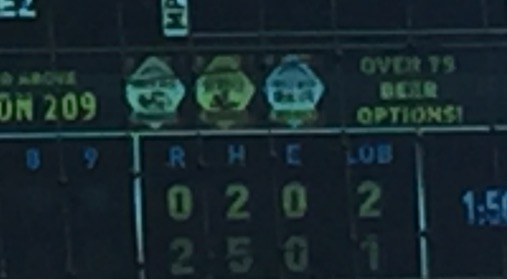 Those David Block Seats: During the 2015 World Series, David and Vicki Block received repeated national media attention for their fashion statements while seated just behind the Mets dugout at the K. Since we were going to be in those seats for the Rockies game, I taped the game and Rita later scrolled through to see if we got similar coverage (sans fashion statements). And there we were – often in the background when right-handed hitters were at the plate – a little extra bonus for Phil's birthday. Here is a TV screen shot showing Dan and Phil just in front of Cuthbert. Rita is behind Phil, and I am in the aisle returning to my seat. The 3-2 score held up for the Rockies.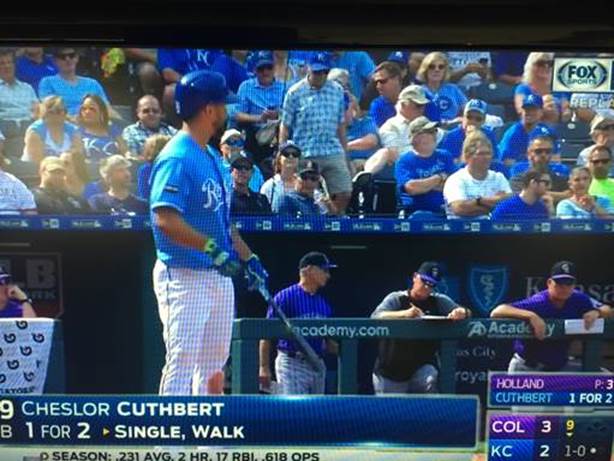 Bad Luck Lonnie: I have been to three Royals games at the K so far this year. On July 18, I joined Pete Levi and Richard Martin to watch the Tigers pummel the Royals 9-3. Then on August 7, I witnessed a blowout with Mike White, Steve Roling and Bob White. The Cards won 9-3. The ubiquitous David Block happened to walk by and snapped this photo of Mike and me:
With the 3-2 loss to the Rockies last week, I am 0 for 3 at the K this year. When Irv Blond reminded me of this, I defended myself with the fact that I saw the Royals win in San Diego and San Francisco when Rita and I did our stadium tour. Irv suggested that I continue to attend out of town games, but maybe keep my distance from Kauffman Stadium. For the record, I was nowhere near Cleveland for the three shutouts this past weekend.
Eclipse In Truman Country: I had another nostalgia trip last week. Rita and I ventured out to my childhood town to view the eclipse from the Independence Square. When Harry Truman came home after his 1948 upset victory, I was 7 years old and on the Square with my parents for the hometown welcome. When I was a teenager, I bought my Brownie Hawkeye at the Katz Drug Store on the Square. At some appliance store (name lost to history), I bought my first hi-fi record player on a layaway plan. I got my baseball glove at Gateway Sporting Goods just off the Square.
For the eclipse, we joined hundreds of people gathered around the old county courthouse where Truman once presided. A statue of the walking Truman surveys the scene. We lucked out with clear skies and a beautiful minute of totality. Reporter Eric Adler was covering the event for the Kansas City Star and caught us in one of his tweets (we are the center two, and Eric's son Aidan and wife Tamara are on either side of us):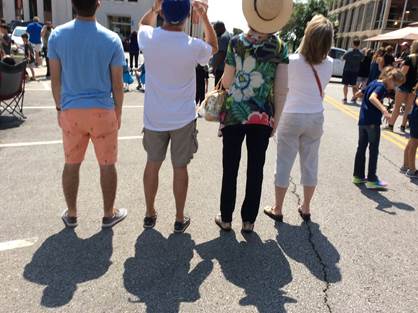 Here is Rita (big hat) as the eclipse darkened the sky and the sensors on the lampposts automatically turned on the streetlights:
For a baseball eclipse moment, I turn to a Buck O'Neil quote: "Satchel would kick up his front leg so high it eclipsed the sun…"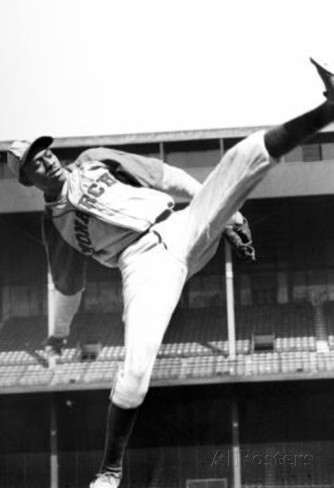 Lonnie's Jukebox: For one last piece of nostalgia,  I'll make a selection from my 45-rpm record stack. At Van Horn Teen Town back in 1957, "Party Doll" was a big hit – always makes me think of classmate Shirley Maycock (Nuss), one of my favorite dance partners at Teen Town. For your listening pleasure, here's Buddy Knox: https://www.youtube.com/watch?v=ofkhZNWFr0M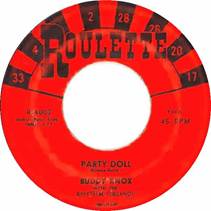 50 ways to waste your time (as Paul Simon might say):
#1 – 11/30/15 – Inaugural Post (All-Time Outfield, Brett/.400)
#2 – 12/4/15 – Reader Comments (Mays/Ruth/World Series Commercials)
#3 – 1/15/16 – Martin Luther King Day, Vic Power, Alex Gordon and HOF (Monte Irvin)
#4 – 1/27/16 – Snow, Third Base, Taxes, Reader Comments and Ballet
#5 – 2/5/16 – War and WAR, What are they Good For? – From A to Z, Abe Lincoln to Ben Zobrist
#6 – 2/18/16 – Pitchers and Catchers Report, Roger Angell, The Catches, PECOTA and the Oscars
#7 – 2/29/16 – A Shortstop Celebration
#8 – 3/4/16 – Special Baseball and Politics Edition – Presidential Primaries, Supreme Court and Missouri Senate
#9 – 3/11/16 – The Readers' Tribune (Tori Hunter, Peanuts/World Series, More Catches/Bo)
#10 – 3/17/16 – The Grapefruit League
#11 – 3/22/16 – The Cuban League and the Cactus League
#12 – 4/1/16 – The Curious Case of Sidd Finch
#13 – 4/2/16 – Royals Opening Day (Night) 2016
#14 – 4/14/16 – Shea Stadium Nights and a Jack Buck Story (Spring Training Report and Relay the Way)
#15 – 4/26/16 – Prince of Baseball (Music Tribute)
#16 – 5/2/16 – Baseball in the Nation's Capital (Part One of Two)
#17 – 5/5/16 – Baseball in the Nation's Capital (Part Two of Two) (Moe Berg/President Bush)
#18 – 5/12/16 – Second Base (Part One of Two)
#19 – 5/19/16 – Second Base (Part Two of Two) – Frank White Edition
#20 – 6/3/16 – Where Have You Gone Mickey Mantle? Where Have You Gone Alexander Hamilton?
#21 – 6/16/16 – Kansas City Blues – Walt Lochman, Phil Rizzuto and Lou Gehrig
#22 – 7/8/16 – Lonnie and Rita's Excellent Stadium Adventure
#23 – 8/4/16 – Kansas City Blues – Mickey Mantle
#24 – 9/13/16 – Telluride Film Festival, Cuba and Baseball Elephants
#25 – 9/30/16 – Chicago Cubs, World Series Champions: 1907, 1908 and Maybe 2016 (Part One)
#26 – 10/11/16 – Chicago Cubs, World Series Champions: 1907, 1908 and Maybe 2016 (Part Two)
#27 – 10/21/16 – Cleveland Indians, World Series Champions: 1920, 1948 and Maybe 2016
#28 – 11/4/16 – World Series 2016 – The Cubs Win!
#29 – 11/30/16 – Leonard Cohen – Rita's Story
#30 – 12/5/16 – Who's On First?
#31 – 1/2/17 – Martin, Jackie and Roberto (Martin Luther King Jr. Day – 2017)
#32 – 1/25/17 – A Black Guy, A Rabbi and a Puerto Rican Walk Into a Bar…
#33 – 2/10/17 – Spring Training, Marilyn Monroe and the Montreal Expos
#34 – 2/21/17 – Spring Training – History and Hope
#35 – 3/2/17 – A Book Report and the Oscars
#36 – 3/22/17 – Chuck Berry and Lonnie's Jukebox
#37 – 4/1/17 – Free Agents/The Best Team Money Can Buy/Sidd Finch Revisited
#38 – 4/12/17 – Bob Cerv – From the Kansas City Blues to a Wired Jaw to a Home Run Apartment in Queens
#39 – 4/21/17 – The Wall Street Journal – From Leo Durocher to Babe Ruth's Car to Thutmose III
#40 – 4/27/17 – Wild About Harry  – Oh What a Night (Truman)
#41 – 5/11/17 – How About Those Royals? How About Bob Motley?
#42 – 5/19/17 – Christian Colon – Thanks For the Memories
#43 – 6/2/17 – Frank Deford – Sportswriter, Father and Joe Posnanski's Mentor
#44 – 6/7/17 – Stream of Consciousness Post
#45 – 6/22/17 – California Stadium Tour/Bill Wakefield and the Perfect Game
#46 – 7/10/17 – Women in the Baseball Hall of Fame
#47 – 7/19/17 – Best All-Time Catcher Plus Some Memories of Jim Nutter
#48 – 7/28/17 – Photo Ops
#49 – 8/14/17 – One Hundred Years Ago – Schmelzer'S All Nations Team – Forerunner of the Kansas City Monarchs
#50 – 8/23/17 – Hitler, the Klan and Baseball