At long last, a decision on best all-time catcher. It's been complicated.
Best All-Time Catcher: In Hot Stove #48, I discussed how grandson Ian and I had assumed we would settle on Johnny Bench as the best catcher. As I researched the history, I was reminded of my childhood appreciation for Yogi Berra. I wavered. Also, the imposing presence of Negro Leagues great Josh Gibson gave me pause – Gibson was listed by stats guru Bill James as one of the top 10 players (not just catchers) of all time while Berra and Bench were down in the 40's. So I procrastinated and put off a final decision. I got a little help from Hot Stove reader David Von Drehle who put this in perspective for me:
"Lonnie…You have set yourself a very tough challenge here. I think Berra-Bench or Bench-Berra is the right answer for all-time MLB catcher. But I come down with Bill James on this one. The testimony of authoritative figures is so strong. You quote some of it. For Bill Veeck to say that Gibson was worth two Yogi Berras is pretty persuasive stuff, even after you discount for Veeck's beloved hyperbole. It's a disgrace, of course, that we have no way of comparing them except anecdotally."
David is right. When Ian and I are picking all-time greats, we are relying on MLB stats. We are not truly picking the best player of all-time. We are picking the best player from the American and National Leagues. I still want to talk about Josh Gibson, but I'll first finish the MLB selection.
[Small World Trivia: David Von Drehle is a Kansas City-based national political writer for the Washington Post. My grandson Ian "graduated" from Belinder Grade School this past spring. At the graduation ceremony in the school gym, I was surprised that there was an outside commencement speaker – it was David. He gave a warm talk about the value of the teachers at Belinder and how they had been helpful to his own three children who had gone there.]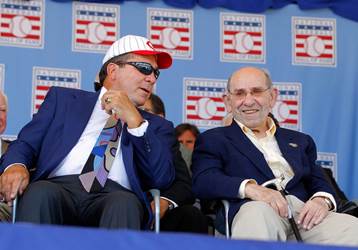 Bench and Berra at the Hall of Fame
Most of you good readers picked either Bench or Berra. The outlier was Steve Roling with his sentimental choice of Roy Campanella. Tom Turner gave a good Denny Matthews quote on Johnny Bench's surname…"the most inappropriate name in baseball."
Bill Wakefield picked Yogi and also passed along a personal story about spring training with the Mets in 1965. Yogi was working as a coach under manager Casey Stengel. Yogi had played with Dick Wakefield (no relation to Bill) who was with the Yankees in the late '40's. Bill was a pitcher in camp and introduced himself to Yogi who responded "Hey Dick good to see you again. You got me out in the mayor's trophy game." Wakefield took it as a badge of honor and did not correct him. Later in spring training, Yogi was catching Bill and instructed him "We're throwing all fastballs today, Dick. No breaking balls." There's always a Yogiism. [Wakefield Trivia: Wake is the subject of a recent SABR bio which includes his amateur days in Kansas City. http://sabr.org/bioproj/person/421f2c9c.]
Mike Maloney advises that his Aunt Betty was a Carlton Fisk fan (her husband, Mike's uncle, was a catcher for the Red Sox in the 1920's). But Mike selects Yogi, "a good Catholic boy from the Hill in St. Louis, who survived having to put up with Joe Garigiola while growing up. Those things mean more to me than WAR statistics."
As you might have picked up from my biased line of logic, I have decided to pick Yogi Berra as the best MLB catcher of all time. Grandson Ian also decided to go with Yogi, possibly led by undue influence from Grandpa. I like that.
While on the subject of grandchildren, I saw this recent tweet and photo from Yogi's granddaughter Lindsay Berra who is a sportswriter at MLB.com. "Whenever the Yankees play the Red Sox, I think of Gramp and Ted and how I so wish I could have been a fly on home plate for these little chats."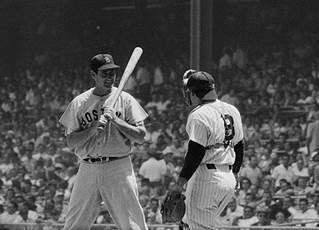 Yogi Berra and the Kansas City Blues: At age 17, Yogi Berra reported to his first spring training in Excelsior Springs, Missouri. Yogi had signed with the Yankees and was sent to spring training with their top farm team, the Kansas City Blues. It was 1943, and clubs were not traveling south for spring training because of the war. Yogi roomed with the Blues clubhouse boy Sid Bordman at the Elms Hotel. Bordman would later become a long-time sportswriter at the KC Star. He remembers thinking that Yogi was "pretty dense" and "said a few things that were sort of silly." Not yet called Yogiisms.
Yogi did not play the 1943 regular season with the Blues, but was instead assigned to a lower level Yankees farm team in Norfolk, Virginia. In 1944 and 1945, he was listed on the reserve roster of the Kansas City Blues while he served in the Navy. Yogi returned from war in 1946 and played for the Yankees farm team in Newark before moving up to the Yankees late in the season. He stayed with the Yankees until retiring in 1963.
Yogi's history in Kansas City was discussed during the play-by-play of a Royals game after Yogi died in 2015. This video also includes a nice slice of the Royals as they worked toward the World Series with Yordano "Ace" Ventura on the mound and Ben Zobrist at second base. Four minutes: https://www.mlb.com/orioles/video/yogis-ties-to-kansas-city/c-497616883?tid=8879234.
The Catcher Was a Spy: I have often written about Moe Berg, the major league catcher who was a U. S. spy. I picked up a new anecdote from Joe Posnanski who spotted Moe's mask in the archives at the Hall of Fame. Note the circular part at the front – so the catcher could spit out his tobacco without taking off his mask.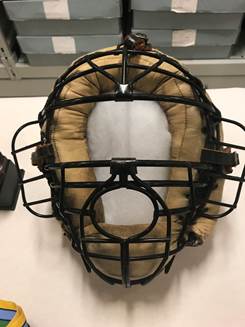 The Ian/Grandpa All-Time MLB Lineup: Through several Hot Stove posts over the last year, Ian and I have finished the position players for our all-time MLB lineup:
Right Field – Babe Ruth (Lonnie) and Hank Aaron (Ian)
Center Field – Willie Mays
Left Field – Ted Williams (with a special nod to Stan Musial)
Third Base – George Brett (maybe Mike Schmidt, but close enough for us to pick the Royal)
Shortstop – Honus Wagner (with appreciation for Cal Ripken)
Second Base – Rogers Hornsby
Second Base (Modern) – Joe Morgan (Lonnie) and Jackie Robinson (Ian)
First Base – Lou Gehrig
Catcher – Yogi Berra (not to take anything away from Johnny Bench)
The Cooperstown Casebook: One of the hot new baseball books is The Cooperstown Casebook by Jay Jaffe. He is well known for his advanced statistics rating players for Hall of Fame balloting. He has developed his own metric called JAWS which is the average of a player's career WAR (Wins Above Replacement) and that player's peak WAR (his best seven years). As a reminder, WAR is a position player's composite number that combines his values of batting, running and fielding. How each of those gets valued and calculated is way beyond what I know. That's why I just go to Baseball Reference to get the numbers. JAWS is an acronym for Jaffe War Score.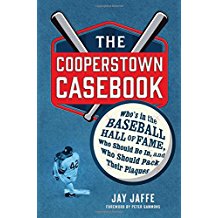 Jaffe compares each player's JAWS with the average JAWS of those already in the Hall of Fame. He also uses the metric to show which players should not have been elected to the HOF. Jaffe stresses that his metric should not be considered as a YES/NO decision for the HOF. JAWS and its WAR components do not account for postseason play, awards won, league leaders in important categories, career milestones, military service and historical relevance. I am glad he makes that caveat because it gives leeway for the Ian/Grandpa all-time lineup that does not always end up with the top JAWS player. Here is the list of our selections and how they rank under JAWS:
Right Field: Under JAWS, Ruth is #1 and Aaron #2. Stan Musial is #3. Stan had been our #2 in left field where he played more games, but he had more of his peak stats for JAWS while playing right field.
Center Field: Willie Mays all the way. Ty Cobb at #2. Among active players, Carlos Beltran has a good chance under the JAWS test.
Left Field: JAWS has an interesting top 5: Barry Bonds, Ted Williams, Ricky Henderson, Carl Yastrzemski and Pete Rose. Time will tell if the #1 Bonds will get the necessary HOF votes as the PED issue plays out. Many think that the HOF induction of Commissioner Bud Selig opened the door since most of the PED issues came during his administration. Rose seems to be sinking rather than rising. Fox Sports has dumped him from its post-season panel.
Third Base: Mike Schmidt is #1 in JAWS. George Brett is #4, but closely grouped with Eddie Matthews and Wade Boggs. Schmidt's Phillies beat Brett's Royals in the 1980 World Series. Neither team repeated in 1981, but the two players made the Sports Illustrated cover when the 1981 season resumed on August 10 after a 2-month strike.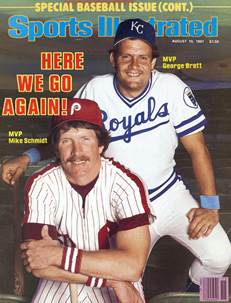 Shortstop: Honus Wagner is easily #1 and Cal Ripken is #3. Who is #2, you ask? Alex Rodriguez. Not eligible until 2022 and will have his own PED issue.
Second Base: Again, an easy pick, Rogers Hornsby is #1. Joe Morgan is #4 and Jackie Robinson #10. Jackie's MLB career was too short to build a strong career WAR.
First Base: Another easy choice, Lou Gehrig. The #2 player is still active – Albert Pujols.
Catcher: Johnny Bench is #1, followed by Gary Carter, Ivan Rodriguez, Carlton Fisk, Mike Piazza and Yogi Berra. But this is where the "not included" part of JAWS has special meaning – Yogi remains the only player who has 10 World Series rings (14 pennants). So Ian and I are comfortable with our choice.
Negro Leagues Players: As noted above, stats guru Bill James ranks Josh Gibson far above fellow catchers Bench and Berra in his top 100 players of all time. Although there are not sufficient reliable statistics, there is one excellent indicator to confirm that top Negro Leaguers would have also been all-stars along with Cobb, Ruth, Gehrig, etc. The case is persuasively made by Bob Kendrick, President of the Negro Leagues Baseball Museum, who suggests that we simply look at some of the players who transitioned from the Negro Leagues to the Majors, starting with Jackie Robinson in 1947.
Think about these Negro Leaguers in the lineup in any league: Jackie Robinson (KC Monarchs, 1945), Roy Campanella (Baltimore Elite Giants, 1937-1945), Hank Aaron (Indianapolis Clowns, 1951), Willie Mays (Birmingham Black Barons, 1948), Ernie Banks (KC Monarchs, 1953), Larry Doby (Newark Eagles, 1942-1947) and Monte Irvin (Newark Eagles, 1940-1947).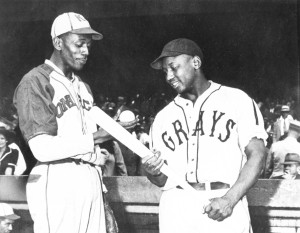 So when there are anecdotes about the "Major League" all-star skills of Satchel Paige and Josh Gibson (in photo above) and so many others from the Negro Leagues, there is solid ground to stand on. Case closed.
Bye Bye Balboni/Hello Bob Cerv: Steve "Bye Bye" Balboni hit 36 homers for the Royals in 1985. That was the Royals franchise record until Mike Moustakas hit his 37th last week. But Moose is still short of the KC major league record of 38 set in 1958 by Bob Cerv of the Kansas City A's. So Royals fans still have something to root for this final week of the season – Go Moose!
Jim Symington and Babe Ruth: On September 27, 1927, Babe Ruth hit homer #57. The following day, Jim Symington was born. The day after that, Ruth hit two homers to get to #59. The next day, September 30, Ruth hit #60, a record that lasted until 1961. If you did the math, you will know that this was 90 years ago this week. This is a long way of saying "Happy 90th Birthday!" to Jim Symington. Jim is a former Congressman from St. Louis and has been a friend of mine and Rita's since the 1970's. He and his wife Sylvia are also loyal Hot Stove readers. Not that Jim is the oldest Hot Stove reader. Two other readers beat him to the punch as nonagenarians: Harry Jonas and Bert Bates. While I am talking about nonagenarians, I should also mention Roger Angell, the writer of wonderful baseball essays in the New Yorker. He turned 97 last week.
Lonnie's Jukebox: Catchers Yogi Berra and Roy Campanella were the MVP's of the AL and NL in 1955. That October, Yogi's Yankees lost to Campy's Dodgers in the World Series. During the season, the number one song for several weeks was the rock 'n' roll anthem "Rock Around the Clock" by Bill Haley and the Comets. I still have my record and played it this week. Still so good (and a fun video): https://www.youtube.com/watch?v=ZgdufzXvjqw.