From: Lonnie Shalton
Sent: Monday, October 15, 2012 1:45 PM
Subject: Rita Update – "Game On!"
Friends and Family:
Chemo has arrived and Rita's new shout-out is "Game On!". Her plan is to accept sage advice passed along by Cathy Jolly (who in turn was quoting an oncology nurse): "Chemo is your friend. It will get you better. This time in your life is just a season. Seasons change and you will be done soon…do not think about chemo as anything other than what it is: strong medicine to get you better."
Chemo infusions run throughout the body to seek and kill microscopic cancer cells that may have escaped beyond the surgical areas. The problem is that a lot of good cells get caught in the process. This will include Rita's hair follicle cells and you can look forward to an update on how that goes. The immune system also suffers and great care needs to be taken to avoid infection. To avoid creating potential sites for infection, Rita's pre-chemo prep included getting a teeth cleaning, a flu shot, a colonoscopy (!) and her last pedicure until January. Chemo prep was in lieu of being in Rhode Island for the wedding of Jim and Kathy Polsinelli's son Josh. Chemo may be a friend, but it meant that our good wishes to Josh and Janney had to be delivered long distance.
"Game On!" kicked off at KU last Wednesday with the first of six chemo sessions (to be spaced at 3-week intervals). The routine starts with a blood draw to check the key elements (especially that white blood cell count), then a visit with the oncologist, and finally the treatment in one of about 40 cubicles, each outfitted with a TV and a recliner or bed. Most of the cubicles were in use, and so this is a busy place. It was a long day (8:30 to 4:00), but that should be reduced for future session as some of the time was educating Rita (remember that movie title?) and this will not need to be repeated. The chemo infusions started with Cytoxan (two hours), followed by Taxotere (one hour).
The end of the process is announced by a loud beeping of the machine, just like our microwave and dishwasher (see what I have learned). Popcorn's popped. Time to go home.
The cubicle was brightened by a visit from Rita's lifelong friend Anne Devaney. Also, book club friend Peggy Zilm volunteers at KU on Wednesdays and circulates through the building distributing smiles and coffee to patients and visitors. Rita's necklace belonged to her mother and gave Rita comfort that her mom was with her. Although not visible in this photo, Rita was wearing her breast cancer ribbon pin and using her handmade pink-ribboned blanket, both courtesy of Diana Brewer.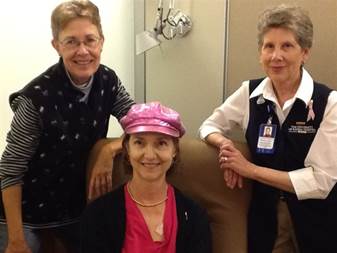 Rita is pleased with her decision to have a portacath implanted during her last surgery. The port is inserted just below the clavicle and is connected to a blood vein to provide a ready connection for blood draws and the chemo infusions. This removes the need for finding a good vein each time a procedure is done. At the end of chemo, the port will be removed.
Rita's initial response to the chemo has been mixed – still considered a friend, but one with a split personality. Some mild fever, discomfort and fatigue, but no nausea. She returned to yoga on Friday for a moderate workout – very happy to be back with her morning pals. Being a great sport, she attended my multi-class high school reunion party Friday night, looking fetching in her stylish cowboy hat (more below). This also gave us a chance to assemble a dinner with the "Big 6" – my Van Horn '59 classmates Diana Brewer (in from Phoenix with Larry) and Jim Graham (and Sandy) – who have traveled together near and far. To slow down the pace, we passed on the Saturday night reunion dinner at – get this – a party room at retirement community John Knox Village. Do you think someone is trying to tell (sell?) my classmates something. Sunday was another day of rest, but today has been better and she got to see the Brewers off for their return to Phoenix.
.
Surgery Update: The previous update was made on the day that the "Drain Be Gone!" and now the emphasis is on regaining full flexibility. The right arm is "cording" and this is a common development in lymph node surgery. The connective tissues in the arm become hardened and need to be moved and stretched. We have had a couple of sessions with a physical therapist who has given Rita exercises to do and also worked with her on what yoga moves are currently permissible. Progress is good.
Hat Update: The pink hat being worn by Rita in the photo above is not a new buy to match the ubiquitous pink breast cancer ribbons – she bought it six years ago in Victoria during our Alaskan cruise with the Big 6. The new blue hat purchased at the Plaza Art Fair had its public debut at an Aixois dinner with the Overtons and Martins. And in honor of the American Royal season, Rita has again brought out her cowboy hat for her trips to Costco, etc. and she gets many flattering comments.
Koi Update: Koi painting installed by Talis still looking good.
Telluride Update: You may recall that one of our favorite films at Telluride was CIA thriller "Argo." It is now in theaters and has opened to rave reviews. Rita and I also get a weekly CIA fix with one of our favorite TV shows, "Homeland" on Showtime. It will be hard to match the first season, but looking interesting so far.
Letters to the Editor: A touching and witty collection of responses is accumulating. Some samples:
Jim Symington responded on our Loose Park walking regimen – "Thanks for your latest on dear Rita. I'm not sure it is prudent for you two to walk in opposite circles. A girl that good looking who moves slowly is likely to attract a following. Then again, where could she find a more useful handyman?"
The "Hooray!" email on the negative report on the lymph nodes drew many joyful replies. On my comment that Rita and I were ecstatic, Loren Rea said "That's great news! Judy and I share your ecstasy (hmmm, that doesn't sound right somehow)…."
There were several comments on Rita's getting a pedicure to celebrate those negative findings. Mike Maloney – "Wonderful news. I'll pass it along to Bobbie as soon as she returns. She will probably want to get a pedicure too." Pat Hininger – "Great, great, great news. Think I'll get a pedicure too!!!". Carol Richardson – "Rita should have the full pedicure, foot massage, etc!!". Kristin Amend – to me, "You should get a pedicure with her!!! :)"
The "Hooray!" email coincided with Rosh Hashanah, and Hepzi Schechter, executive assistant to my New York client Gary Barnett, declared "Mazal Tov" and added "Since it is the Jewish New Year, this is a good time to wish Rita and you a year of good health, "nachas" (enjoyment and pride) from the children and grandchildren, and much happiness."
I am embarrassed to report that many comments (wisecracks?) have been directed at my domestic skills. Another '59 Van Horn classmate, Shirley Maycock Nuss, provides a nice summary: "Now you need to teach Gary the pineapple thing. He already knows how to use the ATM, the dishwasher, the sheet thing, the vacuum and, on occasion, the toilet brush. He can iron too – but he doesn't do it right, so he's forbidden. Now the big question — when Rita is operating at full speed, does she get to take over the duties again — huh? huh?"
My guess is that I will continue with "some" of this helping around the house. But no ironing. That qualifies as heavy equipment and Rita would never allow it.
A nod to Bob Morantz and Marsha Murphy who responded from the greatest distance – Laos. An honorable mention to Leland and Jill Shurin – from Slovenia.
Love those good vibrations.
Lonnie
From: Lonnie Shalton
Sent: Thursday, November 01, 2012 9:52 AM
Subject: Rita Update – "Wiggin' Out"
Friends and Family:
Rita has completed her first chemo segment, from the first infusion on October 10 to her second yesterday on …. Halloween. The three-week interval was marked by a low-grade fever for a few days, some stomach issues (quickly remedied by drugs) and this past week, a rash. Dr. Kahn advised that about half of the patients get a rash and assured Rita that it will fade away after chemo ends.
On the good news side, Rita's physical activity and appetite were mostly back to normal after about a week. The cording in the arm from the second surgery is essentially gone and Rita's strength and range of motion are surprisingly good. She is able to do most of her yoga positions, just may not hold them as long. She has joined me walking in Loose Park and, on the colder days, on the treadmills in the condo exercise room.
Oh yes, there is one other side effect. After about two weeks, strands of hair began abandoning Rita. But she was ready and preempted the process by going to her hairdresser for a good buzz cut and professional styling of her new wigs. She is now officially wigged out. I must say though, she is quite elegant without the wig and her earrings really stand out – to borrow a saying from my old friend Ray Webb, her new look is "uncommonly pretty." Irv Blond has welcomed Rita to his very exclusive club of folks who don't need hair dryers and live by the motto "God made a few perfect heads and then He put hair on the rest."
Although I have been with Rita for almost every meeting in this journey (surgeon, oncologist, nurses, nutritionist, physical therapist, etc.), there was one facet where I was explicitly excluded – picking out her wigs. That would require expertise in color and style, and as many of you know, these are not my strong suits. That is why Rita does all of my clothes shopping (but I do go in for fittings). Rita instead recruited David, her trusted hairdresser of the last 20 years.
The first step was to choose between synthetic and human hair and that was relatively easy – human hair requires a lot of maintenance and is not as suited for Rita's hat habit (think hat-hair). Synthetic wigs also get hat hair but that was solved by getting two wigs, one for sans hat days and another (a little longer hair) for hat days. Every day is a "good hair" day. Although it was not a determining factor, there is a big price difference between synthetic (hundreds of dollars) and human hair (thousands of dollars, the going rate for hair from the Philippines and Russia). The two wigs were bought at different stores, but they are both the Raquel Welch brand. Did not know she had a fashion empire. David and Rita did good work – perfect in color and style. Only all of her friends getting this email will know.
Rita's Halloween chemo infusion was the day after her buzz cut. Rather than donning one of her wigs for chemo, she opted for her new penguin hat that served as both head cover and Halloween costume. The selection of the penguin hat is in character – Rita adores penguins and has viewed them in the wild on three continents: South America (Galapagos), Africa (near Cape Town) and Antarctica. Below, Rita amongst several hundred thousand on the island of South Georgia, one of the stops on our 2008 Antarctica cruise.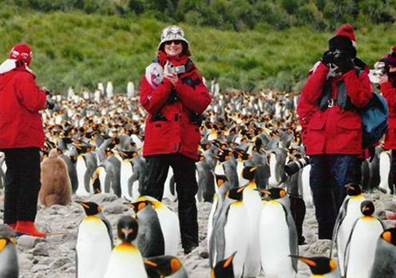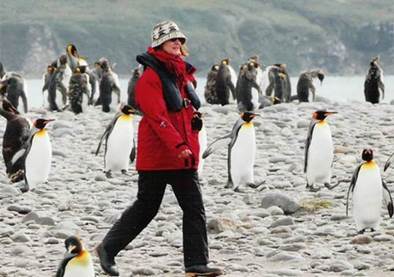 Rita was joined by Molly Ellison, and the 2-finger display reflects that this was her second of the six scheduled chemo treatments (ending January 23, 2013).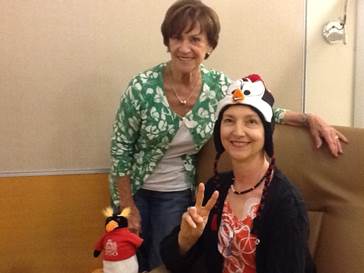 Mary and Katie: Rita and I lost our mothers in 2006, but the legacies are strong. As you may recall, Rita wore her mother Mary's necklace for her first chemo treatment and yesterday she wore my mother Katie's necklace. Katie also was an inspiration for a recent internet purchase by Rita – a set of cast iron skillets, just like mom used with great results. (Some additional perspective: According to Rita's cancer nutritionist, there is a fair amount of chatter that turning up high heat on Teflon skillets may release carcinogens.) Thanks to Mary and Katie for being there with Rita.
New Toys: Chemo suppresses the natural immune system and caution must be taken to avoid getting colds, flu or other ailments. This meant Rita would be spending less time in public and so we upgraded our video and audio equipment to enhance the extra time in the condo. A Blu-ray player was installed to stream Netflix and similar services direct to the big TV screen. Rita is already enjoying Netflix – we did not get into the FX series Rescue Me until the final two seasons, and Rita is now catching up on the earlier seasons.
On audio, we have been far behind in the digital world and generally just went through the stacks and loaded CD's into the player. The closest we had to digital uploads was an iPod that Wayne Tenenbaum preloaded with 700 songs and gave me at my 64th birthday party (when Rita thankfully answered "I will" to my questions "Will you still need me, will you still feed me….). As evidence of my digital dinosaur status, I never got around to adding a single song to that iPod.
Jim Polsinelli gave me a heads up about the "Sonos" wireless system he purchased from Robert at SoundfX, the same guru who installed our existing audio system. Sonos is really a cool deal – Rita uploads our CD's into her computer and then selects what she wants to hear via the Sonos music index on her iPad. Or I can select them from my iPhone. Also can access Pandora and radio stations from around the country. We now play much more music over the condo-wide speakers and spontaneous dancing has been known to break out. We like to dance.
Breast Cancer Charity Event Update: Rita and Sharyn Blond gamely picked up their golf clubs (well, just putters) and competed in the "Within the Ribbon" tournament. Alas, they did not medal. Rita and I attended Cathy Jolly's annual City Council event for the benefit of the Breast Cancer Research Foundation. Mayor Sly James and several council members participated. The cumulative total for the six years of this event is in excess of $250,000. This past Saturday, Rita and nine of her STA high school classmates were "Rita's Ramblers" in the "Making Strides" walk at Liberty Memorial. Joining some 12,000 others, the Ramblers braved the cold for the 5K walk and looked very chic in matching pink scarves handmade by Anne Devaney.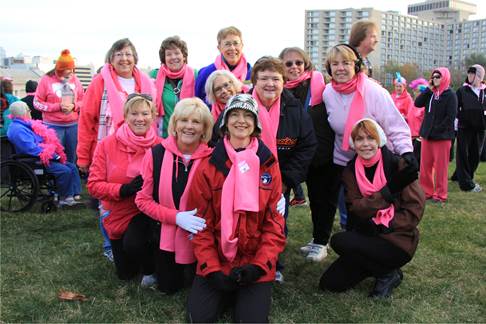 Hat Update: Did you catch the hat trick? The penguin photos from Antarctica and the Making Strides group photo show Rita wearing the same hat, some four years and thousands of miles apart. She purchased the hat for $3.00 at a street market in Cuzco, Peru, in 2004, just before we headed to Machu Picchu with the Brewers. The cost per mile for this hat is quite low.
Koi Update: Koi not moving much, but doing fine and remain intriguing.
Village Update: Rita and I thank your for your ongoing thoughts, prayers, love and good vibrations.
Lonnie
From: Lonnie Shalton
Sent: Thursday, November 22, 2012 8:44 AM
Subject: Rita Update – Thanksgiving and Do-rags
First, a message from Rita:
To our friends and family near and far. This Thanksgiving has presented me a most opportune moment to pause, reflect and celebrate the unexpected positive experience that breast cancer has afforded me. Without these past 5 months of discovery I would have missed so much, all of your words and actions of support, coming by email, snail mail, phone and in person. All a reminder of my part in this universe of relationships and history. It is both uplifting and humbling to be thought of and encouraged all along this "marathon".
So today, I want each of you to know without a doubt, this is my day of Thanksgiving for you.
With gratitude and love for all your nourishment of body and soul,
Rita
P.S.: But mostly Lonnie, for making it true that, "If I wasn't me, I'd want to be me."
Friends and Family:
Rita received her third chemo infusion yesterday. Three more to go. Her jewelry choices for this session were her Aunt Tootie's big sapphire ring and her mother's locket with a photo of Rita's father. Rita will not be doing much over this long holiday weekend as she awaits the side effects.
As for the last three weeks since the second infusion on Halloween, the story starts with a low, but ends very nicely. Rita was fine for a couple of days, but then a fever spiked overnight and we ended up in the ER at KU from 4 to 7 a.m. The white blood cell count had dropped as expected from the chemo, but the blood work at the ER showed no serious issues and she quickly rebounded. She did not have a repeat of her stomach issues (good meds), nor did the rash return.
Just three days after being in the ER, she stayed up late for the election night returns. We are aware that the village is bi-partisan and so I hope that our very, very nice Republican friends are not offended by letting you know that Rita was all smiles for Obama and McCaskill. I'll leave it at that
With her immune system down, Rita is not often mingling in crowds. This concern was set aside however to attend our dear friend Albert Riederer's retirement party at the Uptown. The organizers heeded the request by Albert and Sandy that the good will of the hundreds in attendance be channeled to help the poor, resulting in over $60,000 being raised for "The Albert Fund" to be administered by the Bishop Sullivan Center. Following a superb program on Albert's career and good deeds, he capped the night with a most eloquent response. Rita and I worked on Albert's first campaign in 1978 and many more that followed. One of the really, really good guys.
Back in August, we needed to cancel a planned October trip and rather than waste the plane tickets, we optimistically switched them for a trip to Florida in November. As Allison Frizell said at the time "A carrot in front of the nose is a good thing". We had been to Naples the last two Novembers to see Bob Morantz and Marsha Murphy who now permanently reside there and enjoy warm winters. We timed the trip to be the week just before the next chemo treatment when Rita would likely be at her best. With face mask and surface wipes in hand and oncologist approval, she risked the germ-laden planes and hotel room for some fun in the sun. And it worked perfectly. Good weather, fun visits with Bob and Marsha (lots of political talk) plus a dinner with Ann Goldman Shanklin and husband Chris. Ann and Rita sold Southwestern Bell Yellow Pages together back in the 80's. Rita calls the beach walks and lapping surf her "ocean motion therapy" (below, Rita and ibis).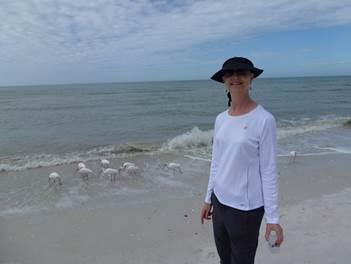 STA Update: After the cancer walk with her classmates from St. Teresa's Academy, Rita got some additional STA fixes from out of town visitors. Lynda McDonnell and husband Steve came in from Minneapolis on the weekend before Naples (below, gypsy-woman Rita channeling Cher on Gypsies, Tramps and Thieves, with Lynda and Anne).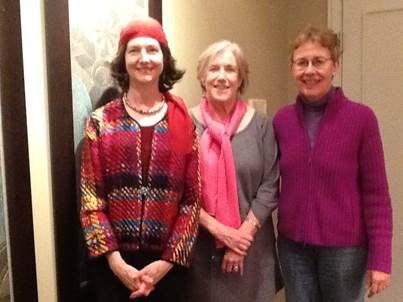 Yesterday, In addition to Anne, Rita was joined in her chemo cubicle by Jan Drury who was in from Denver (cubicle photo shows Rita signaling #3 treatment). Jan and Rita discussed how they shared a dancing horse costume for a stage play at STA, but they could not agree on who was the back end.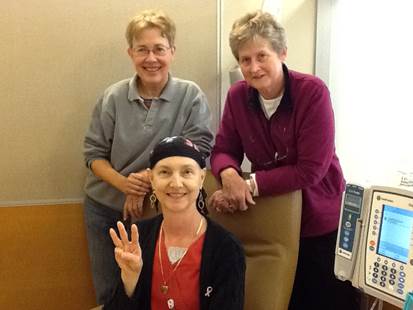 Food Update: The Blonds, Shurins and Molly Ellison continue to amaze with dinners for us. Sharyn is letting us come down two floors today to slightly interrupt their family Thanksgiving and fill our plates with turkey and the trimmings. We usually have family to our condo to watch the Plaza Lights ceremony, but we needed to suspend that tradition this year. To be renewed in 2013.
Penguin Update: The Kansas City Zoo is constructing a new penguin exhibit to be opened in 2013 and funds are being raised from contributors who want to "adopt" a penguin. I adopted one in Rita's name and she has received a certificate to prove her parentage.
Hat Update: Rita's fashion choice for head cover is more often do-rags than the wigs. Once mostly used by motorcyclists and Springsteen guitarist Steven Van Zandt, do-rags are now a common chapeau for chemo patients. The handy thing for Rita is that Jim Graham carries a large line of do-rags for his motorcycle business and presented her with an eclectic mix ranging from skulls and crossbones to butterflies (as seen in the cubicle photo). She looks quite fetching in a do-rag and they do not take up near as much room as her hat boxes.
Music Update: You heard last time about our new Sonos wireless system. Jim Symington responded by sending a CD of his songs to add to our playlist – Jim entertained us often with his guitar playing and wonderful singing voice during the 1976 Senate campaign. He continues singing to this day, both old standards and his own witty political tunes, often accompanied by wife Sylvia on the piano. Rita thanked Jim for his "melodious additions" to our Sonos.
Telluride Update: As a reminder, Rita and I had four movies that we grouped at the top of our list from the Telluride Film Festival. Two are now running in KC. Argo has been out a few weeks and is doing well. A Royal Affair just opened at Tivoli and Rio – a period drama about royal intrigue in the Danish court, circa 1770. Good stuff.
Nutcracker: We are again looking forward to seeing 12-year old granddaughter Miyo perform in the Nutcracker at Kauffman. After son Jason's family moved back from Japan in April of 2010, Miyo continued her ballet work and landed a part in the Nutcracker in what would be its final year at the Music Hall. Last year, she was in the party scene as the Nutcracker moved to Kauffman. This year Miyo will be a Ginger Girl, which has the added advantage of being part of the second act cast and so she will get to take her bows at the end of the performance. Very proud.
Happy Thanksgiving.
Lonnie
From: Lonnie Shalton
Sent: Thursday, December 13, 2012 8:53 AM
Subject: Rita Update – "You give me fever…"
Friends and Family:
When Little Willie John and Peggy Lee sang Fever back in the 50's, they were not referring to chemo, but Rita finds some of the lyrics quite apropos: "You give me fever…in the mornin'…an' fever all through the night..Fever!…[finger snap, finger snap]…what a lovely way to burn [NOT]…"
The good news after chemo treatment #3 is that Rita did not get enough of a fever spike to put her back in the ER. However, the low-grade fever never fully went away and prompted an interim set of blood tests. The tests fortunately indicated no new health issues and the fever did not delay the next chemo treatment. The lingering fever likely arises from the cumulative effect of the treatments. Tylenol is her new best friend.
Cancer patients on a regular chemo schedule develop a personalized calendar – Gregorian and lunar calendars need not apply. Life for Rita is on the rhythm of a 3-week cycle with an overlay of the movie Groundhog Day where Bill Murray wakes up each morning and finds that he is in a time loop of repeating February 2 again and again. Rita's version: Tuesday before chemo – take steroid pills – helps with side effects and is a proven feel-good buzz. Day of chemo (Wednesday) – get infusions and take more steroids. Thursday – more steroids. Friday – feeling fine with Thursday's steroids still giving a buzz. Overnight Friday to Saturday – steroids have worn off and the low-grade fever begins (cue Little Willie John). This is the stage where Rita's script gets a Groundhog Day rewrite each time as the fatigue varies from hour to hour and her fever moves up and down over an uncertain number of days. Then, the 3 weeks is up and the time loop starts again. Rita is looking forward to the day that the chemo is gone, just like Bill Murray's bad traits go away in Groundhog Day and he is released to February 3 and gets the girl, Andie MacDowell. Rita is aware of my long-time special appreciation for actress/model Andie MacDowell, but in my defense, Andie's character in the movie is named Rita. I'm not Bill Murray, but I got the right Rita.
Rita's response to the fever (other than frustration) has been to treat this as the new normal and get out as much as she can. A little yoga and treadmill; dinner at Molly Ellison's house with Myron and Fran Kaminsky, in from Savannah, and Rick and Linda Jones; granddaughter Miyo's 13th birthday party plus her Kauffman Center performance as a Ginger Girl in Nutcracker (exquisite); granddaughter Emersyn's festive performance with the Leawood Elementary Choir at Crown Center with the Mayor's Christmas tree as the backdrop; and, on Tuesday this week, hosting her book club at the condo.
When not out and about, Rita has her Sonos music, Netflix, Carrie and Brody in Homeland (season finale this Sunday) and the Plaza Lights view. She read Michael Chabon's Telegraph Avenue (we both liked the superb prose) and Gone Girl, the hottest new novel without "Fifty Shades" in the title, but no so hot per Rita.
Chemo treatment #4 was completed yesterday (on 12/12/12). Two to go. Rita's visitors were Diana Brewer and Sandy Thompson who with Rita form the female component of the Big 6. All three have December birthdays and until Larry and Diana moved off to Phoenix, the Big 6 for many years enjoyed a combined December birthday bash. The tradition was revived this year as Diana flew in from Phoenix to join Rita and Sandy to turn the chemo cubicle into a birthday party room (photo below). Some 13 years ago when Diana still lived in Kansas City, she was treated for breast cancer and endured a fairly rough chemo regimen after her surgery. It was so bad that she was considering skipping her last chemo session, but Rita would not hear of it and sat with her during that last treatment.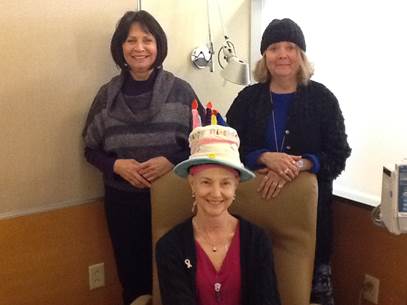 The birthday hat being worn by Rita was a gift many years ago from Shirley Nuss who thought Rita needed yet another hat in her collection. The hat has since been forced upon all family members as they blow out the candles at birthday parties. On December 16, this tradition will move to the next generation for the first birthday party for great-granddaughter Jillian.
Since you all want to know, I will tell you that Rita turns 63 (not a typo) on December 19. I will not mention the ages for Diana and Sandy, but Diana and I were in the same graduating class at Van Horn. Rita has for many years said she is only as old as the high outside temperature on the date of her birthday. Generally a good result for a Sagittarius, even with global warming. Diana also applauded this approach until she moved to Phoenix. I never thought much of the idea with my August birthday.
Africa Report: As many of you know, our favorite travel adventures have been five African photo safaris. Rita loves the leopards, but they are quite elusive and good photos can be hard to get. She countered this on our two most recent trips (South Africa and Zambia) by wearing a leopard print scarf as a good luck charm on the game drives – and it worked on both trips! Wonderful photos (one of Rita's favorites is below). When Rita's book club friend (and KU cancer center volunteer) Peggy Zilm headed off to Kenya last month, Rita loaned that scarf to Peggy – it worked again and we have seen Peggy and Frank's leopard photos to prove it. Actually, Rita wore two articles of leopard print clothing on our safaris, but the second item was not appropriate for sharing with Peggy. You figure it out.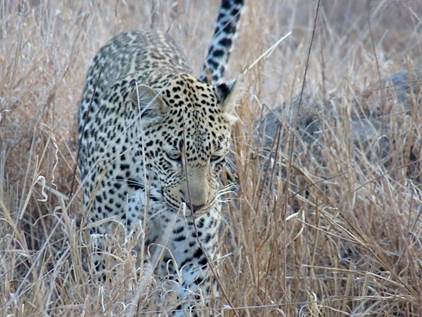 Koi Update: Just when you thought (hoped?) this subject could stretch no further, I will tell you about the "Koi Pond" app that Rita added to her iPad. If you hold your fingertip on the screen, the koi will come and feed. If you tap, they rush away. If you tap a lot, get good splashing sounds. Variety of sound choices – birds, frogs and a thunderstorm (99 cents; also available on iPhone).
Hat Update: Motorcycle do-rag mogul Jim Graham just keeps on giving. Ten more "Flydanna" do-rags selected from Jim's catalog have been delivered: pink ribbons, flames, "Highway Honey," hearts and the ever-popular skulls. The birthday girls model three of them in this photo and also indicate that this was chemo treatment #4. Rita again chose keepsake jewelry for the day – earrings and necklace given to her many years ago by Diana.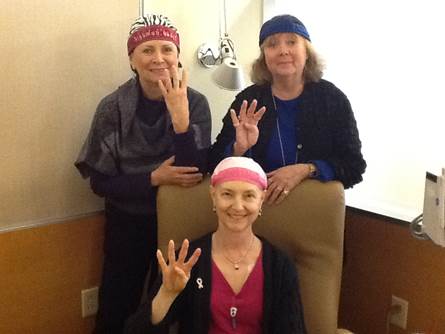 Music Update: Albums continue to be added to the Sonos system. For those of you who have read Lonnie's Jukebox, you will not be surprised that Rita uploaded albums by Fats Domino, Sam Cooke, Chuck Berry and Buddy Holly plus the soundtracks from American Graffiti and Diner. For her own high school/college era, Rita added Cat Stevens, Judy Collins, Carole King and several Beatles albums. At age 14, Rita and Anne Devaney were two of the blissed-out teenage girls at old Municipal Stadium when Charlie Finley paid big money to get KC added to the 1964 Beatles tour. The uploads include track 9 from the Sgt. Pepper's album: Paul McCartney singing When I'm Sixty Four. Next December, Rita will turn 64 and she has announced that she will be asking Lonnie "Will you still need me, will you still feed me, when I'm 64?" I think you all know my answer, but I will fudge a little by saying that any feeding by me will be at restaurants rather than from our stove (skills remain nil).
Trivia music question: What song was playing on the radio when Bill Murray woke up each February 2 in Groundhog Day? No fair using the internet
As we are now in the holiday season, a timely addition to Sonos is the Warm Christmas album issued several years ago by Mike White, Jay McShann and friends as a fund raiser for Project Warmth. Perfect for the holiday spirit.
Happy Holidays to all in the village.
Lonnie