[In June of 2012, Rita began her journey with breast cancer. She informed several friends in a couple of emails, and then as word got out, her support village blossomed. To keep everyone up to date, I took over the message duties, but always with her expert editorial contributions. There were ultimately 21 emails in the process.]
From: Rita Leifhelm
Sent: Thursday, June 14, 2012 12:16 PM
Subject: Official Diagnosis
The report is that I have invasive lobular carcinoma in my right breast. I am having an MRI this afternoon to determine if there is any left breast involvement.
We met with Dr. John Shook who has recommended a mastectomy rather than a lumpectomy. The hormone tests on the biopsies will not be available before we leave. Yes, we are taking the cruise. Leave Sunday and return July 3. We will then have the follow-up with Dr. Shook on July 5 to schedule surgery.
Clearly, this is not how I planned to spend my summer vacation. But as we all know, life turns on a dime. Ready or not, here I go.
Rita
From: Rita Leifhelm
Sent: Friday, June 15, 2012 4:43 PM
Subject: Positive Report
Just one last update before we cruise. The path report is now complete and holds better news. The tumor is a Grade 1, meaning less aggressive; tested positive for hormone receptors; and negative for HER2. This is what you want. So we only await the MRI report of next week to get a complete picture.
Thank you for all your positive thoughts and prayers. You do good work. Just keep on doing it.
Your friend in need, with friends in deed.
Rita
[As indicated in Rita's emails, we elected to proceed with our cruise of the North Atlantic. The eclectic itinerary started in London, followed by stops in Ireland including Dublin (Guinness Brewery in photo), Belfast, Scotland, the Faroe Islands and Iceland (photo from ship which also took us above the Arctic Circle).]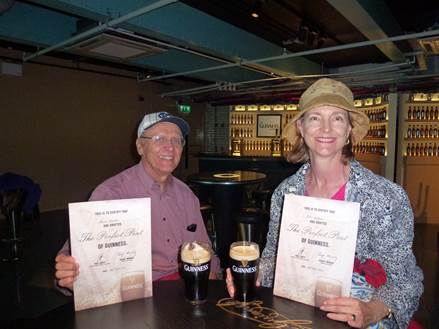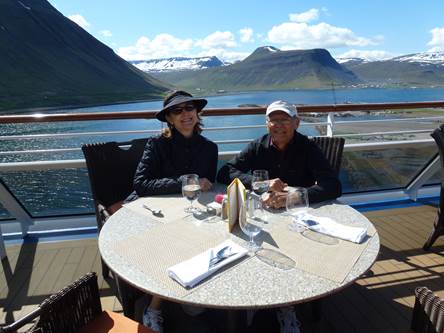 From: Lonnie Shalton
Sent: Monday, July 16, 2012 3:41 PM
Subject: Rita Update – Surgery
Friends and family:
Good News!
Rita's surgery was at 8:30 this morning at St. Luke's, and she was eating lunch at 12:30. The simple mastectomy was completed, as well as sentinel lymph node surgery. The first (sentinel) nodes are those most likely to show if the cancer has spread, and some are removed for immediate testing during surgery. All four were NEGATIVE. There will be a closer microscopic look by pathology for a final report in about three days, but the first indicator looks good.
Rita is scheduled to come home in the morning. From pre-op at 7:00 this morning until she gets home, she is hard at work fulfilling her goal to be the "trophy patient."
As for all of you, the good vibrations from the hugs, thoughts and prayers have been so important to her (and me). Keep them coming.
Thanks.
Lonnie
From: Lonnie Shalton
Sent: Friday, July 20, 2012 10:02 AM
Subject: Rita Update – Bump in the Road
Friends and family:
Damn microscopes. The extended report from pathology shows microscopic discontinuous cell clusters in two of the removed nodes. The finding is such that further surgery is not indicated, but there will need to be a detailed review by the oncologist to determine the best way to move forward. We will know more when we meet with the oncologist at KU next Wednesday.
As for post-surgery Rita, she remains the trophy patient. She is engaged and active and especially happy after being allowed to take a shower. She was not at all happy with her hair after the hospital stay. In a week or so, there will be another boost when the drain from the mastectomy gets removed.
We have been amazed and touched by the village that has sprouted to embrace us. Keep sending those good vibrations.
Lonnie
From: Lonnie Shalton
Sent: Wednesday, July 25, 2012 1:03 PM
Subject: Rita Update – Oncology Review
Friends and family:
Busy week.
Yesterday, we met with Dr. John Shook at St. Luke's for a post-surgery review. There are no complications from the surgery and Rita is feeling fine. Never needed a pain pill. She is anxious to get the mastectomy drain removed, probably next Monday, so she can work her way back to her 5-day a week yoga regime and our walks in Loose Park (that would be in the morning with all this heat).
Today, we met with Dr. Qamar Khan at KU oncology. It's complicated. Four paths:
1. Since the lymph node results were positive for two of the four nodes tested, the risk/reward of further surgery must be considered. The protocol is for several doctors at KU (surgeons and oncologists) to meet for a "tumor consult" to rule out (or in) the need for more surgery. This meeting will be next Wednesday. We believe this is not the likely path, but we are quickly learning to wait and see.
2. In general, the risk of recurrence is 35% if a patient elects to seek no further treatment. Rita tested positive for hormone receptors, which is a good thing because this means she can reduce the 35% risk by half by simply taking a daily magic pill for 5 years. This is a no-brainer and will be done. Radiation is not applicable. This leaves the possibility of chemo and….
3. "Standard care" is to do chemo once every 3 weeks for 6 sessions. The type of chemo she would have has no long term side effects. Anti-nausea drugs have greatly improved, and so the likely side effects will be temporary hair loss and fatigue. The big issue here is that chemo reduces the recurrence factor by at most 5%, leading to one other possible path…
4. Clinical trial. For patients with low-recurrence cancer genes, there is a new national trial to determine if the chemo helps at all – even the 5%. The first step on this is a pathology test on the removed tumor to see if Rita qualifies. A computer splits the patients 50/50 for half to get chemo and half to not. Over the years, they will follow some 4,000 patients to improve their decisions on cancer care options.
We meet next Friday with Dr. Khan to get the results of the tumor consult and look at all options.
Assuming chemo is the selection, it would usually start 4 to 6 weeks after surgery – sometime in late August. Rita applied for and received a stay from Dr. Khan to start after we return from the Telluride Film Festival held over Labor Day Weekend. As many of you know, she got a similar agreement from Dr. Shook who set his surgery for just after we returned from a 2-week North Atlantic cruise. Just had to see Iceland.
As always, we appreciate the good vibrations coming from all of you. Keep them coming.
Lonnie
[Along the way, we accepted "Good Vibrations" as a supplement to thoughts and prayers. Rita and I both like the joyous message of the Beach Boys' record and how it captured the good vibes that came from her support village. Those GOOD VIBRATIONS will forever be remembered.]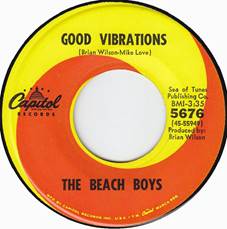 From: Lonnie Shalton
Sent: Friday, August 03, 2012 4:40 PM
Subject: Rita Update – Drain be Gone/Oncology Decision
Friends and family:
First, a post-surgery report.
Rita is doing quite well and made her first non-medical public appearance on Thursday of last week. She giddily reported this to me via an email titled "notes from a walkabout." She had left our condo and walked through the Plaza. "One woman stopped me to ask about my skirt, the denim one. Another stopped to ask me about my hat, one of Hattitude's." (one of Rita's favorite hatmakers). Rita then heard her name called and chatted with a couple of friends. "About 30 minutes, and so good to get out."
Feeling chipper, she also moderately walked Loose Park on Saturday and Sunday. Over the weekend, we also got to a movie ("Intouchables" – very good) and to son Brian's 50th birthday party. Not a typo. The drain bulb and tube attached to the surgery site were still with Rita for all of this, but then on Monday at Dr. Shook's office, quoting Rita, "Drain be gone…AHHH!. One small step that makes me smile." We celebrated Rita's post-drain status with dinner at McCormick's.
The drain removal meant a welcome return to yoga on Wednesday and Thursday this week ("modified" but "good to be back on the mat."). This left her a little tuckered, and so she is easing back a bit on the exercise for now.
As reported to you last week, Dr. Khan of KU's oncology department described to us various alternatives for consideration. The amount of information available is somewhat overwhelming and the field is changing so fast that it can make your head swim. You can't believe how much is on the internet and how many books are available. A lot of the information is tentative from research trials and many results are based on percentages of recurrence after 5 or 10 years. It is as much art as medical science. Glad to have Dr. Khan leading us through this minefield, and we met with him this morning.
After a comprehensive discussion on the alternatives and current science with Dr. Kahn, Rita elected to not participate in the trial and will proceed with chemo. This will begin on Sept. 11 at KU. As you may recall, Rita asked for a week's delay so she could attend the Telluride Film Festival. Six chemo sessions are scheduled at 3-week intervals, putting the last one on Christmas Day. We assume that may slide a day or two.
The tumor conference set for two days ago was not held because a couple of the doctors were out of town. This is now set for next Wednesday and we then hope to get confirmation of the preliminary opinion that further surgery is not warranted. Even if it is, it would be after chemotherapy. One other set of tests will be run during August to rule out other cancer locations (CT and bone scans).
The next report to you will likely come after the first chemo session and possibly be accompanied by movie reviews from Telluride.
We continue to feel the good vibrations from all of you and have even learned some new words. "Namaste" from Pat Hininger and a big "abruzo" from Jim Symington.
Lonnie
From: Lonnie Shalton
Sent: Monday, August 20, 2012 3:15 PM
Subject: Rita Update – Pot Hole in the Road/Wine/Driving Miss Rita
Friends and Family:
Remember how there was one item remaining in the analysis? The tumor conference. This is a group of doctors/specialists (15 in this particular conference) who meet to review the treatment strategy for KU oncology patients. The conference recommendation for Rita is to next have an axillary dissection to remove lymph nodes in the armpit. Based on the pathology of her removed tumor and the microscopic cancer in the sentinel lymph nodes, the conference felt there was about a 20% chance that there will be more cancer involvement in the lymph nodes. That risk number is believed to be too high to rely on only chemo and/or radiation, at least under the current guidelines for "standard of care."
Some of the primary risks associated with this type of surgery are loss of strength and range of motion of the arm. Several friends in a similar situation have shared their experiences with Rita and most are able to say that if she keeps to a good exercise regimen for the arm, she will be just fine. I think we can all agree that 5-day a week yoga lady Rita can keep to a regimen.
The other recent tests were a CT scan and bone scan. Both were negative, but to be repeated six months out to keep an eye on things.
So, Rita will be returning to Dr. Shook at St. Luke's for surgery on September 10 ("drain be back"). Rita then returns to the oncology crew at KU, starting her first of six chemo treatments on Wednesday, October 10. This will go every three weeks until the final session on January 23. Wednesday was the day of choice because Peggy Zilm, good friend and fellow book club member, volunteers at KU on Wednesdays and guides a cart through waiting rooms, chemo stations, etc. to deliver coffee and other treats to patients and visitors.
Another part of the oncology package at KU is a meeting with a nutritionist to assess the diet of the patient. This turned out to be easy on the food side – Rita is an excellent cook and mostly uses healthy ingredients. But the wine. Darn. Not exactly prohibited, but certainly very moderate. That very night, we went to dinner with Irv and Sharyn Blond at Capital Grille for "The Generous Pour" summer wine event. This was sort of a makeup for the cancelled July Napa Valley trip with the Blonds. Rita was a good girl and only sipped.
Another wine story. Molly (aka Mary) Ellison took us to dinner at the Tavern in Prairie Village for my birthday (71; not a typo). We ordered "Cashmere" from Cline Vineyard, a red wine blend. We had no idea of the story behind the wine until it arrived with its label featuring a pink ribbon. It turns out that Cline is using this brand to promote (and contribute dollars to) "Living Beyond Breast Cancer," a national education and support organization. Serendipity. Rita was a good girl and only sipped.
As most of you know, Rita does almost all of the shopping related to our lives. I start getting anxious after about five minutes in a store – other than wine and book stores. After surgery and the doctor's orders to not be lifting anything heavy, her buddies Peg, Peggy and Sandy were concierges for the initial runs to Costco, Big Lots and Trader Joe's. But I was going to have to also help. I have now made my first entrance into Trader Joe's at Ward Parkway, plus some grocery store runs – not by myself of course – Rita still has to show me what to pick up. I have dubbed this phase "Driving Miss Rita."
Keeping busy. Dinners, movies, some yoga and Loose Park walks, and yesterday a pontoon ride with Captain Jim and First Mate Sandy at Lakewood with kids and grandkids. Really enjoyed "Moonrise Kingdom" at Tivoli. For you politicos, we joined with the Overtons and Martins to see "Campaign" – laughed out loud a lot (especially Rita) as brother CEO's (think Koch brothers) spend millions to buy a Congressional seat. More movies on the horizon as we join the Brewers next week at the Telluride Film Festival.
I see that I had a typo in my last message. I meant to refer to an "abrazo" – Spanish for embrace or hug. We keep getting wonderful messages to that effect, and we want to give you all big abrazos back for your support and kind words.
Lonnie
From: Lonnie Shalton
Sent: Sunday, September 09, 2012 9:00 AM
Subject: Rita Update – "Eat Dessert First"
Friends and Family:
As you may recall, Rita scheduled her first surgery so that we would not miss a planned cruise of the North Atlantic. When she found out that a second surgery was needed, she again consulted her calendar and Dr. Shook agreed we could keep our Labor Day weekend plans for the Telluride Film Festival.
Rita calls this approach "Eat dessert first."
This was our second visit to the festival and we were again joined by Larry and Diana Brewer who drive in from Phoenix and pick us up at the Durango airport to take us to Telluride. We stay in the modern Mountain Village at an altitude of 9,540′, and it is connected via a free gondola over the mountain (10,500′) to the old canyon town of Telluride (8,750′). I mention the altitude to explain why we go two days early – to get acclimated. The scenery is spectacular. Festival regulars Bob Morantz and Marsha Murphy mentored us last year but were not in attendance this year – on their way to Bhutan and Laos.
We got off to a good start while lunching on Wednesday at an outdoor restaurant in downtown Telluride. Rita locked eyes with a woman walking down the sidewalk and it was actress Laura Linney. Rita asked her if she had a movie at the festival and Laura was very coy on the subject. One of the quirks of Telluride is that you don't get the list of about 40 films until Thursday before the Friday start. In another one of those small world cancer connections, Rita and I have watched the first two seasons of "The Big C" on Showtime, starring Laura Linney as a melanoma patient.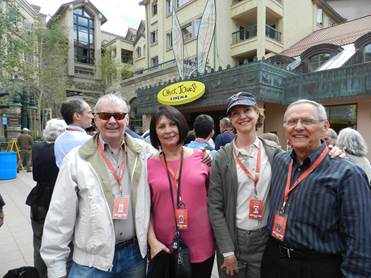 Rita and I saw 12 films in 4 days and the Brewers saw 14. For our reviews, click here.
On the Friday after Telluride, we squeezed in the "Treads and Threads" party for the University of Kansas Cancer Center. Rita and I have attended this event at Kansas Speedway for several years and my firm is a sponsor of the event. Her comment this time: "This year it's personal." With all due respect to Rita's oncology team at KU, she knows she will favor the party over the upcoming chemo. The food stalls, headliner and fireworks made for a festive creative black-tie occasion, but our favorite part as always was dancing with what must be at least a 1,000 people on the lighted dance floor to the rocking sounds of the Emerald City Band.
Saturday, Rita took teenage granddaughter Melissa birthday shopping and we then went to granddaughter Emma's soccer game. As if we have not seen enough movies at Telluride, we then headed to the Tivoli to see "Beasts of the Southern Wild" and then meandered through the Westport Art Fair. Today, we are timing our Loose Park walk so that we will end up in the Rose Garden at 4:30 to see the Mike White Quartet perform.
Monday, our fun temporarily runs out and Rita will be at St. Luke's for her axillary dissection. Please send good vibrations. We will report back to you later in the week after the results come in from pathology.
Lonnie
From: Lonnie Shalton
Sent: Tuesday, September 11, 2012 2:18 PM
Subject: Rita Update – Trophy Patient, Part Two
Friends and Family:
A quick note as we await the pathology report on the lymph nodes removed yesterday by Dr. Shook.
A long Monday – up at 5, to St. Luke's at 6, pre-op, 2-hour surgery, 1-hour recovery room and Rita eating lunch at 1. About 2:00, Anne Devaney came by for a couple of hours while I took a break. When I got back at 4:00, they reported that they had talked non-stop and a good synopsis of that visit was sent out by Anne to some STA classmates:
"Today I spent the afternoon chatting with Rita, catching up on family affairs and her recent trip to the Telluride Film Festival all of which was accompanied by great photos she showed me on her iPad. It seemed like one of our regular get-togethers, except for the fact that she was in a hospital bed at St Luke's! You would never have guessed that she had been in surgery this morning having more lymph nodes removed. She was not experiencing any nausea or pain and was doing so well she was going home this evening! A miracle of modern medicine. No doubt about it, she is a stellar patient."
After I got back to Rita's room, we took in some of the U.S. Open men's final on TV, had an early dinner and escaped the hospital a little after 7:00. No overnight like last time. We settled in at home and they were still playing tennis – took 5 hours for Andy Murray to win his first major. Rita had a relatively good night's sleep and certainly has no appetite issues. The arm aches some, but it's Tylenol level, not prescription meds. Her main complaint, just like last time, is that darn tube and bulb attached to the surgery site to drain fluid. Hopefully to be gone in about 10 days.
A word about meals. As many of you know, my expertise in the kitchen is limited to one appliance – the toaster. On occasion, I heat up something in the microwave after Rita tells me how many seconds to put on the timer. After Rita's first surgery, her book club pals took turns bringing dinner for the first week. With chemo on the horizon and possibly creating more needs, we are testing a catering company that is bringing in 3 meals daily for this first week after surgery. Lunch was good today.
More later.
Lonnie
From: Lonnie Shalton
Sent: Friday, September 14, 2012 12:48 PM
Subject: Rita Update – Hooray!
Friends and Family:
Rita just got the news: All 10 of the removed lymph nodes were NEGATIVE for cancer.
Needless to say, but will anyway, we are ecstatic.
Rita is now heading out to celebrate – by getting a pedicure.
Sincere thanks for your good vibrations.
Lonnie
From: Lonnie Shalton
Sent: Thursday, September 27, 2012 10:03 AM
Subject: Rita Update – Waiting for Chemo (but not Godot or Guffman)
Friends and Family:
In a response to the last update, my law partner (now happily retired) Paul Vardeman thought the occasion of the NEGATIVE findings was good cause for rewriting the 1944 Johnny Mercer song "Ac-Cent-Tchu-Ate the Positive." Paul proposes that the song now be sung as "Ac-cen-tu-ate the neg-a-tive and e-lim-in-ate the pos-i-tive…." All join in.
Rita has again strongly bounced back from surgery and renewed her walks in Loose Park. With the surgery drain in place, her pace has to be kept moderate and so I take our usual clockwise route and she goes the opposite way. She says it gives us a good chance to "hook-up" in the park as we pass each other. If you have not been to Loose Park lately, circling the pond is offering some good wildlife. In addition to the usual ducks and geese, we have recently spotted a solitary heron, sunning turtles, occasional chipmunks and cardinals and a good number of very large white and orange koi.
The drain also did not keep her from walking down the hill a few times for a Plaza Art Fair shopping spree. Friday night – scouting. Saturday – morning, a hat (big surprise); afternoon, earrings while strolling with the Shurins and Riederer/Midkiff; evening, it turned out that seeing the koi at Loose Park was not enough – Rita picked out a large painting on wood of about 20 swimming koi that will turn our bedroom into a virtual aquarium (at least we don't have to feed them). Sunday – joined by son Jason and grandkids Miyo and Ian, we just bought food.
The walking in moderation will soon be over. Rita saw Dr. Shook today and can repeat her happy shout-out "Drain Be Gone!". Yoga will soon be back on the calendar now that her right arm is again unfettered by tube and bulb.
"Driving Miss Rita" was renewed during recovery from the second surgery. However, I am not wearing a chauffer's cap as Jack Schramm has promoted. Nor has Rita moved to the back seat. Nor am I answering to Jeeves as suggested by Pat Titterington. In addition to driving and carrying the groceries, I have learned to swipe my card at the check-out scanner and also to get cash at the ATM. At home, with Rita's patient teaching, I have become proficient at running and unloading the dish washer, cutting up the fruit (who knew a pineapple was that complicated) and tugging the fitted sheets to change the bed. You know, I am finding that a lot of work has been going on at the condo while I have been at the office surfing the internet.
October is National Breast Cancer Awareness Month, and for just a part of what that means
1. The J.C. Nichols Fountain will soon be running pink. We have a superb view of this from our condo. KU's 9th Annual Pinking Ceremony will be held on Saturday morning with cancer awareness advocates pouring pink dye into the fountain.
2. "Within the Ribbon" – Several months ago, Debbie Welsh signed up Rita for this golf/putting fund raiser at Mission Hills Country Club. The beneficiary is The University of Kansas Breast Cancer Prevention Center – how fitting that turned out to be. Next Monday, Rita and putting partner Sharyn Blond will take on the field (neither play golf, so should be interesting).
3. "KC Council Breast Cancer Charity Event" – In late October, former city council member and cancer survivor Cathy Jolly will be holding her 6th annual event to support The Breast Cancer Research Foundation. Rita and I have been sponsors in the past and will be upping the ante – "This year it's personal." Cathy has been a gracious resource for Rita and we dropped by her 40th birthday party last week.
4. "Making Strides Against Breast Cancer" – Rita is a 1968 graduate of St. Teresa's Academy and Linda Clarkson is recruiting several '68 classmates to form "Rita's Ramblers" to walk in this American Cancer Society event on October 27 [note: fellow classmate and actress Marilyn Lynch was the subject of a long article in the Star last Sunday, and last night Rita and 3 other classmates from STA watched what Rita dubbed a "virtuoso performance" by Marilyn in "Three Tall Women" at the Metropolitan Ensemble Theatre]
On October 10, Rita will commence her chemo regimen at KU, to be a total of six treatments at 3-week intervals. As always, she will appreciate your thoughts, prayers and virtual hugs/abrazos.
Lonnie
[The koi painting purchased by Rita at the Plaza Art Fair was later installed in our bedroom. Since my expertise at hanging paintings is similar to my prowess in the kitchen, Rita smartly recruited Talis Bergmanis who has the proper skills and tools. Photo below of Talis, tools, Anne and koi. We will leave viewing the live versions to Loose Park and Jim Graham's back yard koi pool where Sandy Thompson has been raising them for many years. Who knew that colorful mutant pop-eyed carp could be so intriguing?]