Ken Hill: From Pendergast to Carnahan (Part Two of Three)
Part One ended with Mike White's one-vote victory in his county legislative race in 1972. George Lehr was in the middle of his 4-year term as Presiding Judge, and under the new charter, Lehr became the County Executive. When Lehr announced he would run for State Auditor in 1974, the County Executive post was up for grabs.
1974 – Mike White: The field for the County Executive race narrowed to two primary candidates: James P. Aylward, Jr. and Mike White. Both were considered "good government" types and each had run for their first office with CCP support, Jim for county collector in 1970 (succeeding George Lehr) and Mike in 1972 for his county legislative seat. Mike's one-vote win had given him some notoriety, and the Aylward name was well known in county politics, so much so that I will digress for a moment.
James P. Aylward (1885-1982) was the chair of the Jackson County Democratic Committee from 1918 to 1938. He was trusted by the Pendergast "goats" and the Shannon "rabbits" to broker their differences and make peace after hard fought elections. This often meant negotiating the share of patronage so that the losing faction would not cut a deal with the Republicans for the general election. After Joe Shannon was elected to Congress in 1930, the Pendergast organization absorbed many of the rabbits. In 1934, Big Tom Pendergast asked Aylward to run for the U.S. Senate, but he declined and handed off the candidacy to Harry Truman and managed his campaign. After Big Tom went to prison in 1939, what was left of the goats and rabbits migrated to various factions. By the time James Jr. ran for collector in 1970, he had more connections in the CCP than the factions.
Charles Curry had moved on from the CCP to consider higher office. Jim Nutter had emerged as a major CCP leader and would be a key factor in the CCP endorsement. On the faction side, Bill Morris retained his influence even though he had lost his race for Governor in 1972. Freedom Inc. would also be a big goal in the endorsement battle, as would Harvey Jones' Congress of Democratic Clubs (CDC) in eastern Jackson County.
Mike and I began working on a campaign plan with our former law school classmate Paul Edwards who had been active in several campaigns and was now a political consultant. I signed on early as Mike's campaign manager. My first involvement in politics had been in 1968 through the South and Eastern Jackson County Young Democrats. We were closely aligned with the CCP and several of us were on the 120-person CCP board. In 1968, much of the Black Hat/White Hat distinction remained and so I did not often cross paths with Ken Hill when he was managing the Bill Morris campaign for Lt. Governor. Most of the CCP candidates won in 1968, including my favorite local candidate Alex Petrovic for Eastern Judge and  Tom Eagleton who won the first of his three Senate terms. The CCP endorsement had been key to Eagleton's race. While Ken was attending to his business venture in Florida during the 1970 and 1972 elections, I worked on the CCP campaigns and learned the hard political lesson – you don't always win.
In early 1974, everything fell into place for the Mike White campaign. Jim Nutter was for Mike. Bill Morris was for Mike. Morris told Mike that Ken Hill was back in town and would be a good campaign worker for him. Mike, Ken and I began meeting every Monday for a lunch planning session. We found the perfect person to run the headquarters – Jan Hodgson. We had a solid fund raising team. There was a large volunteer and headquarters operation. Mike got endorsements from the CCP, Freedom, CDC and several of the old-line factions. His communications guru Sandy Overby came up with a novel yard sign campaign. A first set of teaser signs went up: "Do it Right." About a week later, signs with the same design hit the lawns, this time saying "Mike White." The buzz was terrific.
Mike won handily, and after a joyful election night, Ken already had the next item on his agenda. He thought I should be Chairman of the Jackson County Democratic Committee and quickly formulated his plan. A major obstacle was that I was not on the County Committee, and so Ken asked Bob Jacobi if he would resign his seat so I could then fill the vacancy. Bob graciously agreed. Although there was serious competition, Ken got a lock on enough votes to get me elected. Just one of many things he would do for me over the years.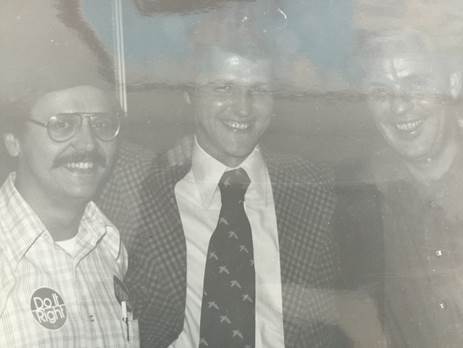 Primary Election Night – 1974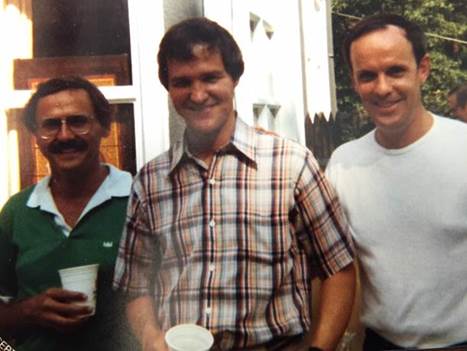 The Three Amigos
1974/1976 – Presidential Parade: The three amigos were having a good time at the local level, but we also caught a break to participate on the national stage. There was a crowded field for the 1976 presidential race, and many top Democrats came through KC to meet local politicos. Mike, Ken and I hosted a series of events to introduce the candidates to local Democratic leaders. The parade included Walter Mondale, Kevin White, Jimmy Carter, Mo Udall, Lloyd Bensten and Henry Jackson. It helped that the 1974 Mid-Term Convention was in Kansas City and brought some of them to town. Mike recalls the Mondale visit as the most fun as we drove him around in Mike's old Ford, packed in with three members of Mondale's staff. Mondale was already getting tired of the campaign trail drudgery (like riding around in cramped cars) and soon dropped out. The breakfast I best remember is the one with Jimmy Carter. Mike found Carter to be the most intense and remembers him finishing his talk with "I don't intend to lose." After the breakfast with Carter, Mike told Ken and me that we had just been sitting with the next President. At that stage, Carter had about 1% in the polls.
1975 – Charlie Wheeler/Democrats for Progress: CCP candidate Charlie Wheeler had moved from County Coroner to Western Judge, but did not have CCP support in his losing 1970 bid to be Presiding Judge. Unfazed, he crossed to the City Hall side of Oak and successfully ran for Mayor in 1971 – without the support of the Citizens Association. When Wheeler ran for reelection in 1975, Ken was the Campaign Manager of the Democrats for Progress (not to be confused with the Committee for County Progress; well, maybe a little). The DFP was supporting Wheeler and city council candidates against a Citizens' Association slate.
Ken was operating with the understanding that his role included running Wheeler's campaign so that efforts for the ticket could be coordinated. It did not work out that way, and this prompted a notorious letter to Wheeler setting forth Ken's frustrations. Carbon copies went to Mike White, Bill Morris and me, and the press was in on the content. My favorite part was "To work out my frustrations, I'm going to Acapulco today, returning at 3:00 next Monday…Upon my return, I need a decision." When Ken returned, he and Wheeler did not make up, and Ken instead worked through Wheeler's colorful campaign consultant Jerry Jette.
Another big flap was the attempt by the Citizens Association to deride the DFP ticket as the "Hill-Morris" ticket. The idea was to paint a "White Hat/Black Hat" scenario because Bill Morris was supporting the DFP ticket. This was mixed in with the Citizens' internal battle over a "loyalty pledge" to be sure no candidates endorsed by the Citizens would endorse any non-Citizen candidates. Morris fought back and gave a long interview reported in the Kansas City Times in January of 1975. He was rushing through the interview because he was headed to St. Luke's for open-heart surgery. He died on March 5 at the age of 55, three weeks before the general election.
The election results were mixed. The biggest blow for the Citizens was in the primary when its mayoral candidate Joe Shaughnessy ran third. Wheeler won easily in the general over Sarah Snow. The Citizens and DFP cross-endorsed seven council seats and incumbents mostly held on to their seats, but two surprises emerged. Morris protégé Joe Serviss beat the Citizens' Ned Holland who had received the most votes in the three-candidate primary. Sal Capra, the sole faction survivor back in the 1963, was upset by the Citizens' Bobby Hernandez. In a relevant footnote, Rev. Emanuel Cleaver ran third in his race against Bruce Watkins. Almost half of the council was already dreaming of running for Mayor in 1979.
1976 – The Senate Primary Race: The happy unity of support for Mike White in 1974 split right down the middle in the 1976 U.S. Senate race. Stuart Symington was retiring after three terms. Lined up for the race to succeed him were Jim Symington (4-term Congressman and son of the incumbent), Jerry Litton (2-term Congressman), Warren Hearnes (former Governor) and Charles Wheeler (KC Mayor). Wheeler had also been "running" for Vice President on the 1976 ticket, not that a person can actually do that.
I leaned to Symington, but Ken asked me to pause. In August of 1975, a full year out from the election, Ken gave me a copy of letter he had from Litton showing how Litton planned to win. I still have the letter and can in hindsight say it was masterful. Litton's theory was that he could win votes in rural areas with the same spreads that are usually associated with deliverable votes by machine politics in urban areas. The letter than gave several examples of how he had already been able to do this in his Congressional races. Ken was working with Litton staffer Kristi Smith who was inviting politicos to attend Litton's televised broadcasts of Dialogue with Litton. Guest speakers for the show included Jimmy Carter, Carl Albert and Tip O'Neill. Kristi got me to one of the shows, and I was impressed with the enthusiasm and size of the crowd and how good Litton was in front of a camera. Ken also noted this in his pitch to me – even if Litton did not get endorsements from political clubs that campaigned door-to-door, the candidate would go around the clubs by going directly into voters' living rooms via television.
Symington was also impressive and I was eventually part of his campaign. There were some rumblings that I should not pick a side since I was county committee chair. I spoke with Ken who had engineered my election to be county chair. He knew the Senate campaign was too big to pass up and so he and the Litton camp did not raise the issue. I was not so lucky with Mayor Wheeler who was running fourth in a 3-way race. He garnered some headlines with his complaints and bragged that in debates with Symington he was going to turn his back to Jim and then spin around and demand "When are you going to fire Lonnie Shalton?" He called it the "Shalton Spin." I responded the he didn't have a problem when he asked me to support him for Vice President. The campaigns moved on.
Most of the Mike White supporters joined up with either the Litton or Symington campaign, and the split even included the top two aides in Mike's office – Kay Wallick was for Symington and Jan Hodgson was for Litton. Jan, who had been my right arm in the Mike White campaign, left the County Executive's office to work full time for Litton. There was a fierce battle for the CCP endorsement, and each member of the 120-person board was under siege – Symington eventually won this skirmish. Wheeler, who may have received no CCP votes, was chagrined that Jim Nutter supported Symington on the CCP vote and told the press that he hoped Nutter would be "put in his place." The push continued for endorsements of the political clubs, and the three major candidates each picked up organizational support. That same battle was also being fought ward-to-ward in St. Louis.
On the night before the primary election, Ken Hill and I met at the Prospect in Westport. We closed down the bar while entering into a pact that we would jointly support the nominee of the Democratic Party – we of course presumed it would be one of our candidates. We were likely a little full of ourselves (and liquor) to think we were of such importance that this would assure a victory in November. Litton's predictions on Missouri voters and his campaign plan proved to be uncanny. The final count was Litton – 45.39%, Hearnes – 26.38%, and Symington – 25.16%. Tragedy then intervened when Litton and his family were killed in the crash of their small plane as they left their home in Chillicothe to attend the victory party in Kansas City. It is one of those nights that you remember exactly where you were when you heard the news.
For the general, the state committee selected Warren Hearnes who was the runner-up in the Senate primary. He lost to Jack Danforth. In the Governor's race, Joe Teasdale upset Kit Bond (who would reverse that result in 1980). In a state rep race, Karen Benson (as in McCarthy) won for the first time. Woody Overton ran the Kansas City Symington headquarters and his hard work was noticed by the Eagleton staff – Woody was on his way to a new career working for a U.S. Senator. Co-chair of the KC Symington campaign was Kay Waldo (later Mayor Barnes). National consultant Matt Reese, who had worked on the 1966 CCP campaign, was involved in both the Litton and Teasdale campaigns. Jan Hodgson continued to do work for Reese, and top Litton aide John Ashford became a principal in Reese's business (later joined by Chuck Houghton who ran the Symington campaign in St. Louis). Politics and its strange bedfellows.
1976 – The Presidential Election: Three weeks after the Senate primary, the Republican National Convention was held at Kemper Arena. Gerald Ford beat Ronald Reagan and picked Kansan Bob Dole as his running mate. Ken had been in very early on the Carter campaign and so was pleased when he became the Democratic nominee. I also lucked out when an Eagleton staffer got me a spot on the Mondale advance team, leading to campaign stops in several states. It was good to be back with Ken on a winning team.