Ken Hill: From Pendergast to Carnahan (Part Three of Three)
I thought that politics might take a sabbatical in 1977 since there were no city, county or state races. But Ken intervened, first with a unique poker party, and then with a new cause.
1977 – Dubious Distinction Awards: I have a flyer sent out by Ken with the heading "The Mid-America Academy of Politics and Poker." It was sent to his political pals with an invite to come to his place to play poker and vote on the "1977 Dubious Distinction Awards." We were to come up with nominations for the two most coveted prizes: "Tits on a Bull Award" (TOB) and "Can of Corn Award" (COC). Nominations were to be accompanied by quotes, clippings and presentations.
The TOB winner had to display a consistent pattern of political worthlessness, such as broken promises to raise money or work precincts, failure to produce press releases or speeches, getting drunk and missing strategy sessions (or getting drunk and showing up), giving bad advice to candidates, and promising to deliver support that eventually goes to the opponent. This award was consistent with a saying of Ken's that his sister Charlotte liked to quote: "There are two kinds of people in this world – those who get things done and those who have marvelous excuses."
The COC Award (too obscure to explain the name) was to go to the politico who best exemplified Foot-In-Mouth Disease. Ken's invitation gave some samples from prior years: (i) George Lehr, at noon on election day in 1974, "White's blown it." (ii) Mayor Wheeler early in the 1976 campaign, "I believe that after Senator Jackson is nominated, I'll be among his first choices for Vice President." (iii) A famous central-Missouri politician in '76, "No way Litton can win, Hell, he'll run third or fourth."
I do not remember the 1977 TOB or COC  award winners nor who won at poker.
1977 – Science Museum at Union Station: Ken joined some old friends on a new cause – the campaign to restore Union Station. He lured me in to manage the campaign and state rep Karen McCarthy for the day-to-day coordination. Campaign summary: we lost. But we got one of those days when you think you are going to win. We held an open house at Union Station and 10,000 people showed up. So our issue was popular – the property tax plan not so much. I like to think that we opened the door a little for the successful plan in 1996 that wisely relied on a bi-state sales tax that added Johnson County to the mix.
1979 – A New Mayor: Charles Wheeler wanted a third term. Four councilmen lined up to stop him: Bruce Watkins, Joel Pelofsky, Dick Berkley and Joe Serviss. The early surprise was that Dick Berkley, a prominent Republican, was being supported by Jim Nutter and some of his Democratic allies. The city races are nonpartisan, and so it was not unheard of for a Republican council member to be elected with Democratic support. But the last Mayor of Kansas City who admitted to being a Republican was Albert Beach who served from 1924 to 1930. Beach was the beneficiary of a factional battle between Pendergast's goats and Shannon's rabbits. Beach then backed a 1926 referendum that created a city manager form of government – a "good government" move. Pendergast got the last laugh by successfully maneuvering to get his ally Henry McElroy appointed city manager. McElroy seized the Mayor's office and moved Beach to smaller quarters. McElroy retained his power until Pendergast was indicted in 1939.
Berkley also had the key support of the Citizens Association. Ken Hill, after his 1975 experience with Wheeler, looked for an alternative and joined the Pelofsky campaign. Bruce Watkins, one of the founders of Freedom Inc., would no doubt do well in the black community. Wheeler, Pelofsky and Serviss worked the political leaders, clubs and labor looking for traditional Democratic support. Although Nutter was for Berkley, this did not also bring the CCP because it only worked in partisan county and state races.
While browsing the clippings on the 1979 race, I came across an article that described me as having "devised an elaborate baseball scenario for the election."  I did not remember this at all, but it coincidentally ties to something I have been doing for the last year – sending posts to my baseball nerd friends who like baseball nostalgia and trivia. It turns out that I applied some of that trivia 37 years ago to describe the 1979 mayoral candidates. It went like this. I likened Dick Berkley to George Steinbrenner, well-heeled owner of the Yankees, who was accused of buying pennants. Wheeler's 1975 strategist Jerry Jette had been hired away by Berkley, reportedly to keep Jerry from working against Berkley. This compared to the Yankees signing Luis Tiant to keep Tiant from beating them as a member of the Red Sox in a close pennant race. The cash-light Pelofsky was Bill Veeck, hustling owner of the White Sox who seemed to be holding his franchise together with chewing gum. Charlie Wheeler was of course Charlie Finley. My copy of the article stops there, but I am pretty sure I would have said Watkins was Jackie Robinson, attempting to become the first black Mayor. Serviss had dropped out, so you could say he was on injured reserve (he would suit back up and run four years later). I love baseball as metaphor.
The final count for the primary election was relatively close: Watkins 28.37%, Berkley 27.24%, Pelofsky 22.34% and Wheeler 22.05%. With the three Democrats taking more than 70% of the vote, the next step was to see if the Democratic clubs would unite against Berkley. Although Watkins had run first in the primary, most of his votes came from the Freedom wards. He ran fourth in most of the rest of the city. Bruce would need broader support.
Senator Tom Eagleton, State Auditor George Lehr and former County Executive Mike White encouraged the Democrats to get behind Bruce, and Lehr and White asked that I jump into the fray. We only had four weeks to the general. Lehr and I put together a big unity breakfast. We coordinated with Ollie Gates from the Watkins campaign and Doc Holliday from Freedom. Charles Curry and Lehr helped with the fund raising and also brought in consultant Matt Reese who had worked for the CCP in 1966 and Litton in 1976. Watkins picked up the Kansas City Star endorsement. Eagleton got Vice President Walter Mondale to come to town for a fund raiser and rally. It was a busy four weeks. [The Mondale part was a special treat for me because I got to catch up with Mondale's staff. I had continued to do part-time advance after the 1976 campaign with several stops in the states and also Bangkok in 1978. Three weeks after Mondale came in for Watkins event, I was headed to Helsinki to cover that stop on the Vice President's Scandinavian trip.]
We were in somewhat uncharted territory because most prior races, both for Mayor and Council, were between Democrats fighting to be supported by the Citizens Association and the various clubs. In many cases, candidates were cross-endorsed and an occasional Republican would get support for the Council. The ballot that voters saw at the polls did not show a "D" or "R" under the nonpartisan system. This is what made the Citizens and clubs and the ballots they distributed so important to the candidates. Even with all the push from many Democratic leaders, the clubs divided out between Berkley and Watkins or simply stayed out of it. Sort of like the rabbits and goats back in 1924. Berkley won by a big margin (58% to 42%).
It is never fun to lose, but I like to think that those of us in the Watkins campaign opened the door to the prospect of the city someday electing a black Mayor. Another step came in 1982 when Alan Wheat was elected to Congress to succeed Dick Bolling. In 1991, after Berkley had served three terms, Emanuel Cleaver was elected Mayor. Sly James is now in his second term as Mayor. Wheat's Congressional seat is now held by Cleaver. They all stand on the shoulders of Bruce Watkins.
Dick Berkley brought a different first to the election. He became the first Jewish Mayor of the city. The 1979 election was also a precursor of another first as Kay Waldo was elected to the council. 20 years later, as Kay Waldo Barnes, she became the first woman Mayor of Kansas City, succeeding its first black Mayor, Emanuel Cleaver. Now if our nation would just do the same thing. Hint, hint. You know, Barack to Hillary!
The appeal of Mayor Wheeler's maverick and quirky style had an expiration date of two terms, but it did not keep him from running for a series of offices. He won one of them, serving in the State Senate from 2003 to 2006. Having never met an election he did not like, he is running for Governor in the upcoming August primary. He turns 90 on August 10.
Ken the Entrepreneur:  Ken was successful in a series of businesses, but he stepped it up a notch when he became a sales rep for a property tax consulting company. He had found his niche, and his entrepreneurial bent pushed him to start his own company. His partner was Wayne Tenenbaum, also a friend of mine from law school, who had been county assessor in the Mike White administration. It was the perfect blend: Ken's sales ability and motivational skills and Wayne's technical expertise. They were very successful, and there was a political plus to this – Ken could now offer more help with fund raising for his favorite candidates. This was not just from his own funds, but also from his growing network of contacts in his business.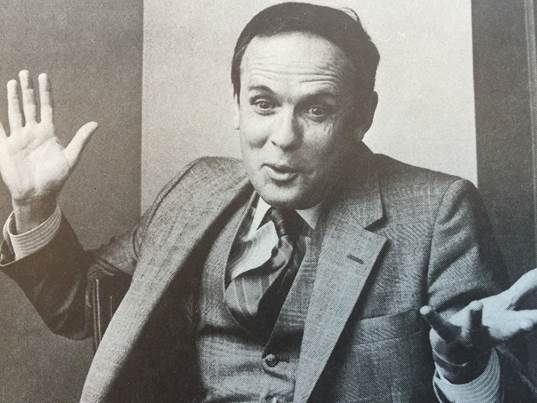 What was good for Ken was good for Lonnie. When Mike White left office in January of 1979, I left my firm and we both joined a Plaza law firm that included four of our fraternity brothers from law school. We had nine lawyers. Senator Tom Eagleton sent a handwritten note that quipped that he had so much faith in me and Mike the he was going to refer all of his staff's parking tickets to us. When Tenenbaum-Hill was formed, it became an important client and also the avenue for many contacts in real estate development. Ken introduced me to developers Mike Russell and Doc Worley who also became the founding publishers of the Kansas City Business Journal. Russell referred a client to me in 1993, and that client has become one of the top real estate developers in New York (no, not Trump). He has been my biggest client by far for the last 23 years. All thanks to Ken.
I am giving this background to relate back to the last comment in Part One of these posts: Mike White's 1972 one-vote victory started a chain of events that neither Ken nor I could anticipate at the time. If Mike had not won by that one vote, he would not have had the name recognition that came from the close election nor would he have had the county legislature platform to support moving up to County Executive. Ken and I would not have had the bonding experience of the 1974 campaign. Ken would not have got me elected as County Chairman which led to things like Mondale advance work. Wayne Tenenbaum would not have been named county assessor and become Ken's future business partner. Mike and I would not likely have mutually decided to join Jim Polsinelli on the Plaza and start building a law firm that today has over 800 lawyers. I would not have that big client in New York. And Ken Hill may well have taken a different path rather than playing an indispensable role in the campaigns of Mel Carnahan and so many others.
One vote. We were lucky guys. My personal thank you goes to each and every one of the 14,071 who voted for Mike in 1972.
Women Candidates: Ken thought that more women should be in elective office, and he worked hard to make that happen. I'll just give four examples, but the actual number is much higher. The first three are from Kansas City. Marsha Murphy was a key campaigner for Symington in 1976 and became a leader in the CCP. Ken recognized her hard work and supported her successful bid for County Executive in 1990. When Ken asked Karen McCarthy to take on a major role in the Union Station campaign in 1977, she was a first-term state representative. He told her it would bring her in touch with a broad group of influential people and be good for her long term political career. Karen was re-elected for eight terms and then served ten years in Congress. Another officeholder recently told me how nervous she was on meeting Ken Hill for the first time while preparing to run for state rep in 1982. Ken not only supported her for that race, but for several elections that followed. He would be proud to know that we now call her Senator Claire McCaskill.
Ken was a supporter of State Senator Harriett Woods in her race against Senator Jack Danforth in 1982. Her "Give 'em Hell Harriett" campaign had pulled her even with Danforth in the October polls, but she fell short of funds to fight late negative ads. Danforth won 51/49. Her narrow loss due to lack of funding was one of the drivers for the formation of Emily's List. For Ken, this was his second Senate race  where Danforth was the winner, the other being the 1976 Litton race. The repercussions are felt to this day – Danforth's protégé Clarence Thomas remains on the Supreme Court.
Missourians for Choice: Ken was passionately pro-choice. His short-hand for anti-choice was "compulsory pregnancy." In 1989, Harriet Woods initiated a project that would elevate Ken's role in the cause. Woods had been elected Lt. Governor in 1984 and then lost a second bid for the Senate in 1986. After her term as Lt. Governor ended, one of her next projects was establishing a pro-choice voter list to be developed professionally and then used by volunteers to get out the vote for pro-choice candidates. Woods needed $30,000 for the project and was looking for two donors to split the cost. She got one donor from St. Louis and asked Marsha Murphy to recruit one from Kansas City. Marsha asked Ken who immediately agreed, and Missourians for Choice became a reality. My wife Rita remembers working from those lists in 1990 at phone banks in Jim Nutter's offices. Nutter and Hill were two of the most prominent men in the pro-choice cause, and this would soon include their work on behalf of Mel Carnahan in the 1992 race for Governor.
1992 – Mel Carnahan: Mel had been elected statewide in 1980 (Treasurer) and 1988 (Lt. Governor). He lost a primary race for Governor in 1984, but was now back to try again. Mel was an unapologetic pro-choice candidate, and Ken Hill and Jim Nutter were all in. So were many other Democrats as Mel won by big margins in both the primary and general elections.
It was a bittersweet win for Ken and those close to him because Ken was suffering from the effects of AIDS. He stayed current on the developing medical treatments and had attended the International Aids Conference in Florence, Italy, in 1991. He talked about the new drug cocktails being developed, but he was too late for the breakthroughs that would come.  He was given hope after one hospital stay and hosted a black-tie party in his home. Mel Carnahan was there. But a few months later, on June 6, 1993, Ken died at the age of 56.
Who Lives, Who Dies, Who Tells Your Story: In 1994, my wife Rita Leifhelm became chair of the Kansas City branch of Missourians for Choice. She established the Kenneth C. Hill Founders Award, and its first recipient was of course Ken Hill. It was fittingly presented by Governor Carnahan to Ken's sister Charlotte. Others receiving the award over the years have included Dr. Harry Jonas, Congresswoman Karen McCarthy, Jim Nutter, Governor Mel Carnahan, Rosie Smithson and Senator Jean Carnahan. In 2002, Rita was the award recipient and also had the honor of a Governor handing it to her – Bob Holden. The featured speaker at her award breakfast was State Auditor Claire McCaskill.
Here are excerpts from Rita's prepared acceptance remarks: "I respected Ken's political acumen and loved his style, even if we weren't always on the same side like the Litton/Symington race in '76. But Ken came early to the cause of a woman's right to choose, earlier than I did actually, and he realized its potential to mobilize voters…1992 marked the first time that statewide candidates ran successfully by being pro-choice. The race for Governor was the last race Ken Hill was able to pour his heart, soul and financial support into. Electing Mel Carnahan Governor was a proud moment he treasured."
In the Broadway show Hamilton, after Burr shoots Hamilton in the duel, there is a beautiful song lamenting that Hamilton would not get to tell his story like the other founders. "Who lives, who dies, who tells your story?" The Kenneth C. Hill Founders Award has told a part of Ken's story. As I have worked on these posts, I have heard from many of you with your own stories. Ken Hill's legacy is secure.