Opening Day is March 28, just 17 days away.
Spring Training Prep: A good number of Hot Stove readers have been or will be in Arizona to check out the preseason Royals. They are filing reports with Hot Stove, and I will pass along some of their comments and photos in my next post. Click here for the Royals TV and radio schedule for spring training. Below, SI cover from 1960: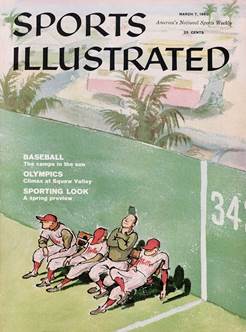 I have two questions for Hot Stove readers:
1. A large majority of Hot Stove readers are of course Royals fans. But I know that some have a  primary loyalty elsewhere and am curious how many MLB teams are represented in Hot Stove land. If you are in that category and don't mind saying so, please reply with your team of choice.
2. If you will be at spring training this year, Royals or otherwise, please let me know the team and where.
Where To Find Royals News: For those who want to dig deeper on Royals coverage, there are many sources. They all have websites, but the quickest way to get the info is to follow on Twitter where they post comments and link new articles. At the KC Star: Sam Mellinger, Vahe Gregorian, Pete Grathoff, Lee Judge and the new beat guy Lynn Worthy. Other Royals-centric sites: Royals Review; Cody Tapp (610 Sports); Jeffrey Flanagan (MLB); and KC-based Jeff Passan (ESPN).  Royals stalwart Rany Jazayerli writes for Ringer and also the subscription site The Athletic where he is in the midst of a 4-part series on Royals trades (good and bad) over the last 50 years.
A special shout-out for two subscription-based writers. Rustin Dodd, former beat writer at the Star, now covers the Royals at The Athletic. Very thorough coverage, and at $3.75/month, a bargain. The subscription also gets you all of the other writers who post on The Athletic (like Joe Posnanski who just posted a LeBron piece). But Joe's primary platform is his own site which gives you tons of posts. He does not specialize in the Royals, but his time in Kansas City is often reflected in his copy. He also often writes about the Negro Leagues Baseball Museum. For my money, he is currently the best sportswriter on the national scene. At $3/month, another bargain. Sign up here.
Joe also has an entertaining podcast (his "Poscast") that he co-hosts with the ingenious sitcom creator/writer Michael Schur ("Parks and Recreation," "Brooklyn 99" and "The Good Place"). Topics include the "Yankee Minute" (they hate the Yankees), some "Most Meaningless Things," and their off-the-wall drafts of five rounds on almost any subject. The most recent draft was of best fictional sports figures. Some of the selections: boxer Apollo Creed, The Dude (Jeff Bridges) bowling in The Big Lebowski, pool playing Fast Eddie Felson in The Hustler, Air Bud (did not have to be human) and Baseball Bugs (as in Bunny; could also be animated). [Big Lebowski Trivia: Rita says she would have drafted John Turturro rather than The Dude. The purple-clad bowler Jesus with his backward dancing and unusual relationship with his bowling ball was the much better bowler.] Available wherever you get your podcasts.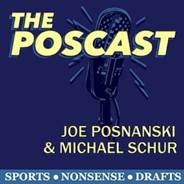 Movie Notes: Following up on the Oscars plus some recent news…
Groundhog Day: In my Oscar reminiscing of Cher, I forgot to mention another classic movie that featured her. In 1993, Bill Murray starred in Groundhog Day and found himself living the same day over and over. Every morning he woke up to the same song on his clock radio. "I Got You Babe" by Sonny and Cher. See this clip (0:31).
Silkwood to Mama Mia: Cher co-starred with Meryl Streep in Silkwood in 1983. Over the next 35 years, Streep was in about 60 movies. Cher, about 10. Cher also sang. They reunited on the screen in 2018 in Mama Mia! Here We Go Again. Cher (age 72) plays the mother of Streep (69).
This is Spinal Tap: This month is the 35th anniversary of the 1984 mockumentary (or rockumentary) This Is Spinal Tap. High on my list of favorite films. The eponymous band of the movie is the loudest in rock history. That is not fake news. Their amplifier knobs went to 11 while other bands peaked at 10. The classic scene with Nigel Tufnel is here (0:57). I have heard that the film is rated 8 on a scale of 11 on IMDb. It's 35th anniversary will be feted next month at the Tribeca Film Festival where three original members of the faux band will put on a live show.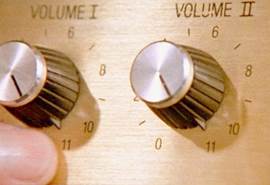 Semi-Tough: In the early 70's, I read Dan Jenkins' first novel, a pro football farce titled Semi-Tough. I remember because it was laugh-out-loud hilarious. In 1977, it was made into a movie with Jill Clayburgh as the love interest of two NFL players, Billy Clyde Puckett (Burt Reynolds) and "Shake" Tiller (Kris Kristofferson). The movie was okay, but the book is a classic.
I became a regular reader of Jenkins' articles in Sports Illustrated. He moved over to Golf Digest where he became legendary. I am not as tied to golf as baseball, but I have for some time followed Jenkins on Twitter. His witty observations during the Masters have been my primary connection to the tournament. Only his death last week at age 90 has stopped the flow of words. Below, a tweet from just two months ago.
Dan Jenkins (@danjenkinsgd)
1/11/19, 12:18 PM

Seems like only yesterday that golf fans were excited about Rory, Jordan and Justin, the New Breed. Now they have to learn how to spell Koepka, DeChambeau and Schauffele. Has my career meant nothing?
To answer Dan's rhetorical question, his career has meant a lot, as evidenced by the tributes that poured in over the weekend. See this post for some good examples of Jenkins' wit and one-liners. The most retweeted and forwarded piece was likely the one from Dan's daughter Sally, a sportswriter at the Washington Post. This was nicely captured in a tweet by her fellow Post columnist David Von Drehle:
David Von Drehle (@DavidVonDrehle)
3/9/19, 10:06 PM

No idea how Sally Jenkins did this, except she is Dan's daughter … At a PGA in Tulsa I saw them together at a table and thought: That's the greatest gathering of sportswriting talent since Red Smith dined alone. The best … wapo.st/2J1YjC0?tid=ss…
You can click on to Sally's touching column at the end of David's tweet. A sample: She tells about when her father went in for quadruple bypass surgery a few years ago. After a 3-hour surgery, the surgeon told the family that Dan had only needed a triple bypass. When Dan heard this, he grinned through his tubes, "I birdied the bypass."
RIP Dan Jenkins. How will I follow the Masters without you?
Who Framed Roger Rabbit: This 1988 live-action/animated film is back in the news. The protagonist in the movie is a private detective played by the live Bob Hoskins. Another key character is Jessica Rabbit (the animated character's famous line, "I'm not bad. I'm just drawn that way."). Jessica's speaking voice is Kathleen Turner and her singing voice is Amy Irving. The really bad guy is the corrupt Judge Doom, the superior court judge of Toontown (played by the live Christopher Lloyd).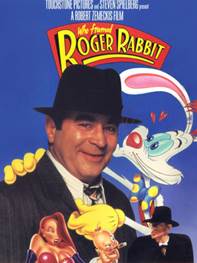 Now let's turn to Donald Trump's long-time advisor Roger Stone who has been charged in Federal Court. Judge Amy Berman Jackson issued a gag order intended to force Stone into public silence about the case. Stone responded by posting a photo of the judge with crosshairs of a gun near her face. Maybe his way of calling her Judge Doom. She was not amused. Stone was brought back into court and heard this from the judge, "This is not baseball. There will be no third chance. If you cannot abide by this, I will be forced to change your surroundings so you have no temptation." I love it when judges use baseball metaphors.
So for Roger, instead of three strikes and you're out, it will be three strikes and you're in….jail. Stay tuned. Stone now wants to release his book titled, seriously, Who Framed Roger Stone. Will the judge think that release of the book violates her order? Whether or not it does, the memes are hitting the internet, like this pairing of Roger Stone and Judge Doom.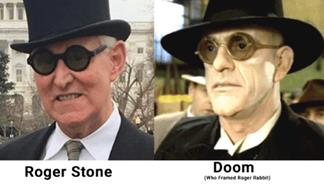 Telluride: The Telluride Film Festival has been selling out faster every year. It once took some weeks, but passes last year were gone within days. So for 2019, Rita logged in to the website soon after sales opened on March 1. It's a good thing she did. Tickets at all levels were gone in under three hours. To quote an idiom often used by Rita, "if you snooze, you lose."
Amazing Grace: When Rita and I were in Telluride in 2015, we were excited that the film Amazing Grace was scheduled to be screened. The movie is the film version of the live album recorded by Aretha Franklin at the New Temple Missionary Baptist Church in L.A. in 1972. Titled Amazing Grace, it is her all-time best-selling album. The filming was plagued by technical issues and the tapes sat in a studio vault for 38 years. It was then painstakingly restored and set for release in 2011. Legal issues delayed the release, but those were thought to be resolved for the screening at Telluride in 2015. Not so fast. Aretha filed suit and the film did not play. The next year, we had a Groundhog Day experience. With the legal issues apparently resolved, the film was again set to play in Telluride. It was again in the printed program. We again got excited. Aretha again objected. The film again was withdrawn from the festival.
Aretha died in August of 2018, and her estate has approved release of the film. It has a distributor and will open in April. The poster is below and the trailer is here. So Rita and I will finally get to see it, or as Aretha would say, "At Last" (click here).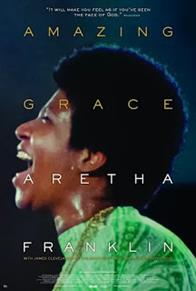 On the Small Screen at Home: Rita and I await Sunday night's premiere episode of Season 4 of "Billions." In the last episode of Season 3, we were teased about a potential alliance between the show's two archenemies, the rules-bending hedge-funder Bobby Axelrod and former D.A. Chuck Rhoades. I have a feeling this is going to be fun.
Billboard Album Chart: When the movie A Star is Born opened in October, the soundtrack album soon went to #1 on Billboard. It stayed there three weeks and then dropped down a few notches. After the intimate performance by Lady Gaga and Bradley Cooper at the Oscars, it jumped back to #1. Queen's original Bohemian Rhapsody album also got an Oscar bump and took over the #1 spot for a week. But what really got my attention was a new album that reached #7 this past month. More on that in Lonnie's Jukebox.
Lonnie's Jukebox –Linda Ronstadt – An Encore: Back by popular demand. Linda's coverage in Hot Stove #92 brought in several comments and also some strong support for two more covers. So let's do it.
My son Brian chose "Tumbling Dice" by the Rolling Stones who took it to #7 in 1972. The Stones were fans of Linda, and Mick Jagger thought she should sing more hard rock songs. Mick suggested "Tumbling Dice" and Linda put the track on her monster 1977 album Simple Dreams. She also issued a "Tumbling Dice" single, and it peaked at #32 in 1978. Check them out: Stones and Linda.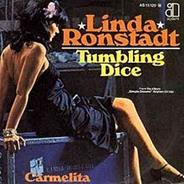 Bill Carr picked a cover that is somewhat obscure because it was never recorded by Linda. But "The First Cut is the Deepest" was a popular choice at her live shows. It was written by Cat Stevens (now known as Yusaf Islam) and recorded by him as a track on his 1967 album New Masters. He did not record a single, but many artists have done so over the decades since. Two ended up high on the charts: Rod Stewart in 1977 (#21) and my favorite version, Sheryl Crow in 2003 (#14). I'll link the ones Bill and I like: Linda and Sheryl.
Bill also sent me a link from Linda's 2014 induction ceremony at the Rock and Roll Hall of Fame. Her induction speech was by Glenn Frey, a member of Linda's backup band that moved on to become the Eagles. Linda could not attend the ceremony because of her Parkinson's, but several singers brought back the memories with passionate performances. Click here (14:23). If you only have time for one song, I again lean to Sheryl Crow ("You're No Good" at 6:45).
As I relished in this Ronstadt milieu, I had a "Stan Plesser moment." Let me explain. Stan was one of the earliest rock 'n' roll impresarios in Kansas City. In the 1960's, he owned the Vanguard Coffee House, a live music venue for folk singers and emerging rockers, and on occasion, a comedian like the young Steve Martin with an arrow through his head. Stan also hosted a larger venue in the early 1970's, the Cowtown Ballroom (logo below, and yes, the cow is smoking a joint). Stan died in 2011, but he left quite a legacy in Kansas City.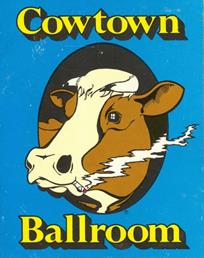 I got to thinking that Linda Ronstadt's extensive touring in the early 1970's might have landed her at Cowtown. So I Googled away and found that she was indeed there on April 22, 1972. I shared this information with some others who I knew would also enjoy a "Stan Plesser moment." My first stop was Stan's biggest fan, his wife Carole. Then to Wayne Tenenbaum, Stan's lawyer back in the Cowtown days. When Wayne became Jackson County Assessor in 1975, he recommended me as the new company lawyer – so that's how I got to know Stan. I also contacted Chuck Haddix, the premier archivist of all things musical in Kansas City. Chuck is known to many of you as Chuck Haddock (like the fish) who plays jumping and jiving music on KCUR's "Fish Fry" every Friday and Saturday night. I knew Chuck was my best bet to find Stan's Cowtown partner Paul Peterson who years ago moved to Los Angeles where he enjoys continued success in the music business. Chuck did indeed have the info and it's been great to catch up with Paul.
The opening act for Linda back on that night in 1972 was Danny Cox, a regular at the Vanguard and Cowtown. Danny became one of the acts managed by Good Karma, the artist management company owned by Stan and Paul. Other artists at Good Karma included Brewer and Shipley and the Ozark Mountain Daredevils. As you might guess, there will be a future Lonnie's Jukebox about these artists. For today, I'll just link a clip by Danny. I chose this one because it connects in my mind to the Oscar-nominated film Vice. It would have been perfect to play over the closing credits in the movie. Click here for "Dick Cheney Blues."
To give you a feel for Cowtown, check out this trailer for the 2009 film Cowtown Ballroom…Sweet Jesus. As noted on the home page for the movie, Cowtown "was only open for 38 months, but in its short life span established an incredible music heritage." Stan and Paul (below, Stan on the left) are both interviewed in the movie, as well as several artists who performed at Cowtown.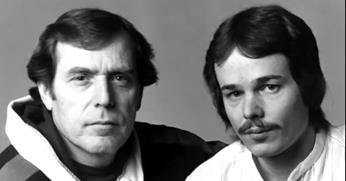 I got another angle on the Ronstadt story from Wayne Tenenbaum. In 1971, Wayne was in Washington DC on business. One night he went to a Georgetown bar where Linda Ronstadt was performing, dressed in what was then her signature outfit, cut-off jean shorts. He thought she was terrific and encouraged Stan to sign her up for Cowtown. Linda was not yet a big name, at least in Kansas City, and Stan's first attempt was cancelled for lack of ticket sales. But he kept an option for when she came through again, and that led to her successful night at Cowtown in April of 1972.
Linda is the subject of an upcoming documentary, Linda Ronstadt: The Sound of My Voice, that will be premiered next month at the Tribeca Film Festival. The premiere screening will be followed by a live performance from Sheryl Crow in celebration of Linda.
Thanks to Paul Peterson for tipping me off on this final item. Last month, Linda released her first-ever live album. Live in Hollywood features 12 performances from a 1980 concert filmed for an HBO special. It quickly went to #1 in CD sales on Amazon, and it has been on the Billboard album chart four straight weeks, getting as high as #7. I've listened to it, and…she's so good, she's so good, she's so good, baby she's so good…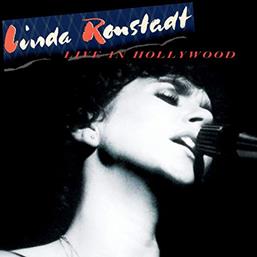 So again, thank you Linda.