Part 2 of this trilogy took us through 1968, the election of Tom Eagleton to his first term in the Senate. He quickly became a rising star in the Democratic Party, leading to…
1972 – McGovern and Baseball Commissioner: At the Democratic Convention in July of 1972, George McGovern picked Tom Eagleton to be his running mate. That did not go well, but it produced a couple of baseball stories that Tom liked to tell.
"My brief campaign for vice president was stressful and ultimately disappointing, but it did not lack for some happy moments along the way. I was asked… 'If you don't get to be vice president, what would you most like to do?' I answered light-heartedly, 'I would like to be the Commissioner of Baseball.' Bowie Kuhn, Commissioner of Baseball, took me seriously and thought I was campaigning for his job. He called Gussie Busch…and said 'Gussie, it looks like a showdown between me and that Eagleton. I want to fly out to St. Louis and talk with you.' Busch thought Kuhn was a 'quart low' and told him not to waste his money on a plane ticket."
"Then there was a wonderful kid in San Francisco…As we left to campaign in the morning, this young man stepped forward and said, 'Senator Eagleton, sir, could I ask for your autograph – twice, if I may – one for me and one for my brother?' I signed two blank cards. When we came back to the hotel…there was the same kid with the same question. I said, 'I did this for you this morning.' He responded, 'Senator Eagleton, I have to tell you the truth. If I get four of you, I can trade them for a Willie Mays.' I knew my stock was going up when just four of me could get a Willie Mays."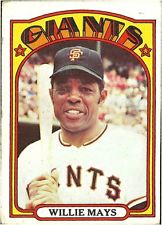 Eagleton's race for vice president was over on August 1, just 19 days after it started, but Tom's offhand remark about being commissioner lived on. When Kuhn stepped down in 1984, the MLB search committee wanted a person outside of baseball circles. Some of the names floated included Eagleton, Congressman Silvio Conte and Yale president Bart Giamatti. But Peter Ueberroth, leader of the 1984 Olympics, got the nod. Ueberroth left in 1989, and Eagleton and Giamatti's names again surfaced. Giamatti thought Eagleton was lobbying for the job, but Tom sent Giamatti a letter to say he was not a candidate. Giamatti got the job, but died after being in office only 154 days. He banned Pete Rose from baseball just eight days before his death. Giamatti was succeeded by Fay Vincent.
1974 – The Second Race for the Senate: As the reelection race got underway in 1974, People Magazine's cover proclaimed "Campaigning is Fun Again" for Tom Eagleton – certainly better than the 1972 McGovern campaign. The article in the magazine kept the commissioner rumor alive: "A lifelong St. Louis Cardinals baseball fan – Stan Musial is an honorary chairman of his campaign – he can conceive of only one career he might prefer to the United States Senate. 'I could be a very happy commissioner of baseball' he says. 'But it would be a tough choice. I am very much at peace with myself and my profession.'"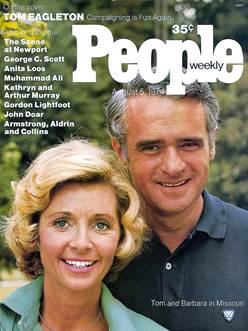 Musial's honorary co-chair for the campaign was the usually nonpolitical former First Lady, Bess Truman. She said part of her incentive for accepting was the fact that Musial was her co-chair and she would have the chance to talk baseball with him. She was a loyal Royals fan and could recite the team's starting lineup.
1974 – The Democratic Ticket: For me the big race in 1974 was Mike White for County Executive. I served as Mike's campaign manager, and after he won the primary, I became Jackson County Democratic Chairman. The sitting County Executive, George Lehr, was running for state auditor, joining Eagleton in the only other statewide race. This put Mike and me in regular contact with Tom and his campaign staffers and forged several long-term friendships. It was pretty cool to have my name on the flyer with the man I met six years earlier in his first Senate race. The other candidate on the flyer is Congressman Richard Bolling who served KC in Congress from 1949 to 1983.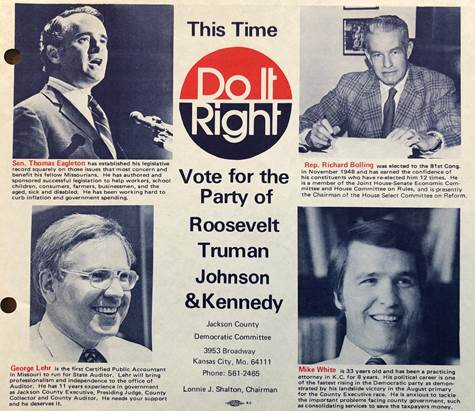 November had good news in my world. All of them won.
1976 ALCS – Eagleton and Cosell: Although Eagleton was a loyal Cardinals fan, he was also happy to say nice things about the Royals. As a wise politico, it was probably not lost on him that Royals fans also vote. In 1976, he got an opening to act on this.
The Royals played the Yankees in the ALCS. Part of the ABC broadcasting team was Howard Cosell, and his pro-Yankee coverage grated on those rooting for the Royals, notably Senator Tom Eagleton. So after the Yankees had won the series, Tom fired off a letter on Senate stationery to Roone Arledge, the head of ABC Sports. Tom knew of my baseball passion and so included me in his list of three to receive blind carbon copies. The others went to KC politico Steve Glorioso and Eagleton staffer Chris Clouser. And the letter was released to the press. Here is what he said:
Dear Mr. Arledge:
"I wish to add my name to the list of thousands in opposition to Howard Cosell's broadcasting of the playoffs between the Kansas City Royals and the New York Yankees. I realize that Cosell's obnoxiousness is the reason that ABC finds him so marketable. As a loyal, devoted baseball fan, I always have derived great comfort from the fact that our 'nation's pastime' was free of Cosell. Hopefully, after the World Series that will be the case once again.
Reggie Jackson's endless commentaries, although not as offensive as Cosell's, were inane in their own right. He talks and talks saying next to nothing. Perhaps this was his way of keeping Cosell off the air."
Yours very truly, Thomas F. Eagleton, Devoted Baseball Fan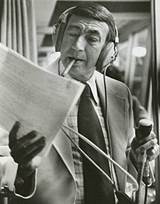 Cosell's response was printed on October 22 in the Kansas City Times. Cosell expressed disdain for Eagleton's criticism, calling Tom a johnny-come-lately to the ranks of Cosell critics. Cosell quoted Abraham Lincoln, "If I would read, much less answer, all the attacks on me, my shop would be closed to any business." Cosell said he was flattered because Eagleton "is a member of the greatest legislative body in the world. However, he comes but lately to the arena."
As you might guess, the scuffle with Cosell boosted Tom's popularity in Kansas City.
1977 – Lou Brock: Ty Cobb finished his playing career in 1928 with a then-record 897 stolen bases. In 1977, the Cardinals Lou Brock broke Cobb's 49-year-old record. This prompted Tom Eagleton to speak on the Senate floor about his hometown team's hero. In part:
"As baseball fans all across the country know, it is not Brock's outstanding batting record which…will assure him entry in baseball's Hall of Fame. Rather, it is his record as a thief – specifically, as the most prolific stealer of bases in the history of the game…broke almost every base-stealing record on the books…most thefts in one season, 118 in 1974…most consecutive years stealing 50 or more, 12 years…"
The floor speech, which also covered Brock's history with the team and his hitting prowess, was written by Eagleton staffer Steve Roling, then working in the DC office. Steve gave me more of the story:
"On the morning after Brock broke the record, the Senator asked me to write a brief speech to deliver on the Senate floor. Several weeks later, Lou Brock came to visit the Senator, and Eagleton invited me to join them in his office. The Senator told Brock that I wrote the speech. Many, many years later when I saw Lou Brock at a Negro Leagues Baseball Museum event in Kansas City, he immediately recognized me as the person who wrote the speech. He told me that this recognition by Senator Eagleton on the Senate floor was one of the highlights of his baseball career."
1979 – On the Cover of the Rolling Stone (Baseball Edition): Steve Roling worked with press secretary Mark Abels to put together another Eagleton tribute when Lou Brock announced his retirement in 1979. This one made the cover of the Sporting News: "Senate Makes Lou Brock National Hero." The article noted the many accolades coming in for Brock, but "perhaps the foremost citation" came from a resolution sponsored by Tom Eagleton and adopted by the Senate on September 4.
This was a memorable moment for Mark and Steve, who never expected their press release to take over the cover of the "Bible of Baseball." It was a special treat for Tom Eagleton who started reading the Sporting News as a boy in his Cardinal-centric household. Eagleton also appeared with Brock and his family on the field at Busch Stadium on September 9 for "Lou Brock Day." [How proud is Mark? He framed a copy of the cover and still has it. Removed it from the frame to send me the photo below.]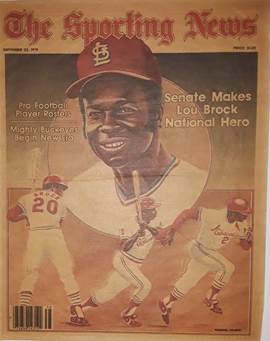 Stolen Base Update: Rickey Henderson beat Lou Brock's season record of 118 by stealing 130 in 1982. In 1991, Henderson eclipsed Brock's career record of 938 and continued stealing bases until retiring in 2003. Rickey's final total was 1,406, a record that will never be broken.
1979 – A Personal Note: In 1979, I was on the receiving end of one of Tom's well known tongue-in-cheek missives. Part of his regular routine was to review newspaper articles clipped by his staff. He sometimes then scribbled notes on them to mail out. He read a clipping about Mike White and me joining a new law firm and so shot off a note to me. He addressed it simply to "Shalton" (the man who said "call me Tom" usually referred to himself, friends and staff by last name only). It was a long "congratulatory" note that essentially said that our legal skills might be good enough to fix parking tickets for his staff. He signed off with "Good luck! You sure as hell will need some. Eagleton (Statesman)." I treasure this memento.
1980 – The Third Race for the Senate/George Brett Hits .390: Eagleton ran for his third term in 1980. Stan Musial was again an honorary chair and emceed the big campaign kickoff rally in St. Louis.
My role in his campaign was chairing the "Get Out the Vote" effort in Jackson County. I still have my four page memo summarizing the election day planning (phone banks, unions, rides, ballots, mailings, parades, etc. – total budget of $400). The memo was addressed to Eagleton staffers Woody Overton, Chris Clouser, Mike Kelley and Steve Roling.
We also had our eyes on something else. George Brett was still hitting over .400 in mid-September and finished the season at .390. Brett was the AL MVP and dramatically hit the homer off Goose Gossage that sank the Yankees in the ALCS – finally removing some of the sting after losing to the Yankees in the ALCS in 1976, 1977 and 1978. The Royals then met the Phillies in the World Series, losing four games to two.

Two weeks after the Series loss, we had the pleasure of toasting a victory, the reelection of Tom Eagleton to a third term in the Senate.
1982 – Beer and Baseball: In a Senate floor debate in July of 1982, Missouri Senators Eagleton and Danforth supported raising excise taxes on cigarettes. A tobacco-state Senator countered that maybe a raise should instead be made on beer, noting that Eagleton and Danforth represented the greatest brewery state. Gussie Busch would have been proud of his former protégé's response. Eagleton: "Remember what made this country what it is today. Rednecks, white sox and Blue Ribbon beer. The whole world knows that beer is the 'beverage of moderation.' It is the mother's milk of American Legion picnics, the sine qua non of a summer evening of professional baseball. With respect to my home city of St. Louis, we once proudly held the title: 'First in booze, first in shoes and last in the American League.' We lost our American League team; our shoes went to Taiwan and Korea. God, do not take from us our beer."
1982 – Cardinals World Series: Being in Washington did not keep Eagleton from following his Cardinals. Frank Absher, a Cards broadcaster from 1979 to 1983, told Sports Illustrated that "Senator Tom Eagleton would tell us that when he was in Washington, there was an area [by the National Cathedral] where congressmen could pick up KMOX on their car radios to get Cardinals baseball."
This would prove to be fun in 1982 as Tom's Cardinals made it to the postseason for the first time since he ran for the Senate in 1968. After winning their division, the Cards beat the Atlanta Braves in the NLCS and headed for the World Series to play the Milwaukee Brewers. In the first six games, the Cards won three and Milwaukee's "Harvey's Wallbangers" won three (so named for manager Harvey Kuenn).
This is the stage where I got lucky. My good friend Woody Overton had gone to work in the Eagleton KC office in 1977. He called me to say he could get some Eagleton-sourced tickets if I could drop everything and ride over to St. Louis with him. Of course I did. We were joined at the game by Mike Ryan of Eagleton's St. Louis staff. It was a good night to be at Busch Stadium. The Cards Joaquin Andujar pitched the victory backed by the hitting of Lonnie Smith and MVP Darrell Porter. Woody, Mike and I then celebrated at Balaban's – more on that below in Lonnie's Jukebox.
Below, Gussie Busch at the 1982 Series. His foam finger reads "We're Red Hot with Whitey!" – as in Whitey Herzog. Whitey managed the Royals from 1975 to 1979 and the Cards from 1980 to 1990.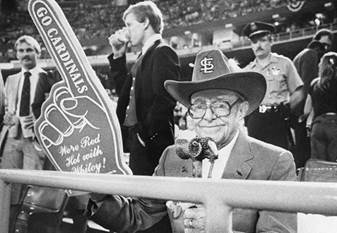 1983 – I-95 World Series – Commissioner's Box: Although Tom never became baseball commissioner, he did once sit in the commissioner's box. It was in 1983 at the "I-95" World Series between the Orioles and the Phillies. As recounted to me by Tom's Chief of Staff Ed Quick, Ed and Tom attended the Series as guests of Bowie Kuhn who was attending his last series as commissioner. Also in the box was Hall of Famer Monte Irvin who worked in Kuhn's office. I doubt Tom repeated his 1972 quip about the commissioner's job, "I think to get paid $100,000 a year to attend baseball games is a job I'd really like."
1985 – I-70 World Series – All Missouri: Statewide politicians in Missouri had a dilemma in 1985. The Cardinals and Royals met in the World Series. Who to favor? How to walk the tightrope? Eagleton had already announced that he was not running for reelection, and so could pick sides and not worry about the voting public. But he played diplomat, at least publically.
He introduced a resolution on the Senate floor to say the I-70 World Series demonstrated "that the very best baseball in the world is played in two areas of the country – eastern and western Missouri…has not been better placed since 1944 when the St. Louis Browns faced the St. Louis Cardinals…What do you do when the team of your ancestors, the Cardinals, plays Cinderella, the Royals? You pray, that's what."
Luckily for me, I was able to attend all seven games of the Series. After the Royals lost the first two in KC, I headed to St. Louis with Rich and Mary Ellison. (Before you ask, Rita was working and could not go.) Woody Overton gave us a heads-up where he would be eating before Game 3 as part of the Eagleton entourage. We went to the same restaurant on the Hill and Woody made sure we got to exchange pleasantries with Tom.
What I remember most about Game 3 (other than the Royals victory) was the pre-game when the outfield gates opened and Gussie Busch came riding in on a wagon drawn by the Clydesdales. Gussie also threw out the first pitch that night. The next night, Rachel Robinson (as in Jackie) threw out the first pitch. The Cards won to take a commanding three games to one lead. For Game 5, the ceremonial first pitch was delivered by Senator Tom Eagleton. The Royals won, but the Cards still led the Series, three games to two..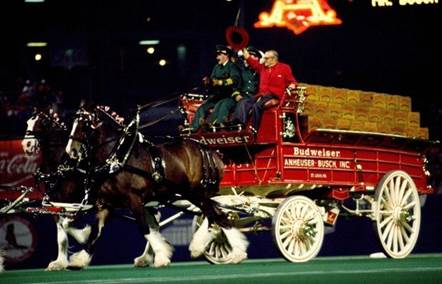 The teams returned to Kansas City for Game 6 and maybe Game 7. Game 6 will be forever remembered for Don Denkinger's bad call at first base (discussed in detail in Hot Stove #79; click here if you need a refresher). After the Royals won Game 6, I'm guessing that Tom Eagleton was prompted to send out several of his famous handwritten notes to friends to castigate Denkinger. I can find no evidence that he made any public comment, but I asked Mark Abels about Tom's take on Denkinger. His response:
"I suppose Tom thought it unbecoming the office to rail publicly at Denkinger after the '85 Series, but he was not shy about sharing an opinion in private conversation, especially if the person was a friend from Kansas City. He had the famous picture of Todd Worrell, ball in outstretched glove and foot firmly on the bag with Orta still half a step away, hanging on a wall in his home."
How bad was the call? Look at the Royals fans below. They are not standing and screaming for the runner to make it on a close play. They already knew he was out. Denkinger's arms are poised in anticipation of making his infamous safe call.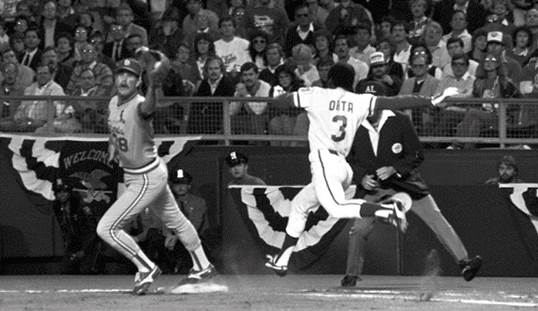 Game 7 was anticlimactic as the Royals trounced the Cards 11-0 to win their first World Series. Whitey Herzog and Joaquin Andujar were ejected from the game, a much different result than their Game 7 in 1982.
White House and Congress Celebration: The Royals headed to DC to receive congratulations from President Reagan and Congress. [Note that Vice President George H. W. Bush is at the far left in the photo.]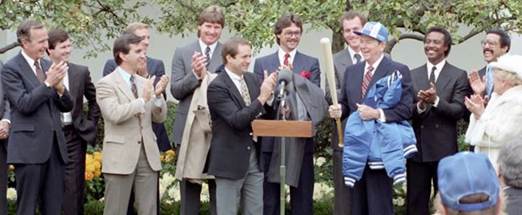 Senator Eagleton and his Senate colleagues from Kansas and Missouri held a reception for the team in the Senate caucus room. Also hosting was Congressman Alan Wheat who in 1983 had replaced Dick Bolling as KC's representative in the House.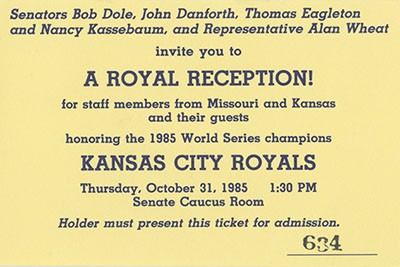 All four Senators spoke from the Senate floor to honor the team. Among Tom's remarks:
"The 1985 Kansas City Royals are the stuff legends are made of, and indeed they have provided the grist for a new generation of half-time speeches, morale-boosting pep talks, and inspirational lectures. Instead of telling their players to "win one for the Gipper" [remember Reagan as Rockne?]…coaches can ask 'Did the Royals give up in 1985?' The 'Miracle Mets' of 1969 have been supplanted by the 'Resurrection Royals' of 1985 as the modern-day patron saint of all underdogs. Just as important…is how they did it. Rarely does one find a group with so many members possessed of talent, grace, style and humor."
1986 – Eagleton and Casey (not Stengel): In Eagleton's last year in the Senate, he served as the lead Democratic questioner in the Iran/Contra hearings. Many of the accused were convicted or awaiting trial when they were pardoned in 1992 by outgoing President George H. W. Bush. Eagleton formulated a baseball analogy on why one of the suspects never got indicted:
"CIA Director William Casey avoided any criminal embarrassment by dying before the indictments were handed down. Casey never could have been indicted for perjury before the Senate Intelligence Committee. True to his name, he talked like Casey Stengel, mumbled his words and talked in circles. When asked to clarify an answer, he expanded the circles in different directions. In baseball parlance, he went from first to third, to right field, to the pitcher's mound and ended up in the on-deck circle."
After the Senate: Eagleton chose not to run in 1986 and so ended his Senate career after three terms. He returned home to St. Louis to teach, write, practice law and see the Cardinals at Busch Stadium.
Tom was often seen around town dining with many of his former staffers and friends like Stan Musial and Jack Danforth. His connection with Musial began when Tom was a boy attending spring training with his parents. As with so many Cardinals fans, Musial became Tom's favorite Cardinal player of all time. They also became close friends and political allies.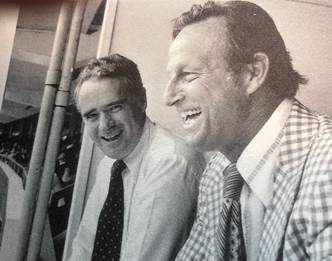 Tom's former Senate colleague Jack Danforth was not a political ally (i.e., Republican), but they were still great friends. Danforth: "We remained close until Tom's death. We went to Cardinals games together, and had lunch at what Tom called his 'club,' Beffa's on Olive Street. To the end, we disagreed about politics. To the end, we were friends."
In retirement, Tom became a regular at Busch Stadium. From an interview in 1995: "I like the day games. That's old-fashioned baseball. I'm there nearly every Sunday afternoon. I will be thrilled when the Cardinals once again play on grass." [The stadium's AstroTurf was replaced with natural grass the next year.]
He often went to games with former staffers. Mark Abels remembers attending many Cardinals and Royals games over the years with Tom, as well as trips to Chicago: "When Tom wanted to go to a game, he called the team and announced he was coming and would pick up his tickets at will call. Going to ball games was the one area in which he was pretty shameless about rank having its privileges…We made a couple of trips to Wrigley for games; in the 2003 playoff series against the Marlins we were there when Cubs fan Steve Bartman interfered with a pop fly and was blamed for ruining the Cubs chance to get to the World Series."
Surprisingly, another person attending games with Tom was his short-term running mate George McGovern. Their mutual love for the Cardinals outweighed the old politics. Tom told this story:
"Years later McGovern stayed at our house when he came to see a Cardinals baseball game. He had grown up in South Dakota listening to Cardinals games on the radio. In those days St. Louis was the western-most and southern-most outpost of the major leagues, and the Cardinals had a huge following throughout the Great Plains. George and I sat together at the ball game in St. Louis. A parent sent his child over to us to sign his scorecard. The child said, 'My dad says you are important . Would you sign my scorecard?' We signed. Then he asked, 'When did the two of you play for the Cardinals?'"
Along with all Cardinal and Cubs fans (and much of the nation), Tom enjoyed the 1998 season as Mark McGwire and Sammy Sosa chased the Roger Maris record of 61 homers. McGwire got to 62 first and went on to hit 70 for the season. In 2001, Barry Bonds broke that record with 73. The muscular record breakers would then take a fall as the steroids scandal unfolded. Eagleton reflected on the comparison to the greats of the past: "There were no steroids back then. Babe Ruth was a legitimate hero. He was not a juiced-up Mark McGwire or Barry Bonds of today."
The Final Season: Tom's final season to watch his Cardinals was 2006, and they came through for him. The Cards won their division, then the NLDS against the Padres and the NLCS against the Mets. This sent them to the World Series to play the Detroit Tigers. Tom's friend Stan Musial threw out the first pitch for Game 5.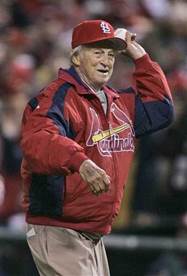 The Cardinals split the first two games in Detroit and then won three straight in St. Louis to win their tenth World Series Championship. [With another win in 2011, the Cards total is now 11, second only to the Yankees 27.]
Tom died on March 4, 2007, at age 77. The following month, on opening day at Busch Stadium, the Cardinals asked the crowd for a moment of silence to mark the recent deaths of three dignitaries: Tom Eagleton; Bowie Kuhn, the commissioner who worried that Tom would take his job; and Bing Devine, the general manager who traded for Lou Brock in 1964, got fired in mid-season, after which the Cardinals surged and won the World Series.
Jack Danforth gave one of the eulogies at Tom's memorial service on March 10, 2007. Danforth imagined that the gregarious Eagleton was in heaven setting up banquets with friends to talk "politics and baseball."
As befitted his style, Tom Eagleton had the last word at his memorial service. Those in attendance were given a written farewell message from Tom, commenting on his family members, his Senate career and the Catholic Church. He mentioned several Democratic colleagues from the Senate and also Jack Danforth. "You may wonder why I mention Jack Danforth. There is a possibility that God is a Republican, and at this point I feel it best to cover all my bases."
His final words: "So go forth in love and peace – be kind to dogs – and vote Democratic."
Also in that farewell message, Tom borrowed from baseball to summarize his life:
"Using Lou Gehrig's famous quote, 'I consider myself the luckiest man on the face of the earth.'"
Tom, I know I speak for many, we were certainly lucky to know you.
Lonnie's Jukebox: After the Cardinals won Game 7 in 1982, Woody Overton, Mike Ryan and I celebrated at Balaban's, a landmark bistro in the Central West End. Sitting at the bar, we kept hearing the same song replayed all night long. It was "Celebration" by Kool & The Gang, a #1 hit from 1981. A perfect match for the evening. Whenever I hear the song, I am transported back to St. Louis in 1982. And of course think of a smiling Woody Overton (RIP). Listen here.