I am bringing in a guest writer for part of this post – my long-time law partner Tim Sear. Tim was raised in Dubuque, Iowa, and the town once had a Pittsburgh Pirates minor league team. Tim's family made annual trips to see the Pirates play the Cubs in Chicago. Tim's hero, to this day, is Roberto Clemente. Tim often calls me to complain if he thinks I have missed some opportunity to inject Roberto into a Hot Stove post. "Obsessive" is as kind as I know how to say it.
Earlier this season, Tim went to St. Louis to attend a game at Busch Stadium with two former partners from our St. Louis office. He sent me this picture from the game (L to R – Tim, Eric Trelz and Joel Poole):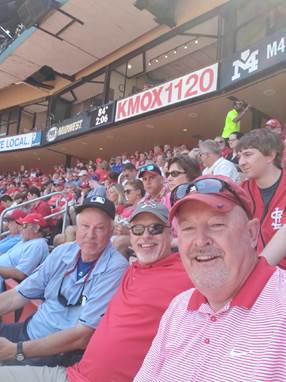 The game pitted the Cards against our Royals (who won 5-2 in ten innings). Tim does not let his Pirates loyalty keep him from being an avid fan of the AL Royals. So I expected to see Tim wearing Royals gear – Tim is not shy and not above taunting the locals. But he was not decked out as a Royals fan. However, he was still taunting. His shirt and hat are "official" replicas of what the umpires wear, and the number on his shirt is "11" (starting in 1980, umpires have had numbers on their uniforms). In 1985, that number 11 was worn by Don Denkinger, the ump who missed the call at first base in Game 6 of the 1985 World Series.
I'll take a break in the Sear story to remind everyone of some details from that 1985 game. There are quite a few Cardinal fans on the Hot Stove mailing list, and I'm guessing that they will disagree with some of items below.
The Play: It was Game 6 of the 1985 World Series. The Royals were down three games to two and behind 1-0 in the last of the 9th inning. The first batter up, Jorge Orta, bounced a ground ball to first baseman Jack Clark who flipped to pitcher Todd Worrell covering first. That white thing you see in Worrell's glove is the ball. Orta has not yet reached first. It's not even a bang-bang play. Umpire Don Denkinger called Orta safe. Oh my.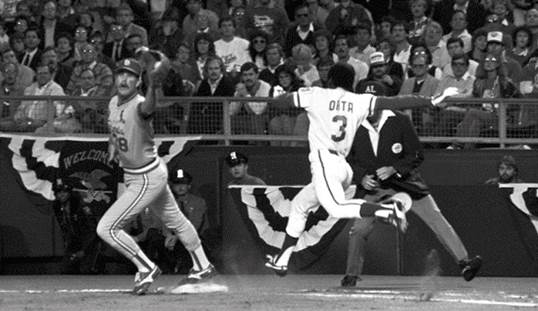 Steve Balboni was up next and hit a foul pop-up near the Royals dugout. Clark, who had only recently made the transition from right field to first base, lost track of the ball and missed the catch. Balboni then singled. After a bad sacrifice bunt by Jim Sundberg forced Orta at third, a passed ball got by catcher Darrell Porter, allowing the runners to advance to second and third. Hal McRae was intentionally walked to fill the bases. Pinch hitter Dane Iorg then looped a hit to right to knock in the tying and winning runs.
I was at the game with my 14-year old son Jason. Rita and my mom were in another part of the stadium. The whole crowd was so happy that no one wanted to leave. People just kept smiling and high-fiving each other. In something of an anticlimax, the Royals won the next night to take Game 7 and the Series.
So the Cardinals lost the Series to the Royals because of Don Denkinger's bad call, right? Not so fast.
"The Top 5 Reasons You Can't Blame Don Denkinger": From 2005 to 2007, ESPN ran a series examining controversial figures and events in sports history. The purpose was to defend the scapegoats who are often remembered for their mistakes at a crucial moment on a big stage. The format was to provide the top five reasons that the scapegoat was getting too much of the blame.
ESPN featured such notables as Bill Buckner, Ralph Branca and Jose Conseco. And of course Don Denkinger.
Each episode started with the "best of the rest" that did not make the Top 5. For example, it was not Denkinger's fault that instant replay did not start until the next century. He would have been off the hook (but not nearly as famous). It was also not Denkinger's fault that 1985 was the first year that the league championship series went seven games. If it had still been five games, the Royals would have been knocked out earlier by Toronto who had taken a 3-1 lead in the ALCS.
Now for "The Top 5 Reasons You Can't Blame Don Denkinger":
5. The Killer Tarp. Vince Coleman had a great season for the Cards – superb leadoff hitter, rookie of the year and 110 steals. But he got injured in a freak accident during the NLCS when he got caught up in the tarp being rolled out at Busch Stadium. He did not play in the World Series. Not Denkinger's fault.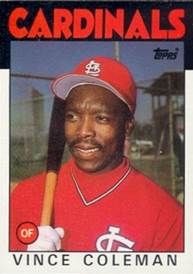 4. Los Angeles. The Cardinals did not belong in the World Series because they should have lost to the Dodgers in the NLCS. But L.A. manager Lasorda made some bad decisions. Not Denkinger's fault.
3. Cardinals Silent Bats. The Cards hit .264 in the season, but dropped to .185 in the Series. They scored just 13 runs in the seven games. The Royals had 28. Not Denkinger's fault.
2. Cardinal Defense. After Denkinger's call, Clark misplayed the Balboni pop-up and a pitch got by Porter for a passed ball. Not Denkinger's fault.
1. Game 7 Breakdown. The Cards could not shake what happened in Game 6 and fell apart in Game 7, losing 11-0 to the Royals. Not Denkinger's fault.
Being a loyal Royals fan, I must point out that there was an earlier missed call in Game 6 – by the 2nd base umpire. Frank White was called out on a steal of second in the 4th inning. The replay showed he was safe. The next batter got a hit which would have scored White to give the Royals a 1-0 lead and at least a tie going into the 9th. So as for Denkinger's call: poetic justice.
Through the magic of YouTube, those with time on their hands can watch the whole ESPN Top 5 episode by clicking here (21 minutes). Now back to the Tim Sear story.
Joel Poole on Tim Sear at Busch Stadium: As a reminder, Busch Stadium offers a good view of our Polsinelli law offices in St. Louis (go down the left side of the arch):
Tim thought his umpire attire was very cool and assumed it would draw interest (disdain?) from Cardinal fans. They didn't even notice. As reported to me by Joel Poole:
"Well, I think Sear was expecting a little more animosity or at least more recognition. He stopped every ticket taker, usher and beer vendor he could spot and asked if they knew whose jersey it was. Each said no. When he'd say 'It's Don Denkinger's,' to a person, they'd say 'Who???'."
Tim Sear's Rant: Tim's response to Joel's comments is longer than you would think. But that is because Tim had his own sad postseason umpire story. It involved his beloved Pirates who failed to get to the 1992 World Series because of an umpire's small strike zone. Here's the story in Tim's own words. For those of you who know Tim and his brand of humor, you will be able to hear the dripping sarcasm as you read.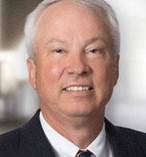 As to Poole's comment about nobody figuring out the significance of my attire—I think we can safely conclude that Redbird fans are casual baseball fans and can't be bothered with the history and nuances of The Greatest Game.
Real Baseball Fans forget nothing and carry grudges forever.
For example, a real Pittsburgh Pirates fan remembers every detail of October 14, 1992.
Game 7 of NLCS against the Atlanta Braves.
Pirates had overcome a 3-1 series deficit to go into the bottom of the ninth inning leading 2-0—with star pitcher Doug Drabek still on the mound.
Then everything went to Hell—and I mean to that really hot corner of Hell.
Terry Pendleton led off with a double.
David Justice hit a grounder to Jose "Chico" Lind—the normally sure-handled successor to HOF second baseman Bill Mazeroski (Lind got a Gold Glove in 1992).
Under normal conditions, Lind fields it cleanly—and Pendleton advances to third with one out.
Instead, like a precursor to Daniel Murphy of the Mets in the 2015 World Series—Lind lets the ball tick off his glove and everyone is safe.
Doug Drabek—the Pirates starter—and a Cy Young candidate—then walked Sid Bream (former Pirate and world's slowest base runner).
Managerial Genius Jim Leyland pulled Doug Drabek and brought in Stan Belinda—who gave up a sac fly—making the score 2-1.
With Damon Berryhill at the plate—home plate substitute umpire Randy Marsh—more on that later—allowed Berryhill to walk on a clear strike.  That should have been the third out.
With the bases loaded, Belinda got Brian Hunter to pop out for what should have been the fourth out, the end of the game, and eternal bliss for Sear.
This brought Francisco Cabrera to the plate. 
Hand signals were exchanged between Andy Van Slyke in center and Barry Bonds in left.
Van Slyke was waving his glove at Bonds trying to get Bonds to move shallower.
Bonds responded to Van Slyke by waving just one finger.
Cabrera hit a soft line drive toward left center that a shallower Bonds would have either caught—or would have only scored the tying run.
Instead, Bonds had to circle toward the ball—came up throwing—and substitute home plate umpire Randy Marsh ruled slowest runner ever Sid Bream safe on a close play at the plate.
And sent me into a funk that some people claim continues to this day.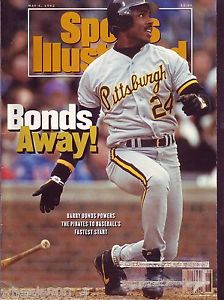 So what did I do about it?
Did I sit home and mope.
Did I commit every detail to memory?
No.
What I did for starters was put a curse on Chico Lind.
Chico was never quite the same player again. 
The Pirates traded him to the Royals for superstars Dennis Moeller and Joel Johnston.
Chico liked KC so much that he decided to buy all the cocaine he could find in KC.
Eventually, he was arrested in Tampa, Florida on November 21, 1997—for leaving the scene of an accident—and driving without a stitch of clothing below the waist.
A search of his car netted seven beer cans (that's the equivalent of 3 ½ 24 oz. PBR's for those of you keeping score at home) and some cocaine.
Chico got a year in jail.
Still not satisfied—I turned to Barry Bonds.
I liked Barry—till I saw a YouTube Video where Barry disrespected a Pirate coach (Bill Virdon—"The Quail" and member of the 1960 World Champion Pirates team)—and on camera Manager Jim Leyland tore NL MVP Barry Bonds a new one—and told him that he didn't care if Bonds was the %$#@@ MVP of the Entire Universe—that Leyland would beat his ass like a drum—and then throw Bonds off the team.
That made me really dislike Barry—but made me love Jim Leyland.
Then I heard the story of Bonds shaking off Van Slyke.
I'd had enough.
At this point, Barry had a Hall of Fame career with the Pirates and the Giants.
But I made it my personal goal to keep Barry out of the Hall of Fame.
Check the Hall of Fame website to see if that curse is still intact today.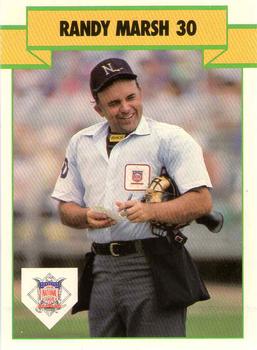 Now—what about substitute home plate umpire Randy Marsh.
John McSherry started behind the plate—but left during the game with nausea and dizziness (a precursor to the fatal heart attack McSherry suffered on opening day 1996—while behind the plate in Cincinnati).
McSherry was a huge man—with a huge strike zone.
Marsh moved behind the plate—with one of the smallest strike zones in baseball history.
McSherry would have rung up Berryhill and the Pirates would have moved to the Fall Classic.
Thank God I've been able to put that night behind me.
Pirate Phanatic: I am glad that Tim has put that night behind him. So he won't mind if someone taunts him by wearing an umpire shirt with #30 on it (that would be the number worn by Randy Marsh). Sure.
After Atlanta's Sid Bream scored the winning run to snatch the pennant from the Pirates, Tim's team fell apart. The NL MVP Barry Bonds was a free agent at the end of the season and moved on to the Giants. The Pirates suffered 20 straight losing seasons from 1993 to 2012. Finally, 21 years later, they had a winning record in 2013. They won the 2013 NL wild card game before bowing out to the Cardinals in the NLDS. They again made the wild card game in 2014 and 2015, but lost both times.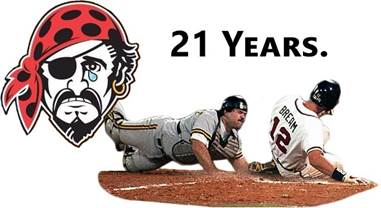 As for that night back in 1992 (the one Tim has put behind him), he may have some basis for his rant. The small strike zone of Randy Marsh is one of the few facts mentioned in his brief Wikipedia page. The New York Times described the circumstances for that key pitch in the 1992 game as follows: "Randy Marsh…had replaced McSherry and reoutlined the strike zone."  And a Pittsburgh paper noted that "Marsh was known as a hitter-friendly umpire, and his reputation proved to be fair as the game wore on."
There was no ESPN "Top 5" episode to exonerate Randy Marsh, but the Sporting News did list seven key items about the game, only one of which involved the umpire (Click here).
As for Tim's passions for the Pirates and Roberto Clemente, they continue to this day. Much to the chagrin of his wife Pam, Tim continues to haunt eBay for memorabilia. Here he is with part of his collection (he calls this his "glamour shot"):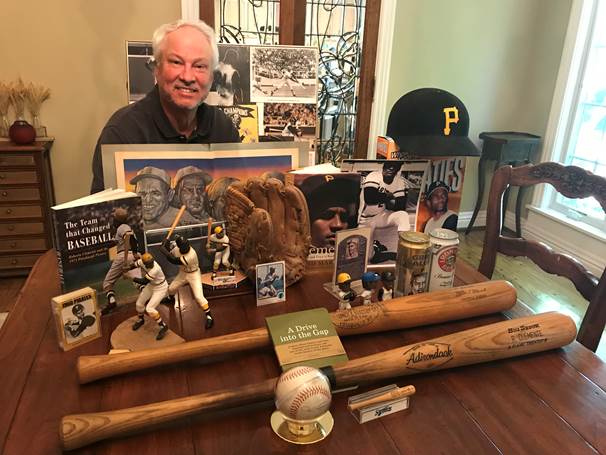 [Not pictured: Tim's bobblehead collection currently on loan to his Pirates museum annex (Tim's lake house).  Two favorites he told me about: One is a talking bobblehead of Hall of Fame Pirates broadcaster Bob Prince. The other is of Sid Bream sliding past the Pirate catcher Mike LaValliere in that 1992 playoff game. Tim says the nodding head of Bream moves only slightly slower than the real Sid Bream scoring in that game.]
Lonnie's Jukebox: While Tim was lamenting the fate of his 1992 Pirates, one of the top songs of that year was "Bohemian Rhapsody" by Queen. The record was on the charts when it came out in 1975, but it was re-released in 1992 after its appearance in the movie Wayne's World. This coming November, Queen will be the subject of its own movie featuring TV's Mr. Robot, Rami Malek, as lead singer Freddie Mercury. The movie title…Bohemian Rhapsody. See the trailer here (2:30). It appears from the trailer that we will learn why Freddie had the band chant "Galileo!" five times.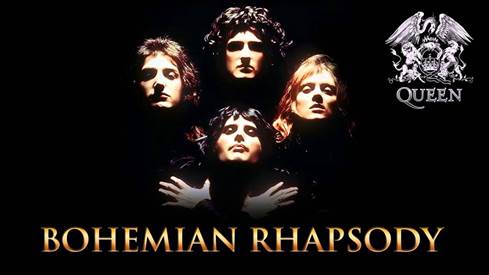 To help the official music video get to 600,000,000 hits on YouTube – click here (6:06). Even the Muppets' version has over 65,000,000 views – click here (4:46).
[Queen Sports Trivia: Since 1977, the song most likely to be heard at the end of championship games is Queen's anthem "We Are the Champions." The flip side of that record is maybe the most played during the season – accented by its rhythmic two stomps and a clap – "We Will Rock You." And sometimes as a team is eliminated in the playoffs, it will be Queen's "Another One Bites the Dust."]
[Queen Puppet Trivia: Rita and I liked the Broadway show Avenue Q so much that we went back a few years later to see it again. It is a musical that features puppets alongside adult actors (seriously, it works). After the Muppets did the cover of "Bohemian Rhapsody," the two creators of Avenue Q were inspired to enlist their puppets to produce "We Will Rock Q" – a parody of "We Will Rock You" and "We Are the Champions." Click here (6:06). Robert Lopez, one of the Avenue Q writers, later teamed up with the creators of South Park to produce another hit Broadway show, Book of Mormon.]