Rita and I were in Phoenix last week to visit friends of long standing, Larry and Diana Brewer. Di has been my friend since before high school and Larry was my Sigma Nu fraternity brother at college. I introduced them and most of the time they thank me. Di and I also had lunch with fellow 1959 Van Horn grad Jan Clemens, another Arizona transplant from KC. Long ago, I danced at teen-town with Di and Jan. To Chuck Berry. When those songs were originally released. This past weekend, Chuck Berry died at the age of 90. So I just have to take a break from baseball posting and talk about Chuck. I'll be back soon to talk about the Royals free agents and TV money in baseball.
Lonnie's Jukebox: I have written about Chuck Berry in the past, including wishing him a happy 90th birthday in Hot Stove #27. But my deep dive into Chuck was in 2009 when I put together a teenage memoir for the 50th reunion of the Van Horn class of 1959. In a stroke of lucky timing, my high school years matched up with the birth of rock 'n' roll. My classmates and I were part of the teenage generation that heard the records of Chuck Berry and other rock pioneers as they were first being released. My memoir is organized as a playlist of rock 'n' roll hits from 1954 to 1959. I call it "Lonnie's Jukebox" (click here for those with time on their hands). For this Hot Stove post, I will fill out my Chuck Berry story through a playlist of some of his hits.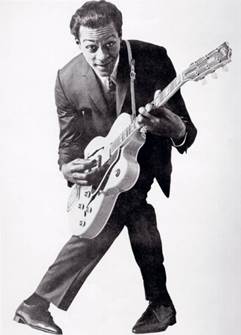 "Maybellene" (1955): The year was 1955. Big year for me.
April 12: I cut school with my 8th grade friend Jay DeSimone to see the first major league game in Kansas City. The A's had moved from Philadelphia. I still have my ticket stub.
August 20: Chuck Berry released his first record, Maybellene, and I soon bought my 45-rpm vinyl copy. I still have my record.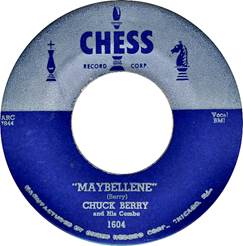 There were some whispers of rock 'n' roll before Maybellene. Bill Haley and the Comets had covered Big Joe Turner's rhythm and blues hit Shake Rattle and Roll and also hit it big with Rock Around the Clock. Fat's Domino's first hit on the pop charts, Ain't That a Shame, was released a month before Maybellene. Our parents noticed the difference. Bill Haley was safely white. The Fats' hit was more of a ballad with some New Orleans flavor. Chuck was raw and rocking with a hint of the "race" music heard on black radio stations. Chuck was drawing on the R&B genre that had led to what many say is the first true rock 'n' roll song, Rocket 88 by Jackie Brenston, cut in 1951 at Sam Phillips' Sun Studio in Memphis. The record was distributed through Chess Records, and it became a #1 hit on the R&B (black) charts, but did not appear on the pop (white) charts. In a slow process, some songs on the R&B charts started crossing over, and an early example was Maybellene which went to #5 on the pop charts. On a parallel track, white artists were combining rhythm and blues with other genres to join the coming rock 'n' roll explosion. The best example was Elvis Presley who Sam Phillips was mentoring at Sun Records. Change was in the air (and over the air).
Chuck took his song "Ida May" to Phil and Leonard Chess at Chess Records in Chicago, the same label that had distributed Rocket 88. Chuck stayed with Chess for most of his recording career. Chess was known for its promotion of black artists to black fans, but understood that Chuck was looking for a bigger audience. The first thing the Chess brothers did was to tell him to change the name of the song. Turned out to be good advice. Somehow Ida May does not fit with "As I was motivatin' over the hill/I saw Maybellene in a Coup de Ville/A Cadillac arollin' on the open road/Nothin' will outrun my V8 Ford/The Cadillac doin' bout ninety-five/She's bumper to bumper, rollin' side by side/Maybellene." Chuck loved twisting the language as he did with motavatin'. As he explained in his autobiography, he liked to "compete with Noah Webster."
The crossover of black artists to the pop charts was against all odds. Jackie Robinson broke the color line in baseball in 1947, but there were still very few blacks in the major leagues. Brown v. Board was decided in 1954, but integration of the schools was moving at a glacial pace. The Civil Rights acts were years away. Rosa Parks was arrested on December 1, 1955, for refusing to give up her seat on a bus. When I went to downtown KC, I had to get my dime store hot dog at the "Whites Only" counter. But there was something that the adults could not segregate and keep away from teenagers: records and the radio. When WHB would only play Pat Boone's lame Tutti Frutti cover, we just changed the dial to KUDL to get Little Richard's original.
Rolling Stone also credits Maybellene with another groundbreaking contribution to the genre: "Rock & roll guitar starts here." More on that below.
"Roll Over Beethoven" (1956): Chuck Berry announced to the world (and specifically two classical composers) that he's got a rockin' rhythm record he wants his jockey to play, the jukebox's blowin' a fuse and the music (Chuck's) will never stop. "Roll over Beethoven and dig these rhythm and blues." Just another example of his legendary songwriting. Bob Dylan calls him the Shakespeare of rock 'n' roll. In 2012, the prestigious PEN organization established a new literary award category for song lyrics. The inaugural awards went to Leonard Cohen and Chuck Berry. The speakers for Berry's award were Paul Simon and Keith Richards. Leonard Cohen's response on the award, "The thing I like about the award is that I'm sharing it with Chuck Berry. 'Roll Over Beethoven and tell Tchaikovsky the news.' I'd like to write a line like that." The photo below is from the PEN event (Paul, Leonard, Keith, Chuck).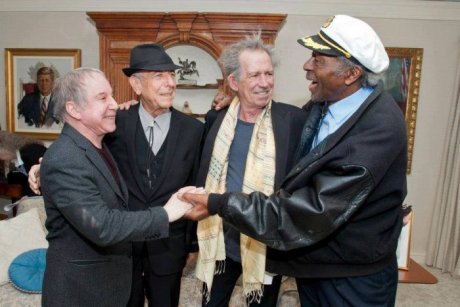 "Brown Eyed Handsome Man" (1956): Berry was sensitive to the slights of minorities, both blacks and Hispanics. On a California tour, he noticed that there were not many blue eyes in the audience. He adopted "brown eyes" as a code word for minorities and wrote about the Brown Eyed Handsome Man who women for centuries have wanted. Some thought the lyrics slyly suggested that white women were among the suitors. If it had that meaning, it did not hold as it was later covered by the likes of Buddy Holly, Waylon Jennings and Paul McCartney.
The last verse goes in a different direction – to baseball. "Two, three count with nobody on/He hit a high fly into the stand/Rounding third he was headed for home/It was a brown eyed handsome man/That won the game/It was a brown eyed handsome man." Some have speculated the Chuck was referring to Jackie Robinson. John Fogerty's 1985 homage to baseball, Centerfield, borrowed two of Chuck's lines in the opening verse ("A-roundin' third and headed for home/It's a brown eyed handsome man."). Fogerty definitely was referring to Jackie – his video of historic clips in the music video shows Jackie as those lines are sung.
"School Day (Ring! Ring! Goes The Bell)" (1957): Chuck knew how to speak to teenagers. Cars, romance, school, rock 'n' roll. When you heard the opening riff on this record, you knew what was coming, "Up in the morning and out to school/The teacher is teaching the Golden Rule/American history and practical math/You study 'em hard and hopin' to pass/Workin' your fingers right down to the bone/And the guy behind you won't leave you alone…Ring, ring goes the bell…Soon as three o'clock rolls around/You finally lay your burden down." But it was the final chorus that turned this song into a rock 'n' roll anthem:
Hail, hail rock 'n' roll
Deliver me from the days of old
Long live rock 'n' roll
The beat of the drum is loud and bold
Rock rock rock 'n' roll
The feelin' is there body and soul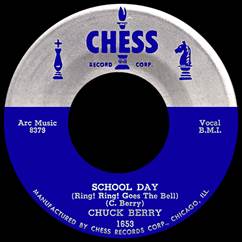 Hail! Hail! Rock and Roll is the title of a documentary of two 1986 concerts performed by Berry in celebration of his 60th birthday. Mick Jagger was one of the producers and played as part of Berry's backup band.
"Rock and Roll Music (1957): The title kind of tells it all, but I will quote one line, "It's gotta be rock 'n' roll music/If you wanna dance with me."
"Sweet Little Sixteen" (1958): I was 16 when this song was released, and you might say it spoke to me. "Sweet little sixteen/She's got the grown up blues/Tight dresses and lipstick/She's sportin' high heel shoes…Way out in St. Louis/Way down in New Orleans/All the cats want to dance with/Sweet little sixteen."
The song also spoke to Brian Wilson of the Beach Boys. In 1963, he took the melody, substituted similar lyrics and released Surfin' U.S.A. Berry's publisher objected and Wilson reassigned all songwriter credit to Chuck.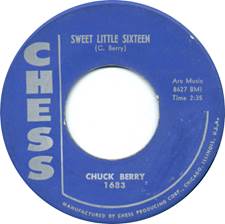 "Reelin' and Rockin'" (1958): This was the B-side of Sweet Little Sixteen. In January of 1993, Rita and I saw Chuck perform it live at a gala that was part of President Clinton's Inaugural. Berry revised some of the words to refer to Clinton's election. The video of the performance also includes Little Richard and shows VP Al Gore in the audience trying to clap on time. (click here, 3:50).
"Johnny B. Goode" (1958): This semi-autobiographical song tells the story of a "country boy" who seeks to move from rags to riches by playing a guitar "just like ringin' a bell." The original reference was "colored boy," but the savvy Berry, as always, wanted crossover sales to white fans. The spelling of "Goode" comes from the name of a street in Berry's hometown of St. Louis, and he cleverly uses wordplay that leads you to think he is telling Johnny to be "good".
One of Berry's biggest fans was John Lennon who famously said "If you had to give rock 'n' roll another name, you might call it Chuck Berry." In 1970, Lennon wrote that "Chuck Berry is one of the all-time great poets, a rock poet you could call him. He was well advanced of his time lyric-wise. In the Fifties, when people were virtually singing about nothing, Chuck Berry was writing social-comment songs, with incredible meter to the lyrics. We all owe a lot to him." The two sang Johnny B. Goode on the Mike Douglas Show in 1972 – duck walk included. (click here, 3:21).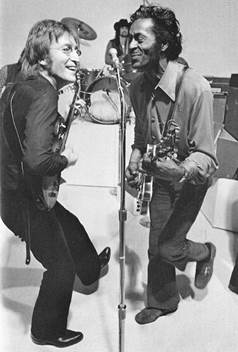 In the movie Back to the Future, Marty McFly (Michael J. Fox) is transported back from 1985 to November 5, 1955. Marty goes to a high school dance attended by his future parents who are in the crowd and dancing to a black band, Marvin Berry and the Starlighters. Marty joins the band on stage and announces that he is going to sing an "oldie" and breaks out with Johnny B. Goode (a song that would not be released until 1958, but Marty knows from his life in 1985). Marty's rendition impresses Marvin Berry who runs to call his cousin Chuck and holds up the phone so Chuck can hear "that new sound you're looking for." Director Robert Zemeckis was going to cut the sequence because he thought it did not advance the story, but the preview audience loved it, so it stayed in and Michael J. Fox joined Elvis, the Beatles, the Rolling Stones and so many others who have covered Chuck Berry. Neither the guitar playing nor the voice actually come from Fox, but he does a pretty good duck walk (click here, 3:15).
"You Never Can Tell" (1964): This song came after my high school years and I can't say I recall it from that time. But thirty years later, it was used in an unforgettable scene in the movie Pulp Fiction. John Travolta and Uma Thurman are at a club and enter a twist contest. Classic. (click here, 3:17). Watch it for the dance and then play it again to listen to Berry's exquisite lyrics.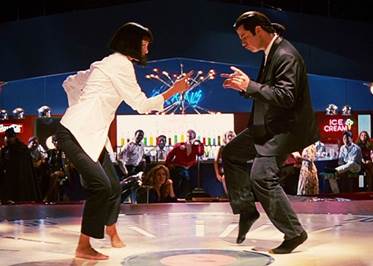 Legend and Influence: Chuck Berry was his own man. Often to a fault. He had a checkered personal life and landed in jail two times. He was embittered by the racism he encountered and the cheating that occurred when it came time to collect his royalties. The good news for us is that it did not keep him from making great music.
I have seven Chuck Berry records in my 45-rpm vinyl collection from my teenage days. I have never been able to part with them. They have no great money value – they were played so many times and are full of scratches, pops and hisses. Pure nostalgia. As I looked through my 200 plus records while working on this post, I did a rough count, and about half are by black artists. Chuck, Fats, Little Richard, the Platters, the Coasters. Plenty of great white rockers too. Bill Haley, Elvis Presley, Buddy Holly, the Everly Brothers. That's one of the main stories of the birth of rock 'n' roll, but the teenagers of the 50's were not making some civil rights statement. Most just gravitated to the sound and the beat – and the storytelling by artists like Chuck Berry. In less than three minutes, Chuck could describe a whole school day. Or "motivatin" to chase a cheating girl friend named Maybellene. Extolling the charms of a sweet 16-year old girl. And of course how to dance to rock 'n' roll.
However unwitting our teenage contribution might have been, the integration of music should be given some credit for the advancement of civil rights. Just like in baseball, it brought people together. The road remained bumpy, but it was a forward move. While Jackie Robinson was quietly leading while swinging a bat, Chuck Berry was wailing and swinging his guitar.
Chuck's lyrics were equaled by his musicianship. Many artists were part of the birth of rock 'n' roll, but Chuck stands out for making the guitar the primary instrument of the genre. Little Richard, Fats Domino and Jerry Lee Lewis were piano men, but it was hard to carry around a piano or fit it on a small stage in a club on tour. As Chuck said in Johnny B. Goode, "He used to carry his guitar in a gunny sack/Go sit beneath the tree by the railroad track." Can't do that with a piano. Bill Haley, Elvis Presley and Buddy Holly moved over from their country roots with guitars, but none played with the virtuosity of Chuck Berry. Ask Keith Richards. Bruce Springsteen. Almost any of the later guitar greats. Chuck's riffs are part of the repertoire of any student of the guitar.
Chuck also matched up with Elvis Presley and Little Richard on showmanship. His guitar moves and patented duck walk wowed fans for over 50 years. His last performance was on his 88th birthday.
When the Voyager spacecraft was launched in 1977, the time capsule included 27 music selections to share with extraterrestrial beings that Voyager might encounter. The cuts are mostly classical and international, but Carl Sagan's committee made room for one rock 'n' roll tune – Johnny B. Goode. This was controversial as some claimed that rock music was adolescent, to which Sagan responded "There are a lot of adolescents on the planet." There are two selections by Beethoven, but none by Tchaikovsky. So when Ludwig rolls over on the Voyager, he will need to tell Mozart the news. In 1978, Saturday Night Live spoofed the Voyager music, and Steve Martin played a psychic who predicted a 4-word message from the aliens. The mock cover of Time read "Send More Chuck Berry." Amen.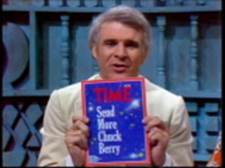 Returning to Earth, a message from one Brown Eyed Handsome Man to another:
Barack Obama (@BarackObama)
3/19/17, 10:51 AM

Chuck Berry rolled over everyone who came before him – and turned up everyone who came after. We'll miss you, Chuck. Be good.
Hail, Hail Chuck Berry!