As you ponder who will start at second base for the Royals, I have a book to recommend plus some thoughts on the Oscars.
Wait Till Next Year: A personal memoir by Doris Kearns Goodwin, one of my favorite storytellers. She is best known as a presidential historian with books on Lyndon Johnson, the Kennedys, the Roosevelts and Abraham Lincoln (Team of Rivals). I have had the good fortune to see her twice in person – at a Rainy Day Books event and at a law firm retreat. As a raconteur, she is mesmerizing. Rita was recently browsing through our stacks of books and found a gem that we had not read, that rare Goodwin book not about a president. It is about growing up as a baseball fan. I don't how we missed reading this earlier – it was published in 1997. Our assessment: Great Book!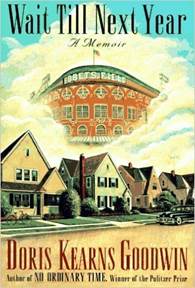 Goodwin grew up in Long Island where baseball loyalties were divided among Yankee, Dodger and Giant fans. Her father was an avid Dodger fan who as a boy attended the first game at Ebbets Field in 1913. The Dodgers saw some success with pennants in 1916, 1920, 1941 and 1947 (Jackie Robinson's first season), but they lost the World Series each time.
In 1949, six-year old Doris started her immersion into baseball when her father gave her a bright red scorebook. "Night after night he taught me the odd collection of symbols, numbers, and letters that enable a baseball lover to record every action of the game…By the time I had mastered the art of scorekeeping, a lasting bond had been forged among my father, baseball, and me." That summer, she listened to sportscaster Red Barber on her Philco radio and recorded every play using her father's scoring system. When her father came home from work, she got out her scorebook and recounted the game for him, play-by-play. A storyteller was born.
The 1949 season was a good time for her to start. The Dodgers won the pennant. Doris made her debut trip to Ebbets Field that summer and witnessed another first – the first black pitcher and batter to face each other in a game (Don Newcombe pitching to Hank Thompson of the Giants). She also learned the agony of defeat. The hated Yankees won the World Series. In 1950, Vin Scully joined Red Barber in the broadcast booth. What a way to listen to baseball. Vin stayed for another 66 years.
In 1951, the Dodgers were on their way to a pennant when they collapsed and were forced into a three-game playoff with the Giants that ended with Bobby Thomson's walk-off homer. Doris was watching the game on TV and remembers the "never-to-be-forgotten" voice of announcer Russ Hodges repeatedly shouting that the Giants had won the pennant. "I threw down my scorebook, the last page never to be completed…It was the worst moment in my life as a fan, worse even than any loss to the Yankees in the World Series."
Not that it was fun to lose to the Yankees. The Dodgers came back to win pennants in 1952 and 1953, only to lose the Series to the Yankees – for the fifth time in a row dating back to 1941. This brought the all-time Dodgers record in the World Series to 0 and 7. By then, the long suffering fans had adopted the slogan "WAIT TILL NEXT YEAR." Hence, the title of Goodwin's book. Even with the Dodger heartbreaks, she knows it was a golden era for a baseball fan in New York.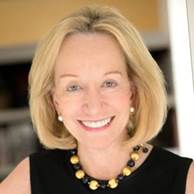 "For all of us, the love was personal and familiar. We spent hours arguing about whether Duke Snider, Willie Mays, or Mickey Mantle was the best center fielder. The handsome smooth-fielding Duke Snider was the most consistent home-run hitter of the three, but Mays had a balletic grace and joyful fury, while the switch-hitting Mantle had the greatest raw power and speed. Who was the best announcer: Russ Hodges, Mel Allen or Red Barber? Who was the better catcher: Roy Campanella, steady behind the plate, unequaled in calling pitches, but a streaky hitter, or the short-armed swarthy Yogi Berra, the most dangerous hitter in baseball in late innings? Was Pee Wee Reese, the "Little Colonel," who held the Dodgers together, a better shortstop than Phil Rizzuto, who led the American League in fielding? And which team had a better double-play combination: the Dodgers with Reese and Robinson, or the Giants with Alvin Dark and Eddie Stanky, whom we called "Eddie Stinky"? For support, we each mustered our own statistics and anecdotes. We carried out our arguments on the street and, and in the corner stores, and in each other's homes. If no minds were changed, we took great pleasure in our endless debates and our shared love for the sport."
In 1955, the Dodgers led the National League every day of the season. Doris went to a game with her dad in July and Jackie Robinson signed her autograph book ("Keep your smile a long, long while. Jackie Robinson."). After winning the pennant, the Dodgers were again facing the dreaded Yankees. But this time, "Dem Bums" won the World Series. Doris was in school, but got home in time to see Johnny Podres complete his shutout to give the Dodgers their first-ever World Series victory.
The front page headline said it all: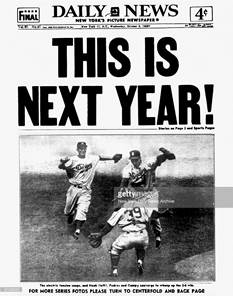 The celebration was short lived. The 1955 World Series would be both the first and last won by the Brooklyn Dodgers. They returned to the Series in 1956, but the Yankees got their revenge, including Don Larsen pitching his perfect game. The Dodgers played only one more season at Ebbets Field before Walter O'Malley moved the team to Los Angeles. The Goodwin family baseball loyalty did not transfer to La La Land. Years later, while working on her doctorate at Harvard, Doris went to a game at Fenway Park and found a new team to love. But the Red Sox had a familiar flaw – they could not seem to win a World Series. "Nor could I have found a team more reminiscent of the Brooklyn Dodgers than my new team, the Boston Red Sox. Perpetual bridesmaids, exciters of hope and destroyers of dreams."
Boston's last win in the World Series had been in 1918 when pitcher Babe Ruth won two games for the Sox. Ruth was traded to the Yankees after the 1919 season, and the Curse of the Bambino began its run in Boston. Goodwin saw her Red Sox win pennants in 1967, 1975 and 1986, only to lose the World Series each time. She ends her book with the 1986 Series loss that is famously remembered for the easy grounder that went through Bill Buckner's legs. By then, she was taking her sons to the games and had taught them how to keep score. She watched the end of that Series with her sons: "As I sat in front of the television set in tears after the Sox lost the final game, my two youngest boys rushed to console me. 'Don't worry, Mom, they'll win next season'." You know, wait till next year.
[She waited through 18 more next years. Finally, in 2004, "This is Next Year" came for the Red Sox and they won their first World Series since 1918. To prove it was not a fluke, they repeated in 2007 and 2013.]
Telluride and the Oscars: The big news this past Sunday night was the fiasco at the end of the Academy Awards. For Rita and me, it served as a fitting end to our Telluride movie year. Our reviews from Telluride 2016 are here. Our friend Molly Ellison was joining us at Telluride, and on her connecting flight from Salt Lake City, her seatmate was Faye Dunaway. Now hold that thought.
Telluride has 10 theatres, and the major movies will show four or five times over the 4-day festival. At our first film of the weekend on Friday night, director Barry Jenkins informed us that we were the world premiere audience for his film Moonlight. The next morning, we saw a tribute to Casey Affleck and then his new movie, Manchester By the Sea. On Monday, after hearing a lot of buzz from earlier showings at the festival, we saw La La Land. When we left the festival, Rita was touting Manchester as best picture and I hedged toward Moonlight. But we both knew that the dark themes of those movies might be overtaken by something like La La Land, a movie about Hollywood that would appeal to Oscar voters.
And then six months went by. Lots of other movies came out. Although Telluride has had a good track record for previewing best picture movies, it would be odd for the top three at Telluride to still be the top three going into the Academy Awards. But the trifecta held up, and it was like watching a 3-way boxing match. The first punch was thrown by Moonlight when Mahershala Ali was named best supporting actor. La La Land scored well in the middle rounds, picking up four Oscars. Then it was time for the six final and most prestigious awards. Manchester scored big as it beat out La La Land for best screenplay. Moonlight parried with best adapted screenplay. La La Land came back strong by winning best director. Manchester then took a big round with Casey Affleck winning best actor. La La Land countered with Emma Stone as best actress. And then the knockout came.
Faye Dunaway, our two-degrees-of-separation friend from Telluride, came onstage with Warren Beatty – the connection being that their film Bonnie and Clyde was released 50 years ago. After Warren appeared slow to act, Faye jumped in to announce that La La Land had won Best Picture. And then…the Academy Awards of 2017 had a final scene much like their 1967 movie, but this time Bonnie and Clyde were innocent: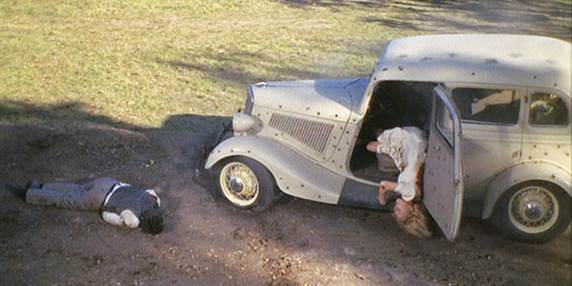 I am so glad we did not turn off the TV as the La La Land folks were wrapping up their acceptance speeches. Their turnover of the stage to the Moonlight team was handled most graciously. Rita and I could not have been happier for Moonlight's Barry Jenkins who worked for many years as a volunteer at the Telluride Film Festival, all the while learning about movies and honing his skills as a writer and director. What a wonderful payoff.
I like this shot of the celebrities as they learn that Moonlight has replaced La La Land as the winner. Reminds me of the Mets fans behind home plate when Hosmer made his mad dash for home in Game 5 in 2015.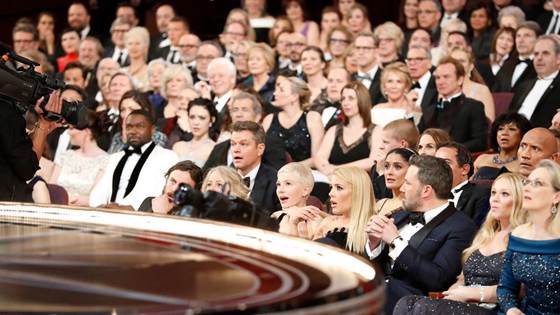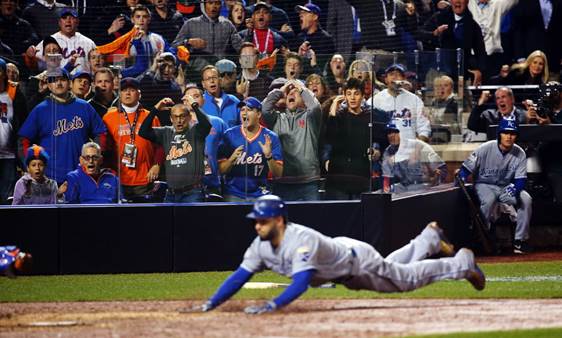 [By the numbers: Moonlight cost $1.5 million to produce and has a current domestic gross of $22.3 million. Manchester By the Sea, $8.5/$46.9. La La Land, $30/$140.]
The Baseball Oscars: Sportswriter Joe Posnanski has a parallel set of awards that he calls the Azocars – named after Oscar Azocar, an outfielder and pinch-hitter in the early 1990's. In what Joe admits is a flimsy connection, he likens "Best Pitcher" to "Best Picture." Some of the other categories are Director (Manager), Production Design (Management, Dayton Moore being a nominee), Actor and Supporting Actor (Players), Cinematography (Stadium Design), Original Score (Ballpark Music) and Animated Feature (Mascots).
See Joe's movie-savvy comments and the full list of nominees and winners by clicking here.