The baseball season is winding down, the playoffs are coming, and new MLB rules have been announced for 2023 (pitch clock, limited shifts and bigger bases).
I'll get to some of that in Hot Stove #202. But first…
Over Labor Day Weekend, Rita and I watched 14 films at the Telluride Film Festival. Or as described by Rita, we participated in "The Sport of Extreme Sitting" in the San Juan Mountains.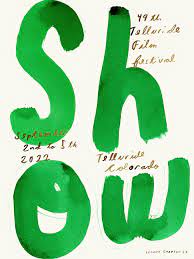 Getting Ready for "The Show": As is our custom, we arrived on Tuesday to get acclimated to the altitude before the festival opened on Friday. We stay in Mountain Village (altitude of 9,547') where we see most of our films at the 500-seat Chuck Jones Theater. The other eight venues are in downtown Telluride (about 2,500 seats). We venture into Telluride (8,750') by taking a 12-minute gondola ride over the mountain peak (10,540'). Below, Rita in the gondola during our descent into Telluride.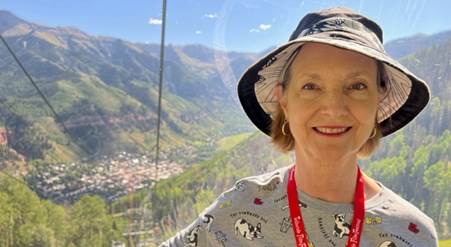 And then in town…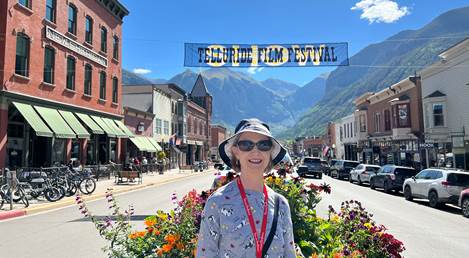 On Wednesday night, we met up at sunset with Telluride regulars Jan Hodgson (left below) and Kay Wallick. Fun fact: 48 years ago, the four of us worked together on the successful campaign to elect Mike White as county executive.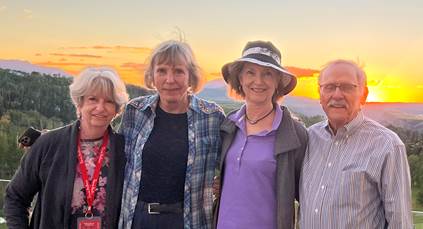 On Thursday, we picked up our programs. Telluride famously does not announce the movies that will be shown until the day before the festival.
On Friday, as has been our tradition for several years, we had lunch with Fran and Myron Kaminsky who come to the festival from Savannah, Georgia. We met them through our mutual friends Rich (RIP) and Molly Ellison. Rich and Molly attended the festival with Myron and Fran several years before Rita and I started going.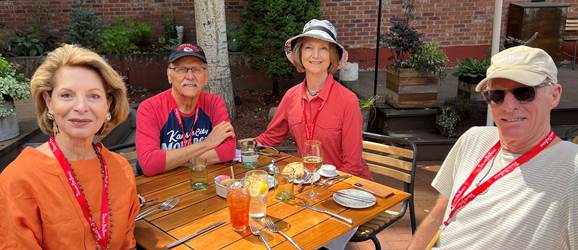 The four of us left lunch and rode the gondola back to Mountain Village to see our first screening at the festival…
The U.S. and the Holocaust: Ken Burns has been a regular at Telluride and is one of the festival's major sponsors. He has previewed many of his documentary series by screening an episode at Telluride before the full series is aired on PBS. In recent years, this has included his documentaries on Muhammad Ali and the Viet Nam War. Back in 1994, he presented his baseball series and shared the stage with Buck O'Neil (photo below by Jan Hodgson who you saw in the sunset photo above). Jan is still taking photos at the festival, and she has a knack for getting in position for good shots. She kindly lets me use them for Hot Stove. Most of the photos below of actors and directors on the stage are by her. Thank you Jan.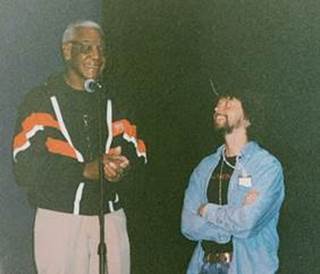 This year, Burns was scheduled to personally introduce the opening episode of his new series, The U.S. and the Holocaust. Unfortunately, he was unable to attend because he was ill and had a death in the family.
Burns' new series looks at the Holocaust from the perspective of what the U.S. did – and did not do – when Jews were fleeing Europe because of Nazi atrocities. Burns: "American institutions and policies, like segregation and the brutal treatment of indigenous populations, were influential in Hitler's Germany. And it cannot be denied that, although we accepted more refugees than any other sovereign nation, America could have done so much more to help the millions of desperate people fleeing Nazi persecution." We thought the first episode was well done and plan to watch the other two. The series will air on PBS from September 18 to 20.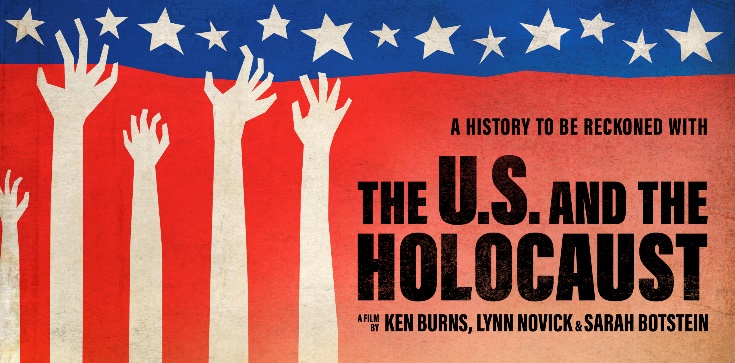 Telluride History – Best Picture – 2011 to 2021: Rita and I have been attending the festival since 2011. The excellent curators have brought the ultimate Oscar winner in all but two of those years. Here is the list of best films (listed by festival year; the Academy Awards ceremony is in the following year):
2011 – The Artist
2012 – Argo
2013 – 12 Years a Slave
2014 – Birdman
2015 – Spotlight
2016 – Moonlight
2017 – The Shape of Water
2018 – Green Book
2019 – Parasite
2020 – Nomadland
2021 – CODA
Green Book and CODA did not screen at Telluride. Nomadland was on the program for 2020, but the festival was cancelled because of Covid.
Telluride also screened the Oscar winner two of the three years before we started: Slumdog Millionaire (2008) and The King's Speech (2010).
Telluride in 2022: This year's program included five films that came to the festival with some buzz for best picture and/or best acting awards. From our viewing, the festival front runner for a best picture nomination was Women Talking. Bardo was disappointing (to us). The other three have a chance of netting acting awards for Olivia Colman (Empire of Light), Cate Blanchett (TÁR) and Bill Nighy (Living).
We thought the overall program this year was not as strong as previous years. We are admittedly spoiled by the Telluride track record. But there were still a lot of nuggets of enjoyment, and my breakdown of the ones Rita and I viewed will go like this:
TV Series (1, above)
Oscar Buzz (5)
Best Foreign Film (1)
Middle Interest (5)
Fun Favorites (2)
Women Talking: In 2009, several men were arrested for the rape and sexual assault of 151 women and girls within a Mennonite colony in Bolivia. A fictionalized account of the story is the subject of a 2018 novel (Women Talking) by Miriam Toews, and that novel was the basis for this movie. The movie is not set in Bolivia, but in an unidentified prairieland, and the religious sect is not named.
The director of Women Talking is Sarah Polley, and she was one of three honorees at the festival receiving a Silver Medallion to recognize outstanding contributions to cinema. These tributes include clips of prior films, an interview on stage and the screening of a new feature film. Below, Polley being interviewed by film critic John Horn. She was charming in the interview and provided insights on how she and producers Frances McDormand and Dede Gardner brought the story to the screen.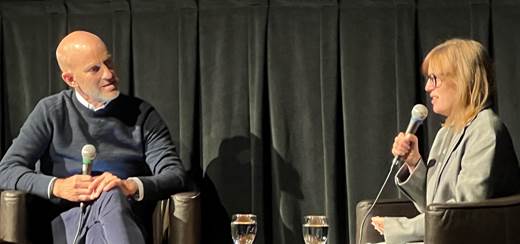 The film is set in a hayloft where nine women from three families in the colony gather over a 48-hour period to discuss their response to the assaults. They have three choices: Forgive the men (as desired by church elders), stay and fight, or leave the colony. I'm going to borrow from what Jan Hodgson wrote about the movie because I think she nicely captures the mood and meaning of the movie.
"They are a collection of illiterate, peace loving, angry, wise, and fierce mothers and daughters who are devoted to their faith and protecting themselves and their children, but compelled to question how best to move forward in light of the atrocities that the patriarchy is allowing them to suffer. The women's thoughtful and thought-provoking process of deliberation of the broad moral issues in their lives and their community is as timely as their ultimate decision is inspiring."
The actors include Rooney Mara (The Girl With the Dragon Tattoo), Claire Foy (The Crown), Jessie Buckley (The Lost Daughter) and Judith Ivey (Tony Award winner). There is one male character (Ben Whishaw, also very good) who takes the minutes of the meetings because the women are illiterate as is the custom in the colony. Producer/actress Frances McDormand has a small role.
With the ensemble cast, any nominations will likely be for best supporting roles. My personal bias favors Rooney Mara who we liked so much in Carol at the 2015 festival (co-starring with Cate Blanchett who also had a movie at Telluride this year).
Empire of Light: Sam Mendes (American Beauty and 1917) directed this film which is partially a nostalgic look at grand old theater palaces (the "Empire" in the title). It is set in the early 1980s on the southern coast of England, and movies showing in the theater include The Blues Brothers, Stir Crazy, Being There, Raging Bull and Chariots of Fire.
The story follows the employees of the theater and hits a lot of topics (probably too many), including racism, sexual harassment, schizophrenia and a May-December fling between leading lady Olivia Colman and young Black actor Michael Ward. Rita says Ward reminds her of a young Sidney Poitier.
I liked the movie, mostly because I like Olivia Colman, and there were many interesting moments. I don't think it rises to the level of a best picture nomination, although several critics think this film will have some support because Oscar voters like movies about movies. Some think otherwise, like the reviewer who said "This ode to movie theaters isn't worth seeing in one." Ouch.
Best bet for Empire of Light: Olivia Colman gets her fourth Oscar nomination in five years.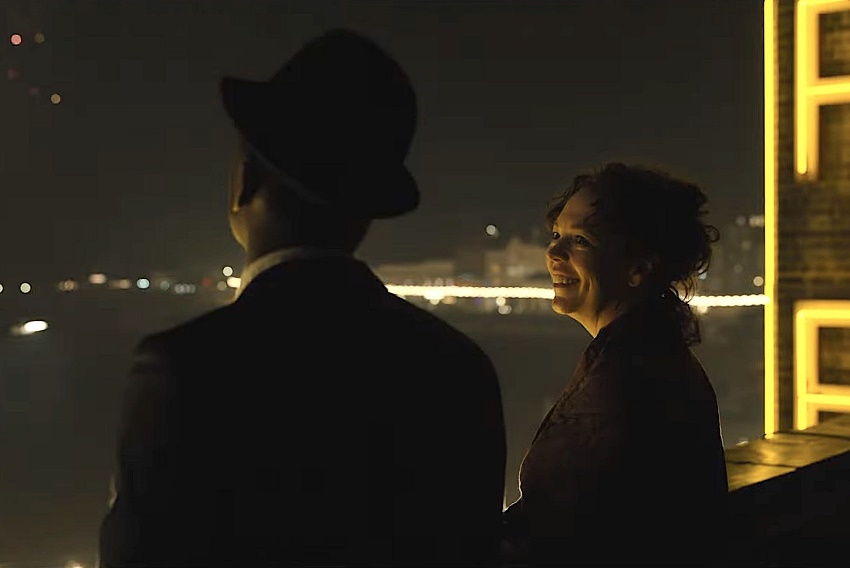 If the Academy wants to nominate a movie about movies, my guess is that it will be The Fabelmans which premiered this week at the Toronto Film Festival. Directed by Steven Spielberg, the film is a semi-autobiography about Sammy Fabelman, a young aspiring filmmaker based on Spielberg himself (trailer here).
Bardo: This movie comes with an outstanding pedigree. The director is Alejandro Gonzalez Inarritu who won best director Oscars in 2014 (Birdman) and 2015 (The Revenant). This is his first film since those two wins, and he was on hand to introduce Bardo to our screening (below). The full name of the film is BARDO, False Chronicle of a Handful of Truths, but the add-on will mostly be ignored. Just as it was for his Birdman which had an official title of Birdman or (The Unexpected Virtue of Ignorance).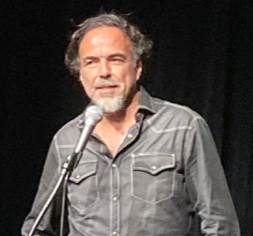 The protagonist of Bardo is a Mexican journalist who has found career fame after moving to the United States (similar to Inarritu, a Mexican who has found success in Hollywood). Unlike Birdman and The Revenant, this film is in Spanish and was filmed in Mexico, highlighting the issue of identity (still true to Mexico or not?). The movie is a mix of normal and surreal scenes, some good and some not (like the mountain of cadavers).
There may be a good two-hour movie within the three hours, but it's too hard to find. The common description from many critics: self-indulgent. Inarritu has been very defensive about the poor reviews after the film was screened in Venice and Telluride. Said it might be racism. Alas, it's the movie.
Netflix has bought the distribution rights, and so it will get a lot of exposure. I'll be curious to see how many watch the whole three hours at home.
TÁR: We first saw clips of Cate Blanchett's prior films as part of the Silver Medallion tribute. She was then interviewed on stage. She was terrific. No surprise.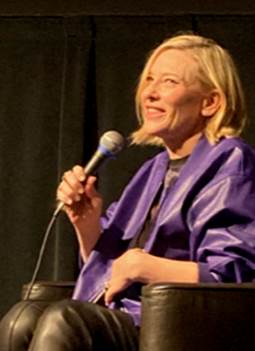 In her new movie, Blanchett plays Lydia Tár, the first female principal conductor of the Berlin Philharmonic. She is also an instructor at Julliard and author of a new book. We first meet her giving rapid-fire monologues about the history, performance and business of classical music. In another scene, Blanchett brilliantly plays Lydia teaching a master class at Julliard. Lydia is clearly in the upper echelon of the classical music world.
So we know there will be a fall. She believes her talent and power gives her the latitude to overreach, most notably in relationships with young females who work for her (Lydia refers to herself as a "U-Haul Lesbian"). Scandal ensues.
I'm not sure this movie rises to a best picture nomination, but Cate Blanchett's performance is Oscar-worthy. Keep this in mind when you see the film: She learned how to conduct, play the piano and speak German in preparation for the role. That's best actress territory.
Living: This film is adapted from a 1952 Japanese film (Ikiru) which in turn was inspired by the 1886 Russian novella The Death of Ivan Ilyich by Leo Tolstoy.
Don't let that scare you. This is an enjoyable film set in 1952 London. Bill Nighy plays a bureaucrat who runs a department that primarily pushes papers and gets little done. He starts questioning his purpose in life (and at work) when he is diagnosed with a fatal disease. Sweet events follow.
Nighy is getting buzz for a best actor nomination. He appeared at our screening (from left below, Nighy, director Oliver Hermanus and actress Aimee Lou Wood). Nighy said he was loving his first visit to the festival and quipped that he would be retiring in Telluride and buying a new hat and some oxygen.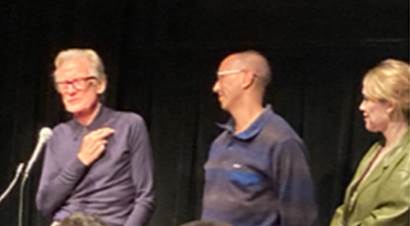 Close – Best Foreign Film: This is a French-speaking film out of Belgium. Two 13-year-old boys (Leo and Remi) are growing up as best friends, and their closeness gives off vibes to some classmates that they are gay (not necessarily true). This pushes the friends apart and leads to devastating consequences.
The movie is centered on Leo who is played Eden Dambrine. Director Lukas Dhont discovered Eden while riding a train. Eden was with a group of boys, and Dhont thought his look and mannerisms would be right for his movie. Eden is a ballet dancer, but had not acted before. Eden is excellent in the movie, and he was very composed in the Q&A at our screening (below, with Dhont).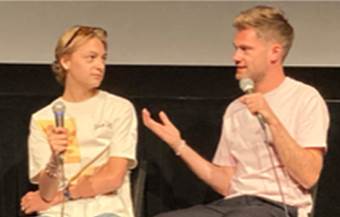 After we left the movie and got in line for the next show, Eden and Dhont walked by the crowd. Rita called out to say "you have a great future," and Dhont said "thank you." Rita said, "I meant him," motioning to Eden.
Five "Middle" Movies: We saw five movies that I put in the "middle" category. Each has interesting parts and good acting, but overall not to the level that I'm saying "you have to see this movie." Personal taste will determine.
Armageddon Time had some familiar faces. Anthony Hopkins, Anne Hathaway and Jeremy Strong (from Succession) are all part of a family that has a wayward teenager causing issues.
One Fine Morning is a French film with a nice lead performance by Lea Seydoux, a single mother who also cares for her father who is suffering from dementia.
The Wonder stars Florence Pugh (Little Women) who is a nurse brought in to observe a "miracle child" who can reportedly function without eating. Coincidentally, Pugh is also starring in Olivia Wilde's new movie (Don't Worry Darling) that was screening in Venice the same week as Pugh's movie at Telluride. The gossip out of Venice was how Florence and Olivia are not speaking to each other, giving that movie lots of publicity.
My Name is Alfred Hitchcock is directed by Silver Medallion honoree Mark Cousins, a prolific documentarian. We first saw clips from his prior work, and he was then interviewed. He was opinionated and hilarious. His new film is a good documentary that dissects all 52 Hitchcock films to show how certain themes are often repeated (escape, desire, time, etc.).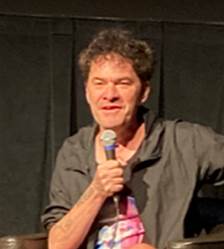 Broker is a South Korean film by Japanese director Hirokazu Kore Eda. Two con men steal abandoned babies left at a church's "baby box" and then sell them to adoptive parents who they believe will be good parents. Their latest theft is a baby left by a prostitute, and the circle of people involved in the plot grows to a group that becomes attached to the newborn. The lead actor is Song Kang-ho who is well known in Telluride for his performance as the patriarch of the crazy family in Oscar-winner Parasite which screened at Telluride in 2019. The Q&A at our screening was interesting as Eda had a Japanese interpreter (left) and Kang-ho had a Korean interpreter.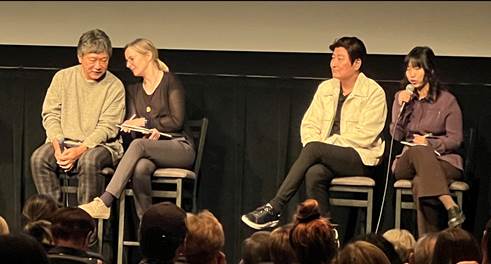 Fun Movie #1 – Lady Chatterley's Lover: As you might guess from the movies above, there were not many laugh-out-loud moments. On the first three screenings on Friday, we had covered the Holocaust, dementia and a dying child. The fourth show started at 10:15, and sometimes we decide not to stay up to midnight. But we were hoping for something light – and we got it. And enjoyed it.
I have never read D.H. Lawrence's often-banned book, first published in 1928. But I'm guessing this movie is true to the book – to describe it as bawdy might be an understatement. It was directed by Laure de Clemont-Tonnerre, and she introduced the film at our screening which was the world premiere.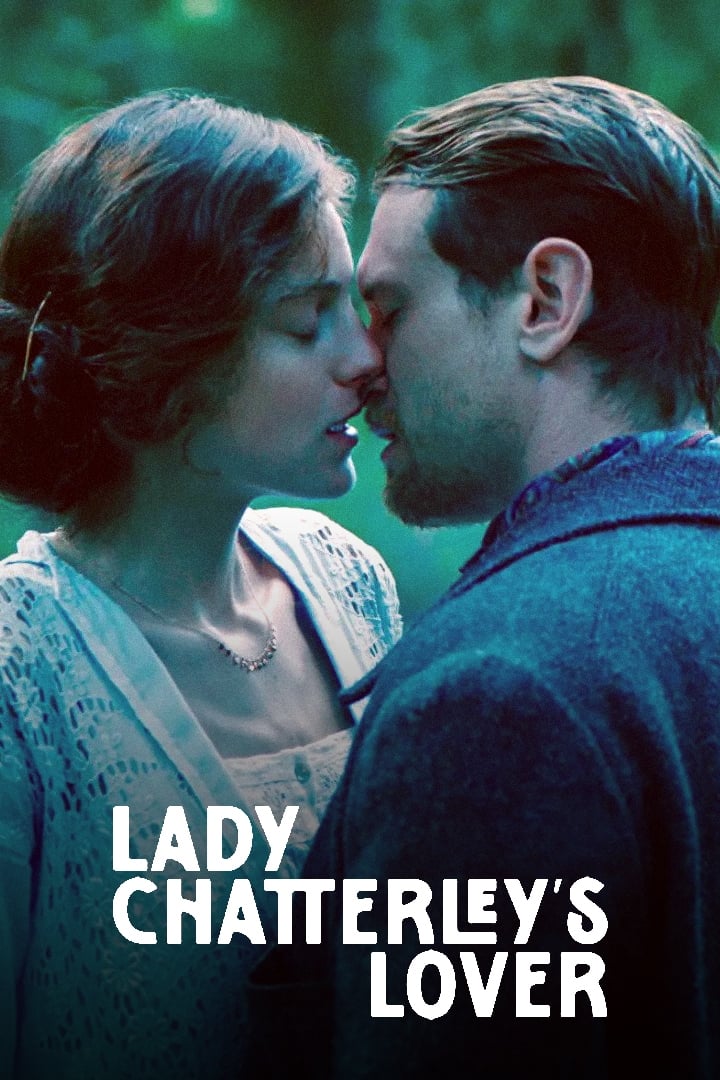 Lady Chatterley is isolated at the country estate of Lord Chatterley whose war injury has left him unable to father a child. He suggests that Lady Chatterley find a surrogate father so that the family can have an heir. He means some "gentleman" of breeding like the Lord, but Lady Chatterley instead takes up with the gamekeeper for the estate. And we see all of it in detail and often (oh my, the rain scene). She becomes pregnant, but the Lord is not happy when he learns the identity of the father. Scandal ensues.
Lady Chatterley is played by Emma Corrin who played Princess Diana in The Crown. She is very watchable, with and without clothes.
This is a Netflix film and should be streaming (steaming?) by the end of the year. The other reason we appreciate Netflix is that they provide free popcorn, candy and pop for all showings at the Chuck Jones Theater.
Fun Movie #2 – If These Walls Could Sing: The Beatles famously did most of their recording in Studio Two of EMI Recording Studios located at 3 Abbey Road in London. What I did not know until I saw this movie is that the studios predated the Beatles by over 30 years, opening in 1931. The studios are still busy today, celebrating nine decades in recording music.
This documentary covers the history of the studios and includes interviews with many of the artists who performed there. The film is directed by Mary McCartney, daughter of Paul and Linda McCartney. Her personal history is intertwined with the studios – most songs by the Beatles and Wings were recorded there. An early photo in the film shows Mary McCartney as a baby crawling on a rug in the studios. Her father has a major presence in the film, but there are many other all-stars of music, including Elton John, Jimmy Page (Led Zeppelin), John Williams, Ringo, Roger Waters (Pink Floyd) and the Hollies. Further details will be found in Lonnie's Jukebox below.
McCartney was delightful in her Q&A after the movie.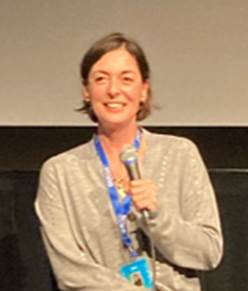 Lonnie and Rita: Two thumbs way up. This is a Disney+ movie and I assume will be streaming soon.
The Last Night: We did not go to the two evening movies on Labor Day night. They were both documentaries, Retrograde, about the last months of the Afghan war, and A Compassionate Spy, about Ted Hall, a Manhattan Project team member who shared secrets with the Soviet Union in the hope that it would promote nuclear deterrence. Telluride stalwarts Susan and Sally Stanton told us that Retrograde was excellent, and A Compassionate Spy had some flaws, but told an interesting back story of Hall never being prosecuted while Julius and Ethel Rosenberg were executed. The sisters Stanton can be relied upon. Sally has been to 18 Telluride festivals, and Susan is the likely KC record holder at 27 festivals. Below, Susan (left) and Sally in line at the Chuck Jones Theater.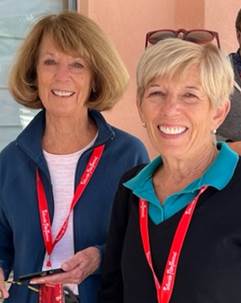 Rita and I instead dined at the bar at Allred's Restaurant adjacent to the gondola station at the top of the peak (the one at 10,540'). The view is of the town of Telluride and was a pleasant way to say goodbye to the festival for this year.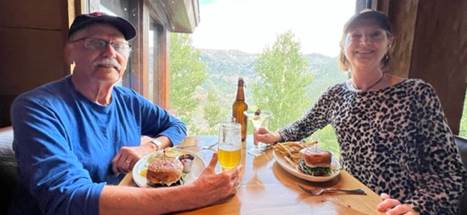 We plan to be back for next year. It will be the 50th year of the festival and should be quite the celebration.
Lonnie's Jukebox – EMI/Abbey Road Studios Edition: As I was watching If These Walls Could Sing, the Lonnie's Jukebox for this post started forming in my head. It was almost too easy. Let's start with the very first recording at EMI Recording Studios in November of 1931.
"Pomp and Circumstance" by Edward Elgar conducting the London Symphony (1931). Coincidentally, Elgar's "Cello Concerto" was part of a story line in Cate Blanchett's movie TÁR. I had never heard of Elgar (it's not rock 'n' roll), and I got him twice in one festival.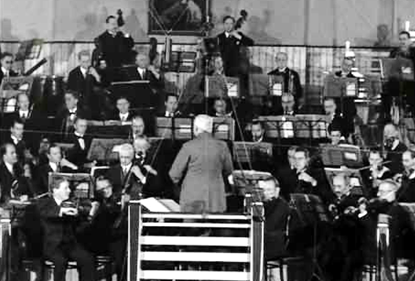 EMI was initially set up for the stable of classical artists that recorded on EMI Records. Studio One is large enough for a 120-member orchestra. Two smaller studios were available, and in the early years were used largely by big bands playing jazz and swing and smaller chamber ensembles, plus a lot of comedy recordings. In the late 1950s, Studio Two became the home of EMI's rock 'n' roll acts in the UK, beginning with Cliff Richard…
"Move It" by Cliff Richard and the Shadows (1958). Cliff Richard was the biggest UK pop star in the pre-Beatles era. Born with the name Harry Webb, he became Cliff Richard, taking his new last name from his hero Little Richard. "Move It" was his debut single and is credited by many (including John Lennon) with being the first rock 'n' roll record produced outside the United States.
"Love Me Do" by the Beatles (their debut record, 1962). The Beatles signed with EMI Records in 1962 and were paired with producer George Martin. A perfect match. Starting with "Love Me Do," the Beatles would record 90% of their material in Studio Two. Our screening of the documentary at Telluride was on September 4, and Mary McCartney informed us that it was the 60th anniversary of this recording (9/4/62).
"Goldfinger" by Shirley Bassey with the John Barry Orchestra (1964). This was the first of a number of Bond title themes recorded at EMI. As the story is told in the documentary, Basse was singing while watching a screen that had the start of the movie. The idea was to synchronize the song to last through the opening credits. But the credits were a little longer than the song, forcing her to hold the last note as long as she could.
Another part of the lore of the song is not discussed in the documentary. John Barry kept pushing Bassey for the high climactic note, and after several bad takes, she had a solution. She slipped behind a studio partition and took off her bra. It worked, Bassey saying, "I was holding it and holding it – I was looking at John Barry and I was going blue in the face and he's going – hold it just one more second. When it finished, I nearly passed out."
Jimmy Page was a session guitarist on the recording and spoke with Mary McCartney in the documentary. He recalled how Bassey held the note and basically ran out of breath and collapsed. A few years later, Jimmy Page would make a name for himself by forming Led Zeppelin.
Below, Shirley Bassey in the studio with her producer George Martin (a/k/a the Beatles producer).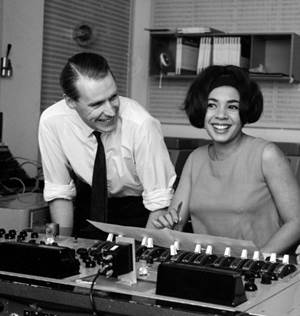 Paul McCartney and Wings would also record a James Bond title song, "Live and Let Die" in 1973.
"He Ain't Heavy, He's My Brother" by the Hollies (1969). In the 1960s, Reginald Dwight was often a session musician who was called in to play the piano on recordings at EMI. One of his gigs was with the Hollies on this song, and he fondly remembers Paul McCarney walking in and playing "Hey Jude." This was about the time Reginald Dwight was rebranding himself with a new stage name – Elton John.
Studio One of Abbey Road Studios also became a regular home for cinematic soundtracks, especially those scored by composer John Williams. These have included episodes of Star Wars, Indiana Jones, Harry Potter and Lord of the Rings. Since Raiders of the Lost Ark is on my personal Top-10 movie list, that's the one I'll play.
"The Raiders March" by John Williams and the London Symphony Orchestra (1981). Remember from above? The first recording in this same studio in 1931 had the same orchestra. Below, Williams doing a Star Wars episode in Studio One.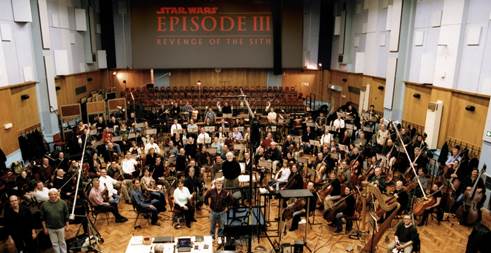 I'll finish with two cuts from the Beatles' Abbey Road album (1969). This album was instrumental in the decision to capitalize on the studio's connection to the Beatle. EMI Recording Studios was rebranded in 1976 and became Abbey Road Studios.
"Something" by the Beatles. Below, the album cover showing them walking in the zebra crosswalk on Abbey Road in front of EMI in 1969.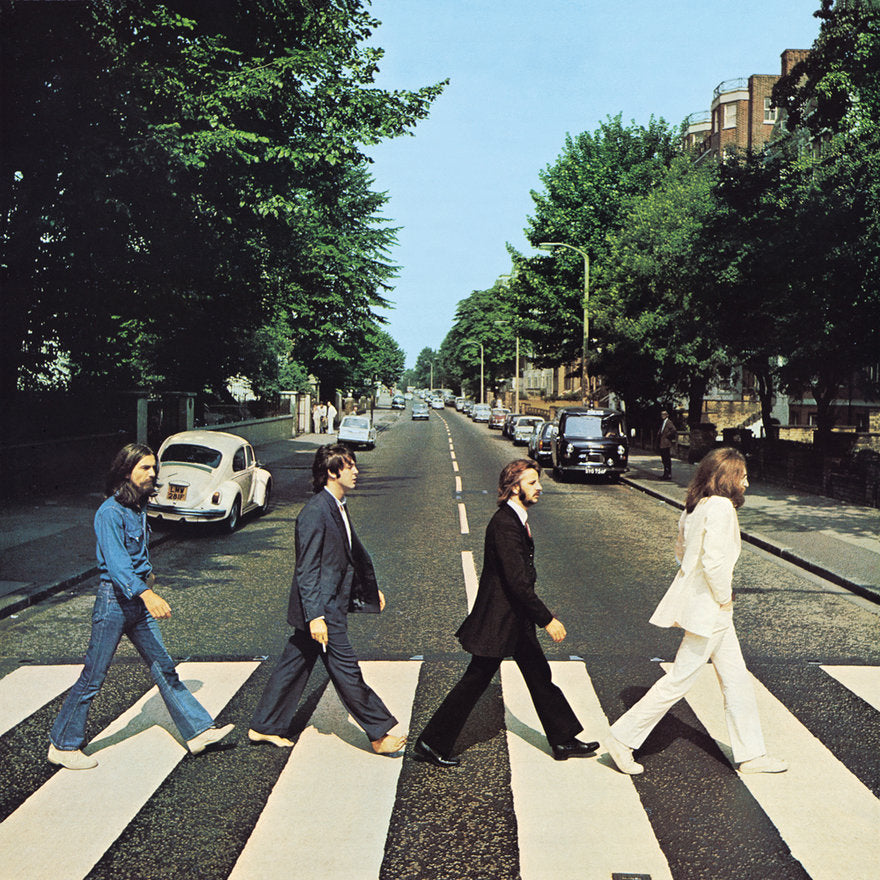 "Her Majesty" by the Beatles (but really only McCartney). This is the last cut on the album and is the shortest song by the Beatles (23 seconds). The opening lines…
Her Majesty is a pretty nice girl
But she doesn't have a lot to say
Her Majesty is a pretty nice girl
But she changes from day to day
On June 3, 2012, as part of the celebration of the Queen's 60th year on the throne, there was a "Party At the Palace" where Paul McCartney sang "Her Majesty" to the Queen. The next day, the "Diamond Jubilee Concert" was held outside Buckingham Palace, and the Queen greeted some of the performers: From left, Sir Elton John, Sir Cliff Richard, Dame Shirley Bassey, Sir Tom Jones and Sir Paul McCartney.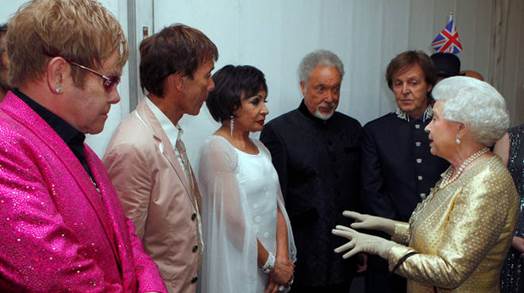 Queen Elizabeth ascended to the throne in 1952, and the coronation was held in 1953. I remember the coronation. Not because I was up on current events at the age of 11, but because I was collecting stamps. And there were tons of new stamps issued throughout the commonwealth, and I bought some. I dug through my storage unit yesterday and found them – there are about 15 countries in my collection. Below, samples from Australia, Great Britain, Bermuda, British Honduras, Jamaica, Singapore, New Zealand, Grenada and Kenya/Tanzania. Little did that 11-year-old expect that he would later travel to all of these countries.

The Queen has since been on billions of stamps over her 70-year reign and is easily the best known face in the world.
I also collected baseball cards at that age. They disappeared when I went away to college. With all due respect to the Queen, I'd rather have my baseball cards.