My goodness. Hot Stove #200. To celebrate this milestone, I'm going to feature someone very special.
Hot Stove Managing Editor Rita Leifhelm.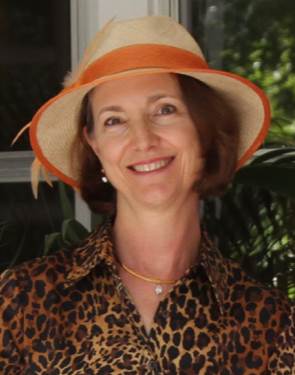 [Photo Credit: Talis Bergmanis]
The idea to feature the Managing Editor got a nudge when I saw another newsletter author (Robert Hubbell) thank his wife for being his Managing Editor. Hubbell wrote some nice things about his wife's contributions, and they hit home with me. Before I get to those good words, let's check out some other parallels.
In November of 2015, the first Hot Stove was emailed to a small circle of friends and family. It was in the afterglow of the Royals winning the World Series. It's mostly about baseball.
In November of 2016, Robert Hubbell began emailing to a small circle of friends and family. It was in the dark days (to some of us) after the 2016 election. It's mostly about politics.
At the time we started our newsletters, we were both practicing lawyers. We have both since retired.
The distribution of Hot Stove grew into the hundreds (way more than anticipated). The distribution of Hubbell's newsletter (Today's Edition Newsletter) grew into the tens of thousands. He is a rock star.
In a recent post, Hubbell announced that he and his wife were taking a mini-vacation to celebrate their 41st wedding anniversary. Rita and I have been married 41 years.
Then the money quote from his post:
"Everything I am, I owe to her. We met when we were only six years old (in the first grade) and have been lifelong companions ever since. It's been a wonderful journey, and we wouldn't change a thing. So, instead of an inspiring statement to all of you, I will simply say that I am inspired and sustained every day by my wonderful wife! This newsletter exists only because of her unwavering support, generosity of spirit, and wise counsel."
I'm guessing you picked up one non-parallel fact. When I was six years old, Rita had not yet been born (eight years younger). But the rest of this is on the nose. So I will paraphrase only slightly:
I am inspired and sustained every day by my wonderful wife. Hot Stove exists only because of Rita's unwavering support, generosity of spirit, and wise counsel.
I am a lucky man.
More Hot Stove Shout-Outs: An appreciative shout-out to my son Brian. He developed the Lonnie's Jukebox website for archiving Hot Stove posts and added other items of my writing (travelogues, politics, tributes, etc.).
A shout-out to my Polsinelli law firm. Although I retired from full-time practice a few years ago, they continue to let me use my office and the computer system – easing my way for distribution of Hot Stove. This year is the 50th anniversary of Jim Polsinelli opening up a small office on the Plaza in 1972. I joined him in 1979 when we had nine lawyers. We had a great run, and the next generation is doing well – the firm now has more than 900 lawyers nationwide.
And a shout-out to Cary Hall, one of my partners from the Polsinelli office in Arizona. Knowing my progressive political leanings, Cary gave me the heads-up on Robert Hubbell's newsletter. For those similarly inclined, click here.
Rita and Baseball Stadiums: Over our 41 years of marriage, Rita and I have traveled to over 100 countries. All seven continents. Here she is walking with penguins during our Antarctica cruise.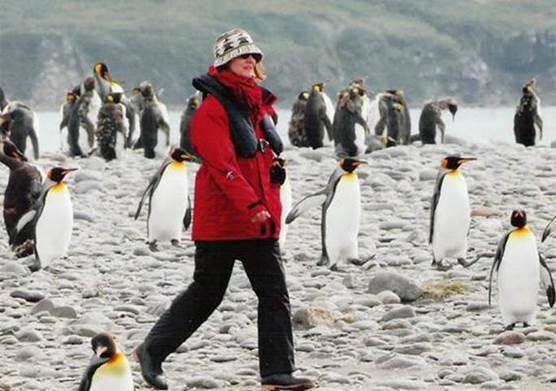 As Hot Stove got underway, Rita thought some new sites should be added to our bucket list – major league ballparks. We had taken in a few stadiums on our travels, so eight of the thirty teams had already been crossed off the list.
1. Kansas City Royals. Many times at Kauffman Stadium of course. For example, in the late 1970s, in this photo by Tom Mulvaney (RIP)…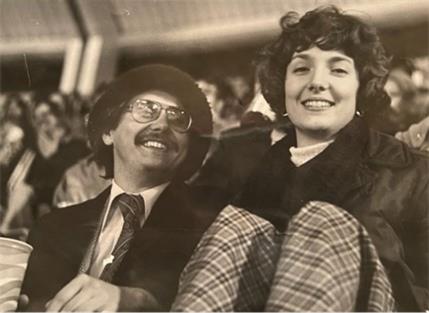 And last year on my birthday (Rita and Lonnie at far left, Salvy at the plate).
2. Chicago White Sox. Still have our ticket stubs from 1988 – $4.00. This was at the old Comiskey Park (built in 1910). A new Comiskey Park opened in 1990, and Rita and I went to a game there in 1993 ($8.00 tickets).
3. Chicago Cubs. In 1990, Rita and I took my mom (then 69) and my aunt Ellen on a day-trip to Chicago for a Cubs game. Mom was a big Cubs fans from early cable TV. Wrigley opened in 1914.
4. Detroit Tigers. In 1991, we went to Detroit to visit the Motown Museum and to see Michael Jordan and his Bulls play Isiah Thomas and the Pistons. This was during an overlap of the NBA/MLB seasons, and the Tigers were in town, so we took in a baseball game at Tigers Stadium. When I was growing up, it was called Briggs Stadium (built in 1912).
5. Toronto Blue Jays. In 1992, we vacationed in Toronto and coincidentally the Royals were in town. The stadium was the SkyDome which opened in 1989. The retractable roof was open the night we went.
6. New York Yankees. Because of a great NY-based client and a love of Broadway shows, Rita and I have often been to New York. In 1993, we took the subway out to the Bronx to see a game in the old Yankee Stadium (built in 1923). We also attended a Royals game at the new Yankee Stadium that opened in 2009.
7. Baltimore Orioles. Camden Yards opened in 1992 to begin the modern era of baseball stadiums (designed by KC-based architects at HOK Sport, now known as Populous). The next year, Rita and I were in DC to see friends and took a train ride to Baltimore for a game. Tickets were tough to get for the popular new stadium, but our friend Barbara Reres was the executive assistant to former Senator Birch Bayh at a DC law firm. Birch found us two tickets.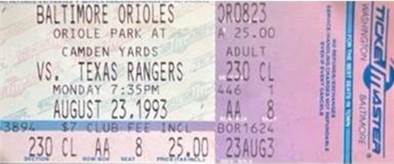 8. New York Mets. A business connection netted us box seats behind home plate at Shea Stadium in 2007. Fun fact – Rita and I were on Kiss-Cam.
Triple Crown Travel: That left 22 teams for our newly created bucket list. Rita researched tours and hit gold – Triple Crown Travel, led by the energetic and efficient Darren Zinser. He leads bus tours from city to city, making arrangements for tickets and hotels. We obviously like his work. We have gone four times from 2016 to 2019. There is a Hot Stove detailing each trip, all found at this link. Here is how the bucket list is going…
2016 Triple Crown Tour: Washington to Cooperstown:
9. Washington Nationals. There was a rain delay, and a rainbow came out to signal it was time to remove the tarp.
10. Boston Red Sox. Fenway park was as superbly nostalgic as we thought it would be. Oldest MLB park still operating (1912).
This trip included New York, but did not add new teams since we had previously seen the Mets and Yankees at home. The key difference on the Mets is that they were in their new stadium, Citi Field, where the Royals had won the World Series eight months earlier. We passed on the Yankees game, instead taking in one of the last performances by the original cast of Hamilton.
Happily for us, this trip also included a visit to the Hall of Fame in Cooperstown where the annual World Series exhibit featured the Royals. Hosmer's jersey from his "mad dash" made it a special photo op.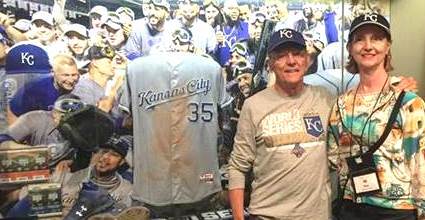 2017 Triple Crown Tour: California:
11. San Diego Padres. Petco Park, a very cool downtown stadium.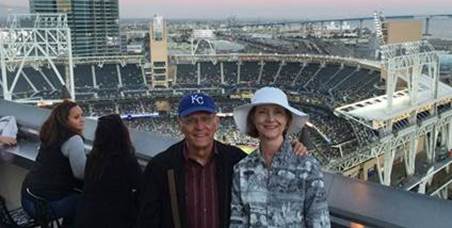 12. Los Angeles Dodgers. Dodgers Stadium was opened in Chavez Ravine in 1962.
13. Los Angeles Angels. Angel Stadium of Anaheim (1966). The Angels were playing the Yankees, and we saw Aaron Judge and Alex Pujols who are currently in the news. Judge for closing in on the Roger Maris season record of 61 and Pujols for possibly reaching the career milestone of 700 homers.
14. San Francisco Giants. Maybe the best we have seen, enhanced by its setting in the Bay. Opened in 2000. When we were there, it was called AT&T Park. In 2019, it was renamed Oracle Park. We had extra time in San Francisco and saw the touring production of Hamilton.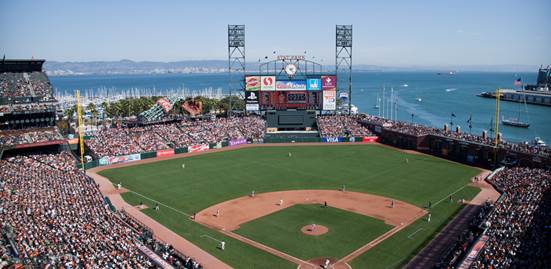 15. Oakland Athletics. Maybe the worst we have seen.
2018 Triple Crown Tour: Central/South:
16. Pittsburgh Pirates. PNC Park (2001). One of our favorites, especially the view of the Roberto Clemente Bridge. The Pirates were playing the Brewers, and Rita got Lorenzo Cain to sign her program during pre-game warmups.
17. Cleveland Indians (now Guardians). Progressive Field (opened as Jacobs Field, 1994). Special treat – I had previously met KC businessman John Sherman who was a minority owner of the Indians. He said he was going to be at our game, and so we met up at the stadium. He gave us his box seats behind the dugout (below). Seventeen months later, John and a group of investors bought the Kansas City Royals.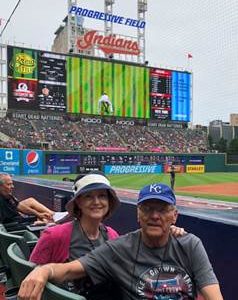 18. Cincinnati Reds. Great American Ball Park (2003). Best team Hall of Fame and Museum.
19. Atlanta Braves. Sun Trust Park (2017). Renamed Truist Park in 2021. The Hall of Fame area features a major exhibit on Hank Aaron. Not a fan of the Braves moving from the city to the suburbs.
2019 Triple Crown Tour: Central/North:
20. Minnesota Twins. In 2010, the Twins changed their playing venue from the Hubert H. Humphrey Metrodome to Target Field. Good move.
21. Milwaukee Brewers. Miller Park (2001). Named after the beer company, a natural for Milwaukee. But in 2021, it was renamed American Family Field. Meh.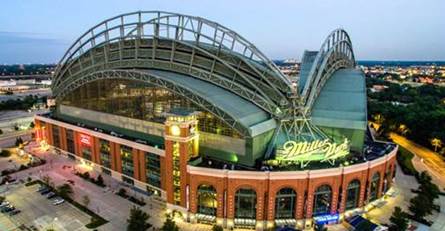 We went to three other parks on this trip, but they were repeats. The two Chicago teams and Cincinnati. The Cubs game at Wrigley was in the afternoon, so that night we saw the Chicago production of Hamilton. Yes, we squeezed in Hamilton on three of our Triple Crown tours.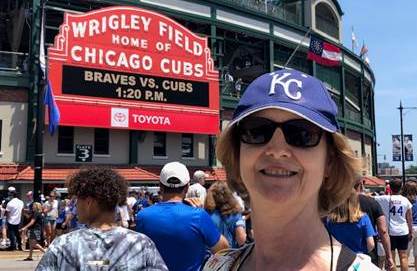 2019 Day Trip To Philadelphia:
22. Philadelphia Phillies. Citizens Bank Park (2004). In the fall of 2019, Rita and I went to Washington DC for a dinner hosted by John Ashford – a reunion with long-time political friends. The next day was the last day of the MLB regular season, and the Phillies had an afternoon game. Rita and I took the train over to Philadelphia for the game. Rita posed with a large replica of the 1980 World Series trophy. When the Phillies beat the Royals.
Covid Break: We have stalled at 22 teams. Fans could not attend games in 2020 because of Covid. We have been hesitant to travel for games in 2021 and 2022, but we hope that 2023 brings safer travel and on-time airlines.
The Remaining Eight: We still need to see games played at home by Seattle, Colorado, Houston, Texas, Arizona, Miami, Tampa Bay and St. Louis. I have been to St. Louis, most memorably for the middle three games of the 1985 World Series. Rita was still in her working days and could not go (but she was with me for the four in KC, including the Denkinger night). We have not been to the new Busch Stadium (built in 2006), so I'm sure a train ride across the state is in our near future.
Coming Attractions: Rita and I just got back from the Telluride Film Festival. You can expect a movie report in Hot Stove #201.
Lonnie's Jukebox – Rita Edition: The setlist for Rita must start with the Beatles, her teenage heartthrobs.
"I Want to Hold Your Hand" by the Beatles. Teenage Rita saw this played live when Charlie Finley brought the Beatles to Municipal Stadium in 1964.
"Hey Jude" by the Beatles. Rita and I saw post-Beatles Paul McCartney sing this at pre-GEHA Arrowhead Stadium in 1993.
"When I'm 64" by the Beatles. Rita threw a party for me on my 64th birthday. The invitation promised that Rita would answer those famous questions to be asked by 64-year-old Lonnie, "Will you still need me, will you still feed me, when I'm 64". The invite included this cool photo by Alison Barnes Martin. Rita's answer was the next song.
"I Will" by the Beatles. At the party, Rita sang this song. And she is still feeding me.
"Anthem" by Leonard Cohen. Rita bought Leonard Cohen's debut album when she was in college. Some 45 years later, lyrics from Cohen's "Anthem" became Rita's mantra during her journey with breast cancer.
"Ring the bells that still can ring. Forget your perfect offering.
There is a crack, a crack in everything. That's how the light gets in."
"You Are the Sunshine of My Life" by Stevie Wonder. My statement to Rita. The title says it all.
"Time in a Bottle" by Jim Croce. "Our song."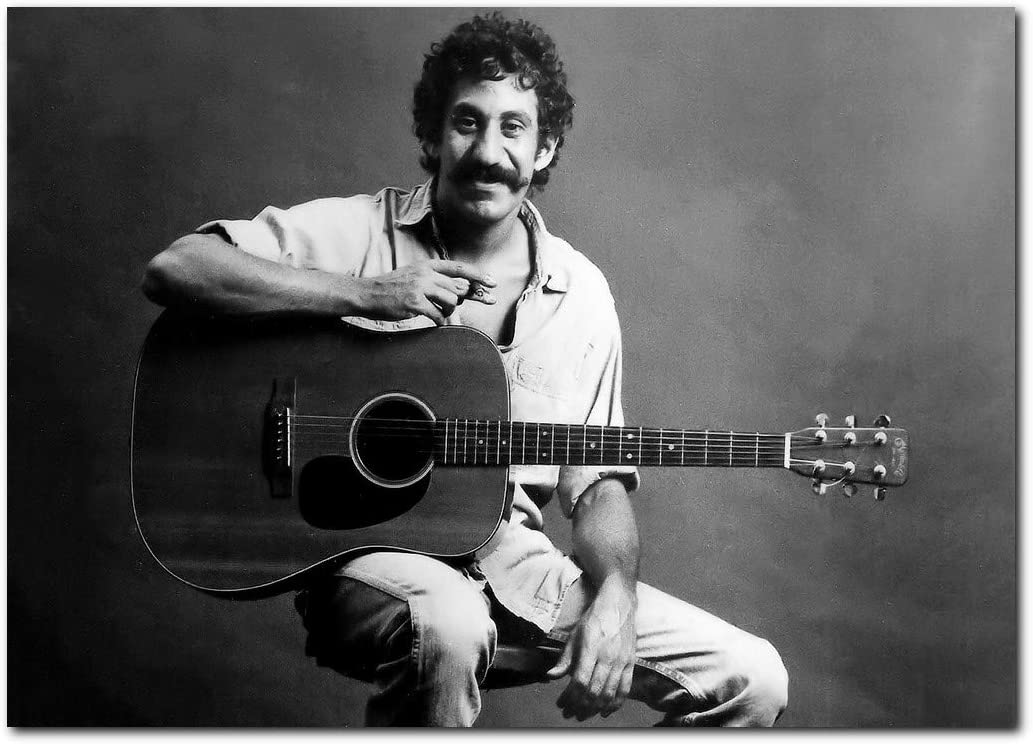 Final Note: To quote Rita, "If I wasn't me, I'd want to be me."