Before you think I have referred to the wrong Yankee center fielder, I should tell you that I am talking about my 1952 Mantle baseball card, not Paul Simon's lament on the loss of heroes like Joltin' Joe DiMaggio.
I had the good fortune as a kid to be at the right age at the right time for the launch of two major pop culture shifts: the modernization of baseball cards by Topps (when I was 11) and the birth of rock 'n' roll (when I was 13). So I collected cards (also chewed the horrible gum) and 45-rpm records (Bill Haley, Little Richard, Fats, Chuck, Buddy, Elvis, etc.). There is a major difference in the two collections: I still have the records, but someone else has the cards (sounds like a country song).
As you may have picked up from some of my posts, I don't throw away much, so how could I not have my baseball cards? Well, the same old story that likely applies to a lot of you – they disappeared when I was away at college. The back room where my stuff was stored still held my autographed baseballs, my 1955 opening day ticket stub and my scorecards from the mid-50's signed by Phil Rizzuto, Mickey Mantle and Chico Carrasquel. But no cards. Did mom throw them away? Give them to some 10-year old neighbor? Or maybe my dad or brother sent them on their way? I'll never know.
Topps and Sy Berger: Baseball cards have been around since the late 1800's , but the golden age began in 1952 when Sy Berger of Topps (the makers of Bazooka) revolutionized the format. This was the same summer that I turned from 10 to 11, a very good age for bubble gum and baseball. The cards featured new graphics plus good stats on the reverse, just the kind of things that would catch the attention of young baseball fans. The Topps 1952 cards were a big hit, and the company soon became the biggest player in the market.
Mickey Mantle Cards: Mantle's first year in the majors was 1951, and the primary card company at that time was Bowman. Bowman's 1951 Mantle card was the true "rookie" card for the Mick. In 1952, both Bowman and Topps issued Mantle cards, and the Topps version is often called a "rookie" card, but its true notoriety is that it is Mantle's first Topps card. That card (#311) is one of the most valued cards today, maybe second only to the T209 Honus Wagner. Here is a good guide to the Mantle cards from the 50's, both Bowman and Topps. The reverse side of #311 notes that Mickey is heralded as the successor to Joe DiMaggio and that he split his 1951 season between the Yankees and the Kansas City Blues.
One of the reasons that the first Mantle card from Topps is so valuable is that it is also somewhat rare. In 1952, the first series of Topps cards, numbered 1 to 310, came out in the spring. They were a huge success. A second series (311-401) came out in in late summer, but school was starting and attention had turned to football. Sales were lousy for the second set and most ended up in a Topps warehouse. In 1960, needing room in the warehouse, Topps dumped the unsold cards in the ocean – Mantle's #311, Jackie Robinson's #312 and Eddie Mathews' #401 included.
My Collection: Our hometown team was the Kansas City Blues, a top farm team of the Yankees. That made me a Yankee fan and after a lot of buying and trading, I had most of the Yankee cards from the championship teams of the early 50's – the Yankees won the World Series for five straight years from 1949 to 1953. I am fairly certain I had that Mantle rookie card that is supposedly worth thousands of dollars depending on condition. Most of my card collecting would have been from 1952 to 1954, and I then transitioned to rock 'n' roll records. I was probably nudged a little in that direction by my adolescent brain realizing that girls would rather talk to me about my records than my baseball cards.
Even if I still had my cards, they would not have a premium value. They were just like my records – very well used. The records have scratches and play with hisses and crackles, but I still love the sound of the needle hitting an old vinyl record – the hisses are not flaws, they are nostalgia. Likewise, the cards were constantly handled and shuffled because they were admired and traded, not kept in mint condition to be rated and sold. But I would still like to have them, bent corners and all.
Jane Leavy and Mickey Mantle: I have another Mantle card story that comes from Jane Leavy's excellent Mickey Mantle bio The Lost Boy (she also wrote the definitive biography on Sandy Koufax and is now working on a Babe Ruth book). When she met with Mantle in 1983, he was in his post-career phase as restaurant host, celebrity golfer and memorabilia signer. Drinking and carousing were still a big part of his life. Leavy interviewed Mantle in Atlantic City where he was signing some oversized baseball cards commissioned by a hotel. As with real cards, the reverse side had bio info and career stats, and this prompted Mickey to say "You know what they left offa here? 'Bout leadin' the league in the clap six straight years. A major league record." To Mickey, this was something to brag about, and he liked the anecdote so much that Leavy heard him tell it another time, but he substituted a different social disease.
Paul Simon, Mickey Mantle and Joe DiMaggio: So, why did Paul Simon refer to Joe DiMaggio in the classic song "Mrs. Robinson." Why not Mantle, a more contemporary star and Simon's favorite when growing up. There are a couple of versions on the reason, and both come from Simon.
During an intermission in a Dick Cavett show, Simon explained that "It's about syllables…how many beats there are." Joe's full name had five, Mickey's only four. Try it yourself.
DiMaggio had complained that the song was wrong – he had not gone anywhere and for example you could find him in Mr. Coffee commercials. He stopped complaining after meeting with Simon who told him that it was meant as a sincere tribute to DiMaggio's unpretentious heroic stature. After DiMaggio died in 1999, Simon wrote an op-ed for the New York Times expanding on that thought and reminded readers to consider the complete verse from the song and the world of politics:
Sitting on a sofa on a Sunday afternoon,
Going to the candidates' debate.
Laugh about it, shout about it
When you've got to choose
Every way you look at it you lose.
Where have you gone, Joe DiMaggio?
A nation turns its lonely eyes to you
What's that you say Mrs. Robinson
Joltin' Joe has left and gone away.
Fast forward to the campaign of 2016 and read those lyrics again. Just sayin'.
Joe Posnanski and Hamilton: We all know where Alexander Hamilton has gone. The "ten-dollar Founding Father" is on Broadway. And sportswriter Joe Posnanski has written a masterpiece about the show. It is much more than a review of the musical. It is a father/daughter story that brings tears to the eyes. It concludes with Joe and his 14-year old daughter singing these Hamilton lyrics to each other to describe how they will never forget the experience: "They'll tell the story of tonight."
As many of you know, Rita and I are obsessed with Hamilton. When people ask if the show lives up to its hype, my answer has become something like this: I compare it to the excitement of having been "in the room where it happens" for certain historic sporting events, like (i) in 1967, the Chiefs beating the Bears 66-24 in an exhibition several months after losing the first Super Bowl, (ii) the 1971 Christmas Day game at Municipal Stadium, the longest game ever in the NFL (even though the Chiefs lost to the Dolphins), and (iii) the magical comeback in the Game 6 of the 1985 World Series that I watched with my 14-year old son Jason. In Hamilton, Aaron Burr jealously laments that he was not "in the room where it happens" when Jefferson hosted a 3-man dinner that resulted in the compromise that assured passage of the Constitution: the Virginians Madison and Jefferson got the nation's capital located next to home and Hamilton got the finance plan he wanted for the new union. The audience of Hamilton is definitely in the room where it happens.
This brings me back to Posnanski who says it this way:
The thing about seeing Hamilton RIGHT NOW at its peak moment is that even before it begins, the entire theater is filled with wonder. Every single person would rather be here than anywhere else in the world. As a sportswriter, I often feel that sort of energy at the biggest events, at the Masters or the Super Bowl or the Olympics, but it's even more pronounced in this theater. People look at each other with the same wide-eyed expression: "Can you believe we're here?"
After Joe posted his story on his blog, it came to the attention of Lin-Manuel Miranda who created the show and plays the title role. I follow both Joe and Miranda on Twitter, and so I saw this play out as it was happening. Joe tweeted that he was going to the play and then wrote his piece, Miranda tweeted his sobbing thanks, Joe did a postscript on his NBC site, and Miranda cried again. Here is Joe's piece – please read, will be the best minutes you spend today. Here is the Twitter chain:
Just before noon, the day of the show:
As he entered the theater, Joe tweeted this photo: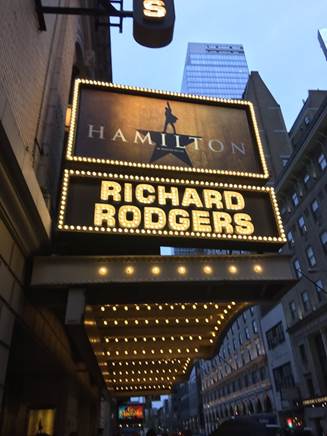 After the show:
He did pull it off:
And then pulled it off again:
Yankees v. Hamilton: As Royals fans know, free agency may break up the team in 2018. For Hamilton, that date may be much sooner: July 9, 2016. That is the day that the contracts end for the big stars in the show. They will be looking for raises. Some will want to move on to other projects. The most likely person to leave will be Lin-Manuel Miranda who has several projects in the works and will need the time. Rita and I had planned to see the show a second time, and this news accelerated our timetable. We were already scheduled to be in NY for a couple of baseball games in late June, one at Yankee Stadium and the other at the Mets' Citi Field. We have already been to a game at the new Yankee Stadium, so we decided to trade away Alex Rodriquez and Aroldis Chapman for Lin-Manuel Miranda, Daveed Diggs and Leslie Odom, Jr.
As you might guess, ticket prices have spiked since we went last October and likely will keep going up as more folks realize that at least part of the original cast may soon be gone. As an expert in rationalization, I found two good reasons for Rita to go on Stub Hub and spend the bucks: (i) it is still cheaper than a good seat to see Steph and LeBron in the NBA finals (that would be fun too), or the Super Bowl, etc., and (ii) this June marks our 35th wedding anniversary, so we just found the perfect gift for each other.
There is an interesting distinction between the big sports events and something like Hamilton. Part of the anticipation and tension of the big games is that you don't know what will happen. You may see a classic or not – think of how many Super Bowls have been stinkers. But not knowing creates some of the best moments in sports. Ask any Royals fan about the post-seasons of 2014 and 2015. The comebacks are always at the top of the memory list. Contrast this with Hamilton: you know the music before you go in (that's our recommendation), you know the ending (Spoiler: Burr shoots Hamilton every night), and everyone in attendance walks out happy – no losing team (well, Hamilton still gets shot). One other thing. I am content to watch most sports on TV (age?), but for Hamilton, you just have to be in the room.
The Tony Awards: The Tony Awards are on Sunday night, June 12. Hamilton has a record 16 nominations, but it won't win that many – it has multiple nominees in some actor categories. But get used to hearing "and the Tony goes to Hamilton."
Music Credits:
Lonnie's Jukebox – In 2009, as our 50th high school reunion was being planned, I authored a rock 'n' roll memoir of my high school years. I took a chronological stroll through fifty of my 45-rpm records, starting with "Rock Around the Clock" by Bill Haley and the Comets and ending with "Kansas City" by Wilbert Harrison. Click here.
The Graduate – This is where I first heard "Mrs. Robinson. The movie was in 1967 and the album with the song came out in 1968 (see here, 3:45).
Me and Julio Down by the School Yard – Paul Simon cast Mickey Mantle in this 1988 music video that also included Spud Webb and John Madden (see here, 3:09).
Hamilton – At the Grammys in February, the cast of Hamilton sang the opening song from the play (see here, 4:18). For those interested, here is the order of appearance in the video: Burr, Laurens, Jefferson, Madison, Burr, Hamilton, Eliza (wife), Washington, Burr/Company/Burr, Mulligan/Lafayette (fought with him), Laurens (died for him), Washington (trusted him), Eliza/Angelica/Maria (loved him) and Burr ("I'm the damn fool that shot him").
Prince – Gone, but not forgotten. One of my favorite lines in Posnanski's piece relates to the entrance of Jefferson. In the first act, Daveed Diggs plays the role of Lafayette during the war. In the second act, he switches to become Jefferson who during the war had been in France to successfully lobby support for the colonies. In one of the highlights of the show, Diggs comes out, in Joe's words, "wearing a glorious purple suit, looking for all the world like a revolutionary version of Prince…and it's JUST RIGHT." And it is.