In 1989, Rita and I ventured to Kenya for our first African photo safari. The trip was organized and led by Ralph Waterhouse, then Director of the Kansas City Zoo. We were thrilled with the trip and kept in touch with Ralph after he moved on to become the Director of the Fresno Zoo. This led to additional trips organized by Ralph to Zambia and Zimbabwe in 1994 and Tanzania in 1996. The animal kingdom setting in the Ngorongoro Crater in Tanzania has our vote as the Eighth Wonder of the World.
We have continued to travel to other parts of the world, and after being in over a hundred countries, Rita and I concur that Africa photo safaris remain at the top of the list for our favorite trips. The Africa position was so strong that we could not identify second place for many years, but that changed in 2007 when we cruised the Galapagos and mingled with those wonderful animals made famous by Darwin. Third place came in 2008 with the tuxedoed penguins of Antarctica. Before anyone thinks we just like wild animals, we also cannot get enough of Italy.
After a 13-year hiatus, we were anxious to get back to Africa and started looking for a South Africa trip that combined a safari in Kruger National Park and a week in Cape Town. We knew that Ralph had retired from the zoo, but contacted him for recommendations of bush camps in Kruger. By happy coincidence, he was still organizing safaris and had scheduled a trip to Kruger and Cape Town. We immediately signed on to join Ralph, his wife Cheryl and two other Fresno couples (Lou and Dena; Randy and Lynda).
A big change from prior safaris was that we would be using digital cameras – not only better photos, but immediate gratification of what we got and easier to send to our friends via email. In most cases, I handled the still photos and Rita took video. The photos have been scaled back from about 800 to 242 – still a lot, but we are addicted to the leopard photos. A few are below in the text, and you can click on this link to see the rest.
After a 15-hour flight from Atlanta to Johannesburg and overnight at a hotel, we flew by small plane to an airstrip near our first bush camp at Tinga Private Game Lodge. Kruger is a huge park of over 7000 square miles, and Tinga has two camps within a private concession area limited to Tinga guests. This would mean we would not be overrun by other tours, but still be able to venture into other parts of Kruger. An added advantage would be night drives that are not generally allowed in the public areas of Kruger. Our camp, The Legends, is relatively new and replaced a facility destroyed by massive floods in 2000. There are 9 cabins to accommodate 18 guests. The first few photos show the lodge grounds, and the next show Rita standing in front of our cabin and me on our back deck. The back wall of the cabin had a series of full-length glass doors/windows for panoramic views of the Sabie River, and this extended to our walk-in shower with no shades – but only the animals could see in. During the stay at Tinga, photos from our deck included a bushbuck in our backyard, elephants across the river and several Cape buffalo along the river.
The daily routine would be the same for our three days at Tinga and the following three days at our next camp: Wake-up call or knock at 5:30, morning game drive from 6 to 9, breakfast/shower/lunch/rest, evening game drive from 4 to 7, dinner, to bed early. On the evening drives, we would normally have "sundowners" (drinks) at dusk and then spend the final hour driving in the dark with the tracker using a hand-held spotlight to scan for reflections of the eyes of nocturnal animals. There were 12 game drives, and although some were better than others, every drive was a pleasure.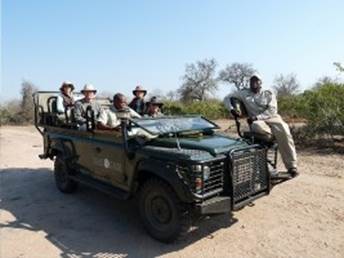 Evening, Oct. 1: We boarded the open Land Rover with our ranger/driver Johann and tracker Emanuel and set out along the dirt roads of the bush. The tracker has a perch on a seat at the left front of the vehicle, and eagle-eyed Emanuel used this to great advantage to spot game for us. The animals have grown up with the Land Rovers driving through the bush and consider them little more than moving trees with clicking cameras – just don't jump up quickly or leave the vehicle while photographing that leopard and never get between a baby elephant and a parent. Our first photo op started small with a lizard, but that quickly changed to big with a herd of about 20 elephants eating and drinking along the Sabie River. A Cape buffalo also waded into the river and some impala were nearby. We next got a rare sighting – a duiker with a mutation that makes its hide white – this is referred to a "leucistic" animal – similar to an albino, but does not have pink eyes. We had seen this same mutation in Antarctica, an all-white penguin. The next photo shows some vultures scattering as a marabou stork lands in a tree – the vultures were waiting for a pride of lions to finish getting the "lions' share" of an elephant and leaving the carrion for the vultures. The injured baby elephant had been abandoned by the herd and euthanized by park rangers who left it in place to let nature take its course. We did not see any hyenas, but they were likely around as they often take a share between the lions and vultures. We then had our sundowners and an uneventful night drive except for a fleeting glimpse of a civet.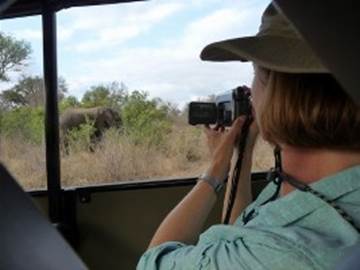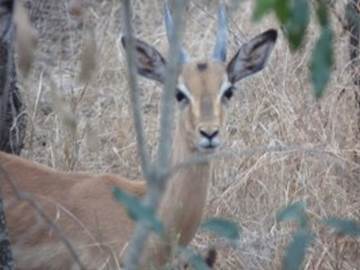 Morning, Oct. 2: Our photos from this drive are few: buffalo, southern yellow-billed hornbills, helmeted guineafowl and hippos. The weather went from mist to drizzle and the animals seek cover just like we do. Also, the number of photos can be misleading. We saw many more animals, but they were often too far away or ran or flew quickly rather than posing for us. Also, we did not repeat some animals such as the ubiquitous impalas. Rita kept a log of sightings as we went along and she listed 32 different animals on this morning drive. We got some bonus viewing upon return to camp as a herd of elephants had set up for lunch just across the river and stayed most of the day. They are good eaters, maybe 22 hours a day, but poor digesters as evidenced everywhere.
Evening, Oct. 2: Our first sighting was a nyala with its distinctive horns and coloring, followed by some vervet monkeys, and then a return trip to the lion pride which was not yet done with the elephant dinner – a hooded vulture was still patiently waiting. We then had our first sightings of giraffe and wart hogs. A large herd of elephants was grazing along the river and needed to cross a bridge – they blocked us for about 10 minutes, which rewarded us with good photos of the protective adults making sure we did not bother the babies. Rita's videotape captured the sounds of the trumpeting elephants warning us to keep our distance. The river also netted a saddle-billed stork and a hippo on the bank – hippos leave their pools at night to graze for food.
Morning, Oct. 3: Still no sun, but not wet. We left the bush habitat of the Tinga concession and headed for a plains habitat in Kruger to seek the remaining two of the Big Five (so named by big game hunters as the most dangerous: lion, rhino, elephant, buffalo and leopard). The first photos feature a proud male elephant (pal Jim Graham would describe this guy as a home-wrecker), a dwarf mongoose (smallest carnivore in Africa) and a group of kudus. Note the red-billed oxpeckers on the kudus – a symbiotic relationship with the birds feeding by removing ticks, fleas and other insects from the hides. Rita thought the oxpeckers in the ears looked like kudu earrings. We then scored a white rhino, leaving only the elusive leopard to complete the Big Five. A couple of small antelopes were next: a klipspringer in its natural setting at the top of a rock area and a steenbok. We then stopped for morning tea and coffee at the top of a rock outcrop for a panoramic view of Kruger. The birds circling above were marabou storks. A nyala finished out the trip, and we arrived back at the lodge to again find the elephants busy at the river. A brown-hooded kingfisher joined us on the deck.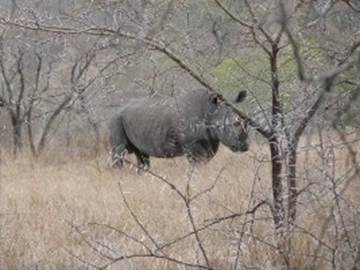 Evening, Oct. 3: We started with a water monitor, the largest African lizard. Next was a return to the hippo pool where a hamerkop and our group got a hippo "salute" – a sound akin to that of an outboard motor. Next photo is an African fish-eagle (we saw many types of eagles). I believe this is the night drive where we spotted a side-striped jackal. We had a surprise party when we returned for the evening – a candlelight dinner set up by the staff in the bush under the full moon – our ranger Johann added guard duty for the open-air event.
Morning, Oct. 4: Our last game drive in Tinga was filled with diversity: goliath herons, an Egyptian goose, another hippo on land, a crested barbet and some spotted hyenas. Our ranger pointed out black rhino dung – there are black rhinos in Kruger, but they are more rare than white rhinos. This dung was as close as we would get to the black rhino. Interestingly, both types of rhinos have similar skin color, mostly gray, and the main distinction relates to their lips that have evolved for specific eating habits (both eat grass, but the black adds twigs to its diet as evidenced in its dung). Next, we spotted two solitary male lions, one seen roaring along the river and the other meandering down the road in front of our vehicle. A crocodile posed for a good reflection photo. We often heard the "hoop-hoop" of the African hoopoe, but we also got a lucky photo op of one poking for insects in the ground. Final Tinga shot: silhouettes of hadeda ibis.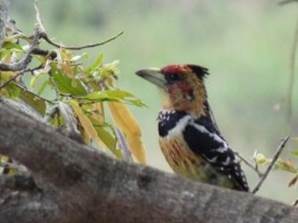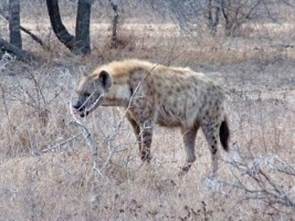 The next stop was Selati Lodge, one of four lodges in the Sabi Sabi concession within Sabi Sand Wildtuin (Game Reserve). Sabi Sand is a consortium of private landowners sharing open borders with each other and the public Kruger park so that the animals move freely between the parks. Selati has 8 thatched cabins and so our group took up half the camp. As we arrived at our cabin, a browsing kudu greeted Rita, and a bushbuck was grazing just off our back deck. The camp was well populated with ground and tree birds, the most noticeable being the grey lourie better known as the go-away bird for its raucous "go-away" call. Some in our party also saw a poisonous boomslang snake high in a tree at camp, but Rita and I share Indiana Jones' aversion to snakes and were not sorry to miss that sighting. A big advantage at Sabi Sabi is that the private landowner allows the Land Rovers to be driven off-road through the bush to find and follow the animals – this often meant crashing tank-like through underbrush and even small trees to weave through the bush and the tracker sometimes wielding a machete to keep branches and thorns from hitting us in the open vehicle.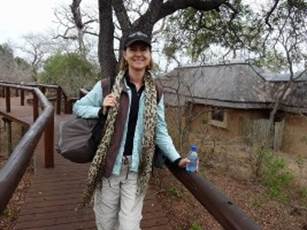 Evening, Oct. 4: We applied gentle pressure on our ranger/driver KG and tracker Zeb (short for zebra) to find leopard, zebra and better rhino viewing. After clicking a first photo of a female black-bellied korhaan, we got almost immediate gratification with three grazing white rhinos – and also got the advantage of driving over to them as permitted in Sabi Sabi. Within minutes, we encountered two more, a mother and baby. Next was a giraffe, and as sunset was coming, a kudu. As dusk was turning to night, we came to a water hole where a herd of elephants and a rhino were leaving from one side and a pride of 15 lions from the other. To our delight, our ranger skipped the sundowners and started following the lions through the bush. We did this from various angles for about a half hour, and had worked our way in front of the pride when Zeb spotted three Cape buffalo that looked like they would soon be intersecting with the lions. Usually, lions employ stealth and pounce on their prey, but they are also opportunistic. KG drove ahead and moved to the adjacent dirt road and alerted us to get ready for action. The lions stumbled into the buffalo and some jumped on one to set off a thundering mass of rumbling buffalo and lions with our bouncing Land Rover trying to keep up. The sounds were awesome, but photos and video were trumped by low visibility and hanging on to avoid being ejected. The lack of planning and stealth by the lions worked against them as the buffalo shook them off and got away. A great night drive – but we still lacked the elusive leopard.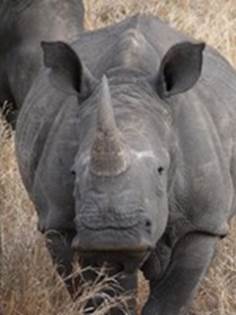 Morning, Oct. 5: It was chilly – note Rita's gloves. We would soon be warmed up by excitement. We had stopped to photograph a giraffe, but KG thought the giraffe seemed to be attentive to a predator in the area. We also then heard alarm shrieks from monkeys in the trees, and KG drove to the area that appeared to be the focus of the giraffe and monkeys. KG whiffed a smell of popcorn and told us that a leopard had sprayed urine to mark its territory. And sure enough, we were soon rewarded with a sighting of a young female ambling along, spraying as she went. We followed her through the bush, thrilled with this first close-up of such a beautiful creature. We soon took up the cry of "I love the smell of popcorn in the morning", recalling Robert Duvall's line in "Apocalypse Now." Note the white end of the tail – used by mothers to communicate with cubs during hunting or in tall grass. The Big Five was completed, but we were just getting started. KG and Zeb would prove their sighting and tracking value many more times, and KG had an encyclopedic knowledge of the plants and animals, even down to details of the Latin scientific names (the giraffe was thought by the Romans to be a cross between a camel and a leopard – hence the scientific name "Giraffa camelopardalis"). The morning drive filled out with giraffes, male black-bellied korhaan, tawny eagle, a scouting trip by KG and Zeb, coffee break and wart hogs. After breakfast, a few of us joined KG for a game walk outside camp with an emphasis on plants, trees and animal tracking hints. Birds were the featured critters as no mammals were encountered.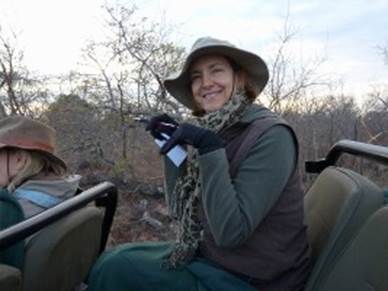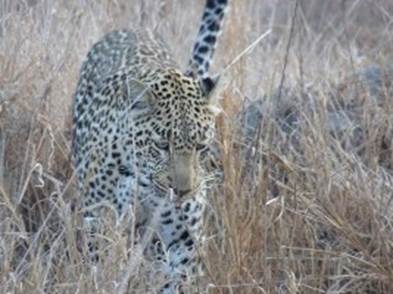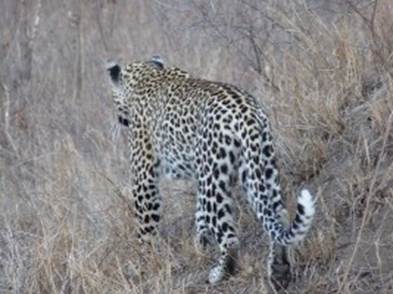 Armchair Safari – Midday in Selati: From the viewing deck and outside dining area at Selati, there is a good view of a water hole in a grassy plain encircled by the bush habitat. Often, the only animals were a dependable pair of Egyptian geese. But, as we had been taught in Antarctica, never leave your camera in the cabin – a breaching whale or a calving iceberg will not linger for you. Nor will a leopard in Africa – a large male sauntered across our view and virtually posed for photos – and we had our camera. Other animals were apparently just waiting for the leopard to clear out, as we soon watched a parade of animals quenching their thirst: a troop of baboons (some first passing through our camp), kudu (spiral antlers), waterbuck (looks like targets painted on the rear; note the baboon baby) and the biggest show of all, a herd of about 40 wildebeest (gnu) strolling down the hill.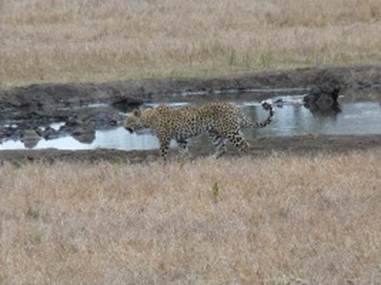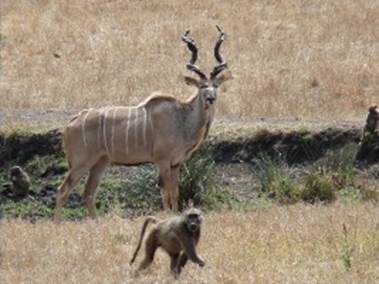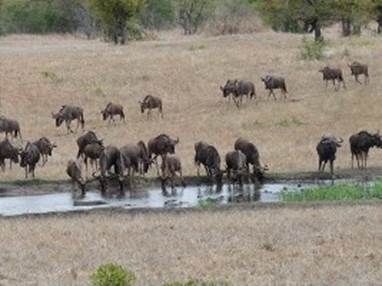 Evening, Oct. 5: We started with a pair of hadeda ibis and a herd of impala and then got a welcome sighting of what KG called a "dazzle" of Burchell's zebra. "Dazzle" is a term of "venery" from the often quirky naming of animal groups, many coined by upper-class game hunters in medieval England. Other examples are a "bloat" of hippos, a "leap" of leopards and an "implausibility" of gnus. A group of rhinos is a "crash," but our next spotting was a solitary rhino, including an extra show within Rita's video camera monitor. Rita's log for this drive also lists baboons, vervet monkeys, kudus and many birds. We again skipped sundowners as we hit the trifecta with the third leopard of the day. This was entertaining night viewing as the male leopard went from termite mound to termite mound to see if potential prey such as wart hogs had burrowed in and would be available for dinner. Other than when mating or a mother with cubs, leopards are solitary and look for smaller prey than lions hunting as a group. The termite restaurants proved to be empty, and so he tried to nab a couple of impalas, but they sprinted away. As we were driving back to camp, we were advised by radio that a leopard had walked through camp while we were out, likely the one seen earlier that day at the camp's water hole. We had new appreciation for the rifle-toting rangers requiring us to walk with them to get back to our cabins at night.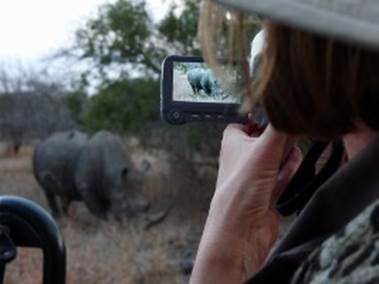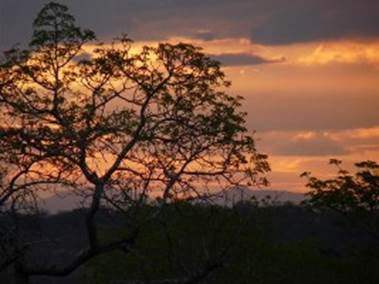 Morning, Oct. 6: The outside temperature suddenly went up about 20 degrees to make for a pleasant morning, but turning to a hot afternoon in the 90's. We started with steenbok and elephant, but the real show of the day was back at the water hole where we had seen the pride of lions on the first night. After failing with the opportunistic kill, the lions had returned to the water hole that night and killed a less fortunate Cape buffalo. The lions were in the second day of finishing off this meal, and the vultures were waiting to pick the bones. Lions prefer large prey so they can fill up and not need to hunt again for several days. This leaves them full and drowsy as shown in the photos. A "journey" of 5 giraffes came upon the scene and very slowly worked their way toward the water hole, cautiously trying to determine if the lions were satisfied for the moment and would not consider the giraffes a dessert opportunity.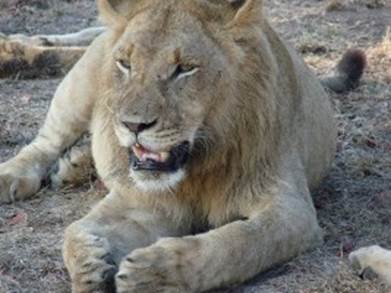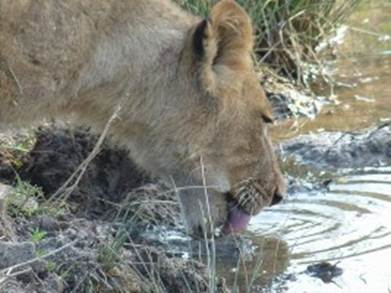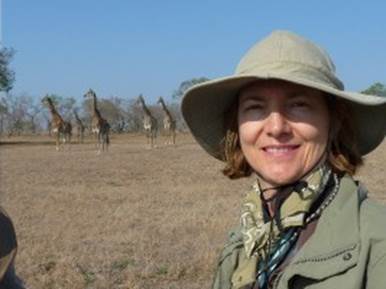 Second Armchair Safari: Another good day at the viewing deck. Some were close by: a golden-tailed woodpecker, a rainbow skink, a bushbuck and a glossy starling. Then, along came a new parade at the water hole for our luncheon enjoyment. The big stars were 10 giraffes who went through delightful contortions to drink the water – reminded Rita of a wide-legged down dog yoga position. Other players included kudu, impala, waterbuck, wildebeest and mating baboons.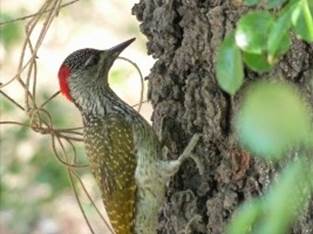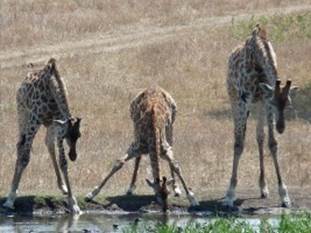 Evening, Oct. 6: The pre-dusk viewing was light – only photographed a zebra. We had sundowners for the first time on a Sabi Sabi game drive and then started a dusk/night drive that proved interesting. We spotted some giraffes and zebras together, and the two giraffes were "necking" which is common as playful sparring by young males, but can grow into serious battles among adult males establishing status in giraffe society. As night fell, the spotlight first picked up the reflection of the red eyes of a fiery-necked nightjar roosting on the road – it flew off with its silent butterfly flutter and KG advised that its calls are interpreted as an initial whistle of "good lord" followed by trills of "deliver us". Next was a spotted eagle-owl high up in a tree. Zeb then made an unbelievable sighting of a small animal in a bush about 10 feet from the road – he had caught a glimpse of the shiny lower portion of a flap-neck chameleon. KG walked over and coaxed the chameleon onto a broken branch to bring it over for a close-up. Morning, Oct. 7: Last game drive at Sabi Sabi. We started tamely enough with a Senegal coucal and a wart hog. The adrenalin level then jumped as we again smelled popcorn in the morning and completed the home run – a fourth leopard. We finished with photos of a waterbuck, a lilac breasted roller and a pair of rhinos spotted by Rita. When the rangers of the four lodges in Sabi Sabi spot popular animals, they can radio each other to share the find. To keep the guests from overhearing what has been spotted – don't want to get hopes up – they use local African dialects to refer to what animals they have seen. Ralph and Cheryl tried several times to get KG to let us in on the magic words, but KG politely declined until our last game drive – he then gave us the translations in an interview by Rita filmed by Ralph.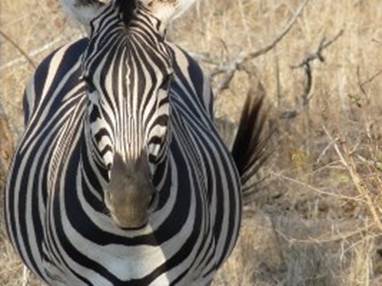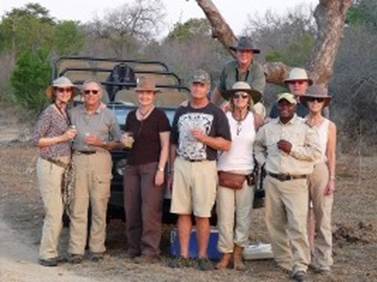 Conclusion: When we added up the aggregate number on Rita's logs, we had made at least 200 sightings of animals. However, numbers, photos and narrative cannot fully capture the beauty, sounds, smells and excitement of the game drive experience. We can still confidently say that Africa safaris top our chart for best trips.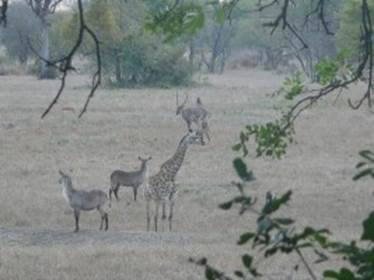 Next Stop: Cape Town