From: Lonnie Shalton
Sent: Wednesday, February 13, 2013 10:48 AM
Subject: Rita Update – Quarantine Lifted/Chrome Dome Pals/Good Vibrations
If the 3-week chemo rhythm cycle was still in place, Rita and I would be spending most of today at the KU Cancer Center. Instead, she started this morning with yoga and is at the moment celebrating with her yoga buddies at a coffee shop. Fittingly, Groundhog Day was in this past 3-week period and, like Bill Murray in the movie, she has escaped that nagging repeating loop. The side effects from the final chemo treatment were unremarkable and Rita quickly trended up to almost full-time yoga and took walks on the treadmill and in Loose Park during that good weather. Attended book club last night.
Rita's self-imposed condo quarantine is officially lifted as of today and this signals her release back to the general public. Part of cancer's catch and release program. She returns to KU in April for bone density and CT scans and a follow-up with her oncologist. She is also starting the next phase of cancer prevention: a daily estrogen-blocker pill for the next 10 years, subject to change on duration and pill as clinical trials run their courses.
Our final dinner deliveries to the condo came in over the last two days. Monday, Kathy Polsinelli brought in her great chicken spiedini and along with Jim and the Blonds, the six of us enjoyed a fine Italian meal and some good wine (not for Rita yet on the wine, but very likely on Valentine's Day). Last night, Molly Ellison again delivered meals as she has done on almost every Tuesday for several months. What will we do next Tuesday? Actually, we know what we are doing – taking Molly to a restaurant for the first of many thank-yous.
Chrome Dome Report: Rita's hair will be returning over the next several months and longer showers and the hair dryer will return to her life. As will bad hair days and hat hair. She has memorialized the "chrome dome" look with some folks whose hair will not be growing back. The photos tell the tale:
1. Son Jason and grandson Grant in the Kauffman Center after granddaughter Miyo's performance in The Nutcracker. Actually, Grant's hair will grow back and Jason just prefers this look for his fast-receding hairline.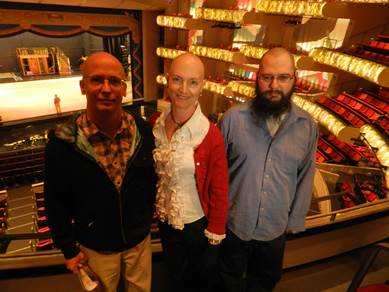 2. Mark Ebbitts. Rita and I were picking up coffee at Starbucks, saw Mark and put my iPhone into action. World traveler Rita and travel agent Mark appropriately posed in front of the Starbucks' world map.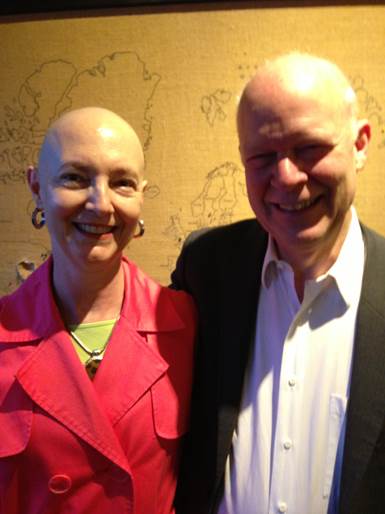 3. Leland Shurin. Leland and Jill live on our floor at Townsend and so the natural place for the photo was in our elevator lobby. Leland tells the story of how he and fellow chrome-domer Albert Riederer worked together on many deals over the years and liked to say "when we put our heads together, we made an ass out of ourselves." Leland and Jill along with Jill's sister, super-caterer Michelle, have been a big meals-on-wheels provider for us.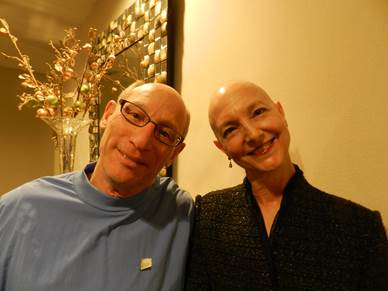 4. Irv Blond and Louis Caskey. This photo of our neighbor Irv is with Townsend staffer Louis. They are standing in front of a jazz player painting by the talented Louis. As you may recall from a prior update, Irv welcomed Rita to the very exclusive club of folks who don't need hair dryers and live by the motto "God made a few perfect heads and then He put hair on the rest."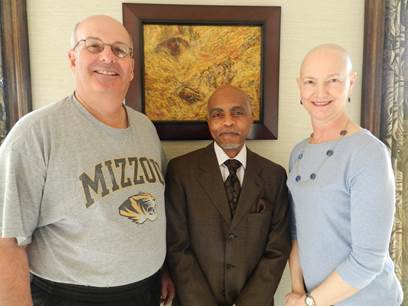 5. Paul Vardeman's Birthday Party. Nine old-timers from the days of what was then Polsinelli, White, Vardeman and Shalton gathered at Jasper's last week to celebrate Paul's 83rd birthday. As luck would have it, five of the group qualified as chrome domers and Rita crashed the party long enough to get a photo. Left to right: Fuzzy White, Paul, Hal Goss, Jim Bowers and Jim Polsinelli. Mike White, Bob Wehrman, David Welte and I did not qualify for the photo, but David came very close.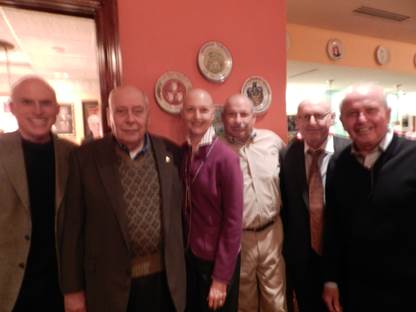 6. Mike Maloney and Walt Simpson with (for comic relief) hairy Hollis Hanover. This trio of characters dropped by the condo last week and made for an interesting photo. Walt said he was always willing to lend his baldness for a cause. Mike protested that he was not bald, just that he had for several years been parting his hair down the middle. Hollis was Hollis.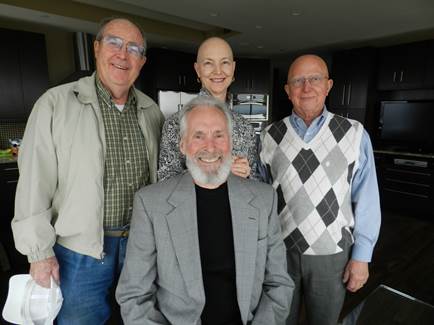 The Oscars: As you can tell from our Telluride Film Festival attendance, we are movie buffs. Until this year, we were obsessive about seeing most of the Oscar nominated movies and performances. But that requires going to the theatre, not the most germ-free environment. So, unless we saw a movie at Telluride or before chemo started, we are woefully behind. We hope to catch up with at least Lincoln and Silver Linings Playbook before the Oscars. We saw Argo in Telluride and loved it. We also saw two of the nominated foreign films there – A Royal Affair and No – both very good. The likely foreign winner Amour was also at Telluride, but we passed as it looked too depressing. As for Telluride for Labor Day in 2013, our condo with the Brewers is already booked.
Sonos and Netflix Update: Although we transferred a lot of music to our Sonos jukebox, we were lacking tracks for dancing the West Coast – the preferred dance of we 1959 high school graduates. The younger Rita has been kind enough to learn the moves. I have my vinyl 45 rpm records of some of the classics, but putting them on one at a time on our turntable is a bit of work. So, Rita went to iTunes for digital versions and we now punch in our choices and have danced to Wilbert Harrison's "Kansas City" and Bill Doggett's "Honky Tonk" plus one describing Rita, the Fiestas' "So Fine." On Netflix, we have watched the first five episodes of House of Cards and are completely hooked. Netflix immediately made all 13 episodes available, and it is tempting to binge and quickly watch all of them. We are going a little slower so we can savor the fun. Kevin Spacey is a treat as a South Carolina Congressman – think Lyndon Johnson, but in the House rather than the Senate, mixed with a touch of The West Wing.
Ringing Bells: Taking the lead from Leonard Cohen's lyrics, we are soon off to ring the bells. In addition to Cohen's April concert at Radio City Music Hall, we have a good lead on scoring tickets to our favorite news show, Jon Stewart's The Daily Show. Our New York trip has been expanded to include a train ride to DC to stay with Joe and Barbara Reres, plus visits with Jack Schramm and Jim Symington. Travel planner Rita is already on the internet to scout some summer destinations. At the moment, just getting out in the general public in KC will feel like a vacation to her.
Letter to the Editor: Kay Wallick has been a friend since the political campaigns of the '70's. She now lives with her husband in Wyoming and is currently the chair of the Shepherd's Centers of America. She has sent a nice and encouraging note:
"Your stories bring tears and laughter to this part of Wyoming. Love the penguin story and the stories of Rita's and your venture through unknown territory. A friend, a phenomenal 103 year old woman here in Wyoming, was recently highlighted on the front page of our small Sheridan newspaper, partly for her pioneering spirit, partly for serving as a cook for many ranching families as well as cooking for the Queen of England when she visited here. But what I had not known about her is that she is the oldest living breast cancer survivor and received a letter from the American Cancer Society on her 100th birthday. She underwent a mastectomy in 1949 by a local doctor and hasn't had a problem since."
Sounds like a plan.
We now move a little bit off the radar. There may be an update about ringing bells, but mostly we are heading back to being social media agnostics. Just never got around to Facebook, nor do we tweet. But we hope to stay in touch. We again thank all of you for the meals, flowers, cards, wishes, prayers, abrazos/hugs and all the other good thoughts and deeds. The Beach Boys sang "Good Vibrations." The village delivered them in abundance.
Namaste,
Lonnie
And a PS from Rita:
To say I have "survived and thrived" during this journey would be true. With love, thanks, and kudos to so many for making that the case. I have a bulletin board filled with your cards. And an email inbox brimming with well wishes.
And to my husband, who has walked every step of the way with me. I have often said, "if I wasn't me, I'd want to be me." It is truer now than ever.
Today my hope is to be a resource for those who follow me along the same journey. Just as I was guided by cancer survivors, so I want to be a help to others. Please feel free to share my phone or email.
From: Lonnie Shalton
Sent: Wednesday, April 24, 2013 3:48 PM
Subject: Rita Update – Ringing Bells
Friends and Family:
After chemo ended in late January, the next step was to wait three months and then get CT and bone scans. Rita went in for her scans last week and we met with the oncologist today and got the results:
ALL CLEAN!!
We then celebrated with lunch and Rita's first comment was that it was time to start planning some trips. Not that we had been completely tied to KC. We took our planned trip to New York, followed by a train ride to DC for visits with friends of long standing. While in New York, we kept our eye on the cherry blossom reports from DC. We had not planned our trip to catch the annual blooming, but cold weather had delayed the process this year and it luckily held off until our arrival. Nice bonus.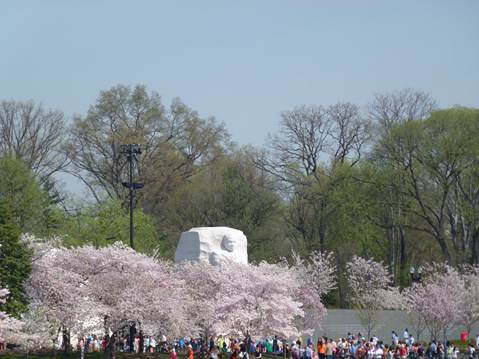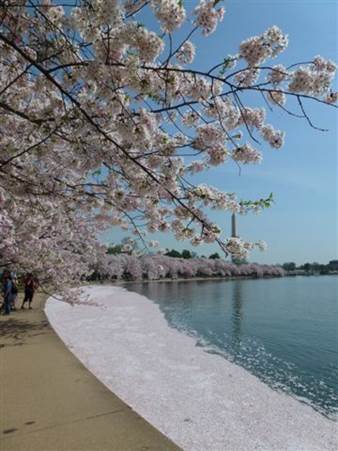 Our NY entertainment highlights were The Daily Show with Jon Stewart and the Leonard Cohen sold-out concert at Radio City Music Hall. Stewart was hilarious as expected and Leonard Cohen exceeded our very high expectations. The 78-year old singer-songwriter performed for over 3 hours with a superb band and a female trio of terrific back-up singers. Rita was most impressed that Cohen often went to his knees while singing, stayed that way for some time, and then glided right up – no hands to help. She was not sure her yoga class could do that. He also merrily skipped on and off the stage. A quite memorable bell-ringing experience.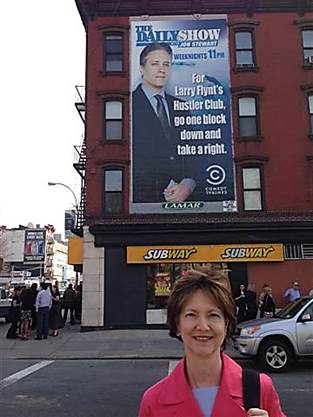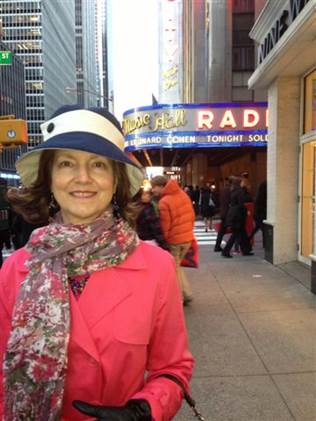 In the NY photos, do not be misled by Rita's hair – she was wearing a wig. But there is good evidence of a return to normal, and according to several observers, she is looking quite chic. Or to quote our friend Jim Graham, borrowing from a Bob Dylan rhyme: Rita looks like she stepped out of La dolce vita. This photo taken today after the doctor visit.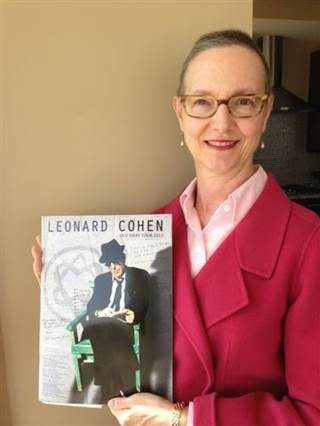 As a reminder, the "ringing bells" concept came from Leonard Cohen's lyrics in the refrain from "Anthem":
Ring the bells that still can ring, Forget your perfect offering
There is a crack, a crack in everything, That's how the light gets in
When Cohen sang "Anthem" at Radio City and got to the refrain, Rita and I looked at each other and both had tears in our eyes. And then smiles – many more bells to ring.
Today, even bigger smiles.
As always, our thanks to the village.
Lonnie
From: Lonnie Shalton
Sent: Wednesday, September 11, 2013 11:00 AM
Subject: "On the Road Again"
Rita and I last visited with the village in April, soon after the notice from the oncology folks on the clean scans. No new news on that front – which translates to good news.
Hair report: Rita's hair is slowly inching its way back and the current neck and hair combo give her an Audrey Hepburn look. Darn.
The odd news on the health front is that Rita broke her right big toe…..at yoga. While making a move with her leg, she stubbed her toe and the crack was heard by the whole class. Off to the doctor for an x-ray which confirmed the ligament had indeed snapped away from the bone. The only prescription was to take it easy, let the swelling go down and gradually work back to normal. And that has happened.
And we have been ringing bells as we are "On the Road Again." Since we last met with the village:
We returned for a long stay in NY, starting with the Metropolitan Room to see our favorite cabaret singer, Lauren Fox, and ending with our 32nd anniversary dinner on June 6. We also attended an open house for our firm's relocated NY office and binged on five Broadway shows. We got back to KC just in time to watch the Tony Awards and see our favorites win: Kinky Boots, Pippin and Vanya & Sonia & Masha & Spike.
The next summer stop was a road trip with Irv and Sharyn Blond to Crystal Bridges Museum in Bentonville, Arkansas. If you are looking for an easy weekend trip, the museum is only about 3 hours from KC. We stayed at the new 21C Museum Hotel and it offered us a pleasant surprise: a colony of penguins. You may recall that penguins are a unique part of Rita's life, including her walk among the real versions in Antarctica and her blow-up pet Willie who was kidnapped and mysteriously returned during a New Year's Eve dinner. The hotel hosts about 50 of the 4-foot green recycled-plastic penguins, most of whom migrate around the hotel and a few who perch as sentries on the roof. Here is Rita at breakfast with one of her new friends.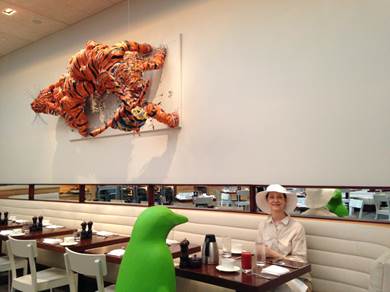 The museum is in the middle of a forest surrounded by walking trails – a superb setting. On a morning walk on one of the trails, Rita and I saw two young deer and a small fawn. The museum and collection of American art are well worth seeing. The architect for Crystal Bridges was Moshe Safdie who has designed two buildings in Kansas City: the Kauffman Center for the Performing Arts and the unfinished West Edge building that was torn down to make way for our law firm's new offices at Plaza Vista.
In 2010, we went to London and Paris with Jane and Woody Overton. Much of the fun (exasperation?) was watching Woody try out his French on Paris waiters and cab drivers – not a pretty picture. To renew the French experience, the four of us flew to Montreal for three days and then took a train ride to Quebec City for another three days. Woody proved that Paris was no fluke.
We had a great time as both cities are fun to explore. One of the highlights for Rita was a Beatles exhibit based on their Montreal concert in September of 1964, just a month after 14-year old Rita and her friend Anne Devaney had seen them in KC's Municipal Stadium. The photos of the screaming teenage girls transported Rita back to her summer before high school. To top it off, she did a Karaoke turn backed by a video from one of the band's Ed Sullivan appearances.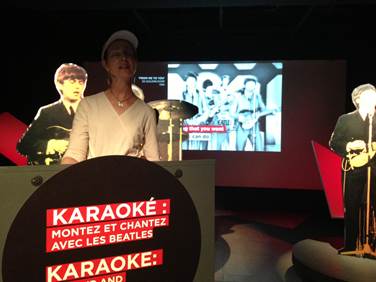 The Canada trip caused us to miss the Komen Race for the Cure on August 11, but we were in digital attendance. Fran Hanover is celebrating 20 years cancer-free, and husband Hollis surprised her at the walk by recruiting friends and family to show up wearing special tee shirts honoring Fran. She did not have a clue – so it worked well. There was then a follow-up breakfast at Grand Street Cafe. Hollis sent us our tee shirts in advance and we wore them for a photo from Quebec City (with mine on backwards so both sides would show) and this was smart-phoned to Hollis to show to Fran at the breakfast. Now for another 20 years.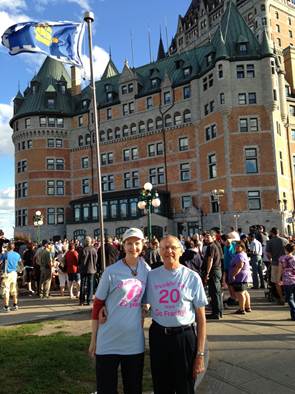 For the third straight year on Labor Day weekend, we joined the Brewers for the Telluride Film Festival. They drove up from Phoenix and picked us up at the Durango airport for the ride into Telluride. We saw a lot of good films and many will soon be in theatres. The weather was a mix of cold mornings, rainy afternoons and hot sun in between. Umbrellas were good for both the rain and the sun – see Larry waiting in line with Rita.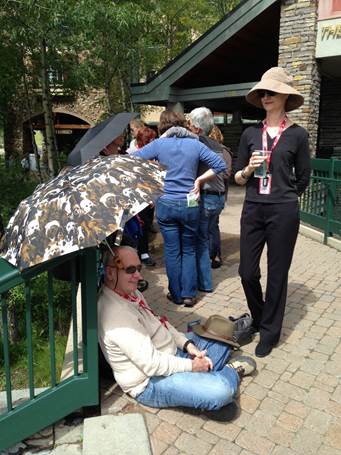 We will round out the year with a Bermuda cruise at the end of this month (with a stopover in Virginia for a weekend with Barbara and Joe Reres), a Naples visit in November with Marsha Murphy and Bob Morantz, and a Caribbean cruise in December with the Brewers. Next year, we hope to cross an ocean or two to get back to some exotic international destinations.
I will finish with a reminder of Labor Day a year ago. When it was determined that Rita would need a second surgery, the likely schedule was for late August or early September. But the film festival was on our calendar and the surgeon agreed with Rita's mantra: "Eat Dessert First." After a wonderful time at the festival, the Brewers returned us to Durango for our flight, but we first stopped in town for lunch and to satisfy Rita's shopping urge – she wanted some beads to assemble a necklace to symbolize her upcoming chemo journey. As you may recall, on each of the 20 days between treatments, she added a small white bead, and on each day of treatment, a large blue bead. The total: 100 white beads and 6 blue beads.
Last year, Rita left Durango with a sack of loose beads. This year, she arrived and walked off the plane wearing her 106-bead necklace. Vive la difference.
Namaste,
Lonnie