525,600 minutes – that's how many minutes there are in a year and it's the opening line of a song from the Broadway show "Rent."  The song goes on to suggest more meaningful ways to measure time – sunsets, laughter, cups of coffee …… time with a friend …… which leads to the song's message – measure your life in love.
So how to measure the life of Rich Ellison? Lots and lots of love of course, but Rich and I could also point to a number. We shared a thousand Saturday lunches. Before you think I am exaggerating, for the last 25 years, Rich and I did lunch if we were both in town on Saturday. He and I had a discussion about this last month – we figured that this likely worked out to about 40 times a year – times 25 – that's a thousand.
If you knew us when we met in 1977, you would not have guessed this would be our legacy. We had little in common. He had grown up in St. Louis – me, Kansas City. He lived in Kansas, I lived in Missouri – and yes, that meant he was a Jayhawk and I was a Tiger. Probably the biggest difference was that I was a very active in Democratic politics and he was a Republican.
He was an entrepreneur, a high profile car dealer. I was a lawyer. We were both lapsed Catholics, but he was a former seminarian who still leaned toward faith while I was a former altar boy who leaned toward doubt.
I had met Rich because I partnered up with his friend Dick Meredith in the Brewery restaurant in Brookside. Rich became our best customer, and not just him, but his entourage. The force of his personality always drew other people in. I hung out with him at the Brewery and we clicked. We went to Chiefs and Royals games and had season tickets together for the Kings.
I became the lawyer for his Stadium Imports business which sold foreign cars from some smaller companies, like Porsche – one of the first things he taught me what that it was Porsha, not Porsh. You sat on porch and you drove a Porsche. The really cool thing was that my retainer was the use of Porsche dealer car.
He then won a coveted point to be a Honda dealer. He had been known through his clever advertising as the "little dealer in the ditch", but he moved Stadium Honda to a place high on the hill in Raytown (he liked to say the expense of this made him the fool on the hill, but he enjoyed success there and in the next store in Lee's Summit).
He was my best man when Rita and I got married in 1981. To directly quote Rich, I became his "best male friend" – we all knew Mary was his best friend. And Rich was my best male friend, and likewise knew Rita was my best friend. He liked to ask me how Rita was because he liked my regular answer: "just right."
Being Rich's friend meant you were drawn into his family life – Sunday night dinners at the house on Tomahawk, orchestrated by Mary, a human dynamo. They always had an extended family for these gatherings. We got to know their kids:
Son Ricky (better known as Rocky), a young man of impressive independence and resourcefulness.
Daughter Laura, she shares her father's concern for those in need and like him, acts upon it. She is a long time social worker and a passionate advocate for her clients – and a dog lover, I think 4 at the moment, but before you think she's some softie, you should know she has a black belt in karate.
Daughter Amy, the mother of Rich and Mary's two granddaughters, the recently born Abigail and the six-year old Molly Grace – dancer, artist, precocious, negotiator – she's a first grader here at St. Paul's.
We vacationed at the Ellison ocean-side homes in Hilton Head and St. Simons. We traveled with them to Sicily, New York, wine country, Jamaica, Mexico, and many more. We watched all the big sporting events at their home, and that includes four years ago when Mario Chalmers hit the shot. Rock Chalk Jayhawk. I think you get the idea – Rita and I spent a lot of time with the Ellisons, but now I need to get back to the lunches.
It started innocently by getting together to watch games at sports bars on Saturday afternoons – Coaches on 103rd, Hooper's in Brookside. Often with other guys we knew. Then one Saturday, Rich and I happened to go to Grand Street Cafe to take advantage of the outside patio on a nice day and we found we did not miss seeing the games – we got the chance to talk in paragraphs rather than sentences between pitches – about politics, religion, family, sports, the stock market, his car business, my law firm, travel, books, movies, TV and on and on.
We switched from beer at a sports bar to a leisurely paced bottle of white wine. We made a conscious decision to not encourage others to join us – we had too much to talk about and the conversation never really ended. We broke that rule on occasion, most recently with Myron Kaminsky at Tybee Island two weeks ago.
All of this talking at lunch would often lead to action. It is amazing how the mind opens on a sunny afternoon with the help of a bottle of wine – sometimes a little more than that. We hatched a lot of our vacation plans at lunch. We mixed in some business – there was never a shortage of subjects in the crazy car business – he didn't mind getting legal advice when I wasn't on the clock. Probably the most unusual result, and this took some years, was that Rich evolved into a Democrat. Some of his Republican friends blamed our lunches for that – I don't mind getting credit, but Rich said the party left him.
We often spoke about the intersection of government, theology and charity – and this was in the context of how best to help those in need. Mixed in with this is that Rich had found a church home here at St. Paul's. The rector at that time was Bob Wood and Bob's wife Sherry ran the Kansas City Free Health Clinic. The big fund raiser for the clinic each year is the Bloom party, and Rich became a sponsor and took us along as his guests, but it was really a recruiting trip and we joined the Ellisons as annual sponsors. Great parties by the way – It's on April 13 this year. Get your tickets.
Rich became a member of the vestry here at St. Paul's and took on the mission of the food pantry. He blossomed. As his first pantry Thanksgiving approached, he said at one of our lunches that maybe he and I should add some dollars to increase his budget so he could give out turkeys to the clients. It was a big hit – he was so pleased with the reaction from the clients.
Christmas was up next and he came at me again – he had arranged a big discount at the Burlington Coat Factory to provide winter clothing for many of the pantry clients. Another success, and so in his first few months as the leader of the pantry, Rich had lived the scripture:
Gospel of Luke, chapter 3, verse 11: He that hath two coats, let him impart to him that hath none; and he that hath meat, do likewise.
Rich was on a roll. He was really excited about growing both the quality and quantity of the pantry. He got discounts on food and also got the pantry qualified as part of the Harvesters network. Better space was obtained and modern equipment was added.
A lot of this work came after Rich was diagnosed with Parkinson's, and as he came closer to being unable to continue, he willed himself to do one last key item – computerize the client process. Again, it wasn't really in the budget. Rich said how about us buying a computer and necessary accessories to set up photo id cards, and oh by the way, I want to recruit your son Brian to set up the system. And it was done.
Cheryl Dillard, one of the St. Paul's pantry volunteers, sent me an email this week about this process and one item really hit home: "Client check-in was automated with swipe cards and a user-friendly dignified way for volunteers to serve our clients."
Rich was keen on the importance of dignity. Most people seeking help through the pantry are not comfortable with seeking charity. To many, it is an embarrassment. Some are mentally ill. Rich understood this and was sensitive to the mental as well as physical needs of the clients. I again borrow from Cheryl Dillard's note "Rich's example of serving those less fortunate is and will be an example for me to follow. And if I can do it with half the grace and wit, I'll be most proud of myself."
One of Rich's proudest moments was when St. Paul's recognized his work by giving him an award in the name of Joseph of Arimathea. Joseph was the wealthy man who donated his personal tomb for the burial of Jesus. Joseph was a good and generous man, just like Rich. And hopefully just like all of you – the family has suggested remembrance contributions to the pantry.
It was at one of our lunches that I got scared about what was going on with Rich. I can remember the very table at McCormick and Schmicks – we were going through our usual ritual – order the bottle of white wine, waiter pops the cork, Rich does the tasting (he had by far the better palate) and then a toast to start the lunch – but he could not keep his hand from shaking for the toast.
He was eventually diagnosed with Parkinson's.  None of us really knew what this would mean, but I got some books – there is even one called "Parkinson's for Dummies" and it was pretty informative.
What we knew was that it was not going to be pretty, but for three to four years, Rich could still participate in most things, like traveling to Mexico, NY, to see Myron and Fran in Savannah, opening day baseball.
And I don't want to dwell on the Parkinson's because he never let it define him. As long as he could be "Rich", meaning his mental state, he could cope. He had his bad days, but he mostly kept his sense of humor, kept up on current events, especially politics and sports. He seemed to have better recall than any of us.
I am going to tell one Parkinson's story. A couple of years ago, we were having lunch, I think at Houston's, and it was Rich's turn to buy, and he was having a hard time getting his billfold out of his jeans and then the credit card out of the billfold. It was a frustrating process. Getting to his cell phone in his pocket was a similar problem. And even worse was dealing with the many pills he had to take.
I made a little friendly suggestion – maybe he should get some kind of satchel to carry these around, with some big pockets so he would have easier access. He looked at me "You mean a man purse – no way."
You see, Rich had some man rules. Men don't carry purses. Men do carry tickets. Men drive. Men drink gin at cocktail hour (for him, this meant Tanqueray, rocks, no garnish, he called it his hunk of gin). And scotch after dinner.
Mary, Rita and I worked on him, but he resisted. I sent an email to him in January of 2010, with the subject line "I did not make this up" and said "Can we all agree that Jack Bauer on "24" is the most macho guy ever? If you have not been watching this year, you need to tune in and see him running the streets of New York with his satchel that he carries on a strap worn bandolier style. Just the right size for a couple of handguns and his medicine.
He wasn't budging. Rita decided to take a risk – she bought him one for his birthday and we held our breath as he opened his present. and it was okay. He started using it. He even named it – Lonnie. He said he now took Lonnie with him everywhere. I was honored.
McCormick's. Houston's and Grand Street still saw a lot of us for Saturday lunch and when it became too hard for him to get out, we used his living room. When he started with hospice, we increased to two Saturday lunches a week – Saturday lunch does not have to be on a Saturday nor need a lunch – we just needed the substance of it – the unit of quality time. So we squeezed a few more in.
Rich orchestrated his last weeks at Tybee Island in Georgia and Rita and I enjoyed a great eight days there. Rich and I had three Saturday lunches. We also played a fair amount of gin, and he had to educate me on the rules since we usually did not play cards – sort of like not watching sports at our lunches, we did not want to multi-task during our talks. He got his gin rummy fix on Thursdays with Rick Jones. I got lucky and was ahead when I left Tybee, and I got to thinking as I was working on this – Rich still owes me 6 bucks. But for a proper accounting, I need to check our "records," my business cards that kept track of our taking turns paying for dinner, drinks after work and the Saturday lunches. As I look at the cards, he owes me drinks and lunch, but I owe him dinner – that was often expensive. Adding all this up, it looks like I am in his debt.
Of course, I'll always be in debt to Rich, dinner or no dinner.
One last story. Two days before Rich died, we were back in KC and he was at Tybee. We used Facetime on our iPads to have a nice long visual phone call. In true Ellison form, he picked up his hunk of gin and asked us to do a toast. Rita ran to the kitchen and came back with two glasses of wine and we toasted. Mary and Laura also toasted on screen. It was just right.
Rich was only 67 years old, way too young, especially if you are measuring years at 525,600 minutes. But if you measure life in love of family and friends, and most of all Mary, Rich was the thousand year old man. And I got a lunch for every year of that. Thanks so much Rich.
_________________________________________________________________
Eulogy at  Rich Ellison services at St. Paul's Episcopal Church, February 24, 2012.
_________________________________________________________________
Tybee Island (2012)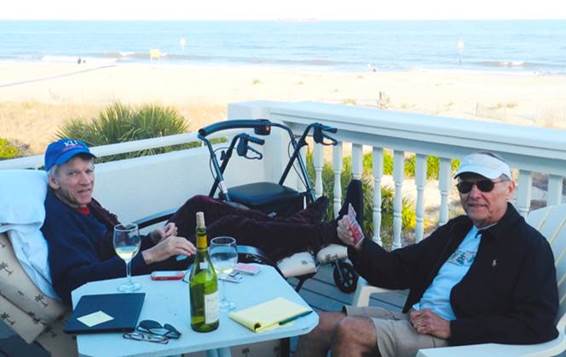 Hilton Head (1980s)