"Hi, my name is Ray Webb. Perhaps you've heard of me."
 That was Ray Webb's trademark opening line when he met someone new. A lot of people had indeed heard of Ray. And a good number of us will never forget him.
My nostalgia level for Ray is especially high this summer. Fifty years ago (1970!), Ray was a candidate in the Democratic primary for a Missouri state representative seat. I was his campaign manager. Long story short – Ray lost.
But for the two of us at a personal level, it was a big victory. A deepening of a friendship that endured until Ray died in 1984.
 Unforgettable Character: When I was in high school in the 1950s, I often leafed through the Reader's Digest that came in the mail. My teenage mind gravitated to the pages with the jokes, but I also liked checking on the articles that began "The most unforgettable character I ever met." It was a nice template for honoring memorable people. All of the subjects are said to have one common attribute: "Skill in that most difficult of pursuits, the art of living."
 That's a good way to say it. Ray Webb was skilled in the art of living. That's why he is unforgettable. And oh was he a character.
I won't be able to capture in words the outsized personality of Ray Webb. You had to be there. In the room where Ray happened. Maybe this picture will help.
But I will share some history and anecdotes. As you read them, you need to know that when Ray walked into a room, he not only had that great opening line, he noticed the color of your eyes and if you had dimples. A woman might be told she was "uncommonly pretty." His infectious enthusiasm invited you in. The people in the room were drawn to this jovial man usually dressed in his "uniform" of a blue sport coat and red socks. A lighted Pall Mall was ever-present (remember, this was decades ago). As was a Budweiser or a cocktail.
Ray was an animated storyteller – at the raconteur level. A Groucho Marx of one-liners. He knew hundreds of jokes and could deliver them with aplomb. He would gamble on anything. He was also stubborn and could be ornery – but always fair. He knew the words to a ton of country songs and liked Dusty Springfield and Sam Cooke. When he added his tip to a bar bill or a restaurant check, he always rounded up to an even dollar amount – so I started doing that and have never stopped. I think of Ray each time I do it.
He was sometimes over the top. Audacious. But you could not help but laugh. An example: Ray was at a pool party at my house. Many of the guests were in the pool, but Ray was standing near the deep end, dressed in his shirt and slacks, a cigarette in one hand and a beer in the other. He was being taunted for not getting into a swimsuit and joining the folks in the pool. No problem. He just walked off the edge and into the water – clothes, cigarette and beer with him. A memorable scene. The art of living.
Every person who spent much time with Ray has a good story to tell (likely several). I'm going to have to limit myself to keep from writing a book. So I've picked three areas. Ray as politico, lawyer and entrepreneur.
Ray the Politico
 The Young Democrats: Ray and I met in the mid-1960s in law school at UMKC. We were in the same legal fraternity, but he was in the night school program, so we did not often cross paths. I was not aware at the time, but he was already involved in politics. In 1964, he worked on Congressman Dick Bolling's campaign. In 1965, at Ray's day job as an insurance claims adjuster, he met fellow adjuster Don Manford who was gearing up to run the next year for state rep. Don invited Ray to attend the annual picnic held at Lake Jacomo by the South and Eastern Jackson County Young Democrats. This YD club was closely tied to the new reform organization, the Committee for County Progress and its Eastern Judge candidate, Alex Petrovic. More importantly, the picnic is where Ray met his future wife Rosalind (a/k/a Roz) who was active in the YD club and lured Ray into joining up.

After I finished law school in 1967, high school friends Bill Lochman and Jim Graham recruited me to join their Young Democrats club. It was the same one Ray was in. Serendipity. He had recently married Rosalind whose sister Pat Carter (now Hininger) was president of the club. The next four presidents were Ray, Bill Lochman, Lonnie and Rosalind. Below, the dynamic duo, sisters Pat and Roz in their blue YD blazers.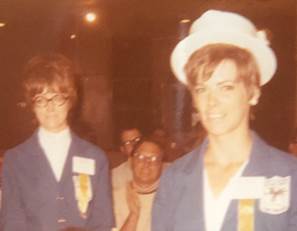 We had monthly meetings at the U-Smile on Highway 40 and monthly board meetings at member homes. Although the purpose of the club was political, it was also the primary social life for many of the members. We were known as reliable campaign workers and held good parties – the most legendary being the annual picnics at Lake Jacomo that drew hundreds of people.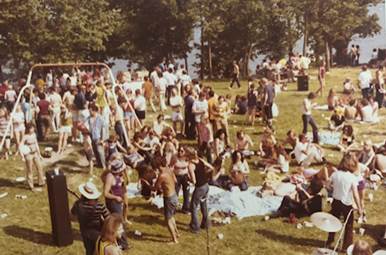 The first election I worked on with Ray and the other YDs was the primary in 1968. The CCP was running a strong slate for county offices. Our favorite statewide candidate was Lt. Governor Tom Eagleton who was running in his first U.S. Senate race. When Eagleton was scheduled to speak at our club meeting, Ray picked him up at the airport. Ray was known for having multiple cars, all in bad condition. The one he drove that night had a passenger door that was not very secure. When Eagleton was asked if he had a good trip to KC, he reportedly replied that all was well except he had to hold the car door closed while Ray raced down I-70 to the meeting.
I do not know if Eagleton needed to bum a cigarette from Ray that night, but if he did, he would have been pleased. They both chain-smoked Pall Mall cigarettes.
The 1968 primary election results were good. The CCP won almost all of the county races, including Alex Petrovic for Eastern Judge. Tom Eagleton, surviving the ride with Ray, won and went on to serve three terms in the Senate. It felt good to be in the middle of so many successful campaigns and getting to know candidates who were now going to be officeholders.
Our club was also active in the state and national Young Democrats, which meant travel to Jeff City, St. Louis, Sikeston, Louisville and Hot Springs. When the club chartered a bus to Sikeston, I remember Ray starting a dice game on the bus and, without missing a beat, continuing the game at the entrance of our hotel when we arrived.
In 1970, Ray ran for president of the Missouri YDs. The campaign was run by sister-in-law Pat Hininger, and one of her promotions was a series of "Proclamations by the Wizard Roz" as teasers at various events prior to the convention. At the convention, there was a trail of yellow webbed (duck-like) feet throughout the lobby and hallways of the hotel. If you followed the "Yellow Webb feet" – like the yellow brick road – you ended up in the campaign's hospitality room.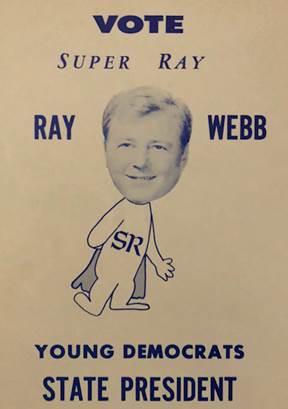 Below, Ray and Roz at the convention.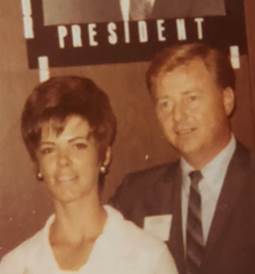 Ray won handily and appointed me as general counsel to the state organization. Below, the two of us.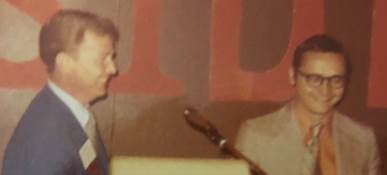 YD's at the Chiefs: Before I graduated from law school, I started sharing Chiefs season tickets with Jim Graham and Bill Lochman. Ray and other YDs joined in until our group had grown to 16 fans seated together in the North Stands at Municipal Stadium. In 1969, we had the pleasure of watching the Chiefs go 11-3 and make the playoffs. The AFL title game was in Oakland, and Ray was able to time some company business in Oakland so he and Roz could attend the game. Since Ray never met a stranger, he had no problem making bets at the brunch before the game, on the bus and at the stadium. I'll let Roz tell the story:
"Ray and I [Roz] were at the game in Oakland that decided which team was going to New Orleans for Super Bowl IV.  We traveled to the game on a bus with Oakland fans following a brunch-type gathering and sat amidst them in the Colosseum.  It was such a heady experience to know we were going to New Orleans that we lingered for a while in the stadium to savor our win.  Just as we reached the door of the already Oakland-fan-filled bus, the driver shut the door and left. We thought for once that Ray's usual taunting-type behavior had landed us in real trouble.  After a minute or so, the bus returned for us and its occupants paid off their bets to Ray but had a good laugh at his expense."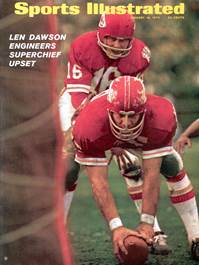 We watched Super Bowl IV together at the home of Lou and Millie Philpott (parents of Pat Hininger and Roz Webb). We were of course ecstatic with the win over the Vikings.
Our group was in the North Stands on Christmas Day of 1971 when the Chiefs lost the longest game in NFL history. It was the last game at Municipal Stadium because Arrowhead opened the following season. Many of us did not like our seats at Arrowhead, and Ray and I were among those not to renew. A few years later, Ray and I again shared season tickets, but it was for the NBA Kings playing at Kemper.
1970 – Ray Webb for State Rep: The YD presidency was not the only 1970 campaign for Ray. He was also ready to try his hand at public office and filed to run for state rep. He asked me to be his campaign manager. I said yes, and we drove to Jefferson City for the filing.
During the months leading up to the primary election on August 4, we were constantly together or on the phone. Our earlier involvement in politics had been under the direction of others with campaign experience. Now we had to organize everything ourselves. Recruitment of volunteers. Voter registration. Endorsements. Yard signs. Fund raising. Campaign reporting. Door-to-door canvassing. Poll workers. And on and on. A crash course in running for office.
We spent a lot of evenings putting up yard signs and stapling posters on telephone poles. To make it hard for people to remove the posters, Ray would drive his convertible next to the pole so I could stand on the top of the car door and staple the sign at a high level. And no, it was not legal to put the signs on the poles.
Below, one of Ray's campaign handouts. Full disclosure – Ray was in the Marines, and his service did overlap the Korean War. But he never went to Korea.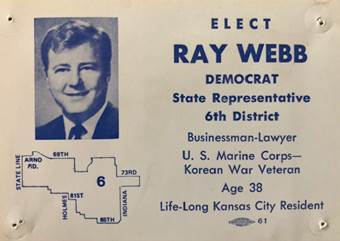 Ray ran with the backing of the CCP, which in normal times would have been enough to win the Democratic primary. But the CCP had an internal battle after they picked George Lehr for Presiding Judge over Charlie Wheeler. Wheeler put together his own ticket with Prosecutor Joe Teasdale as his running mate. The "Wheeler-Teasdale" ballot turned out to be popular in Ray's district, and the state rep candidate on that ballot defeated Ray. After all those fun victories in 1968, we found out what it was like to lose.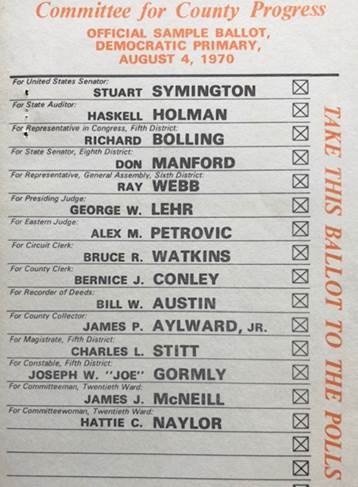 But all was not lost. As I noted earlier, our friendship deepened. And the lessons learned were invaluable to our future.
There is a good small world story about the campaign. One of Ray's endorsements came from Hy Vile, a well-respected businessman who lived in the district. Vile's daughter, Rae Block, became a campaign volunteer. Her husband was Jimmy Block of Block and Company. Their son David was 17 at the time. Ray's daughter Vicki was 16. The teenagers did not meet during the campaign. They met several years later and have now been married 35 years.
1972 – Ray Webb for County Legislature: Ray still had the bug to run for office. A new charter for Jackson County had been approved by the voters – our YD club had worked on the signature campaign to get the issue on the ballot. The county would now be headed by a County Executive and a 15-member County Legislature. Ray wanted to run for one of the at-large slots on the county legislature. I again agreed to help, and we started making the rounds to see if he could get some endorsements.
In those days, several factions in the North End were influential in Democratic primaries. The man to see for those endorsements was Alex Presta who was linked to the Civella crime family. Ray and I went to Presta's house in south Kansas City, and it was a cordial meeting, but Presta gave us an early tipoff of what we were up against. He said he thought most of the factions would be supporting the "football player." Presta was referring to Fred Arbanas, the popular tight-end who had retired from the Chiefs in 1970. We found that to be the common refrain, and Ray dropped out of the race (but I still have the campaign sticker shown below). Arbanas held the seat for 42 years.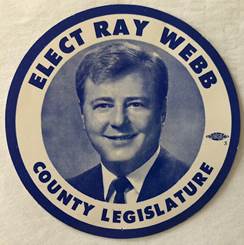 Even without a Webb campaign, the 1972 elections proved important to both of us. Ray worked on Ralph Martin's campaign for prosecutor. Ralph won, and within a year, Ray joined the office as a part-time assistant prosecutor.
In another race in 1972, Mike White ran for a county legislature seat and beat his opponent by one vote (out of more than 28,000). Two years later, I was Mike's campaign manager for County Executive. The experience from the 1970 Ray Webb campaign proved most helpful. Mike won the race and that was instrumental in my becoming Chairman of the Jackson County Democratic Committee. Ray and Roz were active in County Committee events, like this one in 1974 with Senator Walter Mondale. Two years later, Mondale was elected Vice President.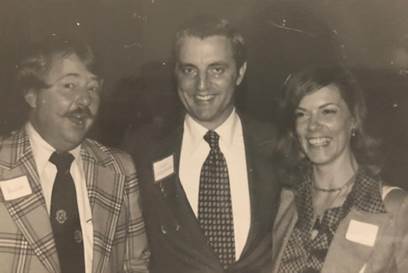 Ray The Lawyer
My Law "Partner": Ray was almost 37 when he graduated from law school in 1968. His prior experience had ranged from railroad switchman to sales to claims adjuster. One of the first things he did after passing the bar was buy a new Camaro convertible. It was blue (like his eyes he said). Although too late for Tom Eagleton to benefit, Ray's days of acquiring a fleet of rattletrap cars were over.
With law degree in hand, Ray went to work in-house at IMCO Container Company. This gave him a regular income, but he was looking to eventually open a law office. I was at the Popham firm, and Ray asked if he could use our Commerce Building address on his business cards (to be his "office"), and he would refer business to us. The firm said yes – everybody liked Ray.
So we started hustling business together. In those early days of my practice, this mostly meant municipal court, car wrecks and domestic cases. Where to find them? Ray knew a lot of people – he was ten years older and had a wide range of contacts. We would meet people for drinks and Ray would hand out his cards. A lot of them, so people could pass them along to friends who might need a lawyer. We had some success at getting business, if not always as good on collecting fees. And we had a great time.
One of the benefits of being out hustling business was to wind down by shooting pool at the Club Royal at 3732 Main (still remember the address). We were only moderately good at the game, but one of my favorite memories of Ray is how he strutted along the table as he set up for his next shot. The music was good too with honky-tonk bands playing on the other side of the house. Bartender Don became a good friend and a source of referrals. The building is long gone, but the façade was preserved in the new structure.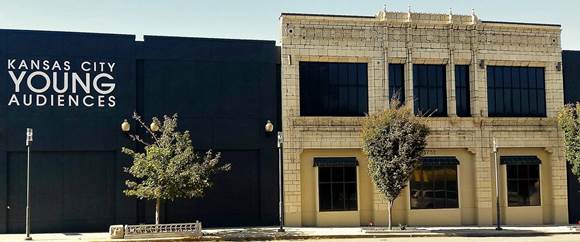 The Club Royal was also part of another Ray story. I had picked up Ray and Roz to go to a YD board meeting at the home of Bill and Lois Lochman. As the meeting ended, out came Ray's dice. I'm not a gambler, so I just watched as Ray and several others played. Ray got on a hot streak and built up to about $100. One of the other players (let's call him Henry), was famous for having a $100 bill that he often flashed and wondered if anyone had change. We were not (yet) in his league. Henry put his $100 down. Ray, never passing up a chance to lose his winnings, threw the dice. He won. Henry wanted to keep playing, but I intervened to say we had to go. I did not want Ray to lose the winning moment. Ray said sorry to Henry, but I was his ride. Ray, Roz and I went to the Club Royal to celebrate. Ray tore off corners of the $100 bill for us to keep as souvenirs. It was in my billfold for years, close at hand for proof when recounting the story to others.
Ray's loose connection with the Popham firm was enough to get him invited to "Camp Swampy," the firm's annual retreat at Lake Pomme de Terre. It was not fancy. Cheap motel, pontoon boat, some softball, a little fishing, poker and a fair amount of beer. Ray fit in quickly when he swallowed some minnows from the bait pail of one of the fishermen. Senior partner Tom Conway ran the poker game, and Ray drove him crazy by constantly raising and staying in whether or not Ray had a good hand. After dinner, our crew walked over to the local outside country music show. There were some low-rise wooden stands and a stage, but many customers parked their cars in the field behind the stands and honked their horns in applause. Although we were seated in the stands, Ray started yelling "honk, honk" to commune with the cars. It caught on. The band was always understanding of the overserved lawyers from Kansas City.
The Popham firm was also home to another business endeavor with Ray. We met monthly in the conference room with about ten other guys, including our YD friends Lochman and Graham and my college fraternity brother Larry Brewer. It was a stock investment club that had the lofty name of Progressive Investment Group (affectionately known as PIG). We put in like $25 each per month. This meant buying penny stocks, almost none of which turned into dollars. But PIG was a fun group and the camaraderie made up for the stock losses. One night as we left the Popham office and hit the street, Ray fished out his dice (are you sensing a pattern here?). In the ensuing game on the sidewalk at 922 Walnut, the big winner was Larry Brewer who kindly bought one or more rounds that night. Larry still loves to tell this story.
 Prosecutor's Office and Solo Practice: When Ray was working as an insurance adjuster during law school, his office was downtown. He loved the energy of the city (there were still lots of retail stores, movie theaters, etc. then). It was of course also the center of the legal world that he would enter someday. He told me his feelings were right out of Petula Clark's hit song "Downtown": "Just listen to the music of the traffic in the city…The lights are much brighter there/You can forget all your troubles, forget all your cares/So go downtown, things'll be great when you're/Downtown, no finer place for sure/Downtown everything's waiting for you."
So after Ray left IMCO in 1973, he was thrilled to get back downtown. He thrived in his part-time work at the prosecutor's office. He leased an office across the street from the courthouse, and over the years, developed a practice serving a diverse clientele. Another solo practitioner in the same suite of offices was Preston Cain who became Ray's close friend and a business partner.
Ray kept a regular docket as an assistant prosecutor until his death, working for Ralph Martin and then Ralph's successor Albert Riederer.
Derby Day: In 1965, a group of young trial lawyers gathered in a backyard for a Derby Day party. It was a good time, so the event grew over the years, moving to bigger venues and attracting hundreds of attendees. "Sponsors" were recruited to help fund the effort, and Ray and I became sponsors for several Derby Days. In 1973, the original group decided that nine years was enough and announced there would be no party in 1974. It did not help that the 1973 party had been raided by the city because of the betting. We got off with a warning. Ray's boss, Jackson County Prosecutor Ralph Martin, was a guest at the party and opined that Jackson County might not be the right venue going forward.
But Ray County (no relation to Ray Webb) had no such qualms. The original organizers were still out, but welcomed new talent. So Ray and I, along with Ed Forgey, gave ourselves the honorific title of "The Triple Crown" and with a large group of sponsors threw a grand Derby Day at Crystal Lake in Ray County. Putting it together was much like Ray's 1970 campaign – planning, organizing, recruiting volunteers and getting out the vote (a/k/a crowd).
We did it again in 1975, but that would be our last. The front page of the 1975 invite is below.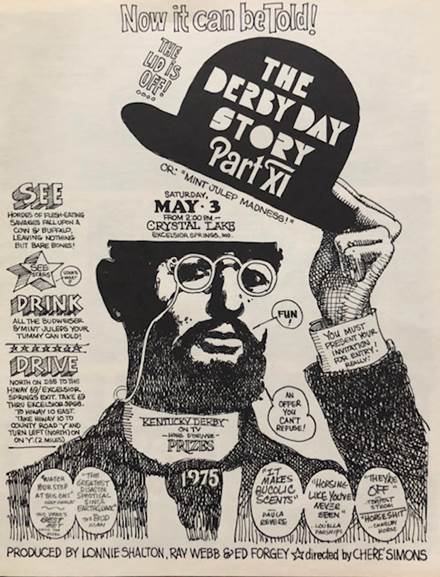 On the last page of that invitation, Derby Day's resident artist David Howard drew these caricatures of Ray and me. The "K" on Ray's hat was because many thought his hair and mustache were reminiscent of Captain Kangaroo.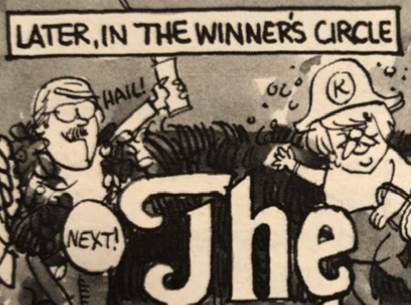 Ray the Entrepreneur 
 Ray is Up the Street and at the Downtown Office: Ray was a popular figure at the courthouse, and Roz also worked there as the top assistant to County Collector James Aylward. Ray naturally became familiar with many of the hangouts downtown, and this "research" led him to believe that he could add a good side business to his portfolio – a place for his big entourage of friends to gather at the end of the day (or earlier if so inclined). So in 1978, Ray and two partners opened Up the Street at  221 E. 12th Street, just two blocks from the courthouse. It was a small joint, but just right for combining Ray's legal and social life.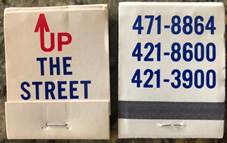 Note that the matchbook cover lists three phone numbers. Ray lived on the phone and could not abide not always having one available. This was long before cell phones. When Ray was at the bar, he stationed himself within reach of two of the phones so he could constantly be in touch with his clients and friends. If Ray was at the bar when someone called his office, his secretary would say he was just "up the street" and would call right back. The message would be relayed to him and he called right back.
With all that Ray had going on, he needed to be well organized. His tool for this was a "Plan-Thru" (or "Through," not sure), a foldup calendar that covered two or three months and fit nicely in his sport or suit coat pocket. There was also a lot of memo area where he entered addresses and phone numbers, bets, loans and the myriad other info that today would be on a smartphone. He had acquired a stash of these calendars while working as an insurance adjuster and used them for the rest of his life. I liked the system, and he gave me a stack so I could start using them too.
Not satisfied to just have a bar east of Main Street, Ray joined up with our YD friend Bill Lochman in 1979 to open a new bar on the west side of downtown. They called it the Downtown Office ("DTO" for short). Part of the plan was that customers could just leave word at work that they were at the "downtown office." Sort of like being "up the street." And as if two bars were not enough…
The Brewery: In 1977, I invested in The Brewery, a new bar/restaurant in Brookside. In 1979, the operating partner wanted to move on, so Ray and Roz bought him out and became my business partners. The new manager was none other than Pat Hininger, sister of Roz and the president of the YDs when I first joined back in 1968. The Brewery was a neighborhood restaurant, a hub for political gatherings and a meeting place for those headed to Kings or Royals games. In 1980, we received an unsolicited offer we could not refuse. So we sold for a (modest) profit.
The Harris House: In the fall of 1980, I invested in the Harris House in Westport. Ray was not involved, other than being a good customer. There was no profit in this deal, but I still fondly remember June of 1981. On June 6, Rita and I were married and had our reception at the Harris House. On June 24, the Harris House was the venue for a celebration of Ray's 50th birthday.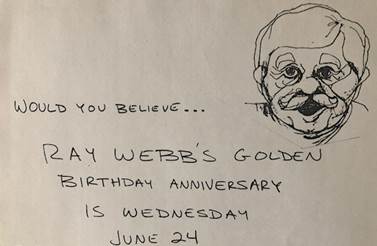 Puerto Vallarta: Ray was a Pied Piper, able to draw a crowd over a wide range of activity – politics, sports, long lunches, etc. Many of these were organized at his bars. The trips with the most mileage were to Puerto Vallarta. One of his selling points was the low price of the trip. The bargain started with the room rates at the Oceana Hotel located in middle of downtown – $8 to $14 a night. The hotel had no air conditioning.
Ray spoke pretty good Spanish and so fit right in with the city. The Webb crew went several years, but I only made it one time. What I remember most was Ray taking up his post in the open bar window at the Oceana. Looking out, he watched the street life and could look across the Malecon to see the ocean. Looking in, he could hold court with his friends just like he did at his bars in KC. You could find him there unless he was sleeping or out for a meal.
 The Zoo Bar: After Ray phased out of the ownership of the Downtown Office and Up the Street, he and Preston Cain opened the Zoo Bar at 1218 McGee in October of 1982. Much of the old clientele moved with him – judges, lawyers, staff from the courthouse, assorted Damon Runyon characters, and the always-expanding group of friends who enjoyed being around their jovial host.
The name of the bar was no accident. Ray appreciated the wonders of nature. A sunset in Puerto Vallarta. A confluence of rivers – on a trip back from Jackson Day in Springfield, he took a detour to show me one of his favorite vistas, the beginning of the Osage River at the confluence of the Marais des Cygnes and Little Osage Rivers. This interest extended to the animal kingdom. He loved going to zoos when he traveled – a sunrise viewing of the pandas at the National Zoo in D.C.; a quick run-through in Guadalajara where Roz says the main features were a stuffed elephant and chipmunks; San Diego; Omaha; St. Louis, Kansas City, etc.
Hence, the Zoo Bar. It is said that some checks cashed at the bar were made out to the Friends of the Zoo (you know, for tax purposes). Apocryphal I'm sure.
Three phone numbers of course.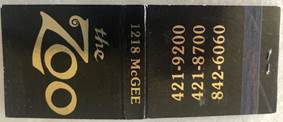 By the time Ray opened the Zoo, I was practicing law on the Plaza. I had left downtown in 1979, and my new practice was not courthouse oriented. So I saw less of Ray, although I did make periodic visits to see him at the Zoo. And it was pleasantly the same. He would be at the far end of the bar holding court with Zoo regulars and maybe a client. Just as it was at Up the Street – phones within reach as he conducted his legal business and organized events (softball, bowling, pinball) and whatever else was part of his eclectic life.
Ray would only have 17 months to enjoy the Zoo Bar. He died in May of 1984. He was 52. Way too young. But as his friends knew, and often repeat to this day, Ray crammed two or three lives into those 52 years.
 Memorial Service – The Rose Garden: Ray's obituary in the paper ended with these words: "Memorial services will be at noon Wednesday in the Rose Garden at Loose Park. The family requests no flowers and suggests contributions to the Friends of the Zoo."
The Rose Garden was a perfect setting. No one had stopped to smell the roses more than Ray. The art of living.
The Kanas City Star covered the service, and my copy of the old clipping reminded me that the service opened to the sounds of Paul Simon's "Slip Slidin' Away." The article said that more than 400 attended and that Preston Cain welcomed the crowd there to honor Ray's zest and enthusiasm for life.
I was among those sharing memories, touching on many of the stories discussed above. The emphasis was naturally on the force of Ray's personality and the joy he brought to his friends. But I also reflected on his thoughtful side and his outlook on life. For years, he championed the reading of "Desiderata," a 1927 poem by Max Ehrmann. Ray gave prizes to his kids if they accurately memorized the words. I can't say Ray always followed the teachings of the poem, but he did adhere to the final words – "Strive to be happy." The full poem can be found online here. It was read by his daughter Rhonda at the memorial service.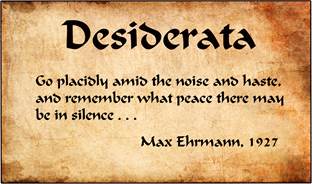 Ray shared "Desiderata" with his friends by handing out frame-quality copies. He did the same with "My Creed for Success." Again, this was not an original from him, but he liked the lessons: "That man is a success who has lived well, laughed often and loved much…Who has filled his niche…Who leaves the world a better place…Who never lacked appreciation of Earth's beauty…Who always looks for the best in others AND GIVES THE BEST HE HAS."
My copies from Ray were framed and hung in my home. There was a third that joined them, but it did not come from Ray. It was written by his friend Danny Matula, a fellow lawyer and one of Ray' partners in Up the Street. It was structured in the form of a response to Ray's "Creed for Success." It's spot-on.
"I know a man who has achieved lofty goals though confronted with substantial adversity.
 Who has overcome the difficulties of youth by employing a self-imposed and premature maturity.
 Who maximizes the pleasant experiences of adulthood by sagely maintaining the enthusiasm of childhood.
 Who though worldly wise and cynical when appropriate is quick to applaud worthwhile efforts of others and who continually addresses himself to what is right and good.
 It is an absolute delight to be in his company; and his friendship is a cherished gift.
 His appreciation of his fellow man is infectious and his understanding counsel frequently provides a needed and timely lift.
 Of course because he is overloaded with all these fine characteristics, he has attained some degree of notoriety. Many persons frequently quote his commentary verbatim.
 He may go through occasional hair style changes and dress with the confusion of a color-blind chameleon, but he clearly is who he is.
 His name is Ray Webb – Perhaps you've heard of him."
Dan.
A good portion of the crowd left Loose Park to head down to the Zoo to drink to Ray. As Loren and Judy Rea were going to their car, a passerby asked what was going on. They told him it was a memorial for Ray Webb. The man responded, "You know, I think I've heard of him." Probably had.
The party went on for hours at the Zoo. It was hard to let go.
Preston Cain still owns the Zoo, now in its 38th year. Ray Webb is still evident behind the bar (the lettering below his name on the sign, "PERHAPS U'VE HEARD OF ME").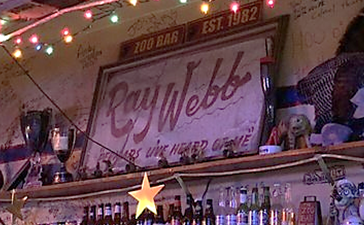 Rosalind: Roz sent me a letter after the memorial service. Made me cry. Still does.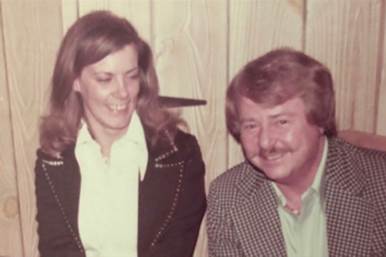 Lonnie,
 Whatever I say will not be sufficient to express my gratitude for your help. As I knew you would, you did not for a minute hesitate when I asked if you would share your memories of your friend and former business partner.
 Ray was never one to be jealous of his friends' successes and always so proud to have known you when – and even prouder to have maintained that friendship over lots of years of personal and professional changes for you both.
 His most frequent reference to you was that unlike himself, you were a person who found something to like about everyone he met. He marveled at that and many other things different about the two of you, often wondering himself how the two of you became close friends. I guess some things just don't need to be analyzed – they just are what they are.
 Thank you so much for making the service truly a celebration of life – exactly a fitting event handled so well by one who really cared and loved him as much as one man can love another.
 Also, Rita should know that one of the events that touched Ray emotionally more than any I've heard him speak of was your wedding ceremony.
 Thank you both for being there – then and now.
 Love, Rosalind"
 Love you too Roz.
And Ray, I'm still tipping so that my restaurant checks round up to an even dollar amount. An ongoing reminder that you are the most unforgettable character I ever met.