This past Wednesday was June 6. Most remember this date as the anniversary of D-Day (1944). It is also the date of my marriage to Rita (1981), and we were set to go out to dinner for our 37th anniversary.
But an event that same night at the Plaza Library caught our eyes. So we did both. The dinner reservation time was set back and we went to a presentation on the making of The Ordinance Project, a documentary film about the passage of the 1993 ordinance that added "sexual orientation" to the Kansas City civil rights laws. As Rita and I listened, we both thought about our dear friend Ken Hill who died of AIDS in 1993.

The event was moderated by Austin Williams, a UMKC doctoral candidate whose dissertation is about the three-year fight to pass the ordinance. He found the story so compelling that he added filmmaker to his resume and financed the film through a crowd-funding site (click here to see his impressive pitch to raise funds).
Williams described the background on the movie and then led a panel discussion with three LGBT activists from the era plus city council member Katheryn Shields who with Mayor Dick Berkley co-sponsored the original legislation. Their first attempt in 1990 had a good start, but pressure sent the matter back to committee where it languished until after the 1993 elections. With the support of new Mayor Emanuel Cleaver and seven council members, the ordinance was passed 8-0. The other five council members were absent for the vote.
Williams showed a film clip of some council hearings, and David Weeda was one of the witnesses speaking in favor of the ordinance. David was then a tireless and effective worker for the Human Rights Project and ACT UP, the AIDS Coalition to Unleash Power, a cause closely tied to the need for an anti-discrimination law. I met David through Ken Hill, and after Ken died, David gave a moving eulogy at Ken's memorial service.
During the event at the Plaza Library, Rita and I did not pick up the date of the passage of the ordinance and wondered if it happened before Ken died. We likely knew it at the time, but the memory has faded after 25 years. The date is a bittersweet memory for us because we know Ken died on our 12th anniversary. That year, June 6 was on a Sunday, so we decided to have our anniversary dinner on Saturday night. On our way to dinner, we stopped by to visit Ken at his home on Meyer. He died the next day, June 6, 1993.
I went to my "Ken Hill File" and got my answer on the ordinance date. And so much more. I found a copy of David Weeda's eulogy (here). He talked about the three years they worked together on the ordinance project, a very personal journey that matched David's activism with Ken's savvy (and generosity). David said it was Katheryn Shields who connected him to Ken in 1990. And the welcome news – the ordinance passed on June 3 and Ken did know that. A fitting final victory.
We lost a dear friend 25 years ago, and I am so appreciative to have David's words to revive some of the memories. It is attached and highly recommended. Be prepared for some tears.
As for David Weeda today – still the activist. Click here.
Another connection you should know is that filmmaker Austin Williams is the son of Billy Williams and the nephew of John Williams. Billy and John were long-time activists in local Democratic politics. They are both deceased, but I know they would be proud of Austin.
The movie will have its world premiere on the opening night of the KC LGBT Film Festival, June 21 at 7:00 at the Tivoli. Another showing at 10:30 a.m. on June 23.
As you probably noticed last week, there was another June 6 memory. The 50th anniversary of the assassination of Robert F. Kennedy. As I was going through my Ken Hill file, I found that someone else had noticed that date coincidence. Below is a portion of a letter to the editor published in the Kansas City Star on June 19, 1993 – written by Ken's friend Dan Hoxworth:
"Ken combined a boundless energy with a passion for excellence and a contagious personal warmth, enthusiasm, and an infectious optimistic outlook that radiated out to and energized everyone close to him. He was a tireless supporter of human and equal rights for all people…No day is ever appropriate for the death of a great man. Yet, strangely, ironically, June 6 is, in retrospect, a fitting day for Ken to depart, for Ken now shares this day with Robert F. Kennedy, who died on this day in 1968. They shared a passionate commitment to equality, social justice and human rights. This flame burns brighter in the hearts of all of us due to their vigilant efforts…Ken was there: financially, emotionally, and energetically supporting these and other numerous crusades…Fortunately and fittingly, Ken lived to see the passage of the Human Rights Ordinance on June 3."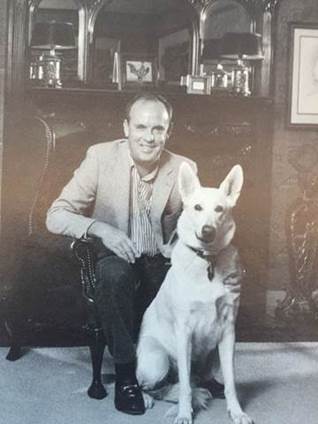 Above, one of my favorite photos, Ken with Charlie.
Lonnie