This week's mayoral election revived some memories that took me back to 1979 – five years before Quinton Lucas was born.
That year, Councilman Bruce Watkins made a valiant run to become the first black Mayor of Kansas City. He lost the election, but his campaign opened the door to the prospect of the city someday electing a black Mayor. Another step came in 1982 when Alan Wheat was elected to Congress. In 1991, Emanuel Cleaver became the city's first black Mayor. Sly James is now in his second term and Quinton Lucas is Mayor-elect. They all stand on the shoulders of Bruce Watkins.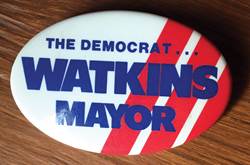 I wrote a longer version of this story back in July of 2016 as part of a political series. Below is that excerpt, updated for this week's election:
1979 – A New Mayor: Charles Wheeler wanted a third term. Four councilmen lined up to stop him: Bruce Watkins, Joel Pelofsky, Dick Berkley and Joe Serviss. The early surprise was that Dick Berkley, a prominent Republican, was being supported by Jim Nutter and some of his Democratic allies. The city races are nonpartisan, and so it was not unheard of for a Republican council member to be elected with Democratic support. But the last Mayor of Kansas City who admitted to being a Republican was Albert Beach who served from 1924 to 1930. Beach was the beneficiary of a factional battle between Pendergast's goats and Shannon's rabbits. Beach then backed a 1926 referendum that created a city manager form of government – a "good government" move. Pendergast got the last laugh by successfully maneuvering to get his ally Henry McElroy appointed city manager. McElroy seized the Mayor's office and moved Beach to smaller quarters. McElroy retained his power until Pendergast was indicted in 1939.
Berkley also had the key support of the Citizens Association. Ken Hill, after his 1975 experience with Wheeler, looked for an alternative and joined the Pelofsky campaign. Bruce Watkins, one of the founders of Freedom Inc., would no doubt do well in the black community. Wheeler, Pelofsky and Serviss worked the political leaders, clubs and labor looking for traditional Democratic support. Although Nutter was for Berkley, this did not also bring the CCP because it only worked in partisan county and state races.
While browsing the clippings on the 1979 race, I came across an article that described me as having "devised an elaborate baseball scenario for the election."  I did not remember this at all, but it coincidentally ties to something I have been doing for the last year – sending posts to my baseball nerd friends who like baseball nostalgia and trivia. It turns out that I applied some of that trivia 37 years ago to describe the 1979 mayoral candidates. It went like this. I likened Dick Berkley to George Steinbrenner, well-heeled owner of the Yankees, who was accused of buying pennants. Wheeler's 1975 strategist Jerry Jette had been hired away by Berkley, reportedly to keep Jerry from working against Berkley. This compared to the Yankees signing Luis Tiant to keep Tiant from beating them as a member of the Red Sox in a close pennant race. The cash-light Pelofsky was Bill Veeck, hustling owner of the White Sox who seemed to be holding his franchise together with chewing gum. Charlie Wheeler was of course Charlie Finley. Bruce Watkins was Jackie Robinson, attempting to become the first black Mayor of the city. Serviss had dropped out, so you could say he was on injured reserve (he would suit back up and run four years later). I love baseball as metaphor.
The final count for the primary election was relatively close: Watkins 28.37%, Berkley 27.24%, Pelofsky 22.34% and Wheeler 22.05%. With the three Democrats taking more than 70% of the vote, the next step was to see if the Democratic clubs would unite against Berkley. Although Watkins had run first in the primary, most of his votes came from the Freedom wards. He ran fourth in most of the rest of the city. Bruce would need broader support.
Senator Tom Eagleton, State Auditor George Lehr and former County Executive Mike White encouraged the Democrats to get behind Bruce. I was chairman of the Jackson County Democratic Committee, and Lehr and White asked that I jump into the fray. We only had four weeks to the general. Lehr and I put together a big unity breakfast. We coordinated with Ollie Gates from the Watkins campaign and Doc Holliday from Freedom. Charles Curry and Lehr helped with the fund raising and also brought in consultant Matt Reese who had worked for the CCP in 1966 and Jerry Litton in 1976. Watkins picked up the Kansas City Star endorsement. Eagleton got Vice President Walter Mondale to come to town for a fund raiser and rally. It was a busy four weeks.
We were in somewhat uncharted territory because most prior races, both for Mayor and Council, were between Democrats fighting to be supported by the Citizens Association and the various clubs. In many cases, candidates were cross-endorsed and an occasional Republican would get support for the Council. The ballot that voters saw at the polls did not show a "D" or "R" under the nonpartisan system. This is what made the Citizens and clubs and the ballots they distributed so important to the candidates. Even with all the push from many Democratic leaders, the clubs divided out between Berkley and Watkins or simply stayed out of it. Sort of like the rabbits and goats back in 1924. Berkley won by a big margin (58% to 42%).
It is never fun to lose, but I like to think that those of us in the Watkins campaign opened the door to the prospect of the city someday electing a black Mayor. Another step came in 1982 when Alan Wheat was elected to Congress to succeed Dick Bolling. In 1991, after Berkley had served three terms, Emanuel Cleaver was elected Mayor. Sly James is now in his second term as Mayor and Quinton Lucas is Mayor-elect. Wheat's Congressional seat is now held by Cleaver. They all stand on the shoulders of Bruce Watkins.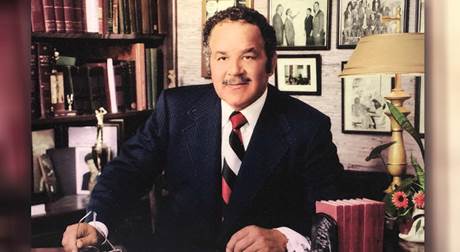 Dick Berkley brought a different first to the election. He became the first Jewish Mayor of the city. The 1979 election was also a precursor of another first as Kay Waldo was elected to the council. 20 years later, as Kay Waldo Barnes, she became the first woman to be Mayor of Kansas City.