While Rita and I were flying back from the Telluride Film Festival last night, Jorge Soler hit his record-setting 39th home run. The previous "Kansas City" record for homers in a season was 38, set by Bob Cerv (1958) and Mike Moustakas (2017).
Below, with the scoreboard reading that he is tied with Moustakas at 38, Soler hits #39 (photo by Royals photographer Jason Hanna).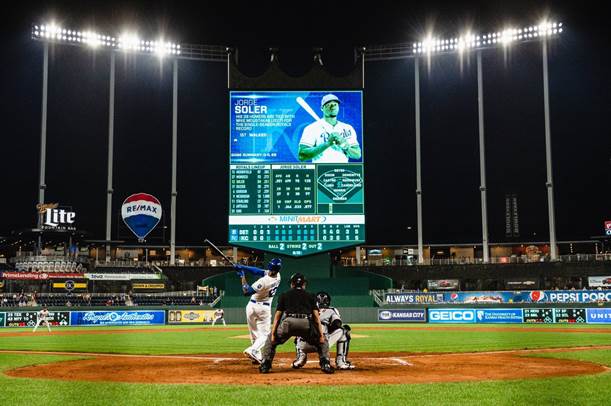 1958 – Bob Cerv: Bob Cerv began his professional career in 1950 with the Kansas City Blues, the top farm team of the Yankees. He was a utility player on strong Yankees teams from 1954 to 1956, and then was traded to the A's who had moved from Philadelphia to KC in 1955.
In 1958, Cerv had a phenomenal year, including hitting 38 homers and finishing fourth in the MVP voting. He suffered a severe injury in a home-plate collision in May, but continued to play with his jaw wired shut for 28 games. He hit 6 of his 38 homers during that stretch.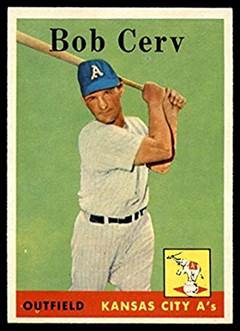 Another slugger joined the A's in mid-season – Roger Maris came in a trade with Cleveland. In 1960, both Maris and Cerv were traded by the A's to the Yankees. In 1961, Cerv was left unprotected in the expansion draft and began the season with the Angels. He was soon traded back to the Yankees and took up residence in an apartment with Mickey Mantle and Roger Maris – both in the chase for Babe Ruth's season record. The three Yankee roommates hit 121 homers that year (Maris – 61; Mantle – 54; and Cerv – 6).
In April of 2017, as the new baseball season got underway, Bob Cerv died at age 91. By the end of that season, Cerv's Kansas City record of 38 was tied by Mike Moustakas.
If you want to read more on Bob Cerv, please see my tribute in Hot Stove #38 (click here). The numbering of that Hot Stove was a coincidence, but apt.
2017 – Mike Moustakas: After playing six seasons with the Royals from 2011 to 2016, Mike Moustakas became a free agent. But the glamour of his role with the 2015 World Champion Royals did not translate into the expected lucrative long-term contract. So Moose signed a one-year deal with the Royals. He turned out to quite a bargain. Moose hit 38 home runs, breaking the Royals record of 36 by Steve Balboni, and tying him with Bob Cerv for the "Kansas City" record of 38.
2019 – Jorge Soler: In 2017, Jorge Soler was traded by the Cubs to the Royals for Wade Davis. The trade was unpopular with many fans, and the early returns did not help. Then came 2019.
Jorge Soler has 39 home runs, the new Kansas City record. And counting – 23 games left in the season.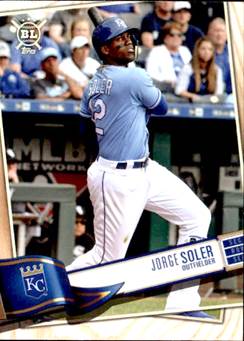 I believe the Royals are the only team that has not had a player hit 40 homers in a season. But things are looking up.
Kudos to Jorge Soler!
Hot Stove Coming Attractions: The next Hot Stove will veer from baseball to movies – a report on the Telluride Film Festival. Rita and I saw several films that will likely be in the mix for Oscar nominations.
After that, some nostalgia about the World Series of 100, 75, 50 and 25 years ago. Hint: Black Sox, Sportsman's Park, Miracle Mets and Nothing.