OPENING DAY!
"There is no sports event like Opening Day of baseball, the sense of beating back the forces of darkness and the National Football League." George Vecsey, New York Times.
In Kansas City, they are getting the K ready for tomorrow.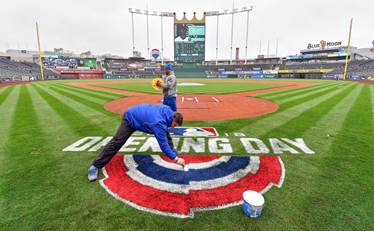 Every major league team will play its first game of the season tomorrow (barring rainouts). This is only the second time in history that all teams have opened on the same day. That other season was 50 years ago – 1968. [BREAKING NEWS: Just before I hit "Send" on this post, Cincinnati announced that their opener with the Nationals tomorrow is postponed because of impending inclement weather. This is an ironic twist in Opening Day history – see next paragraph.]
In 1968, two openers were scheduled for Monday, April 8: one in Washington and the other in Cincinnati, the team that for decades was given the honor of "opening the Openers." The other teams were then scheduled to open on Tuesday. But all of the openers were pre-empted by a tragedy – Martin Luther King Jr. was assassinated on Thursday, April 4. President Johnson declared Monday as a national day of mourning, and the funeral was on Tuesday.
All of the opening games were pushed back to Wednesday when all 20 teams played. There had been one holdout – Walter O'Malley of the Dodgers wanted to proceed with a Tuesday night game, hours after the funeral was over. The problem was that their Phillies opponent announced they would not play even if they had to forfeit the game and pay a fine. The Dodgers relented.
The was no opener for Kansas City in 1968. That was the gap year when we did not have major league baseball. The A's had left for Oakland after the 1967 season and the Royals would not take the field until 1969.
Some 1968 Trivia: While I'm talking about 1968…
On Opening Day, seven future Hall of Famers hit home runs: Roberto Clemente, Tony Perez, Harmon Killebrew, Brooks Robinson, Reggie Jackson, Willie McCovey and Carl Yastrzemski. Yaz hit two homers, taking up where he left off from his 1967 MVP season.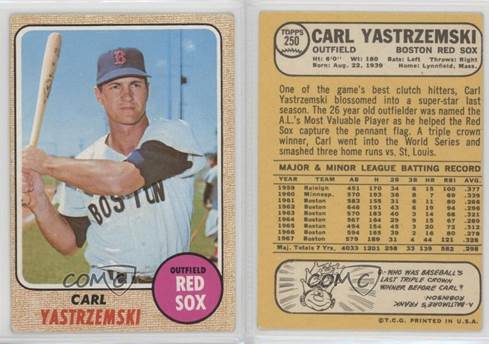 Don't let that barrage of homers by Hall of Famers fool you. Of the 20 starters that day, six pitched complete games and 12 threw at least eight innings.  It turned out to be the Year of the Pitcher. Bob Gibson's 1.12 ERA. Denny McLain's 31 wins. Yaz repeated as the batting champ in the AL with an average of .301 (second place was the A's Danny Cater at .290). The strong-pitching/weak-hitting trend led to smaller crowds as fans preferred more action. By the next year, rule changes were in process to reverse the balance.
The Mets were in their seventh year of existence and again had a losing record (73-89, an improvement over most years with 100 plus losses). Just one year later, they were the Miracle Mets (see Ed Charles below).
The Mets starter for Opening Day was Tom Seaver who holds the career record for Opening Day starts – 16 times for the Mets, Reds and White Sox.
There were 20 teams in two leagues with no breakdown by divisions. It would be the last year without playoffs as a prelude to the World Series. The next year, four new teams were added (Royals, Pilots, Padres and Expos), and each league split into two divisions with winners playing in the first versions of the ALCS and NLCS.
Per Baseball Reference, the average time of a game in 1968 was two hours and 33 minutes. In 2017, three hours and five minutes.
I cherry-picked some ideas for this 1968 nostalgia from a post sent out earlier this week by Joe Posnanski. He has been my favorite sportswriter since he worked at the KC Star. If you want another, here are his "wacky" forecasts for the upcoming season.
Say it Ain't So Joe: The Oakland move from Kansas City in 1968 created a visual that is still hard to take. Joe DiMaggio became a coach for Charlie Finley's Athletics. Joe had been a hero in the Bay Area where he grew up and played minor league ball for the San Francisco Seals in the Pacific Coast League. While with the Seals in 1933, he hit in 61 consecutive games (five more than his MLB record of 56 in 1941). He is second in minor league history to Joe Wilhoit's 69 games in 1919.
Finley wanted Joe as a draw for Bay Area fans and was able to offer something very important to Joe – two more years of service in the majors to maximize his pension (he had lost three years in WW II). So Joe took on the title of batting coach for 1968 and 1969. He truly looked out of place without his Yankee pinstripes. I'm pretty sure this is not the answer Paul Simon was looking for when he sang the lyric "Where have you gone Joe DiMaggio?".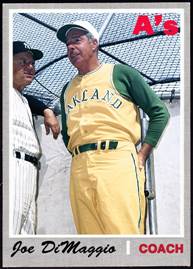 2018 Milestones: Some milestones that might occur this year…
Albert Pujols of the Angels has 2,968 hits. When he adds 32, he will be one of four players to have 3,000 hits and over 600 home runs. The others: Willie Mays, Hank Aaron and Alex Rodriguez.
C. C. Sabathia (below) of the Yankees is  37 years old. In an effort to extend his career, the 300-pound 6'6" pitcher has gone raw vegan. I don't want the Yankees to win any games, but I may relax that for Sabathia. He needs 13 more wins to get to 250 career victories, and he is also close to 3,000 strikeouts (has 2,846).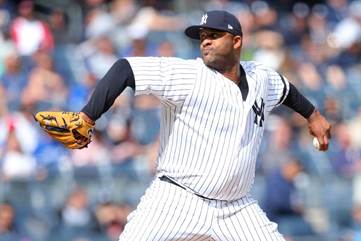 Justin Verlander will be with the Astros for a full season this year, making them even better. He should get to his 200th victory (has 188) and 2,500 strikeouts (has 2,416).
The Astros Jose Altuve will be looking for this 5th straight season with 200 hits. Edwin Encarnacion for his 7th straight with 30 homers (over the last six years, he leads the majors with 231 homers). Max Scherzer for his 7th straight (and Chris Sale for 6th straight) season with 200 strikeouts.
In 2017, Giancarlo Stanton hit 59 homers and Aaron Judge hit 52. Even if they had already been teammates (as they are with the Yankees in 2018), their total of 111 would not be a team record for two players. Still at the top are the Yankees Roger Maris (61) and Mickey Mantle (54) with their total of 115 in 1961. The M&M boys may get beat out this year with the modern version of Murderers' Row.
Ed Charles – RIP: In March of 1946, Ed Charles was 12 years old and lived in Daytona Beach near the Dodgers minor league spring training camp. Ed and other local African American boys went to see their new idol Jackie Robinson: "And I finally believed what I read in the papers – that one of us had made it." When camp broke, the boys followed the players to the train station. As told by Charles (and shown in the movie "42"), "When the train pulled out, we ran down the tracks listening to the sounds as far as we could. And when we finally couldn't hear it any longer, we ran some more and finally stopped and put our ears to the tracks so we could feel the vibrations of the train carrying Jackie Robinson. We wanted to be part of him as long as we could."
Charles followed Jackie into professional baseball. He was signed by the Braves and played nine seasons in the minors (1952-1961), much of that in Jim Crow states where racial indignities were the rule. Black players were still on a slow path to the majors and some believe Charles was held back for that reason. In the Braves organization, he had another obstacle – future Hall of Famer Eddie Matthews was at third base on the parent club.
In 1962, Charles finally got his break when he was traded to the Kansas City A's. Those of us who followed the A's back then well remember him as the regular third baseman over the next five years. In his first season with the A's (1962), his fellow infielders were Norm Siebern (1B), Jerry Lumpe (2B) and Dick Howser (SS).  In his last full season (1966), they were Ken Harrelson (1B), Dick Green (2B) and Campy Campaneris (SS). That's nostalgia.
J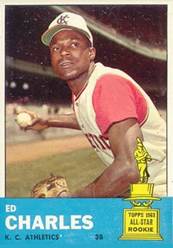 Charles was traded to the Mets early in the 1967 season and was a revered member of the Miracle Mets that won the World Series in 1969. He was nicknamed "The Glide" for his smooth fielding and was also known for his poetry. That's him at the left as the Mets begin their celebration after the last out of the Series. That was his last year as a player.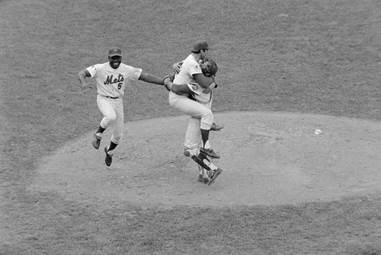 Ed Charles died at his home in New York on March 15, 2018, at age 84. He was remembered in two eloquent pieces by his friend, sportswriter George Vecsey: the NYT obituary and a personal remembrance. Charles' funeral was held in Kansas City this past Saturday. Bob Kendrick, President of the Negro Leagues Baseball Museum spoke at the service, saying that "The Glide is now safe at home."
Final Four: Thirty years ago, I went to Opening Day at what was then called Royals Stadium. This was an annual tradition for many years with my best friend Rich Ellison. It was Monday, April 4, 1988, and the Royals lost to the Blue Jays 5-3. But it was only the first big sporting event for the day.
That night, Rita and I headed to Kemper Arena to see KU and Danny Manning in the NCAA Championship final. The first half was the best half of basketball I have ever seen: KU and Oklahoma tied at 50-50. In the second half, "Danny and the Miracles" prevailed for an 83-79 victory.
For this coming Monday night, I'm hoping for an all Kansas final: the Jayhawks v. Blue Valley Northwest a/k/a Chicago Loyola.
Lonnie's Jukebox – 1966: In honor of Ed Charles, I looked for a hit record for his last full season with the Kansas City A's. A wide variety of genres were represented in the #1 hits on the 1966 Billboard chart. Click here to listen to samples from all 27 of them in only two minutes.
My favorite of these? I narrowed it down to "When a Man Loves a Woman" (Percy Sledge) and "Good Vibrations" (The Beach Boys). The first is one of the best-ever slow dance songs.
But about five years ago, I was reminded how much I liked the message of "Good Vibrations." And I don't just mean the excitation, elation and sensation rhymes from Brian Wilson. It was more the positive feel of giving and getting good vibrations. Rita was going through chemotherapy at the time, and we both liked the joyous message of the song and how it captured the good vibes that came from her support village. Those GOOD VIBRATIONS will forever be remembered.
Good Vibrations to all of you too. Listen to it here.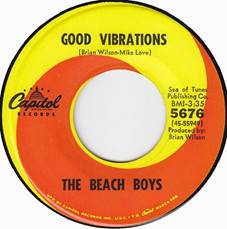 Sidd Finch Revisited: I repeated my favorite spring training story last year, and with many new Hot Stove readers (plus those who may enjoy a reminder), I am doing it again. Please pretend that today is Sunday. You will see what I mean.
From: Lonnie Shalton
Sent: Friday, April 01, 2016 8:24 AM
To: Lonnie Shalton
Subject: Hot Stove #12 – The Curious Case of Sidd Finch
St. Petersburg – 1985:  After the Yankees ended their spring training tenure in St. Petersburg in 1961, the Mets took their place and shared Al Lang Stadium with the Cardinals. In spring training of 1985, the Cardinals showcased a star-studded team that then lived up to its promise by going on to win the National League pennant.  Willie McGee was MVP, Vince Coleman was Rookie of the Year and stole 110 bases, Ozzie was Ozzie and Tudor, Andujar and Cox were great on the mound. The Cards then lost the I-70 World Series to the Kansas City Royals. I am confident that the Cardinal fans among the Hot Stove readers are spitting the name "Denkinger" as they read this. I had the good fortune to attend all seven games – a highlight of my personal baseball history.
The Mets were good too, but ended up three games behind the Cards in the NL East.  In spring training though, the Mets could easily claim the biggest story in all of Florida – the arrival of pitching phenom Sidd Finch. Most of the media hype on Finch came after well-known sportswriter George Plimpton wrote a long feature in Sports Illustrated about the Finch tryout in St. Petersburg. In those days before digital media, I was a loyal reader of the magazine and still remember Plimpton's article. Finch was 28 and had never played professional baseball. A Mets minor league manager had seen Finch throw and urged the Mets to give him a tryout. Finch was sort a recluse and not sure if he wanted to play professional baseball. Royals fans will remember that Zach Greinke had similar anxieties and left Royals spring training in 2006, missed the season and almost quit baseball.
Finch had a gifted arm that greatly impressed the Mets and so they were willing to work with his eccentricities. Finch desired privacy and so worked out at a remote area and did not stay in the team hotel. He had workouts with three of the Mets, including Lenny Dykstra, and he got pointers from pitching coach Mel Stottlemyre. The big thing was the Finch fastball that had numbers on the radar gun that made the Mets salivate. He was Nolan Ryan plus. And he had great control. The mostly private workouts were also attended by Mets owner Nelson Doubleday and GM Frank Cashen. They liked what they saw.
To keep their deal with Finch, the Mets were reluctant to talk about him until he made a decision to play. Plimpton proved resourceful in getting background material. Finch had been enrolled for a short time at Harvard, and Plimpton was able to talk to his roommate who confirmed the Zen-like nature of Finch who had studied in Tibet. Although the Mets had tried to impress Finch by assigning him a cubicle between stars George Foster and Daryl Strawberry, Finch kept away from the clubhouse and spent most of his non-baseball time at his boarding house (as his landlady confirmed to Plimpton, saying Finch practiced on his French horn at night). At your leisure, Plimpton's full article is well worth the read.
After Plimpton's article came out, Mets fans screamed for more on Finch. The New York papers complained about Plimpton getting the scoop in Sports Illustrated. The Mets finally agreed to a press conference in St. Petersburg. The then-three major networks attended, as well as some reporters. Finch was there with a prepared statement, but it was read  on his behalf by someone else. The statement announced that Finch was retiring and would not be playing baseball. One can only speculate if Finch would have made the difference for the Mets in their close division race with the Cards. And then have been the opponent for the Royals in the 1985 Series.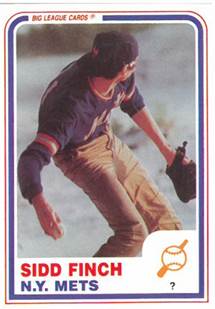 Where is Sidd Finch Today?  Many questions were raised after Sidd's retirement, and a very good answer came when readers were told in a later Sports Illustrated issue to take a closer look at the date on the cover of the Finch issue. It was April 1. Just like the date of this email.
Plimpton and Sports Illustrated had pulled off one of the best April Fool's Jokes of all time. Plimpton had recruited a small team of folks who all did a good job of keeping it quiet. Only a few Mets were involved. Plimpton had a junior high school art teacher pose as Finch for the photos taken by the Sports Illustrated photographer. The prank is well documented in an ESPN "30 for 30" short (22.5 minutes, click here). The ESPN piece includes interviews with Plimpton, Stottlemyre, Finch (the school teacher), photographer Lane Stewart, NY Times sportswriter George Vecsey and the magazine's publishing staff.
There was a hint in the subtitle of the article (see photo below): "He's a pitcher, part yogi and part recluse. Impressively liberated from our opulent life-style. Sidd's deciding about yoga – and his future in baseball." When you take the first letter of each word of this subtitle, it spells "Happy April Fool's Day – a(h) fib."