Events have again caused a break in my normal Hot Stove posting. There is a baseball twist, but this post is mostly about how sometimes you just get lucky.
Wild About Harry Dinner: When I got the "save the date" card in the mail, I knew I had to be there. The Truman Library Institute was having its annual "Wild About Harry" dinner on April 20, and the theme was the Truman civil rights legacy. One of the honorees was Congressman John Lewis and the keynote speaker was Calvin Trillin. I had personal reasons to see both of them.
MLK Messages: Since 2002, I have been sending annual messages to mark the Martin Luther King Holiday. Coincidentally, my three MLK messages from 2013 to 2015 were acted out as the Wild About Harry dinner unfolded.
In 2013, my message included a walk through the Negro Leagues Baseball Museum, highlighting the parallel timeline of the baseball memorabilia and civil rights milestones. Cleveland Indians owner Bill Veeck played a major role in that history by fielding Larry Doby in 1947, just a few weeks after Jackie Robinson broke the color line in the National League. One of my favorite museum exhibits is a yearbook opened to show the team photo of the 1948 World Series Champion Indians – a beaming Veeck surrounded by his players, including Doby and Satchel Paige.
[Baseball Trivia Break – That 1948 Indians team was the last to win a World Series for Cleveland. With the Cubs win last year in the Series, Cleveland now has the longest active drought – 69 years. Help is on the way from Kansas City. Last August, KC businessman and philanthropist John Sherman became vice chairman and a minority owner of the Indians. At the time, Sherman said he looked "forward to working closely with Paul Dolan as a partner to help the team compete for a World Series title." He almost got that title in his very first year as the Indians took the Cubs to extra innings in Game 7.]
The 2014 MLK message highlighted Harry Truman's Turnip Day actions in 1948. His challenge to Congress had been this: "On the 26th day of July, which out in Missouri we call 'Turnip Day,' I am going to call Congress back…If there is any reality behind the Republican platform, we ought to get some action from a short session." The Republicans did nothing and became the "Do-Nothing Congress" in the campaign. In contrast, Truman did do something on Turnip Day. He issued two historic executive orders mandating the elimination of discrimination in the federal workplace (#9980) and integrating the armed forces (#9981). These were the first significant presidential orders on civil rights since the Emancipation Proclamation.
My 2015 MLK message featured John Lewis and was prompted by a letter I purchased at an online auction from the estate of Congressman Ike Skelton. The letter, written by Lewis, relates to a 2000 Congressional leadership battle, but it is sprinkled with comments on civil rights. Former Congressman Alan Wheat of our firm's DC office mentioned the letter to Congressman Lewis who then graciously sent a letter to me. Both letters end with his mantra, "KEEP OUR EYES ON THE PRIZE."
Now, here is what happened to us at the Wild About Harry dinner.
Arrival at the Muehlebach: Joe and Cheryl Downs picked up Rita and me to go to the event. Our tickets were purchased together and we were to be at the same table. I had told Paul Donnelly that we were going, and he arranged to be at our table when he got tickets for himself and Polly. When Joe checked us in, we were told we were at table 19. As we entered the reception area and saw the table chart, we were pleased to see that table 19 was in the second row and right in front of the podium. We felt like we had paid for general admission and got box seats behind home plate.
We got our photo taken with President Truman through the magic of a green screen. I missed my mark and that is why my hand is out there in space.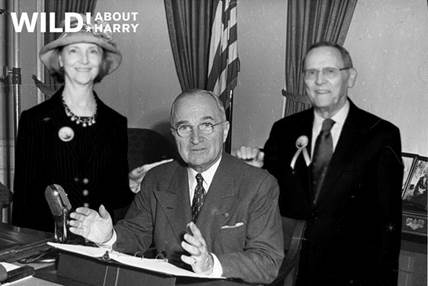 Rita and I then had our photo taken with the two Congressmen being honored that evening, John Lewis (GA) and James Clyburn (SC). It was a quick moment, so no time to talk about my Lewis letters.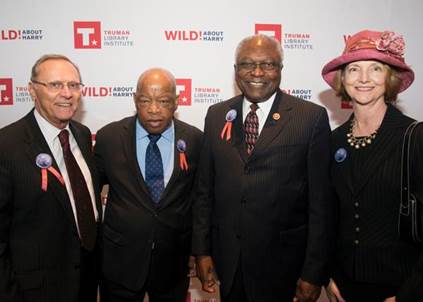 Arrival at our Table: After the opening reception, we started winding our way to table 19. By the luck of the draw or some other magic, our six places were at the table hosted by two of the presenting sponsors for the dinner, Marny and John Sherman. Yes, the Cleveland Indians' John Sherman. He is also a former chair of the Truman Library Institute. There was a ninth seat at the table. It was filled by John Lewis. I was a 75-year-old kid in a candy store. I'll start with Rita's photo of the Shermans and Lewis.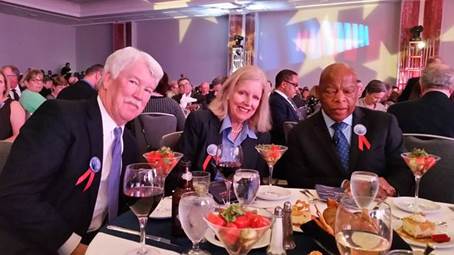 And then Joe and Cheryl Downs. Then Paul Donnelly.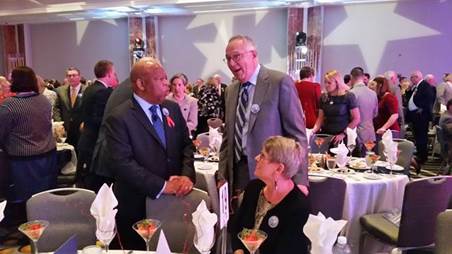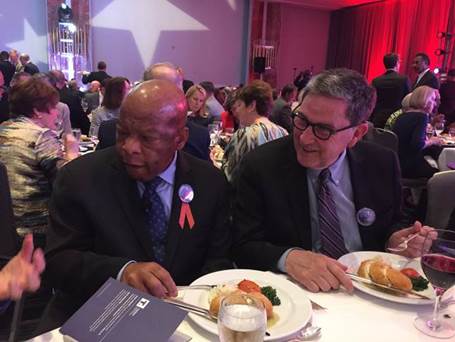 The Conversation on Stage: The Truman Legacy of Leadership awards were presented to Congressmen Lewis and Clyburn. They then took part in a conversation on stage, artfully moderated by David Von Drehle of Time Magazine. Von Drehle began by recounting the story of President Truman becoming incensed by the attacks on black soldiers returning from war. Those reprehensible acts were instrumental in Truman's decision to issue his Turnip Day executive orders in 1948.
James Clyburn was eight years old in 1948. He told of how his father required the children of the family to keep up with current events – so he knew then what Harry Truman had done. At age 12, Clyburn became president of his NAACP youth chapter. In 1960, he had one of his stays in jail after he and hundreds of other South Carolina State students were arrested following a sit-in. He went hours with nothing to eat in jail. A volunteer named Emily brought a hamburger and gave him half. He married her in 1961 – now at 56 years and counting.
Lewis spoke of his time as a Freedom Rider in 1961. At a stop in Rock Hill, South Carolina, he was savagely beaten by KKK members. In 2009, one of the men who beat him came to Lewis' office on Capitol Hill. The man was in his 70's, and he brought along his son who was in his 40's. The man asked for forgiveness. They all started crying and then hugged each other. There were also many moist eyes in our dinner audience as Lewis told his tale of forgiveness and his continuing belief in the power of nonviolence.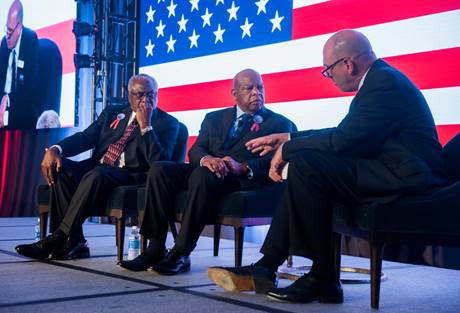 The two civil rights heroes continued with a mesmerizing account of their battles from the trenches. There is no way I can adequately convey the drama and inspiration these two gentlemen gave us from the stage. What resonated was their continued optimism and hope after working on civil rights for over 50 years. The overall message was clear: love, forgiveness and nonviolence. And above all, continue the work and KEEP OUR EYES ON THE PRIZE.
The Conversation at the Table: What an opportunity. I got to tell John Lewis about my two letters he signed. He praised his former colleagues Ike Skelton and Alan Wheat. Congressmen Cleaver and Yoder stopped by. They had made the introductions for Lewis and Clyburn for their awards. As we got into our dinner, I turned to baseball talk with John Sherman. At that moment, the Royals were 7-7 and the Indians 8-7. How fast things change. Sherman is a true baseball fan and clearly is enjoying his gig as a team owner. We talked about the legacy connection of the Indians to the Negro Leagues Baseball Museum. This year is the 69th anniversary of those 1948 World Series Champion Indians that included former Negro League stars Larry Doby and Satchel Paige. If the Royals can't win it all 2017, I'm rooting for Sherman's Indians to break their 69-year drought.
Calvin Trillin and Me: I am a long-time fan of the writing of Calvin Trillin, no doubt starting when he announced in American Fried that "The best restaurants in the world are, of course, in Kansas City. Not all of them; only the top four or five." But it was another book that bonded me to Trillin – Messages from My Father. He tells the story of how his Jewish grandfather immigrated from Eastern Europe in 1907, leaving his village near Kiev and sailing out of Bremen, Germany. My grandfather also sailed out of Bremen in 1907 after leaving his village near Lviv. Kiev and Lviv are both in modern day Ukraine. The two grandfathers entered the United States through Galveston, Texas, and Trillin's book was how I learned about the "Galveston Project."
In 1906, New York banker Jacob Schiff had pledged half a million dollars to the Galveston Project to help 10,000 Eastern Europeans immigrate. Schiff wanted to help Jewish immigrants, but there was tension between Jewish Germans like Schiff and what they regarded as the impoverished hordes filling up tenements on the East Side in New York. The solution was to route them through Galveston and disperse them in other parts of the country. Those ships also carried Catholics like my grandfather. Trillin described the immigration database at a museum in Galveston, the "Ellis Island of the West." This spurred a trip by Rita and me to Galveston where we searched through the database. It was an emotional moment when I viewed my grandfather's name confirming his entry into the United States on the S.S. Frankfurt. With that info, we went to the local library where the ship manifests are on microfilm. There, in handwritten form by an official, were my grandfather's answers on his immigration status: race, age, occupation and the like, as well as whether or not he could read and write (no), was an anarchist or polygamist (no) and had any cash ($10). Thank you Calvin Trillin.
Calvin Trillin – Keynote Speaker: In his endearing deadpan manner, Trillin toured a laughing audience through his early days in Kansas City and his efforts to convince the coastal areas of the values of the heartland. In keeping with the theme of the night, he also spoke of his days covering the South for Time Magazine. He has known John Lewis since 1961 when they were both at a bus station in Montgomery where men with clubs first attacked the press and then the Freedom Riders.
Trillin's first published book (An Education in Georgia, 1964) was about the two brave young women who integrated the University of Georgia. His newest book, Jackson 1964, is a collection of his New Yorker essays from 1964 to 2008 on civil rights and race. There was a book signing after the dinner, and this gave me the chance to thank Calvin Trillin for alerting me to the Galveston Project and its place in my family history.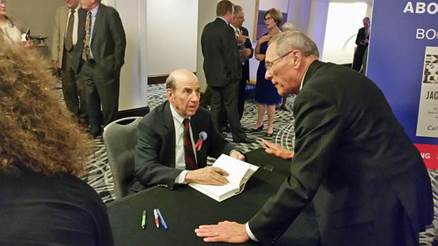 A perfect end to an extraordinary evening.
Satchel Paige and Harry Truman in 1948: Two of Jackson County's finest won big time in 1948. The President had quite an agenda: the Marshall Plan, recognition of Israel, launch of the Berlin airlift, and giant steps for civil rights, including the Turnip Day orders. He also found time for baseball. On April 19, in one of the seven times he did so on opening day, President Truman threw out the first pitch at Griffith Stadium. The Yankees beat the Senators 12-4.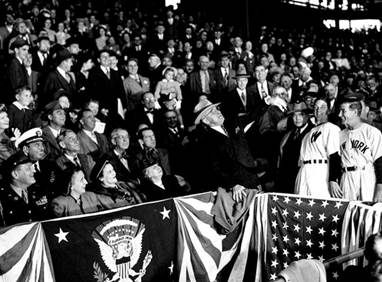 Truman entered the baseball record book on August 17 when he became the first President to attend a major league night game. The Yankees beat the Senators 8-1, bringing to mind what was said back then about Washington D.C.: First in war, first in peace and last in the American League.
As for Satchel Paige, he finally got to the major leagues by signing with the Cleveland Indians on July 7. It was his 42nd birthday (maybe), making him the oldest "rookie" ever. His popularity was evidenced by the crowds that come to his starts. In one 3-game stretch, he drew 201,829 fans. He finished 6-1 to help Cleveland get to the 1948 World Series where they beat the Boston Braves, 4 games to 2. Larry Doby became the first black player to homer in the World Series. Paige became the first black pitcher in a Series.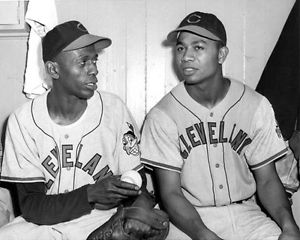 While Cleveland was winning the Series, President Truman was in the midst of his whistle-stop tour and answering the call to "Give 'em hell Harry!". On election night, November 2, Truman slipped away to the Elms in Excelsior Springs to get some sleep while late returns came in. He was awakened at 4:00 a.m. by the Secret Service and told he might be a winner. He immediately returned to KC and went to his Presidential Suite at the Hotel Muehlebach (yes, the same building where we attended our Wild About Harry dinner). Later that morning, he got word that he had enough electoral votes for his victory. That night, Truman went to his hometown of Independence where thousands jammed the Square to honor their native son. As for Lonnie, I was seven years old at the time and living in Independence. And I was on the Square that night with my parents. True story.
On November 4, Truman left by train for Washington. At a stop in St. Louis, he was handed a copy of the Chicago Tribune, and with a big smile held it up to show the historic headline "DEWEY DEFEATS TRUMAN." The train arrived in D.C. on November 5. As written by David McCullough in his great Truman biography, "at least 750,000 – two thirds of the city – lined his route from Union Station to the White House…Passing the stone-fronted offices of the Washington Post, Truman looked up to see a big sign strung across the second floor: WELCOME HOME FROM CROW-EATERS…Confetti showered down. A band played I'm Just Wild About Harry."
Coming Attractions: John Sherman's Cleveland Indians will be in KC the weekend of May 5-7. On Sunday the 7th, the Royals and the Negro Leagues Baseball Museum will celebrate the annual "Dressed to the Nines" day. In the stands, many fans will be in their Sunday best – celebrating the days of the Negro Leagues when fans left church and went directly to the stadium. On the field, the teams will be wearing throwback uniforms – it will be the Kansas City Monarchs playing the Cleveland Buckeyes.