I hope you don't mind, but I am interrupting my baseball posts to share a story about singer/songwriter Leonard Cohen who passed away earlier this month. For a good brief piece on Leonard's career, click on the arrow at the top of this NPR report, (3:25).
Many of you on the Hot Stove mailing list were also part of Rita's village in 2012-2013, and so you will be familiar with part of this story.
Coming next week in Hot Stove – Who's on First? Grandson Ian and I will answer with our selection of the all-time best first baseman. And maybe some Abbot and Costello.
Leonard Cohen – Rita's Story: In her freshman year at UMKC (1968-69), Rita purchased a new artist's debut album, Songs of Leonard Cohen (vinyl of course, this being some 48 years ago). In the late 90's, I did some legal work for Robert Kory, a Los Angeles entertainment lawyer who was trying to develop the Oz project in Kansas. I realize these two fact's do not seem related, but I will connect the dots.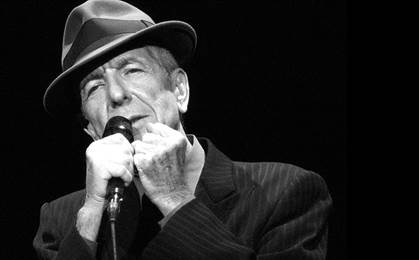 After about 25 years of success in the music business, Cohen took a 5-year break in the 90's at a Buddhist monastery. He then returned to full-time music and had a remarkable resurgence of his career, especially after he began touring again in 2008 – at age 73. The many cover versions of his haunting "Hallelujah" had also added to his fame. Rita and I picked up some Cohen albums, old and new, and were reminded of the power and beauty of his songwriting. We did not fully appreciate how powerful until…
Rita was diagnosed with breast cancer in 2012. She said she would not feel sorry for herself, and after all, "everybody has something; this is mine." These Leonard Cohen lines from "Anthem" became her mantra:
Ring the bells that still can ring. Forget your perfect offering.
There is a crack, a crack in everything. That's how the light gets in.
The light that came for Rita was the amazing support she received from her village of friends. As she described it in a Thanksgiving message to them: they "raised her spirits and lightened the load" – "unexpected positive experience" – "a reminder of my part in the universe of relationships and history" – "both uplifting and humbling" – "nourishment of body and soul."
Rita also took to heart that there were still bells to ring. After she had her last chemo treatment in January of 2013, she took to the internet and scored tickets to Cohen's concert at Radio City Music Hall on April 6. We had never seen him perform, and we were treated to a three-hour show that exceeded our very high expectations. Rita was most impressed that the then 78-year-old Cohen often went down to his knees while singing, stayed that way for some time, and then glided right up – no hands to help. When Cohen sang "Anthem" and got to the refrain on the ringing of bells, we looked at each other and both had tears in our eyes. And then smiles – many more bells to ring. Here is Rita on the night of that concert: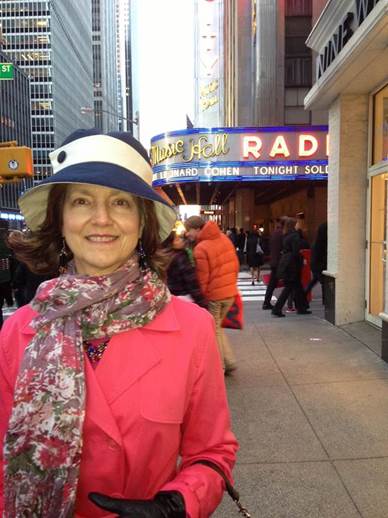 The night before the concert, Rita and I had dinner with Robert Kory – that LA lawyer I worked with some 15 years ago. He was still practicing law, but he had added a new role: Leonard Cohen's manager. Small world. After Cohen had left the monastery and returned to full-time music, he discovered that his manager had misappropriated his funds. Robert was brought in to clean up the mess and stayed on as Leonard's new manager. At our dinner with Robert, Rita made her pitch that she would like Leonard to sign her copy of the debut album. Robert got that done. Rita had it framed and it hangs in her office at home.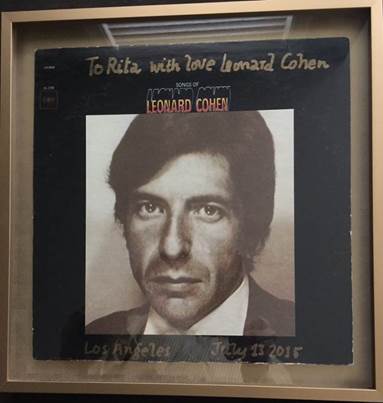 Leonard Cohen died on November 7 at age 82. He had been in failing health for some time, but was actively working on several projects. He had just released a new album in October, and the title song "You Want it Darker" hinted that he knew the end was near: "If you are the dealer/I'm out of the game/If you are the healer/I'm broken and lame." He had also given an extensive interview to the New Yorker with some similar sentiments. His manager Robert Kory reported the death to the press and later released this statement: "Unmatched in his creativity, insight and crippling candor, Leonard Cohen was a true visionary whose voice will be sorely missed. I was blessed to call him a friend, and for me to serve that bold artistic spirit was a privilege and great gift. He leaves behind a legacy of work that will bring insight, inspiration and healing for generations to come."
Leonard's music will definitely live on.
Here he is in London in 2008 singing "Anthem" (click here).
One of our favorite covers of "Hallelujah" is from cabaret singer Lauren Fox who we saw in New York in 2012. She has a show that features songs from Cohen and Joni Mitchell, putting on a trademark fedora when she sings her Cohen songs. Listen here.
I'll end this post with the same song that ended the concert we saw at Radio City, "Closing Time" (click here).
Thank you Leonard.