Last Thursday on Opening Day, MLB Jesus welcomed the new baseball season.

The Royals opened at home against the Twins, and thanks to Richard Martin, I was there.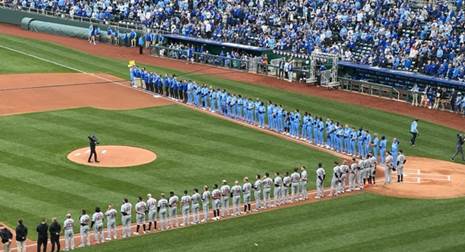 In the clubhouse before the game, Salvy Perez was awarded his "Captain" jersey by the three prior captains of the team – Mike Sweeney, George Brett and Frank White (video here). Note the "C" at Salvy's right shoulder.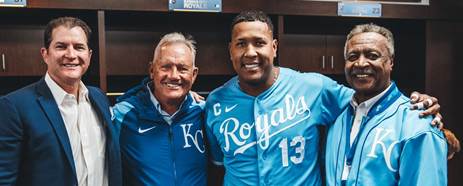 Nostradamus Panel Projections: In recent years, Hot Stove has empaneled four baseball sages (plus me) to predict the number of Royals wins for the season. The other four panel members are Jeb Bayer, David Matson, Steve Roling and Bob White.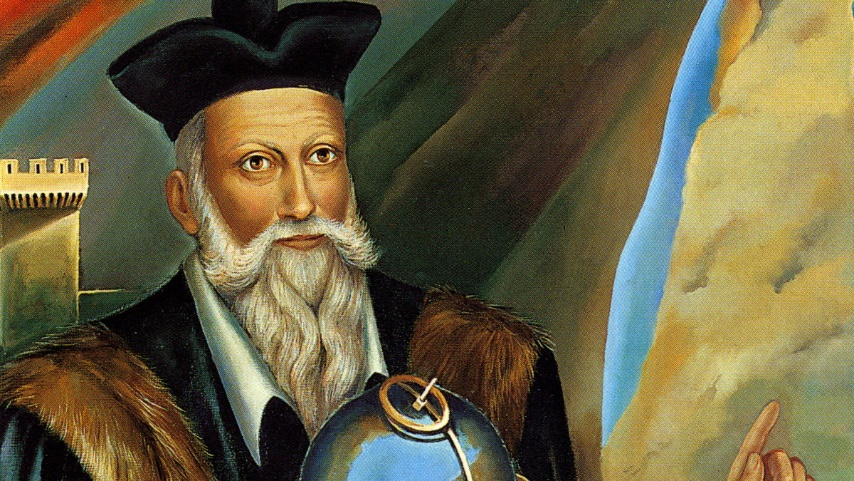 Our 2021 Predictions: Lonnie (81), Jeb (80), Bob (77), David (76) and Steve (74). Actual wins – 74.
Our 2022 Predictions: Jeb (81), Steve (80), Lonnie (78), David (75) and Bob (74). Actual wins – 65.
Our 2023 Predictions: Jeb (78), Lonnie (74), Bob (72), Steve (70) and David (66). Actual wins – ?.
In 2021 and 2022, nine of the ten guesses were too high. Conclusions: (i) We are optimists (biased?) for our Royals, and (ii) You should not place any bets based on the predictions of the Nostradamus panel.
Next question. How will the Royals do in their division?
American League Central – Projected 2023 Standings: Last year, the Royals finished in fifth (last) place in the AL Central, one game behind Detroit and 27 games behind first-place Cleveland.
Two of the most trusted baseball prognosticators believe the Royals will again occupy last place in the AL Central. Baseball Prospectus (PECOTA) predicts that the 2023 Royals will win 64 games (24 games out of first place), while Fangraphs (ZiPS) says 70 wins (and a much more respectable 13 out of first).


Other predictions: Keith Law (The Athletic) – 65 Royals wins. From the gambling world, BetMGM's over/under is 68.5 for the Royals.
And USA Today for all divisions…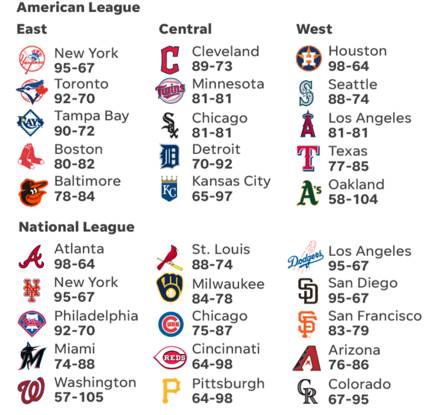 Individual Player Stats: Nerd alert! This is one of those sections that Managing Editor Rita describes as being down in the weeds. So feel free to join her in skipping to the next section.
Baseball Prospectus breaks down how it arrives at its won/loss numbers with team charts depicting relative roster strengths. These are based on "WARP" projections for individual players (this is the Baseball Prospectus version of WAR). Below is the Royals chart. The good news is that since the chart was published, Baseball Prospects had updated its Royals win projection from 62 to 64.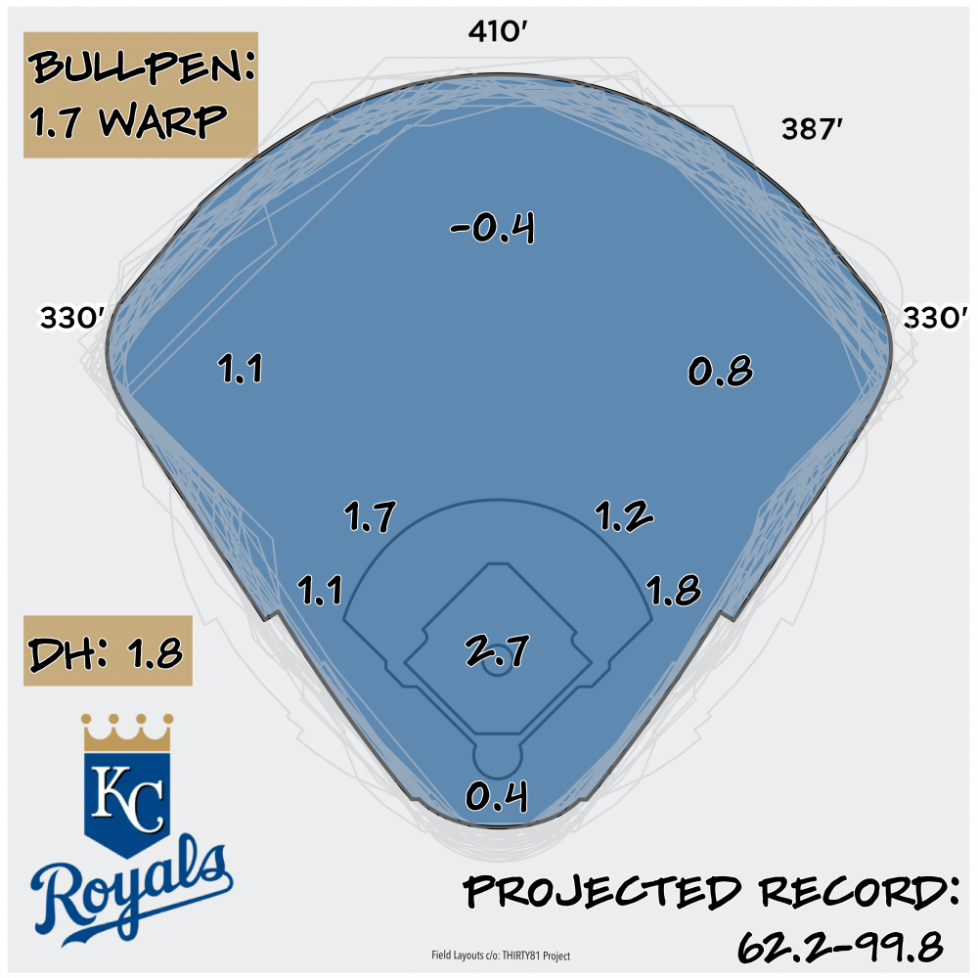 To give perspective, below is the chart for Cleveland. The Guardians are higher in every position.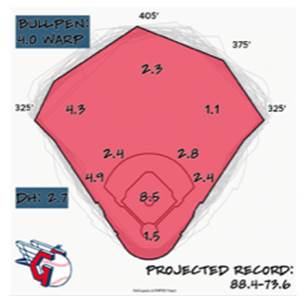 Reminds me of…

But take heart. The Royals have a lot of young position players who have not had much opportunity to establish a better WAR profile. The pitching might mature – there have been some bright spots in the early games. And they have a new manager and pitching coach who could "Ted Lasso" them to a better record.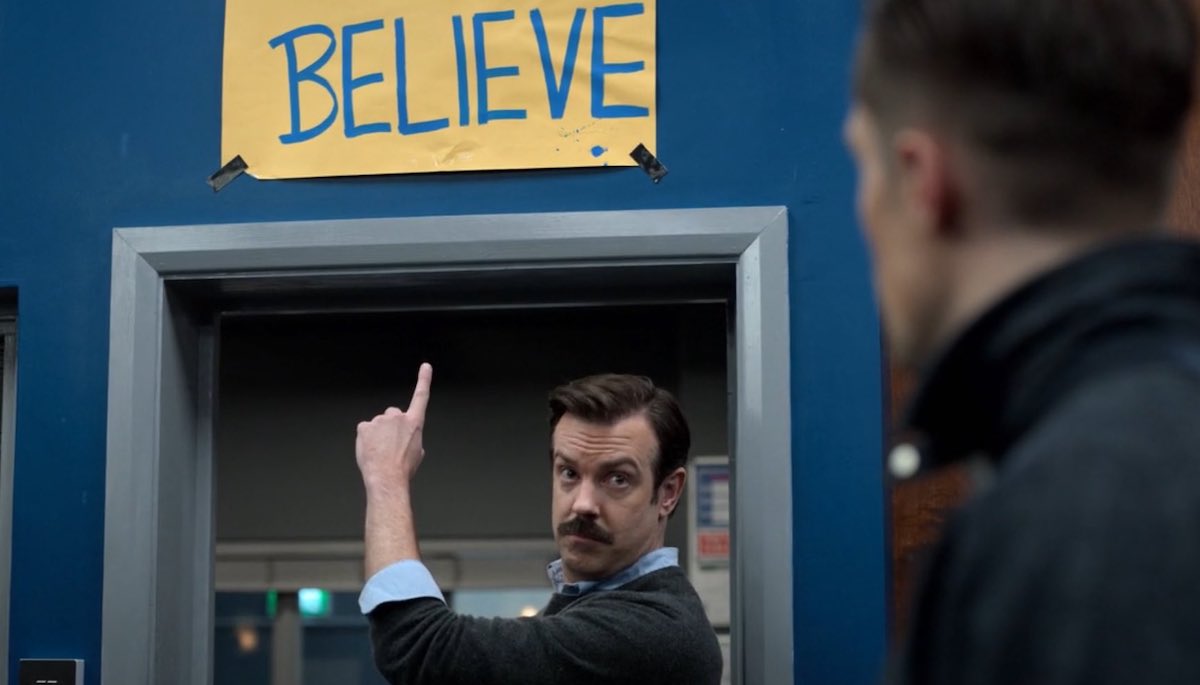 2023 Home Run Derby: Another annual competition for the Nostradamus panel is the Home Run Derby. Five additional participants join in, and the ten of us each picked eight sluggers in a draft last Wednesday via Zoom.
Below, my selfie of the Zoom draft. Top row: Lonnie, Tim Sear (last year's winner, showing off his trophy), Jeb Bayer (league commissioner in his Monarchs cap); Second row: Steve Roling, Joel Poole, Todd Hoppe; third row: Tom Grimaldi, David Matson, Jim Heeter; and last row: Bob White.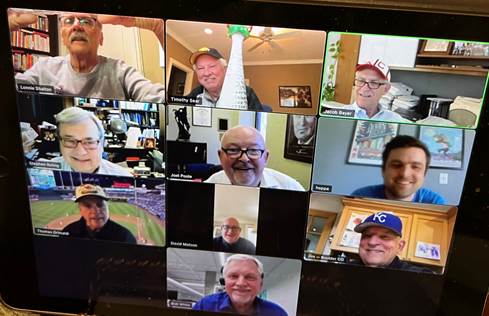 As of this writing, one week into the season, there are 14 players with three or more home runs. In our draft of 80 players, we missed eight of them. One miss was Trayce Thompson of the Dodgers who hit three home runs in one game, generating a fun headline: "Uno, Dos, Trayce…homers for Thompson." But it's a small sample size – 156 games to go.
Opening Day 100 Years Ago: On Opening Day (April 18) of 1923, the Yankees played their first game in the newly-completed Yankee Stadium.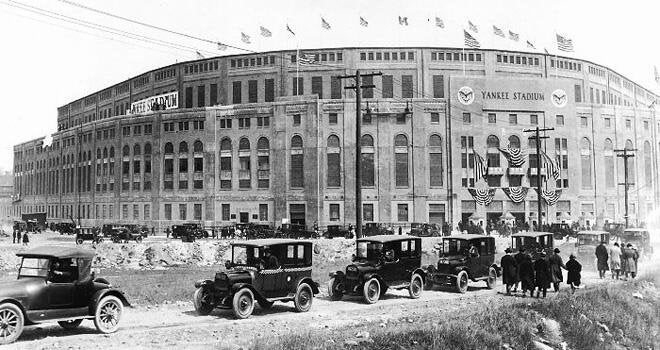 From 1913 to 1922, the Yankees had played their home games at the Polo Grounds, the home of the New York Giants. Babe Ruth came to the Yankees in 1920 and led the team to its first two pennants in 1921 and 1922. Their opponent in the World Series was the New York Giants, and so all of the Series games were played at the Polo Grounds. John McGraw's Giants won both times.
In 1923, the Yankees moved to their new stadium. Below, on opening day, Ruth leading the team onto the field.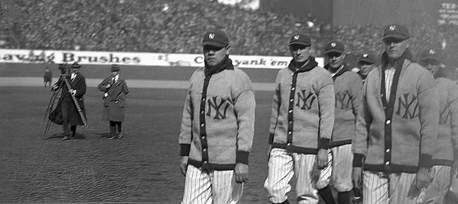 In their first year at Yankee Stadium, the team won their first World Series, beating the Giants. During Ruth's years at Yankee Stadium, the team won five  pennants and four World Series. No wonder it's called "The House That Ruth Built." It was replaced in 2009 by a new Yankee Stadium (maybe someday to be known as the house that Aaron Judge built).
Hockey and Soccer News: Hockey and soccer do not get much coverage in Hot Stove. I rarely watch hockey/soccer because there is a lot of superb skating/running, but little scoring. Both sports have great athletes and devoted fans. Keep up the good work.
But a couple of  items recently caught my eye. In soccer, manager Ted Lasso and others from AFC Richmond met with President Joe Biden and First Lady Jill Biden. The team has been promoted to the Premier League and just began its new season on Apple+. Hope to see them at the World Cup in Kansas City in 2026.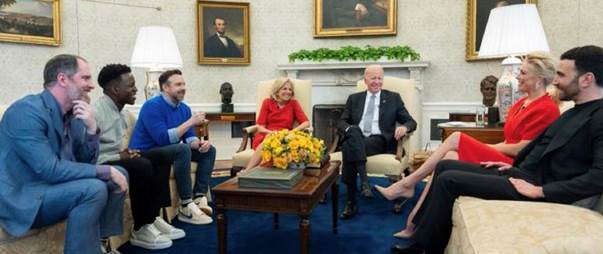 In hockey news, Don Fehr retired last month as the executive director of the NHL Players Association. He has held the position since 2012. Previously, he served 26 years as the executive director of the MLB Players Association (1983-2009). His influence and accomplishments in both sports have been substantial.
Below, Don Fehr (right) with his brother Steve, a prominent Kansas City-based labor union lawyer.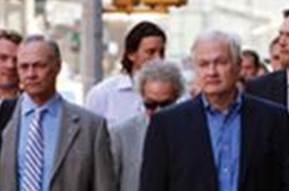 Don Fehr grew up in Kansas City and went to the same law school I did (but he's younger and we did not cross paths). While at UMKC Law School in 1972, Fehr found time to be involved in the George McGovern campaign. I learned this when Hot Stove reader (and political memorabilia collector) Ron Bodinson sent me two business cards from that campaign.
One card reflects a narrow slice of political history. At the 1972 Democratic Convention, Missouri Senator Tom Eagleton was selected by McGovern to be the nominee for Vice President. Cards were printed for the local office, and the one below is for Kirk Albright (RIP). Although I was not directly involved in the McGovern campaign, I met Kirk that year and we became great friends and political allies.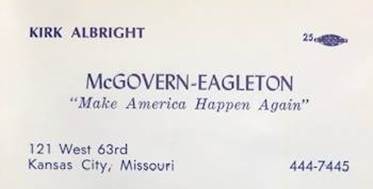 After 19 days on the ticket, Eagleton was dropped by McGovern. New cards were needed. This McGovern-Shriver card listed four leaders in the Kansas City effort – one of them being Don Fehr, future sports labor leader.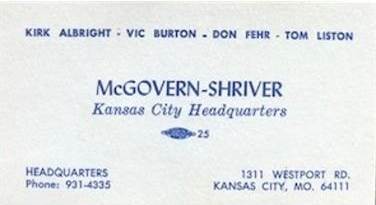 In October, McGovern held a rally at Union Station in Kansas City. It was the best campaign event I ever attended. The enthusiasm of the crowd was so strong that I walked out thinking McGovern had a shot. I was way wrong.
As for Eagleton, he continued on to a distinguished career in the Senate, retiring in 1987 after serving three terms.
Lonnie's Jukebox (1) – McGovern Campaign Concert Edition: George McGovern may have lost in a landslide, but he held some memorable events, many involving top music artists assembled by Warren Beatty.
The lineup for the Forum in Los Angeles…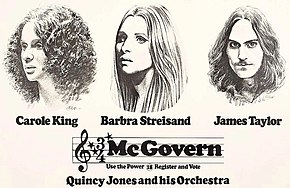 At Madison Square Garden in New York…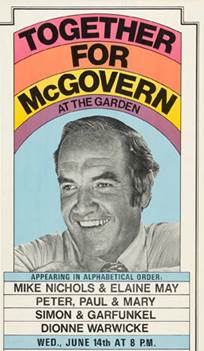 For today's Jukebox selections, I'll go with the lineup at the Cleveland Arena on April 28, 1972 – Joni Mitchell, Paul Simon and James Taylor (below, with McGovern at the event).
Paul Simon was into his solo career and appeared in Cleveland without Art Garfunkel. When the McGovern campaign went to New York in June, the duo agreed to appear together for the benefit of the presidential campaign.
"Mrs. Robinson" by Simon and Garfunkel. Featuring that famous Yankee Joe DiMaggio. From one of my all-time Top Ten films, The Graduate.
"Bridge Over Troubled Water" by Simon and Garfunkel. A favorite of candidate McGovern.
"Fire and Rain" by James Taylor. The song was written by Taylor and reflects tough times in his life. The piano player was Taylor's friend Carole King who may have taken note of Taylor's lyric "I've seen lonely times when I could not find a friend." Not long after that session, she wrote "You've Got a Friend" for her blockbuster Tapestry album.
"You've Got a Friend" by James Taylor. Taylor played guitar for King's version of this song when she was recording Tapestry. He decided to record his own cover, and it went to the top of the charts, his only #1 hit. The backup vocalist on Taylor's version is Joni Mitchell, a nice segue to…
"Both Sides Now" by Joni Mitchell. Joni wrote this song, but it was first recorded by Judy Collins who took it to #8 in 1968.
"Big Yellow Taxi" by Joni Mitchell (official lyric video). A warning about climate change from 53 years ago. "They paved paradise and put up a parking lot…You don't know what you got until it's gone."
"A Case of You" by Joni Mitchell. After Joni met Leonard Cohen at the Newport Folk Festival in 1967, the two had a short romance. Joni said his classic "Suzanne" raised the standard of what she wanted to write. When they parted, she wrote "Rainy Day House" as a fond farewell to their romance. It's rumored that "A Case of You" was inspired by Leonard, and these lyrics sound like something he would write:
Oh, you're in my blood like holy wine
You taste so bitter and so sweet
Oh, I could drink a case of you, darling
Still I'd be on my feet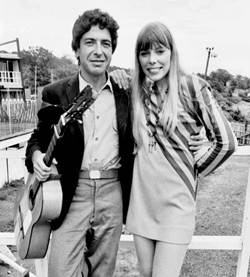 Lonnie's Jukebox (2) – Joni Mitchell Bonus: Last week, PBS aired "Joni Mitchell: The Library of Congress Gershwin Prize." Joni was this year's recipient of the Gershwin Prize for Popular Music, and she was feted by artists performing her songs. The lineup included James Taylor, Annie Lennox, Cyndi Lauper, Marcus Mumford, Brandi Carlile, Graham Nash, Diana Krall, Herbie Hancock and more.
Mitchell, now 79, suffered a brain aneurysm in 2015 that left her unable to speak or walk, but she has made a remarkable recovery. She came to the stage at the end of show (below) and sang a beautiful rendition of George Gershwin's "Summertime." The stage is decorated with copies of her paintings.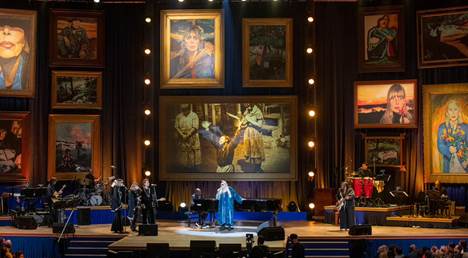 Click here for "Summertime" and here for the full show. Highly recommend.
Lonnie's Jukebox (3) – Clowns and Jokers: In 1972, Stealers Wheel released their debut album Stealers Wheel. One of the tracks was "Stuck In the Middle With You," a dismissive tale of a music industry cocktail party filled with music executives and hangers-on ("clowns to the left of me, jokers to the right"). The song was later released as a single and peaked at #6.
The performance is a parody of Bob Dylan's style, and some listeners have wrongfully attributed the song to Dylan.
I remember riding in a car with Ray Webb when this song came on the radio, and we joked that he was the clown on the left and I was the joker on the right. I know there are some out there nodding your head in agreement.
"Stuck in the Middle with You" by Stealers Wheel.