Last Tuesday night, the Dodgers were in San Francisco playing the Giants at Oracle Park. During the game, the Dodgers announced that Vin Scully had died. When the game ended with a Dodger victory, the L.A. players lined up for post-game handshakes, and at that moment, the Giants ran a tribute to Scully on the scoreboard (click here; 1:09). It was at this same stadium (then called AT&T Park) that Scully broadcast his final game in 2016.

 Newspapers, blog sites and Twitter exploded with memories of the greatest play-by-play broadcaster in the history of baseball. His ability to cover the game and tell stories simultaneously was unmatched. One of my favorite descriptions of Scully came from Bryan Curtis in the Ringer: "He was like a Joe Posnanski column in a powder-blue suit."  And of course Posnanski's remembrance of Vin was superb (click here).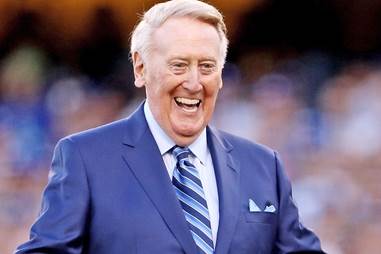 The best way to fully appreciate Vin Scully is to listen to him. So today's Lonnie's Jukebox will feature the mellifluous voice of Vin Scully, music to the ears of baseball fans for 67 years.
Vin Scully and Buck O'Neil – Ambassadors of Baseball: Over the last two weeks, baseball fans have had cause to celebrate the lives of two great ambassadors of the game. Buck O'Neil, on his induction to the Hall of Fame. Vin Scully, because…"God Acquires Vin Scully From the Los Angeles Dodgers" (on a sign at Dodger Stadium).  Buck and Vin both died at the age of 94, each giving us decades of pleasure with their baseball stories.
Vin had a personal interest in one of the players inducted with Buck this year – Dodger great Gil Hodges. In the lead-up to the vote, he was active in promoting Hodges, including the tweet shown below. Scully started tweeting at the age of 92.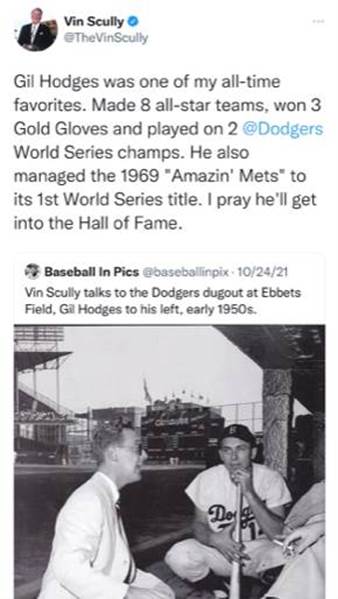 We'll get back to Vin in Lonnie's Jukebox, but first, some stories about two other inductees from Buck O'Neil's Hall of Fame class – Minnie Minoso and Jim Kaat.
Minnie Minoso and Buck O'Neil – No Longer Overlooked: When Hall of Fame voting began for this year, the consensus on the most "overlooked" from prior ballots were Buck O'Neil and Minnie Minoso. The sad part was that they both came close to election while they were still alive.
In 2006, Buck fell just short in the voting. He set aside that disappointment and gave the induction speech for the 17 Negro Leaguers enshrined at Cooperstown that year. He died two months after that speech.
On December 8, 2014, Minoso was on the ballot, but failed to get the required votes. He died three months later.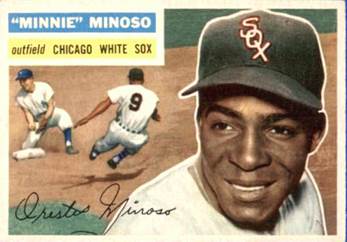 The supporters for Minnie and Buck persevered. As discussed in Hot Stove #197, Ken Burns, Bob Costas, Joe Posnanski and Negro Leagues Baseball Museum President Bob Kendrick were among those instrumental in promoting Buck's candidacy. 
Posnanski and Kendrick were also among those promoting Minoso who played three years in the Negro Leagues before becoming a star with the White Sox. Stats guru Bill James said of Minoso, "Had he gotten the chance to play [in MLB] when he was 21 years old, I think he'd probably be rated among the top thirty players of all time." From 1951 to 1961, Minoso was second in WAR in the American League, trailing only Micky Mantle.
Their work for Minoso did not go unnoticed. Sharon Rice-Minoso, in her induction speech for her husband, specifically thanked Posnanski, Kendrick and James for their efforts.
Fittingly, the plaques of Minnie Minoso and Buck O'Neil are side-by-side at the Hall of Fame (below, to Bob Kenrick's enjoyment).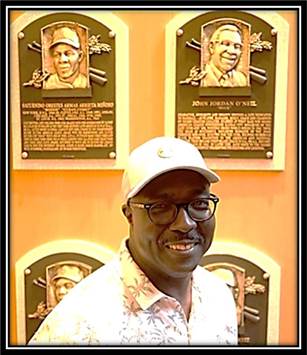 Minnie Minoso Trivia: Last month, Toronto beat the Red Sox at Fenway by the whopping score of 28-5. I immediately thought of Minnie Minoso

Why? Because he was on the White Sox team that beat the Kansas City A's 29-6 on April 22, 1955. The 29 runs by the Sox tied the highest by a team in MLB history. Minnie Minoso had four hits in the game, including a double and a homer. He scored four runs and had four RBIs. Two other Hall of Famers were on that White Sox team – Nellie Fox and George Kell.
Small World Trivia: I was at Municipal Stadium for that 1955 game. So I saw Minnie in action, but admit I had to look up his stats. The A's were in their first season in Kansas City after moving from Philadelphia. The game was on a Saturday afternoon, and I went with my dad. He never returned for another A's game.
Blowout Record Trivia: The record for most runs by a team in a game was broken in 2007 when Texas beat Baltimore 30-3.
Autograph Trivia: My favorite White Sox player was shortstop Chico Carrasquel. During the summer of 1955, I took many bus rides to see A's games with my 8th grade friend Jay DeSimone. At one of the White Sox games, we were by the entry to the visitor's clubhouse, and I got Chico's autograph on the back of my scorecard. I have proof:

Jim Kaat and Buck O'Neil – Shooting Their Age: I have not done the research, but I'm confident that this year's Hall of Fame class is the first to have two inductees who have shot their age in golf.
Joe Posnanski has written about how Buck O'Neil enjoyed shooting his age in golf, doing so at about every age between 75 and 94. In the summer of 2006, Buck shot his last round of golf, and Bob Kendrick was in Buck's foursome that day. Bob says Buck insisted on playing the same tees as everyone else. The 94-year-old O'Neil shot a 94. Buck's take: "Well, fellas, I shoot my age, but that ain't a good score anymore." Yes it was.
For many years, the NLBM has hosted a fund raiser known as the "Buck O'Neil Golf Classic." This year's event is today. But I'm showing the invite from 2014 because I love Buck in the green suit.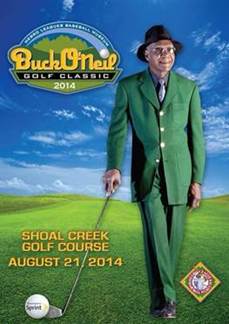 Jim Kaat (pronounced "cot") was inducted into the Hall of Fame this year for his pitching talent. Won 283 games over 25 seasons. Won 16 consecutive Gold Gloves. But his stats in golf are pretty good too.
At about age 31, Kaat was coaxed by a friend to play a round of golf. He had no clubs and so rented some from the clubhouse. He was a lefty, but they had only right-handed clubs. So that's how he played for the next 25 years. In 1994, he was having trouble with his short game, and a friend suggested he try playing left-handed. Turned out he was better from that side and so played mostly that way for several years.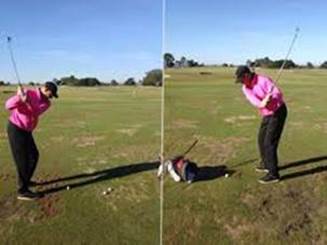 In 2008, playing left-handed at age 70, Kaat shot his age. In 2013, playing right-handed at age 75, he shot his age. From all accounts, he is the only golfer to shoot his age from both sides. Kaat's take: "I was the only one crazy enough to try it."
Kaat is now 83, and I don't know if he has kept up with Buck on shooting his age. From either side.
Vin Scully Golf Trivia: Vin did some PGA broadcasting, and this clip is his coverage of a golfer who is trying to shoot his age on one hole.
Jim Kaat Trivia: In Jim Kaat's Hall of Fame induction speech, he said his favorite season was 1982 when he was with the Cardinals. He put up his hand to show why – his World Series ring.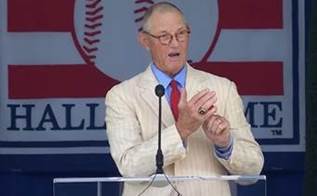 He specifically mentioned the thrill of seeing reliever Bruce Sutter get the final out of Game 7 to win that World Series for the Cardinals. So I must mention…
Small World Trivia: I was also in Busch Stadium for that 7th game in 1982. My friend Woody Overton was then running Senator Tom Eagleton's office in Kansas City, and he scored some tickets for the game. We drove across the state and met up with Mike Ryan, Woody's counterpart in Eagleton's St. Louis office. Woody and I were Cardinals fans that night, and the fun of winning the game carried over to celebrating at Balaban's. This was the first of two times I attended a Game 7. The next was in 1985 when our Royals beat the Cardinals. I was not a Cardinals fan that night.
Royals World Series Trivia: The Royals won the Series again in 2015. Today, four players from that team remain in the majors: Johnny Cueto (White Sox), Mike Moustakas (Reds), Eric Hosmer (Red Sox) and Salvy Perez (Royals). Last week, the Red Sox were at the K, and Royals photographer Jason Hanna captured the Hos/Salvy reunion.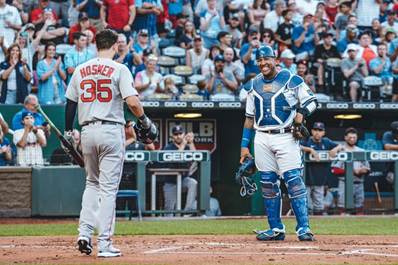 Ebbets Field Note: Vin Scully started his Dodger broadcasting at Ebbets Field in Brooklyn. Coincidentally, just days before Vin died, my partner Jeb Bayer and his wife Leslie were in New York and made a pilgrimage to the site of the old stadium. As reported by Leslie:
"While there, we went on a quest to find the location of the old Ebbets Field. We knew there was a commemorative plaque in the parking lot of the apartment complex that now stands at the location, but it was difficult to find. A kind gentleman noticed we were snooping around and pointed us in the right direction. The plaque is located rather ignobly on a sidewalk next to the parking lot."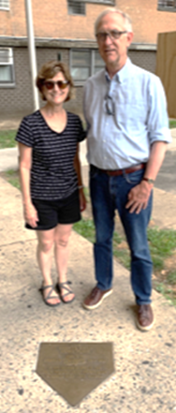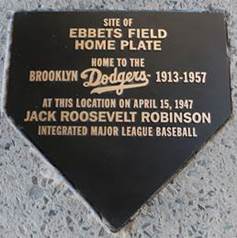 Personal Note: Some numerology trivia.
August 9, 1971: My 30th birthday. Satchel Paige inducted into the Hall of Fame.
July 24, 2022: My son Brian's 60th birthday. Buck O'Neil inducted into the Hall of Fame.
You may recall that Rita orchestrated my 80th birthday celebration at the K last year. The Royals were hosting Satchel Paige's Hall of Fame plaque on the 50th anniversary of his induction.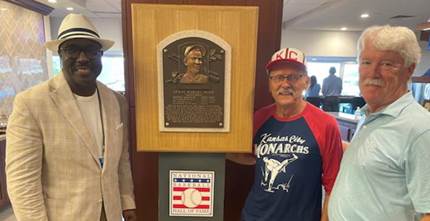 This year, almost on my birthday, Rita and I will be at Kauffman to view Buck O'Neil's plaque. On loan from the Hall of Fame, the plaque will be at the NLBM on Friday and then at the K for Saturday's "Salute to the Negro Leagues." The Royals will be wearing 1945 Monarchs home uniforms (Jackie Robinson's year with the Monarchs), and the Dodgers will wear Brooklyn away uniforms (Jackie's team from 1947 to 1956). Vin Scully's coverage of Jackie started in 1950.
If you are doing the math, you know what's happening to me today.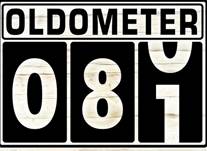 But I'm only 27.2222 in Celsius. All those deuces remind me of Vin Scully's trademark phrase, "Deuces are wild!". Two on, two out and a 2-2 count on the batter.
Lonnie's Jukebox – Vin Scully Edition: To many, especially those in Brooklyn and Los Angeles, Vin Scully was the soundtrack of baseball for 67 years.
When Scully broadcast his first game for Brooklyn on April 18, 1950, the Dodger starting lineup included five future Hall of Famers – Pee Wee Reese, Jackie Robinson, Duke Snider, Roy Campanella and Gil Hodges (a/k/a the "Boys of Summer" as affectionately remembered in Roger Kahn's 1972 book).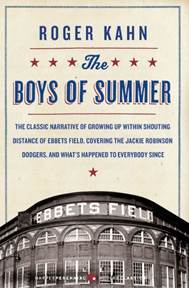 Scully was the voice of the Boys of Summer, covering the final eight years that the Dodgers played in Brooklyn (1950-1957). This included the only World Series victory in Brooklyn history – in 1955, they finally beat their archrival, the New York Yankees. The 1955 Series is the one when Jackie Robinson stole home (or not, according to Yankee catcher Yogi Berra). Speaking of Berra…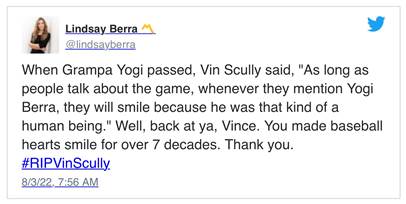 The Yankees and Dodgers met again in the 1956 Series and the Yankees returned to their winning ways, best evidenced by…
Don Larsen's Perfect Game (1:51) – The call by Vin Scully.
Below, in his Ebbets Field booth. Click here to hear Vin speak of his years in Brooklyn (3:40).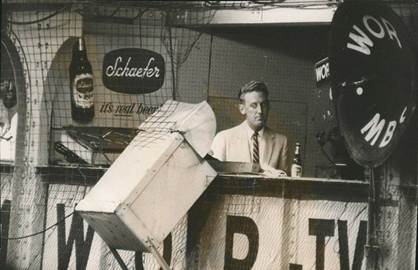 In 1958, the Dodgers moved to Los Angeles and took along their popular broadcaster. Wise decision, per George Vecsey in his Scully tribute in the New York Times last week: 
"But nothing or nobody in the latter-day covered wagons would transport and transplant baseball to the Left Coast better than a young man…named Vin Scully. More than anybody or anything, Vin Scully sent baseball floating into the ozone – first from the ill-shaped Coliseum, and then, starting in 1962, from the pastel oasis on a former Mexican camp nestled into Chavez Ravine. Scully was the warm voice wafting out into a warm climate, instructing the locals in the fine points of big-league baseball…Scully's dulcet voice floated on stereophonic waves from new gadgets called 'transistor radios,' easy to carry into the ballpark."
Sandy Koufax's Perfect Game (8:33) – The link covers all three batters in the 9th inning of this 1965 classic. "There are 29,000 people in the ballpark and a million butterflies." Koufax not only pitched a perfect game, but it was his fourth no-hitter, a new record. That record was broken in 1981 by Nolan Ryan who tossed his fifth no-hitter – the opponent was the Dodgers, so Vin was on hand for that broadcast too.
Hank Aaron's 715th Home Run (4:38) – In a bit of fortuitous timing, Hank Aaron was facing the Dodgers when he hit his 715th home run. The result is a memorable call from Scully, including his special talent for silence to let the fans take in the moment, followed by his eloquence. "What a marvelous moment…A Black man is getting a standing ovation in the Deep South for breaking a record of an all-time baseball idol."
Bill Buckner's Error (1:16) – In addition to his Dodger duties, Scully also worked games-of-the-week, all-star games and the post-season. This play is from the 1986 World Series.
Kirk Gibson's Walk-Off (0:41) – I remember where I was on this one. Rita and I were in New Mexico with our friends Anne Devaney and Talis Bergmanis. We were out to dinner and missed the early innings, but got back to the hotel in time to watch the ending. Vin: "In a year that has been so improbable, the impossible has happened."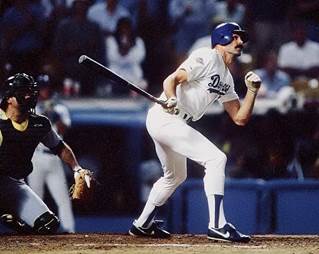 Satchel Paige and Whitey Herzog (2:58) – This is a long story that Vin finishes during one at bat, giving credit to the batter for hitting enough foul balls to give him time to complete his tale.
Bird Poop (2:08) – About Royals manager Mike Matheny, but when he was with the Cardinals.
Rattlesnake (1:52) – A story about Madison Bumgarner, the nemesis of the Royals in the 2014 World Series.
Socrates (2:18) – Arizona outfielder Socrates Brito came to bat against the Dodgers. So naturally Vin talked about the Greek philosopher and the chemistry of hemlock.
"The Catch" (2:12) – Scully also did other sports, including NFL games where he was often paired with Hank Stram who can also be heard on this video. "The Catch" in baseball means Willie Mays in the 1954 World Series. In the NFL, the Wikipedia page for "The Catch" goes to Dwight Clark receiving the ball from Joe Montana in the 1981 NFC Championship. Vin and Hank were there to report.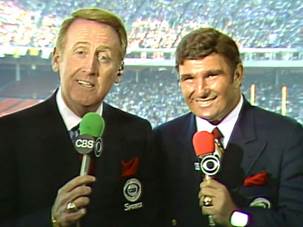 Goodbye From and To Vin Scully: In 2016, at his last game broadcasting from Dodgers Stadium, Vin said his goodbye to the fans and unfurled a banner (click here; 3:51).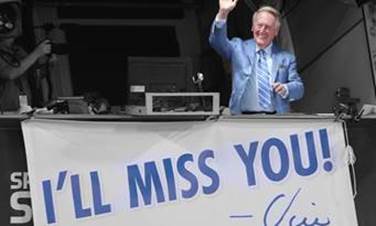 Last Friday night, the Dodgers honored Scully with a moving video presentation and then unfurled a banner from Dodger fans (click here; 12:21).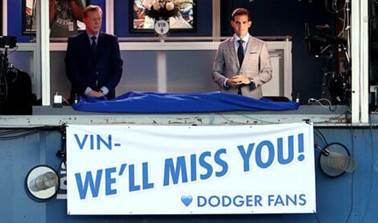 The Dodgers are wearing uniform patches to honor Vin, and Kansas City fans can see them this coming weekend when the Dodgers are in town for a three-game series.