Covid. A spoiler for all seasons.
2020 – The first year of Royals ownership by John Sherman and his partners. The pandemic reduced the season to 60 games with no fans in the stands.
2021 – The season started under the cloud of Covid, but with hope because of the vaccines. Fans were masked at the earlier games and seating was spread out. We were there.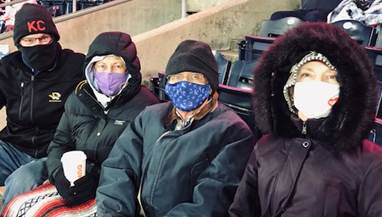 But as vaccinations increased, restrictions on fans were relaxed. By the time Rita organized an 80th birthday night for me at Kauffman, we sat unmasked in the crowd (below, on the front row at the left, watching Salvy at the plate).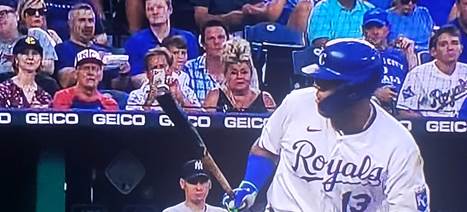 I reported on that birthday night in Hot Stove #169, and the post ended with the photo below, captioned "A parting shot from my birthday night at Kauffman Stadium. Good message."
If only that sign could have been read from the field.
2022 – The season was slightly delayed because of the lockout, but once underway, Covid was of little note at the ballpark. Vaccinations had dramatically reduced hospitalizations and serious illness. Vaccinated people contracting one of the Covid variants usually only experienced minor symptoms. A great improvement after 2020 and 2021.
As for early play on the field, the news was not as rosy. On June 3, after 50 games, the Royals were 16-34.
But then for the next six weeks, the team played .500 ball (19-19). If the season had started on June 15, the Royals had the best record in their division. The rookies were exciting. There was serious talk of trading veterans for prospects to give hope for 2023 and beyond.
And then Covid hit again. By that, I of course mean the Covid-10. The ten unvaccinated Royals players who did not suit up for the four Toronto games this past weekend – they could not go because non-citizens entering Canada must be vaccinated (the U.S. has a similar rule for non-citizens entering the country).
This was jarring. Other teams had played in Toronto this year with minimal loss of players (ranging from 0 to 4). Any team might have a couple of anti-vaxxers, but ten players constitutes a movement. In the wrong direction. Weird science? A cabal? A clubhouse issue? Don't know.
The fallout has been disastrous. Fans and sportswriters have been unrelenting in their criticism. The trade value of the veterans is now suspect. Temporarily, the downtown stadium is a harder sell.
When I Googled "Kansas City Royals Covid 2022," there were tons of hits – it is a national news story. For a succinct summary of the consensus in the news, I'll borrow six words from Sam McDowell's article in the Kansas City Star:
"Self over team, politics over science."
Starting last Thursday, the depleted Royals added minor leaguers for the four-game series in Toronto. If there is a silver lining in all of this, several players made their first appearance in "the show." The Omaha Storm Chasers contributed five players and tweeted this visual with the hashtag "Chasing Royalty."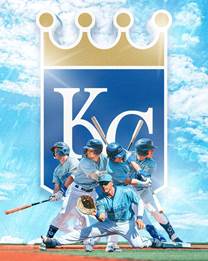 In the first game in Toronto, the betting lines established the Royals as the biggest underdog in a game this season. The Royals won. Take that bookies. The next three games were losses, but the replacement players showed some entertaining spunk. Pitcher Angel Zerpa recorded the only victory. Nate Eaton and Nick Pratto got their first big league home runs. Michael Massey had three hits. Remember those names.
Ownership and management have work to do. They know it. I have confidence that superfan/owner John Sherman will turn this around and that the patient and loyal Royals fans will again have much to cheer about.
As taught to us by the great Leonard Cohen: "There is a crack in everything, that's how the light gets in"
On the Baseball Calendar This Week:
Tonight: Home Run Derby (ESPN).
Tomorrow Night: MLB All-Star Game (Fox).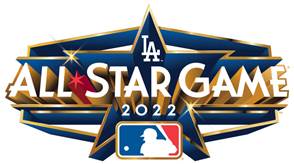 Friday Night: The Covid-10 return to the Royals who host Tampa Bay at the K (Bally). The new parlor game: Guess how many of the Covid-10 will be on the opening day roster for the Royals in 2023.
Looking Ahead: Bobblehead nights for two of the Covid-10. LF Andrew Benintendi (August 23) and CF/P Michael Taylor (August 24).
Bobby Bonilla Day – July 1: Since 2011, the baseball world has celebrated Bobby Bonilla Day on July 1. As noted in several columns and tweets earlier this month, Bobby again received his annual payment of $1,193,248.20  from the New York Mets. This ritual will continue until Bobby is 72 years old in 2035. He has not played for the Mets since 1994. I'll get to the details, but first want to give credit to the player who inspired Bobby to take deferred payments – Bret Saberhagen.
Kansas City fans had the pleasure of watching Sabes pitch for the Royals for eight seasons (1984-1991). While with the Royals, he won two Cy Young awards, hurled a no-hitter and was the MVP of the 1985 World Series. After the 1991 season, Saberhagen was traded to the Mets.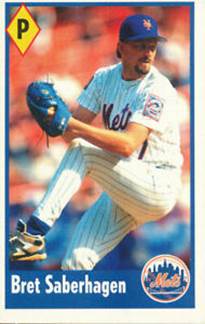 In salary negotiations in 1993, the Mets and Saberhagen structured a deal that included a deferred payment of $250,000 per year for 25 years, beginning in 2004. The Mets traded Saberhagen to Colorado in 1995, and Sabes finished his MLB career with Boston, retiring in 2001. But the deferred payment obligation remained with the Mets who will continue to pay until 2028, 33 years after Saberhagen last played for the team.
Saberhagen's agent was Dennis Gilbert whose roster of clients included George Brett. I'm guessing Saberhagen met Gilbert through Brett. Another Gilbert client was Saberhagen's Mets teammate Bobby Bonilla who was impressed by Saberhagen's deal and asked for a similar one in 1994. The Mets agreed and deferred half of Bonilla's 1994 and 1995 salary. The Mets traded Bonilla to the Orioles in mid-season 1995, and he continued to play for the Orioles in 1996. The Mets and Orioles share in a total of $500,000 a year in deferred payments to Bonilla, payable from 2004 to 2028.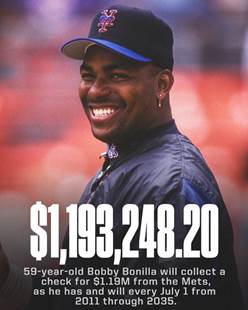 But Bonilla was just getting started. After playing for other teams from 1995 to 1998, Bonilla returned to the Mets in 1999. He did not play well and was released, but the team still owed him $5.9 million for the season. The Mets did not want to pay the money at that time, and Bonilla agreed to a deferral at an 8% interest rate. He took no payments for 10 years and then began receiving annual payments. Proving the value of compound interest, this meant annual payments of $1.193 million to be paid from 2011 to 2035. About $28.9 million.
Why did the Met owners (the Wilpon family) agree to this? Because an 8% interest rate seemed fine at the time. The family was receiving double digit returns on their huge investment with a famous financier – Bernie Madoff. Yes, the crook whose Ponzi scheme was uncovered in 2008. This created years of headaches and litigation for the Wilpon family, but don't feel too sorry for them. They sold the Mets in 2020 for a profit of $2 billion. The new owner is still paying Bret Saberhagen and Bobby Bonilla.
Bret Saberhagen Trivia: Less than a year after Saberhagen signed his deferred salary deal, the players went on a strike that lasted from August 12, 1994, to April 2, 1995. In November of 1994, Saberhagen appeared on the TV sitcom Married With Children. The title of the show is "A Man For No Seasons" and features Al Bundy and his friends forming a team to play in a league established to replace the dormant MLB. Click here for a short promotional clip.
One of the running gags in the episode is that several striking MLB players appear as themselves (Mike Piazza, Dave Winfield, etc.). Some supposedly have side jobs to get them through the strike. Below, a mall cop (Danny Tartabull) confronts pizza delivery guy (Saberhagen) for improper parking at the mall. Note that Saberhagen's nametag says Bobby Bonilla, his fellow deferred payment teammate. When asked why the Bonilla nametag, Sabes said Bobby had called in sick. The episode is available on Hulu (Season 9, Episode 11).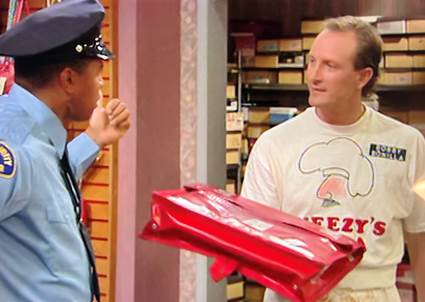 In another Married With Children episode, Al celebrates opening day and tries to explain the beauty of the game to a skeptical Peggy. Early in the episode, Al's neighbor comes in wearing a Kansas City Monarchs jersey (click here).
Small World Trivia: My cousin Tom and his wife Marcy lived for many years in Los Angeles where Marcy was a writer for sitcoms – The Jeffersons, Caroline In the City and…Married With Children.
Movies – Joe Morgenstern and Telluride: As reported annually in Hot Stove, Rita and I head to the Telluride Film Festival on Labor Day weekend each year. We will be going again this year, and Rita has set up our passes, condo, rental car and flights (hope the airlines have their act together).
Film critic Joe Morgenstern of the Wall Street Journal regularly covers the festival, and I always like his capsule reviews and his description of the festival atmosphere. I quoted a couple of his reviews in my Hot Stove report in 2021 and sent him a letter of appreciation for his good work. He sent back a nice note and we exchanged emails again when The Rescue was released in October. We both had seen the screening at Telluride and thought it was one of the best documentaries of the year (trailer here; streaming now on Disney+).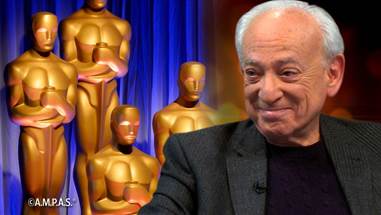 In April this year, Joe favorably reviewed The Duke, which had just been released to theaters. Trailer here (run has ended in KC, and not yet streaming). I loved The Duke when I saw it at Telluride and so again sent Joe an approving email. I also told Joe that Rita and I had confirmed our reservations and passes for the 2022 festival. He responded "You're way ahead of me! But I do have a map that tells me how to get there."
That response from Joe was dated April 25. Three days later, Joe published his retirement column in the Wall Street Journal. The Duke was his last review. I had no clue, but it was not a surprise. Joe Morgenstern is 89 years old.
And he still has lots to do. From his final column: "I've got books to write and read, a life to live free of the weekly deadlines I kept telling myself took no toll, and, of course, new movies to see as a paying customer."
I sent off an email with the subject line "Say it ain't so Joe," but it kicked back. He was already off the WSJ email network. I forwarded the email to Jason Gay, a WSJ sportswriter, who I had just quoted in a Hot Stove about his comments on Roger Angell who had recently died at age 101. I pointed out that I wanted to reach Joe who reminded me of Angell who had written books as a nonagenarian just as Joe planned to do. Jason said yes, and within a few days I heard from Joe:
"I caught myself having a strange, dissociative reaction to your very flattering description of me writing books as Roger Angell did when he became a nonagenarian. Me a nonagenarian? What are you talking about? But yes, I'll be joining the ranks in a few months, even though on a good day I feel like a 50-year-old – and maybe like a 60-year-old on a bad day."
Joe says he hopes to be at Telluride this year, but as a movie fan, not as a critic. He will then be a month shy of 90. My kind of guy.
Movies – Hallelujah: One of the films screened at Telluride last year was Hallelujah: Leonard Cohen, A Journey, A Song. In my Hot Stove report on the festival, I quoted Joe Morgenstern's take from his Telluride column:
"And Hallelujah: Leonard Cohen, A Journey, A Song, is plainly though not simply in a class by itself. A densely detailed biography of the Canadian poet, singer and songwriter that was directed by Dayna Goldfine and Dan Geller, this majestic, almost symphonic documentary is also a chronicle of the singular song Cohen wrote, revised and expanded over the course of decades, as well as an account of how 'Hallelujah' has become a receptacle into which new generations of singers pour their material souls. Like the song, whose title contains an affirmation, and the festival, which continues to honor cinema, the film affirms the value and power of making art."
On July 1, 2022, Hallelujah opened in theaters in NY and LA (trailer here). Check out the top of the movie poster below. They also liked Joe's quotes.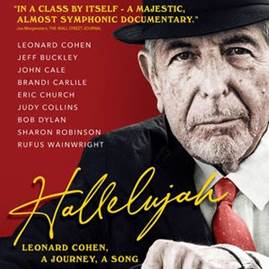 "Hallelujah" Trivia: The song "Hallelujah" was in the news for the presidential elections in both 2016 and 2020.
In 2016, Kate McKinnon played Hillary Clinton in many Saturday Night Live skits. After Clinton's loss to Trump, the show struggled with how to handle the cold open for the next show. One of the ideas was to have McKinnon sing a song, possibly "Hallelujah," but thought that might be too somber. On Thursday after the election, it was revealed that Leonard Cohen had died three days earlier. So it was back to the song because now it would also be a tribute to Cohen.
Cohen famously wrote many verses over the years, and that is why versions of the song have different lyrics. The SNL staff listened to various covers of the song and found a verse to capture Clinton's loss, but still be positive:
I did my best, it wasn't much
I couldn't feel, so I learned to touch
I told the truth, I didn't come to fool you
And even though it all went wrong
I'll stand before the Lord of song
With nothing on my lips by Hallelujah!
Dressed in her signature Hillary Clinton wig and white pantsuit, McKinnon delivered a three-verse version of "Hallelujah" and repeated the title eight times to end the song. She then looked into the camera, tears glistening, and said, "I'm not giving up, and neither should you….Live from New York, it's Saturday night!"
The video clip of the cold open went viral. McKinnon said, "In my tenure on the show, I got the most response from this one thing." Video here.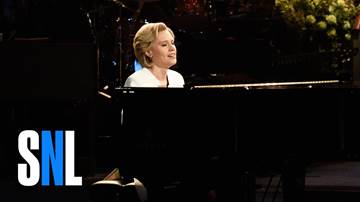 In 2020, when the Republican National Convention was held at the White House, the RNC asked permission from the Leonard Cohen estate to use "Hallelujah" as part of the festivities. The estate said no. They used it anyway. Law and order.
Books – Baseball and Politics:  It was Rainy Day Books week for us last week. On Tuesday, we attended an author event at Unity Temple where Jason and Diana Kander were interviewed by Steve Kraske. Jason's new book is titled Invisible Storm: A Soldier's Memoir of Politics and PTSD. Early reviews are favorable, and we look forward to reading it. All royalties go to the Veterans Community Project.
Rita also picked up a couple of "beach-reading" books at the store. We're not headed to the beach, but these look like fun books to breeze through.
My favorite baseball movie (by far) is Bull Durham. Sorry Field of Dreams fans. At least both star Kevin Costner. The director of Bull Durham, Ron Shelton (no relation), has written a book about the making of the movie: The Church of Baseball: The Making of Bull Durham. The "Church of Baseball" reference comes from Susan Sarandon's monologue during the opening credits of the movie (click here; 2:00).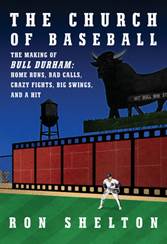 In 2013, I read This Town by Mark Leibovich. The book is a laugh-out-loud tale of the characters who ply their trades in Washington D.C. (politicos, lobbyists, etc.). Loved it.
Leibovich has a new book: Thank You For Your Servitude: Donald Trump's Washington and the Price of Submission. From the excerpt I read in the Atlantic, this book will also be a hoot. Reader Discretionary Advisory: Content may not be suitable for Trump supporters.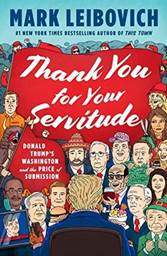 Dance – Little Richard and Tiny Dancer: I predict you will watch this video more than once and will send to many friends. Click here.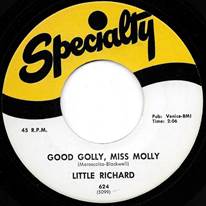 Art – Negro Leagues Baseball Museum: In February of 2020, the Negro Leagues Baseball Museum opened the exhibit BLACK BASEBALL IN LIVING COLOR. The exhibit features over 200 original portraits/color studies of black baseball players and executives by artist Graig Kreindler. The exhibit was forced to close because of the pandemic, but it has been reopened through August 15, 2022.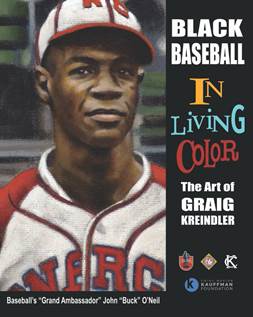 Television – Only Murders in the Building: Rita and I are into the second season of the comedy/mystery series Only Murders in the Building. Streaming on Hulu (trailer here).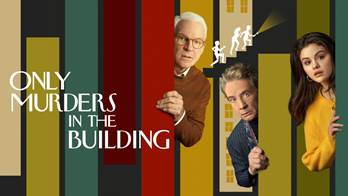 Steve Martin, Martin Short and Selena Gomez play residents in the Arconia, a fictional apartment building. The exterior shots used for the Arconia are of the Belnord, a building on the Upper West Side of Manhattan. There are also scenes in the show that take place in the interior courtyard of the Belnord.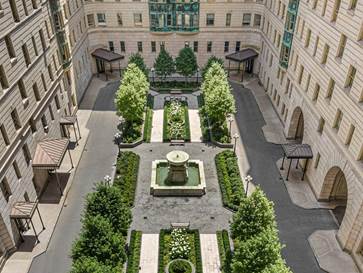 Small World Trivia: I have often walked across that courtyard. From the mid-1990s until my retirement, my main client was a NY developer. His initial NY offices were in the Belnord, a building that he and his partners owned. I attended many meetings at the Belnord, and so I admit to some bias on why I enjoy this TV show.
Music – Lonnie's Jukebox – American Top 40: The Top 40 radio format for pop songs was created by Todd Storz in Omaha in the early 1950s. He started buying other stations to promote the format, and one of them was WHB in Kansas City. That's where I got my first taste of rock 'n' roll. A good history of the format was recently posted on the fun nostalgia podcast series "Rare & Scratchy Rock 'N Roll" (#160 at this link).
Many stations and deejays saw the success of Storz and copied the format. One of the best was Casey Kasem who started "American Top 40" in 1970. It was nationally syndicated, and I was a regular listener. Casey was great at intertwining the music with trivia. As you might imagine, I liked that. Here is the playlist for his debut show: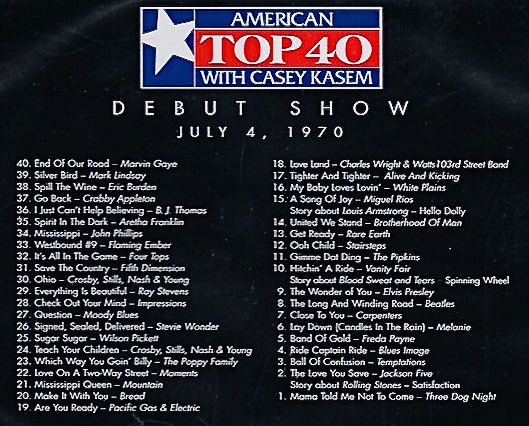 I'll take some selections from this list and guess what trivia Casey might have added.
"It's All in the Game" by the Four Tops. The definitive version of this song was by Tommy Edwards who took it to #1 in 1958 (listen here). It hit the top of the chart as I was starting my senior year in high school – a real belly-rubber at Van Horn Teen Town. I don't remember the Four Tops charting the song in 1970. The trivia I'm sure Casey shared: This is the only #1 song composed by a U.S. vice president – Charles Dawes who served under Calvin Coolidge. Dawes composed the music in 1911 and Carl Sigman added lyrics in 1951.
"Ohio" by Crosby, Stills, Nash and Young. On May 4, 1970, four students were killed during an anti-war protest at Kent State University. Neil Young began writing this song after seeing the Kent State photos in Life Magazine. CSNY recorded the song on May 21, and the record was rushed out for release in June. It peaked at #14. Some AM radio stations banned the song because of the challenge to the Nixon Administration, but extra airplay was found on underground FM stations.
"Sugar Sugar" by Wilson Pickett. The first recorded version of this song was by the Archies who took it to #1 for four weeks in 1969 (listen here). The Archies were a fictional cartoon band, and the music was by studio musicians who never appeared publicly to play the song. Wilson Pickett's cover peaked at #25 in 1970.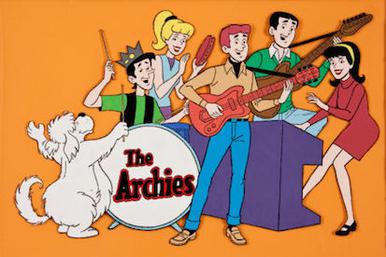 "The Long And Winding Road" by the Beatles. The trivia that Casey would have noted…this was the Beatles 20th #1 song. What he did not know at the time…it was their last #1. The record is part of two excellent documentary series now streaming, The Beatles: Get Back (Disney+) and McCartney 3, 2, 1 (Hulu).
"Mama Told Me (Not to Come)" by Three Dog Night. Written for Eric Burdon by Randy Newman, the song was released in 1967 on an album by Eric Burdon and the Animals (biggest hit for the group was in 1964, "House Of The Rising Sun"). The song was covered by Three Dog Night in 1970 and was the #1 song on Casey's debut show. Some trivia Casey did not know at the time: Three Dog Night would later have two more #1 hits: "Joy To The World" and "Black & White."
Casey Kasem was a Top 40 deejay for 40 years. He died in 2014 at the age of 82. His signature signoff was…
"Keep your feet on the ground and keep reaching for the stars."