In November of 2019, John Sherman and a group of local investors purchased the Kansas City Royals for $1 billion. Everyone was happy. The new buyers. The seller. The players. The fans. The sportswriters. Sherman and his investors were ingrained in Kansas City – the business sector, civic affairs and philanthropy. We celebrated our good fortune.
Spring training opened in 2020 on schedule, but was abruptly suspended on March 12 as Covid raced across the country. Thus began the first of three abnormal seasons for the new owners of the Royals.
2020 Season – 60 Games: The owners and players bargained on the terms and protocols for what would be a reduced season. The negotiations did not go smoothly, and when the season did get set, sportswriter Jared Diamond wrote this prophetic sentence in the Wall Street Journal:
"Major League Baseball on Monday said that it would impose an abbreviated 2020 season after a bruising and inconclusive dispute between team owners and the players' union that could signal years of labor discord ahead."
Below, the full 2020 season for the Kansas City Royals (26-34).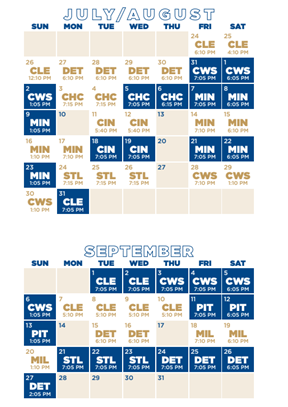 2021 Season – 162 Games: The full regular season was played (74-88), but with restrictions that no doubt hurt attendance. As the season opened, social distancing was in place and masks were required. And in April, there was a cold spell. But we were there. Below, Pat Titterington, Cheryl Dillard, Lonnie and Rita.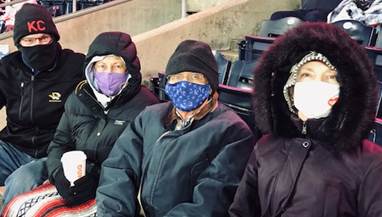 The restrictions were ultimately lifted, and the weather got better. But Covid still took its toll. The Royals averaged 14,316 fans per game, the lowest since 1975. Below, the season attendance numbers from 2006 to 2021 (sans the 2020 season played without fans in the stands).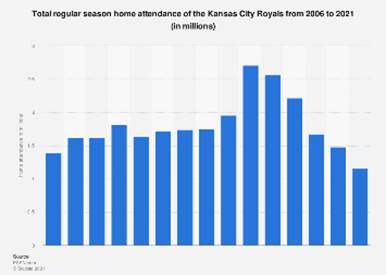 2022 Season – 156 Games (or less): When the Collective Bargaining Agreement expired on December 1, 2021, the owners locked out the players. Fans were denied the traditional "hot stove" talk over the winter of contract extensions, free agent signings, and the managing, coaching and scouting reports on anticipated lineups. When spring training finally arrives, it will be cut short in the rush to get to regular season games – meaning less time to evaluate our rookie hopefuls.
The first six games of the 2022 season have already been cancelled. And it's not pretty. The "us" v. "them" rhetoric has escalated between the owners and players.
Where are the Royals new owners in all of this? Probably just wishing they could have their first "normal" season in their third year of ownership. But it is not to be. Maybe in 2023.
Where are the Royals players in all of this? The team's union rep is Whit Merrifield, and he said this about the negotiations:
"A lot of these owners don't care about playing a full season. They've got it figured out in some sort of equation where there's X amount of games they can play to get their maximum revenue. And if they don't have to pay players for those games, it benefits them…We've come up with a system…[to] put the best product on the field year after year to compete and bring entertainment to fans. Because nobody wants to go out and watch a 40-win team lose year after year with a $30 million payroll because all the owner cares about is generating revenue."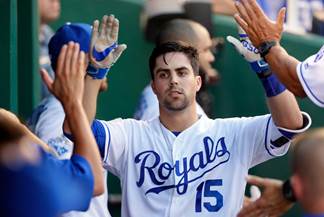 Merrifield does not think the Royals owners are in this category. Relying largely on sentiments conveyed to him by Dayton Moore, Whit believes Sherman is in the business for the "right reasons," adding "I guarantee you if we had 29 other owners like John Sherman and the ownership group we have…we wouldn't be in this position anyway." Click here for Whit's audio (1:41).
KC Star sportswriter Vahe Gregorian echoed this Dayton Moore/John Sherman sentiment in article titled "Why it's too bad KC Royals president isn't the commissioner of baseball." Vahe praised Moore's heartfelt message to the fans after the game cancelations were announced, and also added a comment about the ownership group: "So I can say with all conviction that you should believe that this is a source of anguish to the Royals, including owner John Sherman, and not simply because of business lost but because of Sherman's sincere notion of his role in the community." Below, Sherman and Moore.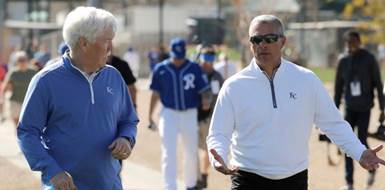 Lonnie's Bias for John Sherman: I agree with Whit and Vahe on the Royals ownership. By a bit of luck, I sat next to John Sherman at a Truman Library event in 2017. At that time, Sherman was a minority owner of the Cleveland Indians (now Guardians). I of course pumped him about baseball and reported on this in a Hot Stove back then:
"As we got into our dinner, I turned to baseball talk with John Sherman…[He] is a true baseball fan and clearly is enjoying his gig as a team owner. We talked about the legacy connection of the Indians to the Negro Leagues Baseball Museum. This year is the 69th anniversary of those 1948 World Series Champion Indians that included former Negro League stars Larry Doby and Satchel Paige. If the Royals can't win it all in 2017, I'm rooting for Sherman's Indians to break their 69-year drought."
Sherman's passion for the Royals was in place long before he owned the team. From Alec Lewis in The Athletic: "Sherman has been described in many conversations…as a baseball romantic. He has long been so in tune with Royals baseball that, in 2014, with the club in the World Series, he was streaming the game on his phone one night during a family trip to Europe. His wife, Marny, noticed, looked him in the eye and told him to go back for Games 6 and 7. He did."
I'm rooting for John and his fellow Royals owners to have an almost-normal season in 2022.

???????
Lonnie's Bias For the Players: In 2018, Hot Stove took a deep dive into baseball labor relations with a three-part series titled "Collusion – Baseball not Russia." Russia? That was a joking reference to the ongoing investigation of the Trump campaign's "collusion" with Russia in the presidential race (does not seem as funny now).
The "baseball" part of the title was a reference to the collusion of baseball owners to undermine salary negotiations in violation of the Collective Bargaining Agreement. In 1990, the owners agreed to pay $280 million to the players for that wrongdoing. But that was only one example as players fought over the years for fair salaries. This is how I summarized the status in May of 2018:
"There has not been a work stoppage since 1995, but as one pundit noted, here is no true labor peace in MLB: it's simply the time in between negotiations where ownership regroups to figure out how they can scale back gains of the players. Certainly the poor market for free agents this year has again raised the specter of collusion. Or maybe the true issue is that there needs to be a reallocation of baseball revenues. If older free agents are going to get less, players in their prime should get more. Revenue sharing between small and big markets may need a tweak. It's all very complex, and Commissioner Rob Manfred and Executive Director Tony Clark have their work cut out for them."
Still sounds about right. If you want to dig deeper, see Hot Stoves #72, #73 and #74 at this link.
Baseball Revenues: MLB does not have a revenue problem. As shown by the red line in the graph below, the trend in gross revenues is excellent. Baseball (and other sports) are reaping the benefit of escalating TV revenues. In this age of streaming and DVR use, advertisers are looking at live sports as the only way to get TV viewers to see their ads. When you add in new revenues expected from gambling deals, naming rights (like crypto), ads on uniforms and expanded playoffs, the future looks bright.
But note the yellow line on player payroll. Salaries have flattened out. While gross revenues rose 30% from 2015 to 2019, player payroll fell nearly 5%.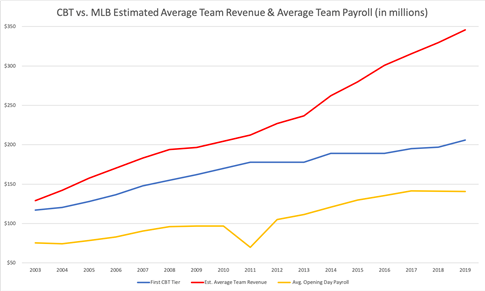 Many owners think both of these trends are just fine. The players believe the yellow line should trend up. Result: Lockout and tense negotiations.
[Note: The blue line is the luxury tax number, which the players believe is also being used unfairly by the owners.]
The Players' Side: The disputes in baseball are often characterized as just a battle between billionaires and millionaires. If it were only that simple. I offer to you a colorful commentary on this from Lee Judge, former KC Star editorial cartoonist and now a funny and insightful stream-of-consciousness blogger. His full article is here, but I'll give some samples of what he calls "inconvenient facts" about millionaire ball players:
Of the 902 players on Opening Day rosters in 2021, 417 had salaries under $1 million.
And much of the money is concentrated on star players. The 100 highest-paid players account for 52.4% of total payroll, while the other 802 players split the remaining 47.6%.
Once a player makes it to the big leagues, the average career is 2.7 years. Most minor league players make between $8,000 and $14,000 (so many are below the federal poverty guideline).
Lee Judge concludes from this that "It's no accident that Major League Baseball makes sure fans know exactly how much the players at the top of the salary structure make and absolutely nothing about how much the owners make. And they definitely don't want you thinking about the guys in the minors sleeping on couches and floors and eating peanut butter sandwiches because they can't afford the jelly."
Most sportswriters appear to favor the players in their coverage of the lockout. Here is a small sample, all from former KC Star sportswriters:
Jeff Passan (ESPN): "Major league baseball is in a crisis of its own making, a self-inflicted wound borne of equal parts hubris, short-sightedness and stubbornness from a class of owners who run the teams and seemingly have designs on running the game into the ground."
Andy McCullough (The Athletic): "At this point, the goals of the owners – whether it's to crush the players, to install expanded playoffs at a discount rate, or to curb spending and further prop up billionaires unwilling to open their wallets – almost don't matter. Whatever victory they presume to celebrate will be Pyrrhic."
Joe Posnanski (JoeBlogs): "In the meantime…the rest of us are locked out. The owners will tell us when they've gotten rich enough to let us all back in…And the owners will never have to pay the players more than they are already paying them. They can keep all that juicy gambling money and crypto money and rising franchise value money and advertising patch money for themselves. Also, bottom-feeding teams can keep crying poor and cashing revenue sharing checks. Win-win!…They will cancel as many baseball games as necessary to do that."
The Owners' Side: Among sportswriters I follow, I have not seen any articles supporting the owners' position. So I'll go to MLB's spokesperson on the subject, Commissioner Rob Manfred (shown at left below with Tony Clark, Executive Director of the MLB Players Association).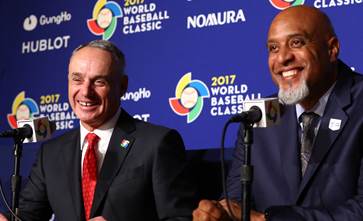 Here is Manfred's take on the plight of the owners:
"We actually hired an investment banker – a really good one, actually – to look at that very issue. If you look at a purchase price of franchises, the cash that's put in during the period of ownership and then what they sold for, historically, the return on those investments is below what you get in the stock market."
I love the assurance that it was a "really good" banker. Not some bad or mediocre banker.
Below is a different take on the return for sports franchises compared to the stock market: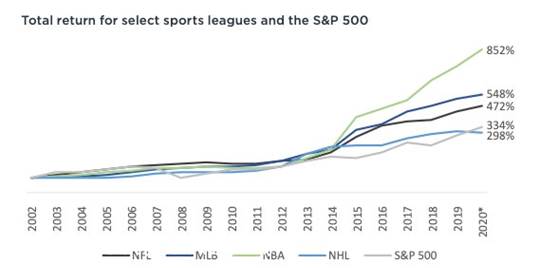 Baseball at 548%, S&P 500 at 334%. This chart is from a "MarketWatch" article by Wall Street Journal reporter Weston Blasi. MarketWatch requested comment from MLB to support Manfred's claim, but MLB did not respond. Nor did MLB reveal the identity of the "really good" investment banker.
In fairness to Manfred, this chart is based on valuations from sources such as Forbes Magazine. And those are just opinions, so maybe actual sales would be a better barometer. Let's try that.
New York Mets: I start with the Mets because both the buyer and seller have interesting backstories.
In 1980, an investment group bought the Mets for $21 million. Fred Wilpon owned a small percentage of the new ownership, but over the years increased his share to 50%. In 2002, Wilpon and family members bought the other 50% based on a franchise value of about $400 million. A few years after that, he found that one of his non-Mets investments had not gone well. He lost a ton of money in the Bernie Madoff scandal.
In a different New York scandal, S.A.C. Capital Advisors in 2013 agreed to pay $1.8 billion in fines for insider trading. Some of the traders ended up in jail. The hedge fund was managed by Steven Cohen who escaped criminal charges, but not without first waging a years-long legal battle with NY District Attorney Preet Bharara. That battle inspired the plot of the first season of the Showtime TV series Billions.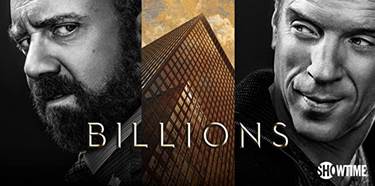 In November of 2020, the Wilpon family sold 95% of the Mets to Steven Cohen for $2.4 billion. A cool $2 billion profit.
Are stocks a better investment than baseball? Yes, if up is down.
Florida Marlins: Per ESPN's Joon Lee…
Are stocks the better investment? Yes, if black is white.
Kansas City Royals: David Glass purchased the Royals in 2000 for $96 million. He sold the team after the 2019 season to John Sherman's investment group for $1 billion.
Would stocks have been a better investment for the executive from Walmart? Yes, if north is south.
New York Yankees: This is not an actual sale, but the Yankees are always good copy.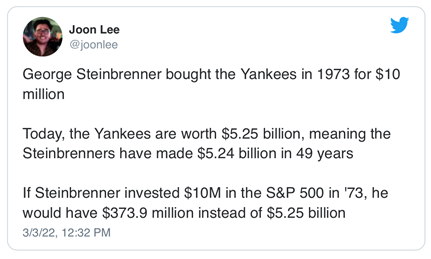 Are stocks a better investment than the Yankees? No!
Let's be clear. There is nothing wrong with making a good return on a sports franchise. But denying that it happens is wrong.
It will be tough for the players to outlast the owners. It's the math. If you measure a million by seconds on the clock, you will go about 11 days. A billion seconds – 31.7 years.
For now, the fans wait.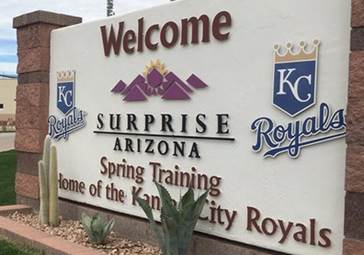 Lonnie's Jukebox – Lonnie's Reno Club: Irv Blond had an inspired idea for dinner this past Saturday night. He and Sharyn took Rita and me to Lonnie's Reno Club in the Ambassador Hotel at 1111 Grand. It is a relatively small venue, seating about 50 people for dinner and a show. And what a show! The namesake star is Lonnie McFadden who was backed by an excellent jazz combo. We felt like we had been transported back to a KC jazz club of the 1930s (minus the smoking). The supper club feel also reminded us of another compelling entertainer, Bobby Short playing at the Café Carlyle in New York.
The name of the club honors the original Reno Club at 12th and Cherry. Radio broadcasts from the club led to national stardom for Count Basie. Lonnie's tap-dancing father performed at the Reno Club, and he mentored his children to follow him in the business.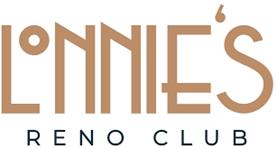 Lonnie McFadden is a multi-talented performer – emcee, singer, tap dancer and horn player. The setlist was superb, ranging from the Great American Songbook to the Beatles to playing Charlie Parker licks. Between songs, McFadden's conversation with the audience includes music history and his personal story. We loved every minute of the show – all three hours (7 to 10 on Friday and Saturday nights).
During a break, Lonnie makes a round of the tables to talk to the diners. Irv Blond of course set up a photo of Lonnie and Lonnie.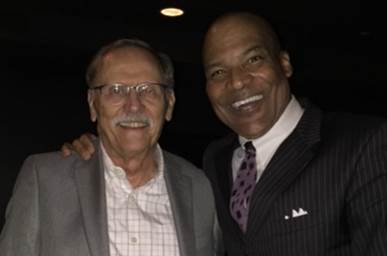 For this edition of Lonnie's Jukebox, I'm going to feature some of the songs that we heard Saturday night – not as performed by Lonnie, but by the well-known recorded versions. Lonnie takes these songs and makes them his own with sterling arrangements accented with his talent and exuberant personality.
Click on the song title to listen.
"In My Life" by the Beatles. A big favorite of Beatles-fanatic Rita.
"Mack the Knife" by Bobby Darin.
"My Girl" by the Temptations.
"What's Going On" by Marvin Gaye. "War is not the answer."
"What A Wonderful World" by Louis Armstrong. From 1995 to 1998, Lonnie and his brother Ronald performed in Las Vegas as part of Wayne Newton's show. In 2004, they traveled with Newton to Kuwait and Iraq to perform for the troops. One night, Newton called Lonnie back to the stage to sing this song, well-known for its poignant use in the movie Good Morning Vietnam. Lonnie's version on stage is stirring.
DON'T MISS SEEING LONNIE AT THE RENO CLUB!
Standing With Ukraine: The blue and yellow lighting of landmark locations has been inspirational. I have selected the one below because Rita and I saw this landmark during our trip to Eastern Europe in 2018. It is the Royal Castle in Warsaw, Poland. Warsaw took some of the hardest hits in World War II – 85% of the city was in rubble, including the Royal Castle. Remarkably, the citizens of the country taxed themselves to rebuild the city to look like it had before the destruction. This was mostly completed by 1955, and the result is most impressive.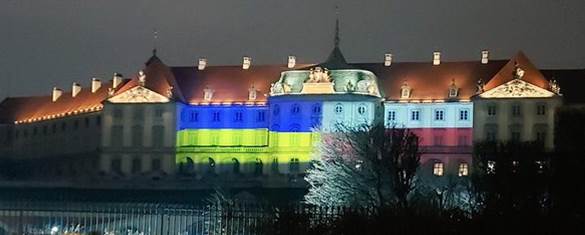 Fast forward to 2022. Russia is shelling Ukraine, but President Volodymyr Zelensky has a message for Putin:
"We will rebuild, every house, every street, every city. We say to Russia, learn the words of reparation and contribution, you'll repay us everything."
We know it can be done.
Ukraine Jukebox: In 1985, Sting released "Russians," a song criticizing the Cold War and the doctrine of mutual assured destruction. It was a plea for the Russians (then the Soviet Union) to think of the children. Here are some of the lyrics:
In Europe and America
There's a growing feeling of hysteria
Conditioned to respond to all the threats
In the rhetorical speeches of the Soviets
 We share the same biology
Regardless of ideology
What might save us, me and you
Is if the Russians love their children too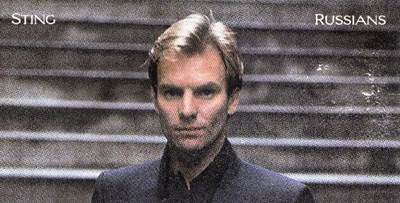 Sting has posted a new version of the song on behalf of Ukraine, saying…
"I've only rarely sung this song in the many years since it was written. I never thought it would be relevant again. But, in the light of one man's bloody and woefully misguided decision to invade a peaceful, unthreatening neighbor, the song is, once again, a plea for our common humanity. For the brave Ukrainians fighting this brutal tyranny and also the many Russians who are protesting this outrage despite the threat of arrest and imprisonment. We, all of us, love our children. Stop the war."
"Russians" by Sting (2022).