Alert: No baseball in this post. No Chiefs either. Well one thing. Patrick and Salvy from graphic designer Robbie Poulain of the Royals. And they both won yesterday.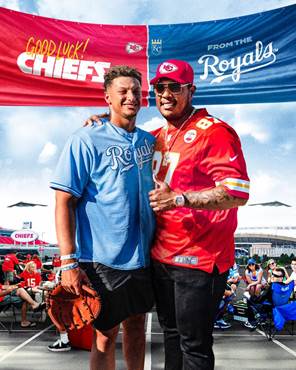 Its movie time! Over a long Labor Day Weekend, Rita and I saw 16 films in five days at the Telluride Film Festival.

This was our first venture beyond Kansas City since Covid hit – 18 months. It was a grand way to reenter the world, but it was also…
Telluride in the Time of Covid: We felt relatively comfortable going to the movies in Telluride. All staff and passholders had to provide proof of vaccination and a recent negative test. Masks were required in the theaters, and there was universal compliance. The nature of the crowd helped – these are the same people who turn off their phones during the movies – I can't remember the last time I heard a phone ring during a screening. We were allowed to unmask to enjoy the popcorn, drinks and candy supplied free by Netflix, but otherwise the masks stayed on.
However. By the time we went through airports, flew on planes and watched movies wearing masks, we concluded that we will not go to Telluride next year if similar rules apply. Don't get me wrong. I support all of these rules. I just don't like having to live that way. Until vaccination rates rise to a level sufficient to empty the Covid hospital wards, we're sticking close to home. In what is not likely shocking news, I support President Joe Biden's recent announcement on mandatory vaccination protocols.
Chuck Jones Cinema: There are nine theaters at the festival, eight being in downtown Telluride and the ninth (Chuck Jones Cinema) being a gondola ride away in Mountain Village. We stay in Mountain Village and buy an ACME pass to attend shows at the Chuck. The theater is named after the legendary animator who brought us Looney Tunes and Merrie Melodies.
In honor of Chuck Jones, Rita bought a couple of Looney Tune tee-shirts. Mine includes several of Chuck's cartoon creations, and Rita is sporting Bugs Bunny saying "What's up doc?".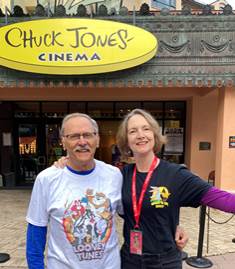 Hallelujah: Leonard Cohen, A Journey, A Song: My report on the movies will proceed in the order we saw them, with one exception – the documentary about Leonard Cohen and his song "Hallelujah." This one has a personal story.
As many of you know, Rita had a bout with breast cancer in 2012-2013. During her surgery and chemo regimen, she adopted a mantra from Leonard Cohen's song "Anthem": "Ring the bells that still can ring/Forget your perfect offering/There is crack, a crack in everything/That's how the light gets in."
After her last round of chemo in January of 2013, she looked for some bells to ring and hit paydirt, scoring tickets for Leonard Cohen's April concert at Radio City Music Hall in New York. We doubled down on the Cohen part of the trip by having dinner with Robert Kory, a Los Angeles entertainment lawyer who had become Leonard Cohen's manager. I met Robert about 20 years ago when he had a development project in KC, and a few years after that, I found that he had added the role of Cohen's manager. Serendipity.
Rita had one ask of Robert. When she was in college, she had purchased Leonard's first album. Could Robert get it autographed by Leonard? He did.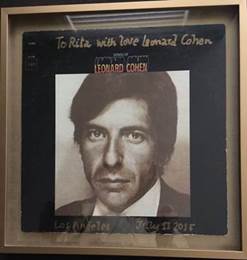 A more detailed account of this, and the concert we saw in New York, is in Hot Stove #29 (click here).
So as you can imagine, we were looking forward to seeing this new Leonard Cohen documentary. According to the Telluride program, the Q&A after the screening would be with the co-directors/writers (husband and wife team, Dayna Goldfine and Dan Geller) and Sharon Robinson, Leonard's long-time back-up singer and collaborator. And then to our pleasant surprise, it was announced at the screening that two others had been added to the panel: Robert Kory and Alan Light. I was familiar with Light because I had read his book about the song "Hallelujah" (The Holy or the Broken), and it turns out that the filmmakers had used the book as a primary source.
Below: Goldfine, Geller, Kory, Robinson and Light.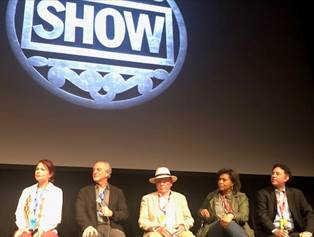 The panel discussed how Goldfine and Geller were able to gain the trust of Cohen and Kory. In particular, they were granted access to Leonard's notebooks where various verses of "Hallelujah" had been drafted over the years. The film project began before Cohen's death in 2016, and Kory has continued to be involved as the trustee for Cohen's estate. It was clear from the panel discussion that they had all become happily invested in the project and were pleased with the result.
There was no answer to the big question, either by the panel or in the movie: What does the song "Hallelujah" mean? Robert Kory suggested that we quit looking for a meaning. His take: The song is a gift. Accept it and use it as it resonates for you.
We were able to meet up and reminisce with Robert after the show. Below, the three of us plus Sharon Robinson.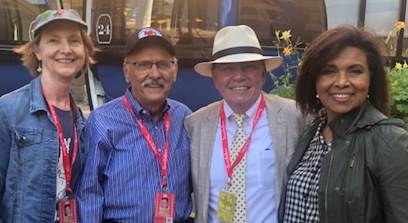 As for the documentary, Rita and I loved it. And I'm not saying that just because we are big Cohen fans. But to provide a neutral voice, I turn to Joe Morgenstern of the Wall Street Journal. I have always liked his summary of the festival and appreciate that he continues to get to Telluride. He is 88 years old. Gives me hope. In Morgenstern's column this past week, he gave brief comments on the movies he saw at Telluride, singling out Belfast and King Richard as favorites. He ended his column with this:
"And Hallelujah: Leonard Cohen, A Journey, A Song, is plainly though not simply in a class by itself. A densely detailed biography of the Canadian poet, singer and songwriter that was directed by Dayna Goldfine and Dan Geller, this majestic, almost symphonic documentary is also a chronicle of the singular song Cohen wrote, revised and expanded over the course of decades, as well as an account of how "Hallelujah" has become a receptacle into which new generations of singers pour their material souls. Like the song, whose title contains an affirmation, and the festival, which continues to honor cinema, the film affirms the value and power of making art."
Thank you for your gift Leonard.
Muhammad Ali: Thursday afternoon, our first show. Ken Burns has been a major supporter of Telluride for many years. We have seen him on panels, and he has premiered some of his PBS shows at the festival (e.g., 2017- Vietnam; 2019 – Country Music). This year, he premiered his new series on Muhammad Ali. Ken was not in attendance, but the film was well represented at our screening: Left to right, interviewer John Horn, co-directors/writers David McMahon and Sarah Burns (Ken's daughter), boxer/actor Michael Bentt, and the champ's daughter, Rasheda Ali.

We saw Part 1 of the four 2-hour episodes. The series will run on PBS from September 19 to 22. Part 1 covered Ali's early life in Louisville and his rise from Olympic gold to his first heavyweight championship. We thought it was excellent and look forward to the remaining episodes.
C'mon C'mon: On Thursday night, director Mike Mills and actress Gaby Hoffman were on hand to introduce us to the world premiere of C'mon C'mon. The film stars Joaquin Phoenix as a soft-spoken radio journalist (Johnny) who is traveling the country interviewing kids about the world and their future. The interviews are fascinating (and real), and they serve as a thread to the message of the film – adults can learn from kids. It's safe to say Phoenix is playing a much different role than his Oscar-winning Joker.
When Johnny's sister (Gaby Hoffman) needs Johnny to care for her young son Jesse for an extended period, the film segues into a road-trip for Johnny and Jesse. Their relationship and the evolution of their perspectives make for a very good film. The boy playing Jesse (Woody Norman) is superb. Black and white film. Good score. Highly recommended.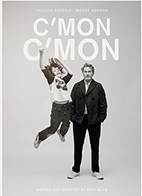 The Electric Life of Louis Wain: The second Thursday night feature was also a world premiere. Director Will Sharpe introduced The Electric Life of Louis Wain, a film starring Benedict Cumberbatch and Claire Foy (the first Queen Elizabeth in The Crown). Cumberbatch plays Louis Wain, a London artist who gained worldwide fame in the late 1800s for his unique depiction of large-eyed cats. Foy plays his wife. Some interesting historical info, but not on my must-see list.
Photo Credit – Jan Hodgson: Our friend Jan Hodgson has been going to Telluride since the 1990s. She has a knack for getting good photos of the directors and actors who appear at the screenings. All of the screening photos you see below are Jan's, and I greatly appreciate being able to use them in Hot Stove. Thank you Jan.
Cyrano: Before heading into the theatre for the first movie on Friday morning, our Kansas City crew posed for a photo. Left to right, Kristi Wyatt, Rita, Lonnie, Jo Ellen Smith, Jan Hodgson, Kay Wallick, Sally Stanton and Susan Stanton.
The showing of Cyrano was paired with a tribute to its star Peter Dinklage. We saw clips from Dinklage's past performances, and he was then interviewed on stage (below). His breakthrough in film was in 2003 in The Station Agent, and he has become well known in recent years for his prominent role in Game of Thrones.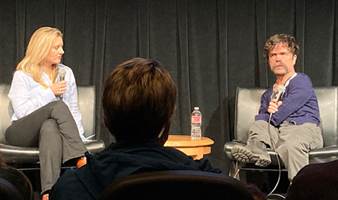 In this new movie version of Cyrano, Dinklage plays the title character. But instead of a large nose, his perceived negative physical trait is his height (4'5"). He is a swashbuckling soldier who writes poetry that he communicates to Roxanne (Haley Bennett) through the handsome (but not poetic) soldier (Kelvin Harrison, Jr.).
And it's a musical! Dinklage was very good and the movie was great fun. I was entertained.
The Same Storm: From the saying "We're not all in the same boat. We are in the same storm." In this movie, the storm is Covid.
At the height of Covid lockdowns and Zoom calls, writer-director Peter Hedges wrote a script inspired by the lives of people connected remotely during the pandemic. The movie is a series of linked vignettes that hand off to one another to form a seamless film. The actors play their roles in their own homes using a sophisticated streaming system (not Zoom, but similar) and using their smartphones, iPads or computers for real time filming with multiple actors.
The movie is a very cool technical achievement combined with an excellent script that deals with Covid, family, racial tension, politics, etc. The film begins with a woman (Noma Dumezweni) on her smartphone with a male nurse (Raul Castillo) treating her husband in a Covid ICU. The male nurse then seeks to virtually relieve his stress in a video call with a sex-worker (a fabulous Mary-Louise Parker) who in turn communicates with her ailing mother (Elaine May). And on and on until the movie circles back to the original caller. [Personal Note: Rita and I saw Elaine May on Broadway in 2019 in The Waverly Gallery, and her co-star was Lucas Hedges, the son of Peter Hedges.]
At our screening, Peter Hedges introduced his film and was accompanied by several of the actors, including Mary-Louise Parker (below). Conclusion: Two Thumbs Up!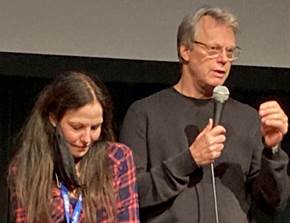 The French Dispatch: This new Wes Anderson film was not in the program, but arrived at the festival as a "sneak preview." The biggest sneak preview we have seen at Telluride was Argo in 2012, and it went on to win the Oscar for best picture. That will not be the result for The French Dispatch.
Anderson has had interesting films over the years (Rushmore, The Royal Tenenbaums, Moonrise Kingdom, etc.), and he hit it big in 2014 with The Grand Budapest Hotel (nine Oscar nominations with four wins).
The French Dispatch is divided into three chapters, each involving a journalist following a separate storyline for the last issue of the foreign bureau of a fictional Kansas newspaper (The French Dispatch of the Liberty, Kansas Evening Sun). The bureau is closing because of the death of its long-time editor (Bill Murray). There is a star-studded cast, many of them regulars from prior Anderson films.
The movie has typical Anderson whimsey and production design, but the substance did not match up with the style. Can't recommend except for Anderson cultists.
Encounter: Riz Ahmed has been in a number of films since 2006, including Nightcrawler in 2014. Last year, he received a best actor Oscar nomination for his role as a rock drummer losing his hearing (Sound of Metal, nominated for best picture). He may get another nomination for his performance in Encounter.
This film was paired with a tribute to Riz Ahmed. Following clips from several of his movies, Ahmed appeared virtually on the screen for an interview (UK travel restrictions kept him from attending).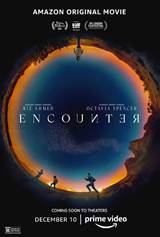 Ahmed plays an ex-marine who is concerned about an alien species of insects invading human bodies. He abducts his two boys from his ex-wife's home to go on the road and protect them. I'm not going to expand on the story because the twists and turns are best appreciated as they unfold. I will say this. It's intense. And the two boys are terrific. I was skeptical going in, but Encounter delivered a fine movie experience.
The Rescue: At Telluride in 2018, there was a documentary that created a lot of buzz. And Rita and I missed it. Free Solo went on the win the Oscar for best documentary. We did not make that mistake this time. The filmmakers for Free Solo, the husband and wife team of Elizabeth Chai Vasarhelyi and Jimmy Chin, were back in Telluride with The Rescue.
The film covers the rescue of 12 teenage soccer players and their coach from a flooded cave in Thailand. The unlikely heroes are hobbyist cave divers from around the world, and their interviews in the film are a treat. Humble heroes. The filmmakers combine that with news footage, Thai Navy Seals' film and reenactments for a compelling story. Even though we knew the rescue would be successful, the drama kept us on the edge of our seats.
There are no interviews with the stranded players and coach. The rights to those stories were obtained by Netflix for a drama series to be aired in 2022. The players and their coach deserve praise for not panicking – the coach led them in breathing and meditation exercises to maintain calm over the two weeks underground – techniques applauded by yoga-loving Rita.
At our screening, the filmmakers (the two on the left below) brought to the stage a surprise guest, cave-diver Rick Stanton, who got a standing ovation from the audience.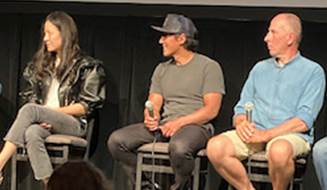 I believe this documentary will net another Oscar nomination for the Vasarhelyi/Chin team. Please don't miss this film.
Belfast: Kenneth Branagh was born in Belfast in 1960. He experienced the difficulty of living in a city torn by Catholic-Protestant violence, and this movie dramatizes the city as it existed for him in 1969.
The movie centers on nine-year-old Buddy (Jude Hill) and his parents (Jamie Dornan and Caitriona Balfe) and grandparents (Judi Dench and Ciaran Hinds). The daily tension of Belfast affects their lives in many ways and leads to consideration of leaving their beloved city and moving to England. ALL members of the cast are excellent. Belfast is filmed in black and white and features a soundtrack of songs by Belfast native Van Morrison. Very, very good film.
Branagh wrote and directed the film and appeared at our screening.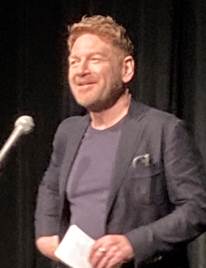 The Power of the Dog: We would usually be watching CBS Sunday Morning, but on this Sunday morning it was a film and tribute at the Chuck Jones. Below, our crew gets ready for showtime (masks off for the photo, then back on).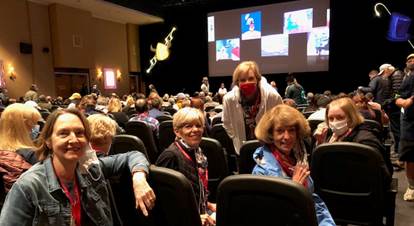 The tribute was for Jane Campion who has been directing films since 1989, most notably The Piano starring Holly Hunter in 1993. After we saw clips of her films, she was on stage for an interview – funny and charming.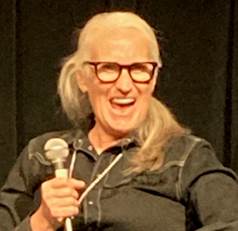 We then saw her new movie, The Power of the Dog. Set in 1925 Montana (but actually New Zealand), two brothers run a ranch. One is the refined businessman George (Jesse Plemons), the other is roughneck cowboy Phil (Benedict Cumberbatch). The story starts with cattle drives and overnight stops in small towns where cowboy things happen. George courts restaurant owner Rose (Kirsten Dunst), mother to sensitive teenager Peter (Kodi Smit-McPhee). George marries Rose, much to the chagrin of Phil. Family dysfunction arises, especially related to Phil's nasty treatment of Peter.
The film moves slowly – "methodical" as noted by one critic – but that is part of the setup as there are clues we don't recognize as such until the reveal at the end of the film. My problem was that it took so long to get there.
But know this. It will get an Oscar nomination for best picture. And probably Campion for director. Good cinematography. Good score by Radiohead's Jonny Greenwood. So I recommend that you see it, but be prepared for a slow and challenging film with a need to spot the details that coalesce into the finale.
The Duke: No Oscars, but great fun. Based on the true story of the heist of Goya's "The Duke of Wellington" from the National Gallery in London in 1961.
Kempton Bunton (Jim Broadbent) is a failed screenwriter who likes to challenge authority on behalf of the elderly and lower class. He gets a Robin Hood moment when he acquires the "Duke." He is arrested, and his courtroom scenes are a riot. His long-suffering wife is played by Helen Mirren. Two Thumbs Up!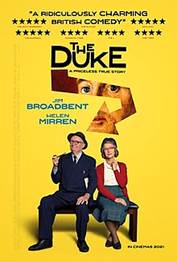 Spencer: Rita and I have seen two excellent Pablo Larrain films at Telluride – No in 2012 and Neruda in 2016. In both cases, the Chilean director drew from the political history of Chile for his stories. The films were in Spanish.
In his return to Telluride, Larrain brought an English-language film, Spencer. It is about Princess Di (nee Diana Spencer) who is played by Kristen Stewart (of Twilight fame). The film covers a surreal Christmas holiday weekend when a "mercurial and haunted" Di joins the disapproving royal family. Many critics are saying Stewart's performance gives her a lock on the best actress Oscar. The film is getting accolades from many critics.
Not here. I didn't like it. So I'd rather not further describe the "plot," although I will mention the score is by Jonny Greenwood, the same guy who did the score for The Power of the Dog. But instead of the mood-setting violins in Dog, Spencer was filled with loud and grating music. Possibly appropriate for the horror film we were watching. Moving on…
King Richard: We got the opposite result the next morning (Labor Day). We loved King Richard.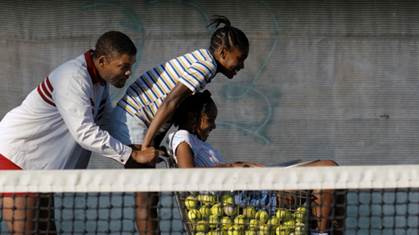 Will Smith stars as Richard Williams, the father of Venus and Serena Williams. The obsessive and protective father had a plan for these two daughters to be champions, and he followed it to astounding success. It's a great movie about sports – good tennis scenes (Saniyya Sidney and Demi Singleton, the girls playing Venus and Serena, worked with coaches for months to prepare for the film). It's a great movie about family – in addition to Richard and his tennis prodigies, the wife/mother Oracene (played by Aunjanue Ellis) is instrumental in balancing their life.
I'll borrow again from WSJ film critic Joe Morgenstern: "King Richard…is mainly about tennis. Most importantly, though, it's about educating children, giving them grounding and focus, inspiring them and, since these are Black children growing up in a relatively poor American city [Compton], keeping them safe from physical and emotional harm until they can take flight on their own."
And to add a little icing to the cake, Beyonce sings a new song ("We Believe") that plays over the ending credits.
The Lost Daughter: I wanted to like this movie. Because I really like Maggie Gyllenhaal who was so impressive in the HBO series The Deuce (3 seasons, 2017-19). The Deuce is set in the seedy Times Square of the 1970s. Gyllenhaal plays a prostitute who sees better opportunities in the emerging newly-legal porn film industry, first as an actress, and then behind the camera as a director (below, from The Deuce).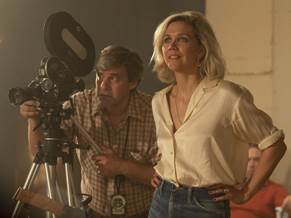 And now life is imitating art. The (non-porn) actress Maggie, after some 35 films as an actress, has gone behind the camera to direct her first film.
Netflix produced the film and provides this synopsis: "Alone on a seaside vacation, Leda (Olivia Colman) becomes consumed with a young mother and daughter as she watches them on the beach. Unnerved by their compelling relationship, (and their raucous and menacing extended family), Leda is overwhelmed by her own memories of the terror, confusion and intensity of early motherhood."
I have no issue with the directing or the performances by the actors. They all seem fine. And it was good to see Gyllenhaal at our screening (at the mic below) accompanied by three actors from the film – Dakota Johnson, Peter Sarsgaard (Maggie's husband) and Ed Harris.
But (you knew this was coming), I didn't like the story nor the characters. Two Thumbs Down!
Torn: Our last film of the festival was Torn, a documentary about the 1999 death of famous mountain climber Alex Lowe. He and his climbing partner Conrad Anker were caught in an avalanche and ran different directions. Lowe died and Anker survived. Anker, a single man, consoled Lowe's widow and her three children. Anker and the widow fell in love and married. The oldest chile Max was 10 when Alex died. Max was slow to accept Anker and ended up making this documentary to tell the story, including a trip back to the Himalayas when Alex's body was found 17 years later.
It's an entertaining family story with an emphasis on the difficulty of having a husband/father who risks his life to follow a passion. Two Thumbs Up!
Farewell For This Year: After watching Torn, we headed over to the patio of the Peaks Hotel to discuss the movies and watch the sun disappear into the mountains.

Academy Award Nominations: Rita and I started going to Telluride in 2011, and we have attended every year since (other than the Covid-cancelled 2020). The Oscar for the best picture over those years has gone to The Artist, Argo, 12 Years a Slave, Birdman, Spotlight, Moonlight, The Shape of Water, Green Book, Parasite and Nomadland.
All of those films were programmed at Telluride except Green Book. Nomadland was scheduled, but was a victim of the festival cancellation.
That record is quite a tribute to the selection committee at Telluride. If the best-picture streak is to continue, my guess is that it will be Belfast, The Power of the Dog or King Richard. Each of those films will also likely get nominations for actor categories, writing, score and craft honors. Maybe Encounter's Riz Ahmed for best actor. Hopefully some love in relevant categories for Cyrano, C'mon C'mon and The Same Storm. Any of the documentaries we saw would be worthy of a nomination.
We could not get to all of the films at Telluride and missed the one that might have had the most buzz, Marcel the Shell with Shoes, an animated seashell that can talk. Go figure.
It's a little early to predict if Telluride has again hosted the best picture. There are a lot of other high profile films on the way, and it's looking like a good movie season.
Lonnie's Jukebox – Streaming Movie Edition: There is of course a cloud over the good season. Will we want to enter theaters that do not have the serious protocols that we had (and appreciated) at Telluride? Rita and I will not until the vaccination rate cuts the risk dramatically.
In the meantime, many films will have alternative venues. Our living rooms. Below are several examples of movies that are being or will soon be streamed. I have listed the release dates for those I could find.
I'll start with the one Rita and I streamed this past Saturday on the 20th anniversary of 9/11. In the world before Covid, we saw the musical Come From Away on Broadway. A performance of the stage show is now being streamed on Apple TV+. It is the heartwarming story of Gander, Newfoundland, hosting 7,000 airline passengers stranded by 9/11. It was well worth seeing again. Trailer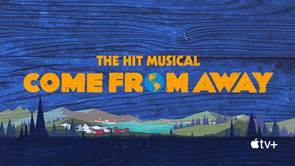 Muhammad Ali. PBS, starting September 19. Trailer
One Night in Miami. Now on Amazon. From earlier this year. Good companion piece for the Ali PBS documentary. Trailer
The Power of the Dog. Netflix on December 1. Teaser
The Lost Daughter. Netflix on December 31. Trailer
Don't Look Up. Netflix on December 24. Any film with Jennifer Lawrence gets my attention. Trailer
Tick Tick…Boom. Netflix on November 10. Anything directed by Lin-Manuel Miranda gets Rita's attention. Trailer
Encounter. Amazon on December 10. Trailer
A Hero. Amazon. Ran at Telluride; did not see, but the director previously screened the excellent A Separation at Telluride. Clip
Nuclear Family. HBO Max on September 26. Ran at Telluride; did not see, but heard good things; 3-episode TV series. Trailer
King Richard. HBO Max on November 19. Trailer
The Rescue. National Geographic. Trailer
Torn. National Geographic.
The Tragedy of Macbeth. Apple TV+. First Coen movie with only one brother directing (Joel). Denzel in it. Teaser
Coda. Now on Apple TV+. Rita and I watched last month and liked it. Trailer
Ted Lasso. Now on Apple TV+. Just messing with you. Seeing if you read to the end. Great show, but not a movie.
Watching movies in the living room is NOT what we want to do. Can't wait to get back into the theaters.