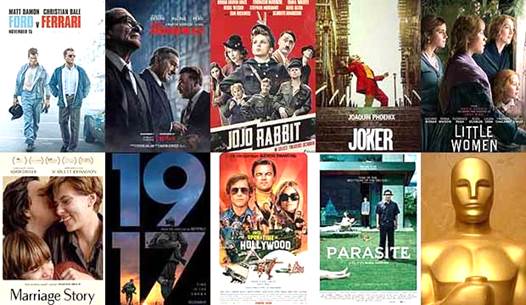 I wanted Parasite to win Best Picture at the Academy Awards last night. Thought it was unlikely. South Korean film with subtitles. It would be the first non-English film to be Best Picture. To my pleasant surprise, it won.
Full disclosure: I have a Telluride bias. And I am spoiled. Rita and I have gone to the Telluride Film Festival the last nine years, and we have now seen the Best Picture Oscar winner eight times. The exception was last year's Green Book.
When we left Telluride last year, we thought four of the films might be nominated for Best Picture. Three made it: Parasite (6 nominations), Marriage Story (6), and Ford v. Ferrari (4). The other, The Two Popes, got three nominations.
Each of the major films at Telluride shows on several screens around town. As the weekend progresses, the ones creating the most buzz get added screenings in "To be Announced" slots. Parasite had big buzz and hundreds of people were turned away from its last TBA screening. An omen? Below, Parasite actor Song Kang-ho (left) and director Bong Joon-ho.
When the Oscars came on last night, I was prepared for my second year when Telluride had not screened the winner for Best Picture. The betting odds over the last movie season had moved from Once Upon a Time…In Hollywood (Quinton Tarantino's film released in July), to Martin Scorsese's The Irishman (released in the fall for a short theater run, then to Netflix) and then to late entry 1917 (opened Christmas Day).
The Fantasy List: On the morning of the Oscars, I exchanged emails with long-time Telluride fan Jan Hodgson. We both thought 1917 would win, but had heard that Parasite might have some momentum. I gave her my fantasy ranking which breaks down the nine nominated films into three groups:
Parasite
(The Two Popes)
Ford v. Ferrari
Little Women
Marriage Story
Once Upon a Time in Hollywood
1917
Jojo Rabbit
The Irishman
Joker
As more proof of my bias, all three films in my top tier screened at Telluride. One of them, The Two Popes, was not even nominated, but this lapsed Catholic just can't let go of that screenplay and those two actors.
I'm not going to dig deeply into all the films, but I probably should explain my ranking The Irishman and 1917 in the bottom tier. Don't get me wrong. I thought they were good films, just not great. My quick reasons: The Irishman had the acting and writing for a great 2.5 hour movie (but not 3.5). 1917 was beautifully filmed and deserved all of the technical awards it received, but I guess I'm more of a screenplay/actor cinephile.
Parasite: Bong Joon-ho took the stage to receive four Oscars last night: Best Picture, Director, Original Screenplay and International Feature Film. He gave charming acceptance speeches, mostly delivered by his superb translator. This was also how we heard from him in Telluride. For my take on Parasite, I'm going to quote from Hot Stove #105, the post sent out just after the festival last year:
"Parasite was the last movie on the schedule for Saturday night. It did not start until 10:15. It would not be over until after midnight and then would be followed by a Q&A with the director. It is a South Korean film with subtitles. Should we go?
Yes! And are we glad we did. It was no surprise that the movie was good. It won the Palme d'Or as best picture at Cannes earlier in the year. The film is about a poverty-stricken family that manipulates a rich family in hilarious ways. Then a big surprise turns it all around. Maybe a contender for best picture and a likely winner for best international feature film. Highly recommended. Below, the Q&A featured actor Song Kang-ho (center) and director Bong Joon-ho (right) and their excellent translator."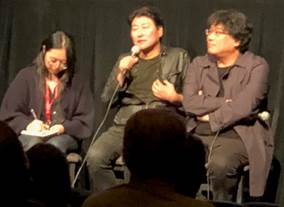 Acting Awards: The film with the most acting nominations was Marriage Story, and this was consistent with the buzz in Telluride. To again quote from the Hot Stove #105:
"The film was written and directed by Noah Baumbach, and it is actually a story of a divorce, not a marriage. Adam Driver portrays a playwright who is married to an actress (Scarlett Johansson) who has given up her film career in L.A. to work with her husband's theater company in New York. She gets an opportunity to do a pilot for a TV series in L.A. and takes the couple's son with her. This is not good for the marriage, and they decide on a "friendly" divorce. But then it gets not-so-friendly, bringing on the lawyers (Laura Dern, Ray Liotta and Alan Alda, all getting some great lines). Driver and Johansson each deliver impressive monologues that highlight the excellent screenwriting. All of the actors, including the relatives in L.A., are a treat. This movie is getting a lot of good buzz. I heard some negative comments, but I come down on the side of a very good movie. In the mix for a number of Oscar nominations."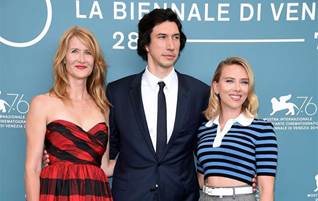 Above, the three acting nominees from Marriage Story: Laura Dern, Adam Driver and Scarlett Johansson (photo from the Venice Film Festival before they took the red-eye to Telluride). Laura Dern took home the Oscar last night for Best Supporting Actress.
The Best Supporting Actor Oscar went to Brad Pitt for his role as a stunt man in Once Upon a Time…In Hollywood. The Missouri native had two good Sundays in a row. Go Chiefs!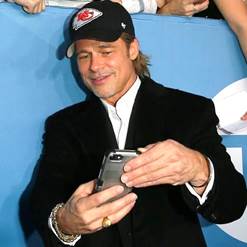 The winner of the Best Leading Actress award was never in doubt. Renee Zellweger won for her role in Judy. Below, in Telluride at her interview for our screening.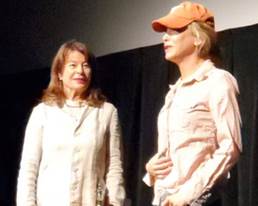 From Hot Stove #105: "We were then treated to Renee's new movie, Judy, as in Judy Garland. The primary storyline is the attempted comeback by Judy in a series of London performances near the end of her career (and life – she died at 47). Zellweger is terrific. There will be an Oscar nomination. I'm going to borrow Joe Morgenstern's take on Zellweger from his review in the WSJ: 'Singing in her own voice, body hunched and eyes squinting against the light, she summons up the desperate fervor of a woman who has lived most of her life on parallel starvation diets, one lacking for food and the other for love.'"
Joker is a very dark movie, but I understand why Joaquin Phoenix won the Oscar for Best Leading Actor. It's not easy to watch, but I appreciate his talent. Cool fact: There are now two fictional characters who have generated Oscars for two different actors. The first actor to win playing the "Joker" was Heath Ledger (below right) who posthumously won Best Supporting Actor in the 2008 film The Dark Night. The other is Vito Corleone, netting a Best Leading Actor award for Marlon Brando (The Godfather) and Best Supporting Actor for Robert De Niro (The Godfather Part II). Forty-five years after playing Vito Corleone, De Niro is still going strong – he had major roles in two of this year's nominated films (The Irishman and Joker).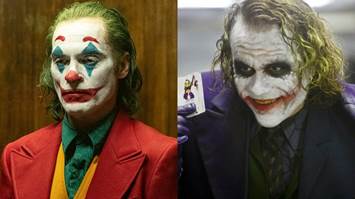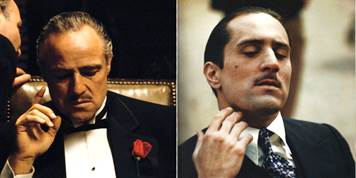 The Irishman and Baseball: The Irishman was nominated for ten Academy Awards, but won none. But it did get a headline in the sports section of yesterday's New York Times: "If 'The Irishman' Were Like a Yankees-Red Sox Game…".
The theme of the article: The movie and baseball games are too long. "So when 'The Irishman' was released in November, it produced plenty of debate (and jokes) about its meandering pace and length. The cracks felt familiar to a very different group: baseball fans." The movie was 3 hours 29 minutes. The average MLB game in 2019, 3 hours 10 minutes – 162 times a year.
"Long and winding" movies and baseball games have "compelling characters," "rising action and a climax," "plenty of filler," and a "healthy number of hits."
The authors of the article compare The Irishman to a specific Yankees-Red Sox game. The movie has three key stars: Robert De Niro, Al Pacino and Joe Pesci. The game has all-stars Aaron Judge, Aroldis Chapman and Mookie Betts. In the movie, the lead actors dominate almost every scene. In the game, Judge went hitless and had a few catches for a screen time of six minutes. Mookie and Chapman each had nine minutes, about 4 percent of the game. The movie had 11 murder scenes (on-screen "hits"), one for every 19 minutes. The game had 14 hits, one for about every thirteen minutes.
Of course, what is "filler" to some may be a feature or nuance to a cinephile or a die-hard sports fan. But most agree that changing pitchers too many times during a game is filler (well, maybe not in the postseason).
I like movies and baseball. Will keep watching, at any length. For the full article, click here.
Lonnie's Jukebox – Janelle Monae: The opening musical number for the Oscars starred Janelle Monae of Kansas City (the one in Kansas, not Missouri). Although it looked like a typical glitzy opening act, Monae worked in material about the lack of diversity in the award process (e.g., snubbed female directors and "OscarsSoWhite"). Click here to view (6:02).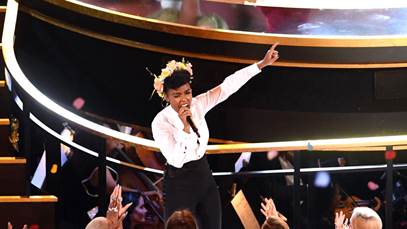 Chuck Jones Theater: The pass that Rita and I get for Telluride is mostly used for screenings at the Chuck Jones Theater, named for the animated filmmaker who wrote, produced and directed many cartoon shorts for Merrie Melodies and Looney Tunes. He won three Oscars. The theater is decorated with characters from his cartoons.
I'm going to sign off with Chuck's work. Until Labor Day weekend this year in Telluride…