The biggest Royals news this year is that the team will soon have a new owner – John Sherman of Kansas City.
Sherman became an investor in the Cleveland Indians in 2016, but that interest will be sold when he and his co-investors acquire the Royals in November.
Born in the American League: John's connection to American League baseball actually dates back to another AL franchise, the A's. In 1955, the Philadelphia Athletics moved to Kansas City. As recounted in Hot Stove #87 (11/9/18), former president Harry Truman threw out the first pitch in the inaugural game. I included this photo with my post: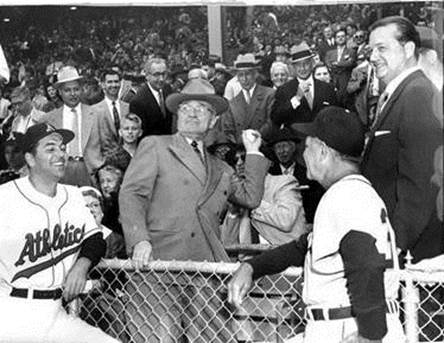 The date that Truman made his pitch at that first major league game in Kansas City was April 12, 1955.
John Sherman was born on April 12, 1955.
I found out about this cool coincidence when John contacted me after he received my Hot Stove post. Not only do the dates match, but he has a framed copy of this same Truman photo hanging in his office – a gift to him from the Truman Library Institute when John completed his term as chair of the board. A perfect blend of date, Truman and baseball.
John Sherman of course did not attend that first A's game. But I did. I cut school with my 8th grade classmate Jay DeSimone to be at 22nd and Brooklyn for the historic occasion. That's my ticket stub below.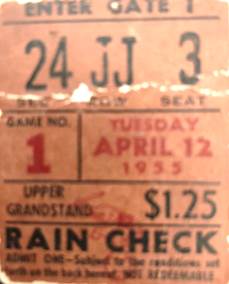 The starters for the A's on opening day in 1955: Alex Kellner (P), Joe Astroth (C), Vic Power (1B), Pete Suder (2B), Jim Finigan (3B), Joe DeMaestri (SS), Gus Zernial (LF), Bill Wilson (CF) and Bill Renna (RF). The A's beat Detroit 6-2.
The A's lasted 13 seasons in KC before moving to Oakland. There was no major league baseball in Kansas City in 1968. The Royals played their first season in 1969.
John Sherman – The Cleveland Years: Cleveland has done quite well during John's tenure – so he and the team have frequently had coverage in Hot Stove. I dug back into the archives for mentions of John and his Indians…
Hot Stove #28 (11/24/16): John's first year with the Tribe was 2016, and he had quite a nice start. The Indians won the AL Central Division, beat the Red Sox in the ALDS and then won the pennant by beating Toronto in the ALCS. Below, John with the trophy for the AL pennant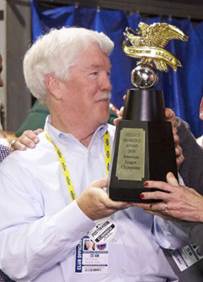 This took the Tribe into the World Series against the Chicago Cubs. It had been a long time since either team had won a World Series. The Cubs last won in 1908. The Indians, 1948.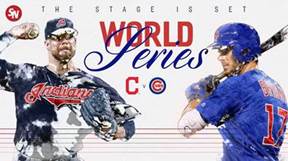 The Cubs won, as I hoped they would after a drought of over a hundred years. But I also had a soft spot for Cleveland, saying I would have had good reasons to favor them:
"It had been such a long time – 68 years (and now still counting). Bill Veeck owned and built the Indians club that won the 1948 Series. In 1947, Veeck broke the color line in the AL with Larry Doby and then added Satchel Paige in 1948. Like the Royals, Cleveland (i) is a small market team without a lot of extra dollars, and (ii) is in the AL Central which has produced the AL pennant winner 4 of the last 5 years. John Sherman of Kansas City became a substantial minority owner this past year. The team had several bad breaks on injuries, but held on and then played great in the playoffs."
Hot Stove #40 (4/27/17): I first met John in April of 2017 – another bit of Harry Truman serendipity. Rita and I attended the annual "Wild About Harry" fundraiser for the Truman Library. By a stroke of luck, we were seated at the same table as two of the presenting sponsors for the dinner, Marny and John Sherman. Also at the table was one of the honorees for the night, an idol of mine, Congressman John Lewis. Below, John and Marny Sherman with Congressman Lewis.
As you might suspect, I was pleased to meet and sit next to a major league owner. I selfishly took advantage of the opportunity and gave this report in Hot Stove:
"As we got into our dinner, I turned to baseball talk with John Sherman. At that moment, the Royals were 7-7 and the Indians 8-7. How fast things change. Sherman is a true baseball fan and clearly is enjoying his gig as a team owner. We talked about the legacy connection of the Indians to the Negro Leagues Baseball Museum. This year is the 69th anniversary of those 1948 World Series Champion Indians that included former Negro League stars Larry Doby and Satchel Paige. If the Royals can't win it all 2017, I'm rooting for Sherman's Indians to break their 69-year drought."
Hot Stove # 54 (10/5/17): Déjà vu. Cleveland again won the Central Division title. I again wrote in Hot Stove that I hoped the team with the longest World Series drought would win. But this time that would not be the Cubs since they had won in 2016. It was now Cleveland – 69 years without a title. Also, it would be nice for the Truman guy from Kansas City.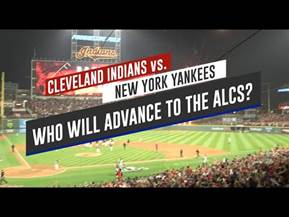 The Tribe had the best record in the American League, but were upset by the Yankees in the ALDS. The Yankees lost in the ALCS to the Houston Astros who went on the beat Dodgers in the World Series.
Hot Stove #77 (7/9/18): In the summer of 2018, Rita and I signed up for our third annual stadium tour. Progressive Field in Cleveland was one of the stops. Just before going, we attended a KCUR public radio fundraiser at John and Marny Sherman's home. I mentioned the trip to John, and he said he would be at our game and to text him when we got to the stadium. We did, and he came down to our seats and took us up to the concession area for a chat. Rita took a photo.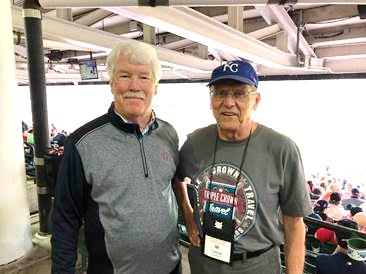 John then handed us tickets for seats directly behind the Cleveland dugout. He explained that this was where he sat during the 2016 World Series. Nice guy, just like all the articles have been saying.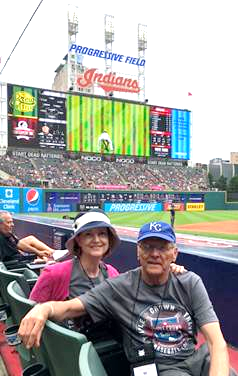 Hot Stove #82 (9/25/18): In 2018, déjà vu all over again, as Yogi Berra would say. Cleveland won its third straight Central Division title. In my Hot Stove message, calling myself a "broken record," I again was rooting for the Indians, now 70 years removed from their last World Series win. I checked in with John about the upcoming 2018 playoffs, and he gave me this take:
"We are incredibly fortunate to be participating in our third straight postseason. One thing that I have learned from my three years of direct involvement with baseball is that the professionals never take it for granted. It is difficult to get there, particularly for small market teams. There is something special about October baseball. We all know from our experience in Kansas City in '14 and '15 that going deep in postseason baseball is exciting and can lift an entire community. The Indians have put together a talented group of players led by a two time World Series Champion manager. We will be in Kansas City to play the Royals in the regular season finale, then it will be on to Houston to start the Division Series on October 5. Let the games begin…"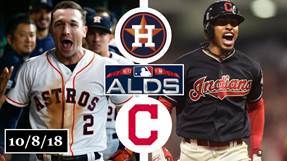 Alas, Cleveland lost to the Astros in the ALDS. The Astros were eliminated in the ALCS by the Red Sox who then defeated the Dodgers in the World Series.
Playoffs – 2019: Cleveland is lagging behind Minnesota in the Central Division race, but still has a good shot at a fourth straight year in the playoffs. They are in a tight 3-way race for the two AL wild card slots. That's not always a bad place to be. As a reminder, the Royals were a wild card entry in 2014 and went all the way to the 7th game of the World Series. They lost to the San Francisco Giants who had also entered the playoffs as a wild card team.
John Sherman – The Royals Years: May they be as fruitful as John's Cleveland years (but with the added bonus of winning a World Series or two or three).
Best of luck John!
Happy Birthday Roger Angell: Today is Roger Angell's 99th birthday. Angell is a long-time editor and essayist for the New Yorker, and his reputation is strongly tied to his poetic description of baseball. His collections of essays are required reading for fans of baseball nostalgia. See Hot Stove #6 for more background on Roger and his books.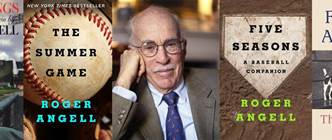 Although Angell was rooting for his hometown Mets in the 2015 World Series, he showed respect for the opposition, saying he saw why people "fell in love with these Royals in their near-thing debut in the World Series last fall…there's a collective élan to them, a bearded joy in their work, that you want to be part of." Amen. And let's do it again.
Lonnie's Jukebox – 1955: In that summer of 1955, Jay DeSimone and I attended about 20 games of the A's first season. I lived in the Maywood area of Independence and he lived on KC's north side by Independence Avenue. We each took the bus and met up at 19th and Brooklyn to walk up to the stadium at 22nd.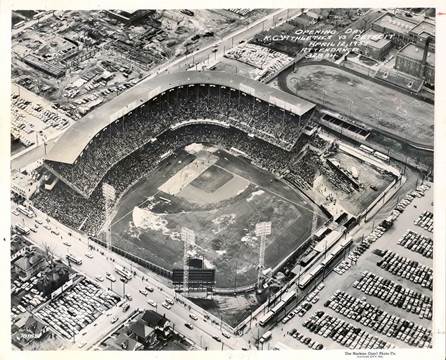 It was a great way to spend a teenage summer (I turned 14 in August). To top it off, the experience was enhanced by a classic soundtrack of rock 'n' roll.
For example, during spring training, "Rock Around the Clock" by Bill Haley and His Comets hit the charts. It had been released in 1954, but did not get wide popularity until it played over the credits in the movie Blackboard Jungle. The record kept moving up the charts and was #1 for most of July and August.
On April 26, two weeks after opening day, the Platters recorded "Only You (And You Alone)" and it became their first chart hit.
In July, Fats Domino crossed over from the R&B chart to the pop chart with "Ain't That a Shame."
In August, it was Chuck Berry with "Maybellene."
The A's finished in 6th place (out of eight teams) with a 63-91 record, 33 games behind the first place Yankees.
The won-lost record was unimportant. We had major league baseball and terrific music. A fine season.
I have played most of these records in prior Hot Stoves, but I'm thinking that has not included the Platters first hit. So click here for some great doo-wop.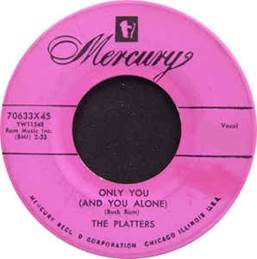 Early the next year, Bill Haley and His Comets starred in the first rock 'n' roll movie, Rock Around the Clock. The title song played over the opening credits, just as it had in Blackboard Jungle (and would again in 1973 in American Graffiti). The Platters were also featured in the movie, singing "Only You" and their next big hit, "The Great Pretender."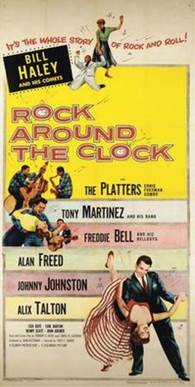 I'll close with a shout-out to Jay DeSimone (and wife Toni). After that 1955 season, I moved to the new Van Horn High School and Jay stayed at Northeast. We lost touch and took a 55-year break between games. About 10 years ago, we reconnected and started a new tradition of meeting for a game at the K each year. We don't take the bus.