[Excerpted from Hot Stove #185, posted on February 17, 2022.]
Charlie Hart – Political Insider: Charles Curry first won office as presiding judge in 1962 and was reelected in 1966. Curry was building a political organization, the Committee for County Progress (the CCP, occasionally referred to as Charles Curry's Party). Charlie Hart became active in the CCP and helped Curry and his team win big in 1966, including victories for Alex Petrovic and Charlie Wheeler who joined Curry on the 3-judge county court. Below, Curry (middle) celebrating those victories with Alex Petrovic (left) and Charlie Wheeler.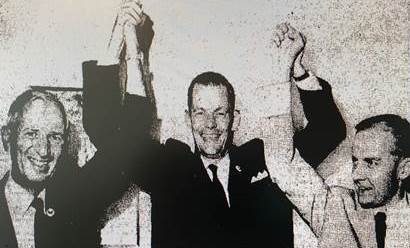 The judges put several bond issues before the voters in 1967, including the stadiums, and they won victories not seen since Harry Truman was on the county court.
Charlie Hart served as a top aide to Curry at the county from 1967 to 1970 and was a major networking force for endorsements and fund raising for CCP candidates. My first foray into politics was joining the Young Democrats in 1967. The club worked closely with the CCP in 1968 with an emphasis on the Eastern Judge race where Alex Petrovic won reelection. Two of the members of the YD club were sisters Roz Webb and Pat Hininger. Roz worked for Curry's county counselor. Pat ran Alex Petrovic's office. It was not long before I met their fellow courthouse friend Charlie Hart. He and I were like-minded and enjoyed working together.
By the time Charles Curry left office in 1971, the CCP was in its next generation of leadership. The primary force became Jim Nutter, and Jim's right-hand man for CCP politics became master strategist Charlie Hart. Charlie's personality and laugh endeared him to everyone, even political opponents. During the 1970s, we worked on many campaigns together. By then, he was in the insurance and benefits business and became my life insurance guy in addition to friend and political ally.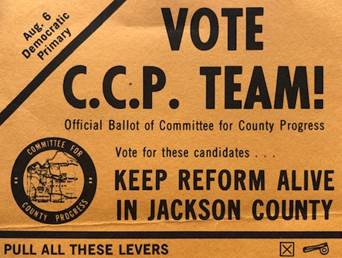 Below, Charlie at a pool party hosted by Rita and me in the 1980s.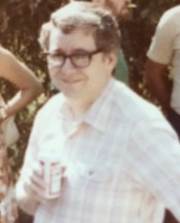 We both eventually drifted from active politics, but never lost touch. We loved talking about the old days in politics, and we took this to a delightful level when we started making annual pilgrimages to Sugar Creek to visit with Alex Petrovic. These started in about 2010 and continued until Alex died in 2015 at age 92. We were joined in these visits by Pat Hininger who adored her old boss.
Alex could still do hilarious impersonations of Curry, Wheeler and other politicos. He had a story for almost every candidate we worked with back in the 1960s and 1970s. On one visit to Sugar Creek, Charlie brought memorabilia from the CCP days, including Charles Curry's campaign scrapbooks and the CCP incorporation papers (Charlie had been the lawyer filing the papers). Alex added them to the archives he was donating to the Jackson County Historical Society. Below, a photo of Pat and Alex from one of our visits.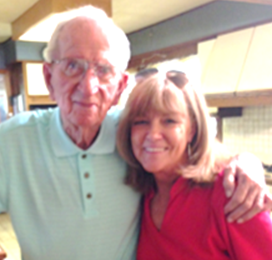 Several years ago, Charlie and his wife Pam moved to Pennsylvania to be near their daughter Sally and their grandchildren. Last week, on February 9, Charlie turned 85 years old. I called his cell and left a happy birthday message on his voicemail. Called later that day, but again no answer. Same thing the next morning. That night, my phone showed a call coming in from Charlie's cell phone. It was Pam delivering the sd news. Charlie had died on his 85th birthday. He had been in poor health, but Pam said he held on to get to their 50th wedding anniversary and then set the next goal of his 85th birthday. She said if the Chiefs had beaten Cincinnati, he would have held on for the Super Bowl. Obituary here.
For those who knew Charlie and desire to make a contribution in his memory, a good choice would be the Village Church Food Pantry (6641 Mission Road, Prairie Village, KS 66208). Charlie was a long-time volunteer at the pantry before he left Kansas City.
RIP my friend.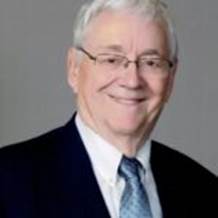 Kansas City Downtown Stadium: The current talk about a new baseball stadium downtown brings back memories of the downtown stadium proposed back in 1965. Jackson County had commissioned a feasibility study for a multi-purpose stadium to be the new home of the Kansas City A's (or their replacement) and the Kansas City Chiefs. The teams were playing in old Municipal Stadium at 22nd and Brooklyn.
The feasibility report imagined a domed multi-purpose stadium and a nearby arena for basketball and hockey. There were several multi-purpose stadiums being built around the country, most notably the Astrodome which opened in 1965. The location for the downtown version was in the area that now houses the Kauffman Center for the Performing Arts (instead of Kauffman Stadium).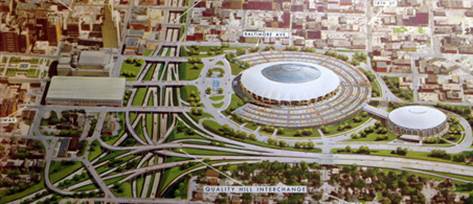 The report included a second scenario placing the domed stadium at the intersection of I-70 and I-435 (the "Leeds Site").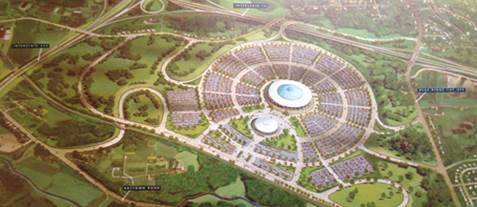 The county, led by Presiding Judge Charles Curry, elected to proceed with the Leeds Site. Why not downtown? After all, a new stadium might be a catalyst for the downtown community. The Leeds Site was a lower cost, although one rumor that circulated was that it was a boondoggle because Curry was favoring his Democratic donors who owned the land and would profit from the sale. There was also a threat that eastern Jackson County interests might not support a downtown KC location.
Whatever the reason, selection of the Leeds Site was fortuitous from a stadium design perspective. A later proposal by Denver architect Charles Deaton envisioned separate stadiums for football and baseball. Both could fit at the Leeds Site. The idea was embraced by the Chiefs who welcomed not working with cantankerous A's owner Charlie Finley on a multi-purpose stadium. The county agreed and took the two-stadium proposal to the voters in June of 1967. It won with 68.9% of the vote. Below, the two-stadium concept with a rolling roof that was eliminated in the final design.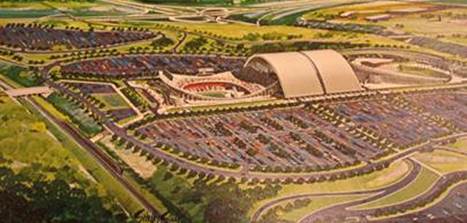 Some of this will sound familiar to Hot Stove readers. In April of 2019, I wrote a long piece titled "Thank You Charles Curry, Alex Petrovic and Charlie Wheeler – Harry S. Truman Sports Complex" (click here).
After I posted that Hot Stove, I got a call from Charlie Hart who had worked for Curry in those days. He noticed that I had not included the specific reason for the selection of the Leeds Site. Well, I didn't know for sure, so I had not addressed the issue. For instance, I left out the rumor that Curry was favoring donors (which I in no way believed). Charlie confirmed that this was silly. He said the main landowners were Republicans, as was Dutton Brookfield who chaired the bipartisan Jackson County Sports Complex Authority established by the state to oversee any new stadiums.
Cost and the potential of objections from eastern Jackson County were no doubt relevant, but those might have been overcome with political horse-trading. One item could not be fixed by political compromise. Charlie Hart says the clincher was condemnation, the tool used by government to clear an area for works that serve a "public purpose." Are stadiums a public purpose under the law? They clearly are now with the blessings of legislation and court decisions. But in the 1960s? I checked in with Hot Stove Public Purpose Editor Mike White who opined "Maybe not in 1967."
Hart told me that the county was afraid of lawsuits that might slow down the building of the stadiums. The land for the downtown site was owned by a variety of industries, residents and businesses. A potential quagmire. And it would only take one of them to test the law. With Charlie Finley threatening to move the A's, the county wanted to move quickly to offer a new stadium to keep the A's or entice an expansion team. And the Chiefs were anxious – playing in Municipal Stadium was not the right venue for one of the best teams in pro football.
So rather than risk litigation over public purpose, the Leeds Site was the easy choice. Charlie said his source for this info was his old boss, Presiding Judge Charles Curry.